Purdue PhD Student Claims He Was Forced Out of Program for His Christian Faith
Verse of the Day
John 17:14 I have given them thy word; and the world hath hated them, because they are not of the world, even as I am not of the world.
Commentary
This article shows the level of hatred in the colleges for Christians. The atheists and Communists simply hate us and want to destroy us when they can. If they get a chance, they will act on this hatred. Their hatred for us is heading towards the same level the Nazis had for the Jews. If they hate Jesus Christ, then surely they will hate us.
May the Holy God of Israel bless and protect you.
1 John 4:3 And every spirit that confesseth not that Jesus Christ is come in the flesh is not of God: and this is that spirit of antichrist, whereof ye have heard that it should come; and even now already is it in the world. (4) Ye are of God, little children, and have overcome them: because greater is he that is in you, than he that is in the world. (5) They are of the world: therefore speak they of the world, and the world heareth them
Christian Hatred and the Hard Left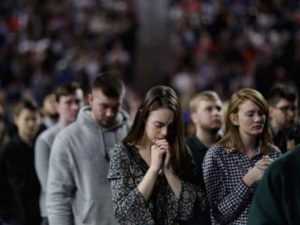 "Purdue PhD Student Claims He Was Forced Out of Program for His Christian Faith"
"A former Ph.D. candidate at Purdue University claims that he was forced out of the program for his Christian faith.

In a column for The College Fix, Corey Miller explains how he was forced to leave his Ph.D. program at Purdue University by peers and faculty members who taunted him over his Christian faith.

Miller recalled receiving prank phone calls in the early morning hours. When he picked up the phone, Miller heard his classmates mocking him for his Christian faith. The next semester, a leftist professor accused him of having several mental illnesses.

I entered the PhD philosophy program at Purdue University in 2004. Six weeks in I was shocked that I was receiving prank calls at 3 in the morning from fellow grad students. They were mocking me for my faith. The next semester I recall receiving a permanent note in my file from a Marxist professor who claimed I was schizophrenic. While he was not a clinical psychologist capable of judging me schizophrenic, he believed religion was the opiate of the masses and that my beliefs were delusional."
Impeaching a President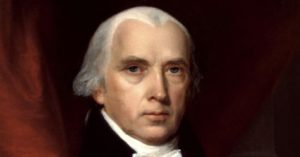 "So just what is a high crime and misdemeanor?"
Impeach: to charge with a crime or misdemeanor specifically : to charge (a public official) before a competent tribunal with misconduct in office
Since the dems are trying everything to bring charges against President Trump, I thought it would be good to learn about Impeachment. This is a great article. I learned a lot about what are the grounds for the impeachment of a president.
Article II, Section 4, of the Constitution states: "The President, Vice President and all civil Officers of the United States, shall be removed from Office on Impeachment for, and Conviction of, Treason, Bribery, or other high Crimes and Misdemeanors."
"So what are High Crimes and Misdemeanors? More accurately, and never mind what today's talking heads opine, how did the framers define it?

Well, the key turns out to be the word "high." When we today see the term "high crimes," we take it to mean more or most serious crimes. But that's not what the founders meant. The founders referred to "high" not as more serious, but rather as to one's status – i.e., a person of high official status, like a public officer – "The President, Vice President and all civil Officers of the United States."

High Crimes and Misdemeanors are offenses "which bear on the subject's fitness for the duties he holds, which he is bound by oath or affirmation to perform." And, in this case, it is the presidential oath of office, which Trump is bound to, and states: "I do solemnly swear (or affirm) that I will faithfully execute the Office of President of the United States, and will to the best of my Ability, preserve, protect and defend the Constitution of the United States."

In other word, high crimes and misdemeanors are offenses against the oath of office."
Hard Left and Israel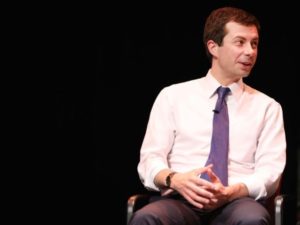 "Mayor Pete Buttigieg's De-Evolution on Israel Policy" The new breed Hard Left will turn on Israel. They tolerate and protect the Muslims in the House who attack Israel. They made it very clear that the new Hard Left are joining with the Muslims against Israel.
"On Thursday, Democratic presidential hopeful Pete Buttigieg spent much of the day regurgitating Barack Obama's old, failed anti-Israel policies.

He told the Washington Post that he does not support Israel's "right wing" — a comment that was almost verbatim the same thing then-Sen. Obama (D-IL) said on the campaign trail in 2008. Later that day, Mayor Pete told a meeting of left-wing Jews that the U.S. should pressure Israel to change its policies — whatever those were."
Destroying the Deep State and Draining the DC Swamp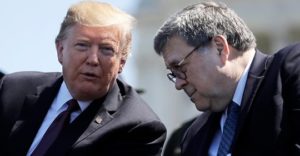 "Trump vows to uncover Russia probe roots with declassification call: 'We're exposing everything'" This is so exciting. The President is opening all the files about what the deep state did to try and overthrow his presidency. This was an actual soft coup attempt!
This is all going to be exposed.
"President Trump vowed Friday to uncover the origins of the Russia investigation for all to see after he approved the declassification of documents related to the surveillance of his campaign during the 2016 presidential election.

Before departing the White House for a trip to Japan, the president defended his decision in the face of Democratic accusations that he had overridden "longstanding rules" on classified material.

"We want to be very transparent, so as you know, I declassified everything," Trump told reporters. "We are exposing everything."

The president said his decision will ensure that investigators looking into the origins of the probe have everything they need, "so they'll be able to see how and why this whole hoax started." He reiterated his charge that the probe was an "attempted takedown of the president of the United States." He added: "You're gonna learn a lot. I hope it's going to be nice, but perhaps it won't be."
The Breaking of the Hard Left Dems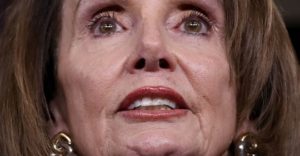 "NBC: Trump Didn't Use 'Doctored' Video Of Pelosi Stammering" It appears that the Hard Left dems are coming apart under the Lord having them in derision! Pelosi can hardly speak and Nadler was just rushed to the hospital after collapsing at a meeting.
Psalm 2:1 Why do the heathen rage, and the people imagine a vain thing? (2) The kings of the earth set themselves, and the rulers take counsel together, against the LORD, and against his anointed, saying, (3) Let us break their bands asunder, and cast away their cords from us. (4) He that sitteth in the heavens shall laugh: the Lord shall have them in derision. (5) Then shall he speak unto them in his wrath, and vex them in his sore displeasure.

"It all started when President Trump tweeted a video with this caption: "PELOSI STAMMERS THROUGH NEWS CONFERENCE."

It didn't take long for Pelosi's camp and Democrats to allege that the video was altered. "Hours before the posting of this doctored video, @washingtonpost reports that doctored Pelosi videos are multiplying across social media," Pelosi's Chief of Staff Drew Hammill wrote."
Hard Left and Islam vs the Believers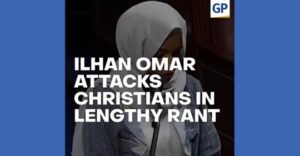 "Muslim Democrat Congresswoman Ilhan Omar Attacks Christian Conservatives in Lengthy Rant (VIDEO)" It is really hard to sit and listen to her propaganda. They know who we are.
"Muslim Democrat Congresswoman Ilhan Omar attacked Christian conservatives for being pro-life in a lengthy rant on the House floor.

She even had the audacity to say, "I am frustrated every single time I hear people speaking about their faith." These pro-abortion Democrats are absolutely sick. This is the same woman who had Congress change it's rules so she could wear her Muslim hijab to work."
Update News from Israel (video)

"Iran orders its proxies to 'prepare for war'"
Jeremiah 51:20 Thou art my battle axe and weapons of war: for with thee will I break in pieces the nations, and with thee will I destroy kingdoms;
More Hard Left Delusions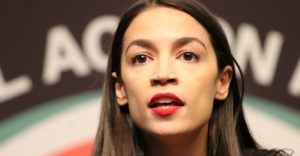 "Ocasio-Cortez says Muslim, Christian prayers 'go to the same place'" This is all nonsense on the part of the Muslims and Hard Left. The Muslims hate and reject the God of the Bible, and they deny the Blessed Trinity, that Jesus Christ is the Son of God, he died on the cross and rose from the dead! They deny that our God is the Holy God of Israel.
If Cortez tried this nonsense in Mecca, the Muslims would try and stone her to death. This is all for the soft-minded Americans who are living in delusions.
1 Timothy 3:16 And without controversy great is the mystery of godliness: God was manifest in the flesh, justified in the Spirit, seen of angels, preached unto the Gentiles, believed on in the world, received up into glory.

"Rep. Alexandria Ocasio-Cortez said that both Christian and Muslim prayers "go to the same place" during the first-ever congressional iftar, the meal that breaks the fast at sundown each day of the Muslim holy month of Ramadan.

On Monday, three Muslim members of Congress hosted an iftar at the U.S. Capitol, attended by about 100 guests from various religious backgrounds, The Washington Post reports.

During the event, Ocasio-Cortez, D-N.Y., a professing Catholic, talked about attending Friday prayers at mosques in her district, which includes a substantial Muslim population in the Bronx and Queens.

She said: "When [Rep.] Ilhan [Abdullahi Omar, D-Minn.] prays, when I pray, when [Rep.] Rashida [Tlaib, D-Mich.] prays, when Ayanna [Pressley] prays, when Jan Schakowsky prays, I believe those prayers all go to the same place — up."
Abba Father's International Fellowship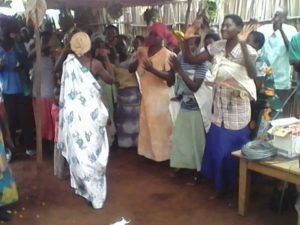 Greetings  pastor  Dave, praise the living  name of the High God of Glory' 
Thank you so much for the  Blessed work  work of the lord that you are doing ,we are blessed so much as a generations of  believers  by the teachings ,and we are reaching and encouraging many to come to Jesus through your teachings 
i just want to inform you that the teachings are very transforming and i believe that the many  will be lead to the spirit of God   and  lead will be benefiting and equipped spiritual  if they can have such good teachings  for them selves and for their families ,it will be a transforming  season to all that will need Jesus and  need Him Indeed, i read  to your  the teachings always for myself as well have  gained a great move in my spirit as i serve my fellow youths and  lead them to Jesus ,the Lord as enabled me to reach  evangelism in village ,church seminar and street distributions  with the message as well and it has transformed their lives ,evangelism and soul wining too is at work,we are reaching life testimony of what the lord is doing with the material here in my region, please thank and thanks again for being a   a blessing to the lives of many souls ,thank s to you for the faithful work of the kingdom
 If possible sent more materials as we continue with evangelism to reach others
the picture are here by too attached  for the part of the work being done
In  Christ Service,  Pst D. S.
If you like our ministry, please consider making a

donation

to keep us going. May the Holy God of Israel bless you!
Revelation 22:20 He which testifieth these things saith, Surely I come quickly. Amen. Even so, come, Lord Jesus.