Religious 'nones' increasing nationwide; 3 states see evangelical growth
Verse of the Day
Psalm 33:12 Blessed is the nation whose God is the LORD; and the people whom he hath chosen for his own inheritance.
Commentary
The polls show the continued downward spiral of Christians in America. The youth are abandoning the churches by the millions. Who could blame them because of the nonsense being preached from so many mainline churches. With the evangelical churches, God's power is waning as they use powerless translations.
We need revival for survival!
Proverbs 1:23 Turn you at my reproof: behold, I will pour out my spirit unto you, I will make known my words unto you.
Shrinking of Believers in America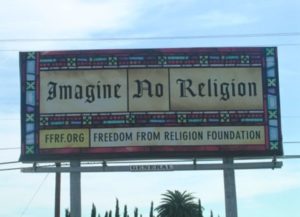 "Religious 'nones' increasing nationwide; 3 states see evangelical growth"
"Those with no particular religious affiliation, often called "nones," continue to grow in number in the United States, new data show.

Eastern Illinois University political science professor Ryan Burge explains in an essay for Religion in Public that while much of the media often frames the statistics that nones now constitute the largest religious group in the U.S., the reality is much more complicated. Nevertheless, the trend is clear.

Self-identified nones made up 22.2% of Americans in 2008, Burge noted; today they comprise 29.5%."
Defending Jesus from Muslims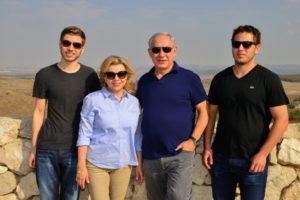 "Netanyahu's Son Defends Jesus' Jewishness: It's in the Bible!" This is a very interesting article because Israel's, Prime Minister's son defended Jesus as being a Jew and not Palestinian.
John 1:11 He came unto his own, and his own received him not

"Prime Minister Benjamin Netanyahu's elder son, Yair, responded fervently last week when a Palestinian-American provocateur repeated on Twitter the silly claim that Jesus was a son of Palestine.

During what appeared to be a rather long Twitter discussion on Jesus' ethnicity, Linda Sarsour, who has made a name for herself promoting an Islamist agenda in American politics, insisted that "Jesus was Palestinian of Nazareth and is described in the Quran as being brown copper skinned with wooly hair."

Yair Netanyahu was having none of it. "Are you that stupid?" he asked Sarsour, explaining to her that "on the cross above Jesus' head was the sign 'INRI'- 'Iesvs Nazarenvs Rex Ivdaeorvm', which means in Latin- Jesus of Nazareth king of the Jews!"
Hard Left Dems Attacking Israel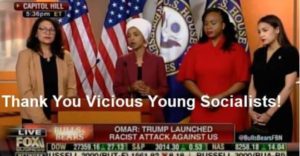 "Ilhan Omar and Rashida Tlaib Introduce Radical BDS Resolution That Compares Israel to Nazi Germany and Imperialist Japan" President Trump did it! He smoked out, right before the eyes of the nation, the Jew hating Muslims in the Dem party. They couldn't contain their hatred for Israel and went full throttle public with it! The President needs our praise for doing America a great service!
These Muslims are under the curse of God and anyone who supports them also fall under God's curse.
Obadiah 1:15 For the day of the LORD is near upon all the heathen: as thou hast done (to Israel), it shall be done unto thee: thy reward shall return upon thine own head.

"Rep. Ilhan Omar (D-MN) and Rep. Rashida Tlaib (D-MI) introduced legislation to support the terror-funded BDS movement.

BDS stands for the movement to boycott, divest from and sanction Israel. A visit to the BDS website (www.BDSmovement.net) quickly reveals that BDS has far a more radical goal: eliminating Israel as a Jewish state. This is not an exaggeration. This is something BDS leaders readily admit.

The proposed legislation by Ilhan Omar compares Israel to:
** Nazi Germany
** Imperial Japan
** Soviet Russia"
Wow. The President's War Against the Communists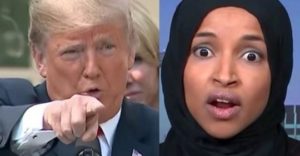 "We Will Never Be a Socialist or Communist Country!" — TRUMP Absolutely HAMMERS AOC and Ilhan Omar on Her Al-Qaeda and 9-11 Comments!" Finally, the truth is being told about these Communists and Israel haters. He is forcing the dems to defend these anti America racists as they are always attacking America and especially white males.
It is so exhilarating to watch the President defend America from this Marxist-Islam group of American haters.
Revelation 22:20 He which testifieth these things saith, Surely I come quickly. Amen. Even so, come, Lord Jesus.

"The Democrats and their media hit a 9 on the Richter Scale after President Trump inserted himself into the intra-party civil war.

President Trump posted several tweets exposing the ultra-radical young guns of the party — AOC, Ilhan Omar, Rashida Tlaib and Ayanna Pressley.

Trump DARED the Democrat leadership to DEFEND their Socialist and Anti-Semitic freshman. Pelosi took the bait and announced on Monday a House resolution to condemn President Trump's "racist, xenophobic" tweets. Trump ignored Pelosi and hit the radical Democrats again today in his tweets.

President Trump HAMMERED Ocasio-Cortez on her Socialist campaign. And then Trump ABSOLUTELY BLASTED Ilhan Omar on her anti-Semitic, Pro-Al Qaeda and disgusting 9-11 comments."
Hard Left Hatred of Israel and USA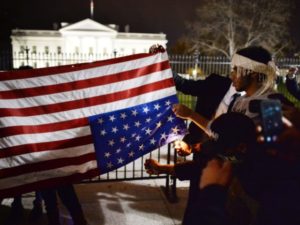 "Caroline Glick: Trump's Tweetstorm Correctly Linked Anti-Americanism to Antisemitism" The President made it very clear that those who hate America also hate Israel. This is how the Hard Left and Islam are merging. The political grey area is disappearing.
America needs a revival for survival or the nation is going to breakdown. There will be no common ground. We need an outpouring of the Holy Spirit to heal the land.
Proverbs 1:23 Turn you at my reproof: behold, I will pour out my spirit unto you, I will make known my words unto you.
We pray everything Saturday night live on FaceBook. Everyone is welcome to join.
"President Donald Trump's tweets on Sunday drew predictable condemnation. But aside from the partisan debate about whether they were racist, they contained an important truth: hatred of Jews and hatred of America are linked.

But Trump also highlighted a basic fact about the nature of leftist ideology. Just as the Iranian regime views the United States and Israel as two sides of the same coin, with the ayatollahs dubbing the U.S. "the Great Satan" and Israel, "the Little Satan," so the radical left views the U.S. and Israel – the most powerful democracy in the world and the only democracy in the Middle East – as states with no moral foundation for existing.

Although other presidents have spoken out against hatred of Jews and Israel on the one hand and hatred of America on the other, it is hard to think of another example of a U.S. leader making the case that the two hatreds are linked as Trump did this week."
Reprobate City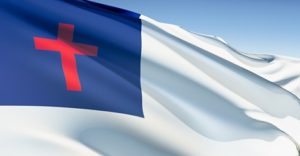 "Group sues Boston for banning Christian flag, approving 284 others" This is a small issue in the big scheme of things, but it shows the utter disdain the reprobate mind has for anything Christian.
Both the city and state are controlled by reprobates, and they loathe anything Christian because they hate God.
Roman 8:7 Because the carnal mind is enmity against God: for it is not subject to the law of God, neither indeed can be. (8) So then they that are in the flesh cannot please God.
"The city of Boston, Mass. is being sued for religious discrimination for banning the Christian flag while permitting 284 others, according to a federal lawsuit filed last week.

Hal Shurtleff, the director and co-founder of Camp Constitution, asked the city to fly the Christian flag, an inter-denominational symbol, as part of Constitution Day on Sep. 17, 2017, for a one-hour event. But the city banned its appearance, saying no non-secular flags could be flown.

"There's no question that it is an unconstitutional act and originally said it was a violation of the First Amendment, which I find ironic," Shurtleff told Fox News. "I'm optimistic the lawsuit will go our way." Shurtleff said the city would have accepted it if they had called it the Camp Constitution flag instead of the Christian flag."
Explosion of Pedophilia Coming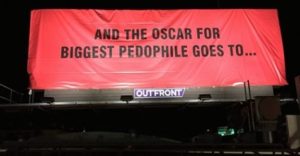 "The UN Is Normalizing Pedophilia: The Deep State Is Free to Prey Upon Your Children" There is no doubt the world is getting ready to accept and legalize the molesting a children. This is coming real fast. I know this has to happen as the Tribulation period is on the way, but it is so sad to watch this collapse into sin.
We will fight this to the very end until we go to be with Jesus, and they go to perdition. We will fight it with an outpouring of the Holy Spirit.
Proverbs 1:23 Turn you at my reproof: behold, I will pour out my spirit unto you, I will make known my words unto you.

" The United Nations Office of the High Commissioner for Human Rights is sanctioning a sexual revolution that will culminate in the legalization and whole-hearted support of transgenderism but will also support the legalization of pedophilia.

"The United Nations "Human Rights Council," which counts some of the world's most ruthless dictatorships as members, sparked global outrage last week by voting to appoint a UN czar to oversee the normalization of homosexuality and transgenderism around the world.

…According to the UN's propaganda service, the discredited UN "Human Rights Council" debated the measure for almost four hours on June 30 before adopting the scheme in a contentious vote. Just 23 member governments and regimes voted in favor of creating the new czar, while 18 voted against and six abstained."
Earthquake and Volcano Update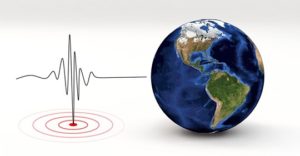 "The Number Of Global Earthquakes Is 3 Times Above Normal – 6.1, 6.6, 7.3 + Dozens More Hit The Ring Of Fire Over The Last 48 Hours" This is an interesting update showing the tremendous increase in major earthquakes.
"Within the last 48 hours we have seen large earthquakes going off like firecrackers all along the Ring of Fire. As you will see below, a magnitude 6.1 quake just hit Japan, a magnitude 6.6 quake just hit Australia and a magnitude 7.3 earthquake just hit Indonesia. And of course all of this comes just about a week after southern California was hit by the two largest earthquakes that it has experienced in more than two decades.

So is all of this shaking unusual? Just a few moments ago, I pulled up the most recent data from Earthquake Track, and what I discovered is more than just a little bit alarming. Looking at the entire globe, we have averaged 193 earthquakes of magnitude 1.5 or greater per day so far in 2019. That is very high, but it pales in comparison to what we have witnessed over the last week. Within the last seven days, our planet has experienced an average of more than 677 earthquakes of magnitude 1.5 or greater per day. That means that the number of global earthquakes right now is more than 3 times above normal."
Earthquake and Volcano Update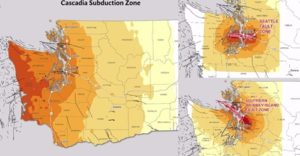 "Why you should be prepared: 3 big earthquake threats in PNW" Yet another article about the Cascadia Subduction Zone. This is a very good article. If you live in this area, you need to be ready for a mega quake.
"The western half of Washington state is considered earthquake country, with the potential for very large quakes. Scientists have their top three.

First, there's the Cascadia Subduction Zone running roughly parallel to the Pacific Coast from northern California past the northern tip of Canada's Vancouver Island.

Second, the Seattle Fault, which runs east to west just south of downtown Seattle. It ends up near the Cascade Mountains and west onto the Olympic Peninsula.

Third, the South Whidbey Island Fault running from northwest to southeast of the southern tip of the island. These quakes are capable of magnitudes from 7 to over 9."
De Funding Baby Killing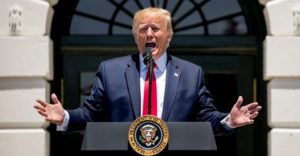 "Trump abortion rule deals 'devastating blow' to Planned Parenthood, group says" This is great news for the babies! The government will be no longer funding PP! What a victory!
May the Lord greatly bless President Trump for his ceaseless effort to save the babies.
Psalm 94:16 Who will rise up for me against the evildoers? or who will stand up for me against the workers of iniquity?

"The Trump administration stopped taxpayer dollars from going to abortion referrals at publicly funded family planning centers on Monday.

Planned Parenthood, the nation's largest abortion provider, sued the administration, along with 20 states and the District of Columbia, in an attempt to stop Health and Human Services, or HHS, from diverting Title X family planning funding going to abortions. But the Ninth Circuit Court of Appeals, with two judges appointed by Trump, rejected the plea.

"This is a devastating blow to the 4 million patients who obtain birth control, cancer screenings, and other essential care through Title X," the organization tweeted."
Abba Father's International Fellowship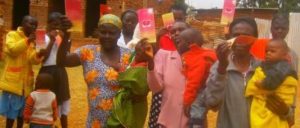 Dear pastors Dave and John. praise the name of the most high God
I salute you in the Lord's name,am much glad to reach you again and thanking you for such an effort in the Lord vineyard and for the extra -wonderfully kingdom work that please God and that touches souls for the lord,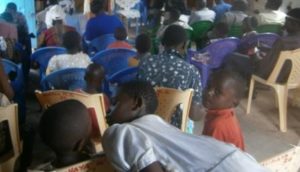 Am blessed to be working with this kingdom family,and the last
trumpet team in your nation,your ministry and teachings are live transformations kingdom,it so good and great to be in cooperation with your ministry and the teachings of this ministry in expanding
the ministry to expand the kingdom of the Lord am hearing and receiving great testimonial of the Work of the teachings as we continue distributing the Teaching material in to different areas. The lives being touched by the Gospel among and within the community and the lost souls receiving Jesus through Team of evangelist, speaking and praying for the people. Healing and deliverance of Setting the Lost and Abandoned in the community,the one that lost
hope in life have been reached and renewed in spirit as children of the High Most God am attaching the pictures of the months updates and distributions. please sent me another box for this months programs Good and wonderful Job Is coming up her in My community and the neighborhood thanks for the Blessed work of the Kingdom
In Christ Love
Pst S N
If you like our ministry, please consider making a

donation

to keep us going. May the Holy God of Israel bless you!
Revelation 22:20 He which testifieth these things saith, Surely I come quickly. Amen. Even so, come, Lord Jesus.