Report: Several Mail Bombs 'Not Capable of Exploding,' Not All Tested Yet
Verse of the Day
John 10:10 The thief cometh not, but for to steal, and to kill, and to destroy: I am come that they might have life, and that they might have it more abundantly.
Commentary
Definition: A false flag is a covert operation designed to deceive; the deception creates the appearance of a particular party, group, or nation being responsible for some activity, disguising the actual source of responsibility.
I would not be surprised if these "bombs" were a false flag to make President Trump stop exposing the Hard Left media and politicians. It also could be used to gain sympathy for the now Bolshevik Dems.
The Dems have made a turn to become Communists. We need to start calling them what they are. Obama is now Comrade Obama and we have Comrade Sanders.
Now they are exposed as Communists, it is a fight to the finish because no matter what happens, they will not stop. Communism is just like a religion with the state as their god. They are ruthless which is proven by history.
Once we see them as Communists, we can't believe anything they say because lying is part of advancing their godless agenda. All we need to do is look at the history of Communism to see how violent and murderous it is.
Looking for the Blessed Hope
1 Thess 4:16 For the Lord himself shall descend from heaven with a shout, with the voice of the archangel, and with the trump of God: and the dead in Christ shall rise first: Then we which are alive and remain shall be caught up together with them in the clouds, to meet the Lord in the air: and so shall we ever be with the Lord. Wherefore comfort one another with these words.
Hard Left False Flag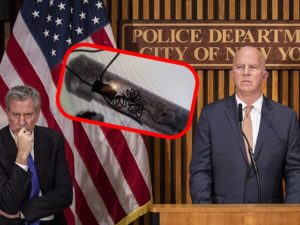 "Report: Several Mail Bombs 'Not Capable of Exploding,' Not All Tested Yet" Since it found the bombs couldn't explode, this event has dropped right off the radar! Something is wrong with this. He drove a van covered with Trump stickers, but the Hard Left attacks vehicles when they have Trump stickers. Something is not right with this event.
"NBC New York reports multiple suspected crude pipe bombs sent to prominent Democrats and others were "not capable of exploding," yet law enforcement officials told the news outlet that some of the devices have not yet to been completely analyzed.

According to the officials, the some of the devices' defects ranged from "subtle" to "substantial" — a conclusion reached after initial reports, citing anonymous law enforcement officers, said the bombs appear to have been poorly constructed. At the beginning stages of the investigation, bomb technicians believed the devices possess the parts required to detonate."
Image of the Beast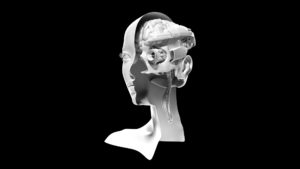 "The Pentagon's Push to Program Soldiers' Brains" The merging of the brain with technology is all part of the Image of the Beast. There is no stopping this as the mad scientists will let nothing stop them.
After reading this article, you can see what their plans are in the not to far future. They will merge man with technology and create a cyborg.
Revelation 13:14 And deceiveth them that dwell on the earth by the means of those miracles which he had power to do in the sight of the beast; saying to them that dwell on the earth, that they should make an image to the beast, which had the wound by a sword, and did live. (15) And he had power to give life unto the image of the beast, that the image of the beast should both speak, and cause that as many as would not worship the image of the beast should be killed.
"And then it made a leap: "I would claim to you that these tools are not so smart. And maybe one of the reasons why they're not so smart is because they're not connected to our brains. Maybe if we could hook those devices into our brains, they could have some idea of what our goals are, what our intent is, and what our frustration is."
So began "Beyond Bionics," a talk by Justin C. Sanchez, then an associate professor of biomedical engineering and neuroscience at the University of Miami, and a faculty member of the Miami Project to Cure Paralysis. He was speaking at a tedx conference in Florida in 2012.

What lies beyond bionics? Sanchez described his work as trying to "understand the neural code," which would involve putting "very fine microwire electrodes"—the diameter of a human hair—"into the brain." When we do that, he said, we would be able to "listen in to the music of the brain" and "listen in to what somebody's motor intent might be" and get a glimpse of "your goals and your rewards" and then "start to understand how the brain encodes behavior."
Enemies of God and Israel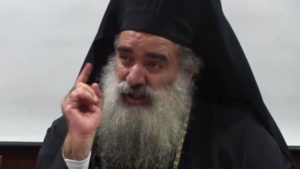 "Greek Patriarch of Jerusalem: Christian Zionists Aren't Real Christians" I've been to Israel many times and seen places owned by the Greek Orthodox. To me, they are more like pagans that Christians. They have icons all over, and the icons give it a pagan look.
They are enemies of Israel and God's prophetic word, so I have no connection with them.
Based on the Greek Patriarch rhetoric against Israel, he is going to receive the identical judgment as the Muslims. They both have the same evil spirit. He boasts against the branches which are the Jews:
Romans 11:18 Boast not against the branches (Jews). But if thou boast, thou bearest not the root, but the root thee. (19) Thou wilt say then, The branches were broken off, that I might be graffed in. (20) Well; because of unbelief they were broken off, and thou standest by faith. Be not highminded, but fear: (21) For if God spared not the natural branches, take heed lest he also spare not thee.

"Hanna's latest proclamation asserts that Christians who call themselves Zionists are not really Christians – or as he said it, they don't belong to Christianity, the Palestinian Media Watch reported.

"The Christian evangelists are tantamount to pulpits in the service of the Zionist enterprise," PMW quoted him as saying. "They are enemies of Christian values…They are closer to Judaism and Zionism and have no connection to Christianity."

He continued. "When they come to Palestine [sic] they do not visit the Church of the Holy Sepulcher [in Jerusalem's Old City] or the Church of the Nativity [in Bethlehem]. Instead they choose "the colonies located on the stolen lands of our people as a sign of solidarity with the occupation," he said in an article last month in the Palestinian Authority daily al-Hayat al-Jadida, PMW reported."
World War 3:NATO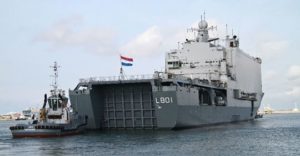 "NATO displays military might to vexed Russia in giant Norway exercises"
There is more to this. Russia has been very aggressive in the Arctic with its military. Like China, Russia claimed land in the Arctic that's not Russian. This is also a show of force to Russia about the Arctic.
"NATO began its biggest military exercises since the end of the Cold War in Norway on Thursday, proof of the US' "rock-solid" commitment to the alliance's collective defence, US Navy Admiral James Foggo said, as Moscow denounced the manoeuvres as "anti-Russian".

Around 50,000 soldiers, 10,000 vehicles, 65 ships and 250 aircraft from 31 countries were taking part in Trident Juncture 18, which is aimed at training the Atlantic Alliance to defend a member state after an aggression.

The show of force comes amid recent concerns over US President Donald Trump's commitment to NATO, in particular the "Article 5″ mutual defence clause which requires all member states to come to the aid of another member state."
Democrat Mind Numbing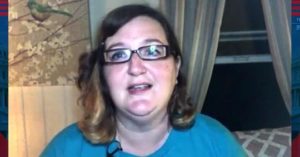 "West Virginia Democratic Candidate Was Pagan Witchcraft Cult Leader"
It looks like every evil in America is gravitating to the Dems! It appears are becoming just like Babylon found in the Book of Revelation! Every unclean thing is found in it!
Revelation 18:2 And he cried mightily with a strong voice, saying, Babylon the great is fallen, is fallen, and is become the habitation of devils, and the hold of every foul spirit, and a cage of every unclean and hateful bird.
"A Democratic candidate for the West Virginia House of Delegates was an active leader in pagan witchcraft, The Daily Caller News Foundation has learned.
Lissa Lucas rose through the ranks of a Wiccan cult to its third level — the highest stage for most Wiccan cults — and instructed lower-level Wiccans in occult practices, TheDCNF's investigation found.
Lucas's campaign has raised more than five times as much money as her Republican opponent, thanks in part to national media attention that has left out Lucas's witchcraft.
She authored two books on casting pagan spells, writing under the name Llysse Smith Wylle. The author biography for Lucas's 2007 book, "The Art of Magic Words," a how-to guide for casting spells, touted her experience in witchcraft.
"Llysse Smith Wylle has been Pagan for many years and Wiccan for seven," the description reads. "She is a member of the Third Circle of the Tradition of Universal Eclectic Wicca; she also teaches and coordinates its First Circle degree via the Coven of the Far Flung Net."
Abba Father's International Fellowship – Kenya
Pastor Nathan in Kenya sent these photos earlier this year from a tiny church he went to deliver the broken hearted message .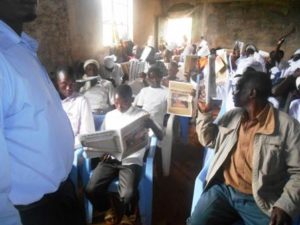 A note from Pastor Nathan
Dear Pastor Dave & John
Greetings in the mighty name of our Lord Jesus Christ.I hope you doing well.
Our trip was good and successful to tongareni the church of life restoration.They received us well and welcomed by claps cheering and shouting while they were  saying welcome welcome welcome The leader who was in charge of the service welcomed his pastor so that he may recognize us to his  members of the church .After that pastor welcomed me so that i may minister to people.My theme was about 

'We are living in the end times  and i told them to open their bibles in the book  of MATTHEW (24;37-4).I told  them the Satan is seeking to dominate  the earth through a man and system described as the beast and his falls prophets will  establish a religion ,politically and economic system to control the world.I told  them Satan will bring war famine and death.Eventually desecrate the rebuild of Jewish temple.Those who oppose this evil system and turn to God will be persecuted one some will divine protection in middle tribulation God will pour judgement upon unrepentant  mankind.

I told them that this teaching come from the new letters of the last trumpet.On page 7 Bible prophecies and scripture references .I told them this letters God gave vision to pastor Dave and Pastor John,Willie about what is going to happen and many prophecies has been fulfilled.Many people were much blessed with the teachings of the  new last trumpet and and 15 people gave their lives to Jesus.I prayed for them and i told to be under there pastor
so that he  may teach them the word of God.I decided to give them newsletters and they were competing for it and they asked me if i was selling and i told them no,i was giving them for free.And were very
much happy as they appreciated very much. Pastor John was the one who
preached in the evening at the conference ended at 5.00pm.God bless
you much for your support for transport it enabled us travel safely.

May God bless you.I have attached pictures of newsletters that
i distributed.
YOUR BROTHER IN THE LORD Pastor NATHAN SIFUNA
Shalom!!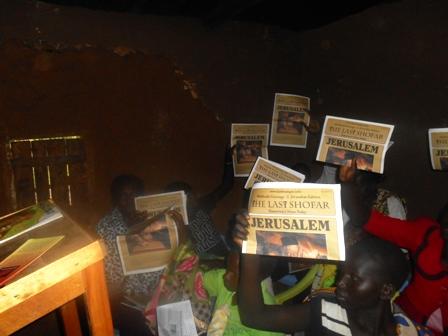 Revelation 22:20 He which testifieth these things saith, Surely I come quickly. Amen. Even so, come, Lord Jesus.
If you like our ministry, please consider making a donation to keep us going.
May the Holy God of Israel bless you !