Spiritual Background Behind Hurricane Irma
Verse of the Day
2 Chronicles 7:13,14 If I shut up heaven that there be no rain, or if I command the locusts to devour the land, or if I send pestilence among my people;

Commentary
Hurricane Irma just devastated Florida and also did heavy damage to Georgia and South Carolina. This was just 15 days after Hurricane Harvey caused recorded breaking flooding in the Houston area. With both of these hurricanes, there was a correlation with President Trump trying to rekindle the peace plan between Israel and the Palestinians. Since President Bush Sr. began this plan in October 1991, the greatest disasters in US history have occurred when the presidents were pressuring Israel to the divide land. It is now continuing under President Trump.
These disasters occurred during the terms of both Republican and Demoncrat presidents along with Obama who is black. Politics and race mean nothing to God. What does matter is how actions with Israel line up according to his word. His word is very clear that nations are not to interfere with his prophetic plan for Israel. I believe that President Trump is a true friend of Israel, but he can't violate God's word. These hurricanes along with the massive, recording breaking forest fires burning in the Northwest are warning to the nation that the sin and violating of God's word has his attention and America is now under severe judgment.
In addition, the eye of Hurricane Irma went directly over the Florida Keys at the very time the largest lesbian event was to be held there. The event was cancelled just like Hurricane Katrina caused the massive homosexual event in New Orleans called Southern Decadence was cancelled! If God is pinpointing judgment for specific areas of rebellion, America is in great danger. I think that states like in California are in grave danger with the Lord.
The remedy for God's judgment is a national repentance by the church. God laid out in his word how the believers are to do this. It is very clear that America is on a collision course with the Lord over its national sins led by abortion and the homosexual agenda, including homosexual "marriage." There appears to be very little time left with the Lord: it is now or never for the church.
God tells us in his word what triggers his destructive judgment on a nation. Please see my teaching: Homosexuality vs God's Holiness
2 Chronicles 7:14 If my people, which are called by my name, shall humble themselves, and pray, and seek my face, and turn from their wicked ways; then will I hear from heaven, and will forgive their sin, and will heal their land.
Trump: There's a 'chance' for Middle East peace 09/08/17  Starting right before Hurricane Harvey, the President sent his envoy to Israel to try and rekindle the "peace process" which includes dividing the land of Israel into a Palestinian State. He continued to talk about this right up to Hurricane Irma slamming into Florida!
"U.S. President Donald Trump said Thursday that he believes there is a "chance" for a Middle East peace settlement. "I think we have a chance of doing it," he told reporters during a White House news conference with Kuwaiti Emir Sheikh Sabah al-Ahmad Al-Sabah, according to AFP. Trump acknowledged that previous administrations had come close to, yet never reached, a deal between Israel and Palestinian Arabs, but said, "We're going to give it our best."

The President said both sides want peace and added that the U.S. had "tremendous talent" working on the problem. Trump's senior advisor and son-in-law, Jared Kushner, has visited the region several times as part of the administration's efforts to restart stalled peace talks between Israel and the Palestinian Authority (PA)."
Hurricane Irma Stopping Sin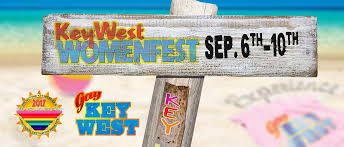 "Womenfest Key West | September 6-10, 2017" 09/10/17 Womenfest is the largest gathering of lesbians and Hurricane Irma hit while this event was scheduled to take place. This is exactly like Hurricane Katrina during Southern Decadence in New Orleans.
There is no doubt in my mind that this storm was sent to stop this sinful event. The timing of this hurricane with this event shows that the sin of America really has God's attention.
Do Hurricanes Harvey and Irma have the attention of God's church? How about tying the hurricanes with the massive fires in the Northwest and Kim Jong-un threatening nuclear war with the USA?
Jude 1:7 Even as Sodom and Gomorrha, and the cities about them in like manner, giving themselves over to fornication, and going after strange flesh, are set forth for an example, suffering the vengeance of eternal fire.

From the website: "Just before the school year starts in earnest just as the last rays of summertime finally set just before the holiday season begins to rev up Key West welcomes women from across the globe to an annual celebration that has become one of the largest gatherings of lesbians and friends in North Americas Womenfest!

Each year thousands of ladies come together over the Labor Day weekend and stay for a wide range of activities and events during four days of revelry and fun."
TRAIL OF DESTRUCTION: Officials warn residents of Florida Keys to stay away as scope of damage emerges 09/11/17  I posted an article showing that the largest lesbian festival
was suppose to take place September 6-10 in the Keys, but the hurricane stopped it. Just like Hurricane Katrina stopped Southern Decadence in New Orleans. The eye of Hurricane Irma went directly over where this lesbian event that was supposed to take place!
It appears that America has moved into a new season of God judging the nation for its national sin. This hurricane with its floods and storm serge is just like Leviticus 18:25 states: the land vomits out its inhabitants!
Leviticus 18:22,23 Thou shalt not lie with mankind, as with womankind: it is abomination. Neither shalt thou lie with any beast to defile thyself therewith: neither shall any woman stand before a beast to lie down thereto: it is confusion. (24,25) Defile not ye yourselves in any of these things: for in all these the nations are defiled which I cast out before you: And the land is defiled: therefore I do visit the iniquity thereof upon it, and the land itself vomiteth out her inhabitants.

From the article: "Houses and mobile homes were uprooted and other infrastructure was destroyed, while an innumerable amount of boats in the Keys also suffered damage from Irma's powerful winds. In a tweet Monday morning, a CBS Miami reporter said that "It's hard to describe the lower Florida Keys, but said it could be best described as a "war zone." "For most of the Florida Keys, there is no fuel, electricity, running water, or cell service," Monroe County officials said in a news release.

Hurricane Irma made its first landfall in Florida Sunday morning in the Keys as a Category 4 storm, with 130-mph winds. In a White House press briefing Monday afternoon, Homeland Security Adviser Tom Bossert said recovery in the Florida Keys is "going to take a while. … I would expect that the Keys are not fit for re-entry for regular citizenry for weeks."
Irma left its mark on 'every' house in Florida Keys, FEMA says 09/12/17
Two days after Hurricane Irma roared into the Florida Keys with 130 mph winds, residents are being allowed slowly to return to the parts of the island chain closest to Florida's mainland. However, preliminary estimates suggested that 25 percent of the homes in the Keys were destroyed and 65 percent sustained major damage, federal officials said. "Basically every house in the Keys was impacted," Federal Emergency Management Agency administrator Brock Long said. While nearly all of Florida was engulfed by the 400-mile-wide storm, the Keys — home to about 70,000 people — appeared to be the hardest hit. Drinking water and power were cut off, all three of the islands' hospitals were closed, and the supply of gasoline was extremely limited.
Officials: 90% of homes in Florida Keys damaged or destroyed by Irma 09/12/17

Hurricane Irma Stopping Abortion
All Planned Parenthood Abortion Mills Close in Florida!" 09/10/17 I guess there could even be a silver lining even in a hurricane. It would be real nice if all these killing centers permanently closed!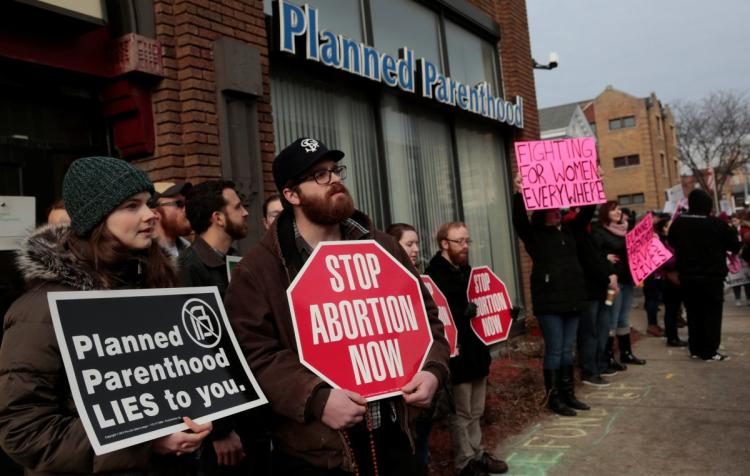 This hurricane is like a gigantic vomit that already spewed millions from Florida. If the church does not rise up before the Lord, one day the spewing will be permanent!
Leviticus 18:21 And thou shalt not let any of thy seed pass through the fire to Molech, neither shalt thou profane the name of thy God: I am the LORD. (22) Thou shalt not lie with mankind, as with womankind: it is abomination. (23) Neither shalt thou lie with any beast to defile thyself therewith: neither shall any woman stand before a beast to lie down thereto: it is confusion. (24,25) Defile not ye yourselves in any of these things: for in all these the nations are defiled which I cast out before you: And the land is defiled: therefore I do visit the iniquity thereof upon it, and the land itself vomiteth out her inhabitants.

From the article: "As we continue to monitor Hurricane Irma and prepare for possible impacts from the storm, the safety of our patients, employees and their families, is paramount. Hurricane Irma is said to be one of the strongest Category 5 hurricanes in history. Though the track of the storm is uncertain, we do know South Florida will be impacted by this storm. Many of our health center locations will experience closures this week and changes to service hours."
"Top Fatah official tells JPost he's still 'optimistic' about a Trump-brokered peace deal" 09/10/17 Notice that two hurricanes hit America while President Trump is getting involved in dividing the land of Israel! He has no business doing this and should recognized Jerusalem as the capital and move the US embassy to it. It is clear violation of God's word to try and divide God's land of Israel which he made by and everlasting covenant with Abraham, Isaac, Jacob and their descendants! Israel exists today because of this covenant!
He must stand with Israel.
Genesis 17:7 And I will establish my covenant between me and thee and thy seed after thee in their generations for an everlasting covenant, to be a God unto thee, and to thy seed after thee. (8) And I will give unto thee, and to thy seed after thee, the land wherein thou art a stranger, all the land of Canaan, for an everlasting possession; and I will be their God.

From the article: "While US President Donald Trump's administration has resisted taking a clear position on the two-state solution, senior Fatah official Jabril Rajoub said he remains hopeful about the American president's efforts to advance the peace process.

Rajoub's comments came as Trump and his aides continue to hold off from explaining their position on the two-state solution, a policy which both the Obama and Bush administrations supported. Over the past several weeks, Palestinian officials have made a number of public appeals to the Trump administration to endorse the two-state solution. The senior Fatah official added that a meeting between Palestinian Authority President Mahmoud Abbas and senior Trump adviser Jared Kushner and other American officials in Ramallah some two weeks ago was "positive." "They said they want a few weeks to study how they can make a breakthrough," Rajoub said.

It is not clear what exactly Kushner envisions. The next major meeting between Palestinian and American officials is expected to take place at the annual gathering of the United Nations General Assembly, where Abbas will reportedly meet Trump.

Rajoub said Abbas's speech at the General Assembly will focus on "the need to reach a solution that creates a Palestinian state along 1967 lines, with east Jerusalem as its capital." "This is the only game in town," Rajoub said."
As America Has Done to Israel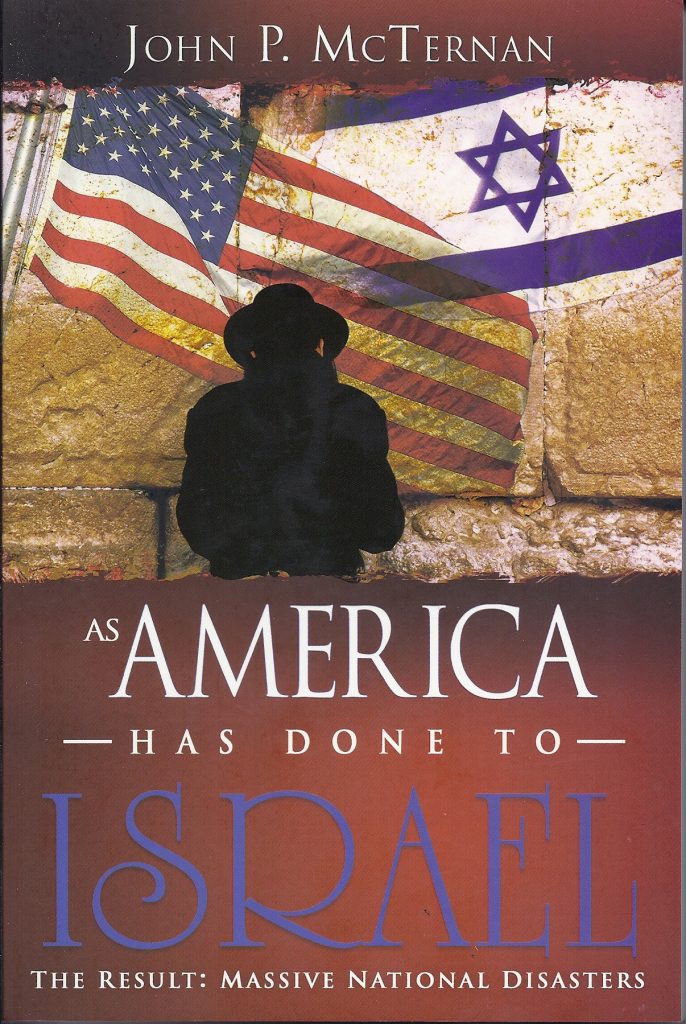 If you are interested in more information about God's prophetic word for Israel, see my teaching: God's Timeline for Israel Converging in 2017
 If you are interested in seeing the correlations between American presidents touching Israel and the corresponding disasters, see my book
As America Has Done to Israel