Supreme Court sides with Colorado baker
Verse of the Day
Acts 2:17,18 And it shall come to pass in the last days, saith God, I will pour out of my Spirit upon all flesh: and your sons and your daughters shall prophesy, and your young men shall see visions, and your old men shall dream dreams: And on my servants and on my handmaidens I will pour out in those days of my Spirit; and they shall prophesy:
Commentary
If you read the article, it is clear the court is trying to walk a tightrope between homosexual rights and religious rights. Right now we won; however, with the current sinful condition of the nation, it is clear sin will win.
If the President is able to appoint a few real Supreme Court justices, the sin can be held back for a while. Unless there is a revival, eventually sin will win.
We need a revival for survival.
May the Holy God of Israel bless and protect you.
1 Thess 4:16,17 For the Lord himself shall descend from heaven with a shout, with the voice of the archangel, and with the trump of God: and the dead in Christ shall rise first: Then we which are alive and remain shall be caught up together with them in the clouds, to meet the Lord in the air: and so shall we ever be with the Lord. (18) Wherefore comfort one another with these words.
 Supreme Court Homosexuality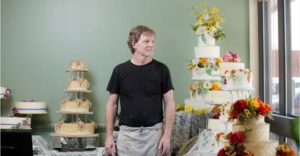 "Supreme Court sides with Colorado baker who refused to make wedding cake for same-sex couple"
"The Supreme Court ruled Monday in favor of a Colorado baker who refused to make a wedding cake for a same-sex couple, in one of the most closely watched cases of the term.

In a 7-2 decision, the justices set aside a Colorado court ruling against the baker — while stopping short of deciding the broader issue of whether a business can refuse to serve gay and lesbian people. The opinion was penned by Justice Anthony Kennedy, who is often the swing justice in tight cases.

The narrow ruling here focused on what the court described as anti-religious bias on the Colorado Civil Rights Commission when it ruled against baker Jack Phillips. "The Commission's hostility was inconsistent with the First Amendment's guarantee that our laws be applied in a manner that is neutral toward religion," Kennedy wrote in his majority opinion."
Dangerous Courts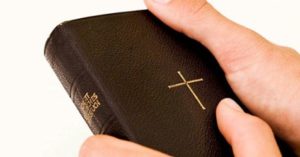 "Court agrees cops can withhold Bible from inmate" There is a constant attack on the faith by the courts. Our faith rights are very fragile and in great danger.
"A U.S. court has opened the door to restrictions on religious practices that are not considered "mandatory" by the faith.That's the concern of the Rutherford Institute, which worked with other faith groups to ask the high court to overturn a lower court's approval of a prison policy that deprived a Christian inmate of a Bible.Conraad Hoever, held in Florida's Franklin Correctional Institution, was placed in solitary confinement in 2013 for "disrespecting" a prison guard, and he asked to have a Bible with him.Hoever, who "believes that he is called to study the Bible daily and that these daily devotionals prevent him from falling from grace," had asked for one of the three Bibles he already owned.The prison refused, only to relent and give him a Spanish-language Bible, which he could not read. Hoever then sued and lost in the courts. An appeal was submitted to the Supreme Court by groups that work with the three Abrahamic faiths."
Trump vs Iran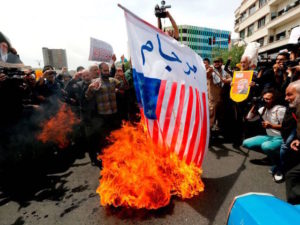 "Caroline Glick: Trump's North Korea Strategy Is Terrifying Iran" 
This is a great article explaining what is happening with Iran, Syria and North Korea in connection to what President Trump is doing. If President Trump can turn NK from Iran, then Iran is isolated and will have trouble completing its nuclear weapons program.
You will learn a lot from this article.
"Assad will be in Pyongyang as an emissary of the Iranian regime, which wants to find out what Kim is planning — and hopefully, coordinate policy with him before his June 12 meeting with Trump.

Iran's apparent effort to coordinate its operations with its longtime partner, and its fear that North Korea may be in the process of selling out to the Americans, is not happening in a vacuum. The Trump administration is implementing an across-the-board strategy to isolate Iran from its economic and strategic partners.

In some cases, like Trump's diplomacy with Pyongyang, and the decision to abandon the Iran nuclear deal, the U.S. is implementing its strategy directly. In other areas, the U.S. is using Israel to implement its strategy of isolating Iran.

If North Korea is Iran's chief Asian partner, Assad and Putin are Tehran's most important allies in the Middle East. Russia built Iran's Bushehr nuclear reactor. Russia has sold advanced weapons systems to Iran. Since 2015, Russia has been Iran's chief partner in preventing Assad's defeat in Syria, and in winning back regions of Syria that rebel forces had successfully seized control over during Syria's seven-year war."
Mideast Update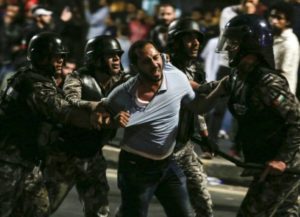 "Jordan Senate Meets as Protests Snowball over IMF-Backed Austerity" This is very important to watch because according to the Bible, Jordan will be an enemy of Israel. This nation will be central in the Psalm 83 war against Israel.
Jordan does not survive the war and ceases to be a nation.
Moab, Ammon and the children of Lot are all references to Jordan.
Psalm 83:4-8 They have said, Come, and let us cut them off from being a nation; that the name of Israel may be no more in remembrance. For they have consulted together with one consent: they are confederate against thee: The tabernacles of Edom, and the Ishmaelites; of Moab, and the Hagarenes; Gebal, and Ammon, and Amalek; the Philistines with the inhabitants of Tyre; Assur also is joined with them: they have holpen the children of Lot. Selah.

"Jordan's senate met Sunday for a special session after another night protests across the country against IMF-backed austerity measures including a draft income tax law and price hikes.

Some 3,000 people faced down a heavy security presence to gather near the prime minister's office in Amman until the early hours of Sunday morning, waving Jordanian flags and signs reading "we will not kneel". Protests have gripped the country since Wednesday, when hundreds responding to a call by trade unions, flooded the streets of Amman and other cities to demand the fall of the government."
Hard Left and Communism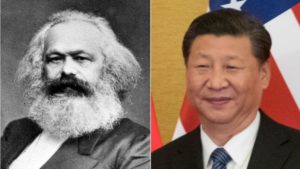 "Newt Gingrich: China's embrace of Marxism is bad news for its people" This is a great article showing the trail of destruction of every nation that went down the road of Communism.
Proverbs 16:25 There is a way that seemeth right unto a man, but the end thereof are the ways of death.
"Karl Marx is being celebrated by Chinese President Xi Jinping as the "greatest thinker of modern times." Western academics are celebrating Marx as a historic critic of the modern world. Yet what all the pro-Marxist, pro-socialist speakers ignore is the human cost of Marxism.

In the name of Marx, Vladimir Lenin established the Soviet Union as police state that killed millions. Josef Stalin succeeded Lenin as the Soviet leader and proved even more ruthless and committed to killing.

Adolf Hitler led the National Socialist German Workers' (Nazi) Party and socialism was central to his taking over the German economy and the German state – a fact the left makes every effort to avoid. Mao Zedong was the deadliest Marxist of all and killed an uncounted number of millions to impose his will on China."
California and Sin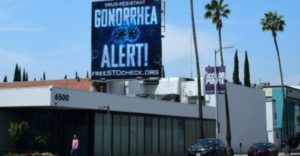 "California on front line as STDs run rampant in US" This state is just dying from sin.
James 1:15 Then when lust hath conceived, it bringeth forth sin: and sin, when it is finished, bringeth forth death.
 "A billboard on Sunset Boulevard in Hollywood screams out a stark warning: "drug-resistant gonorrhea alert!" The words are set against a black background and accompanied by a microscope shot of the gonococcus bacteria, which causes the illness now running rampant in California.

Sexually transmitted diseases have made an alarming resurgence across the United States, where 2016 saw a record two million cases of chlamydia, gonorrhea and syphilis, including 628 cases of congenital syphilis. But California, the most populous US state, stands out for its willingness to tackle the crisis head-on, with cases of the three ailments up 45 percent in 2017 from five years ago."
 

Hard Left Destruction of California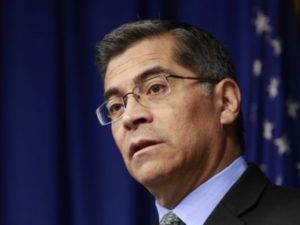 "California Bans Travel to Oklahoma over 'Discriminatory' Gay Adoption Law, OU-UCLA Football Likely Exempted" Do you ever hear anything good coming from this state! It is always a downward spiral into sin and destruction.
This is exactly what happens to any government when the reprobate mind takes power. Whatever is evil is good to these people.
Isaiah 5:20 Woe unto them that call evil good, and good evil; that put darkness for light, and light for darkness; that put bitter for sweet, and sweet for bitter!

 "The state of California has banned travel to Oklahoma over its supposed "discriminatory" gay adoption law, but OU-UCLA football will likely be exempted, a report says.

The ban was leveled as part of California's 2017 law that prohibits the state's public university systems from sending students or staff to states deemed politically incorrect for one reason or another. Despite the ban, though, California's athletic teams have in some cases been permitted to travel to the "banned" states despite the designation."
Hard Left Destroys Everything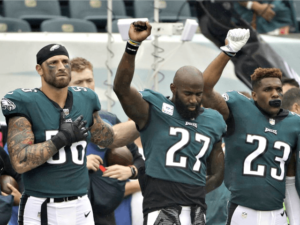 "Trump Cancels Philadelphia Eagles Over Anthem Protest, Event Will Now Honor American Heroes"
I was a pro football fan, but not anymore. The President did the right thing by dis inviting the Eagles to the White House and holding a patriotic event in its place.
I think that pro football is self disintegrating and is dying a slow but steady death.
This is what happens to any organization in which the Hard Left gains control: it dies. They are doing to same thing to the "Boy Scouts."
Romans 1:28,29 And even as they did not like to retain God in their knowledge, God gave them over to a reprobate mind, to do those things which are not convenient; Being filled with all unrighteousness, fornication, wickedness, covetousness, maliciousness; full of envy, murder, debate, deceit, malignity; whisperers,

 "President Donald Trump revealed Monday evening that some of the Super Bowl champion Philadelphia Eagles refused to stand for the National Anthem at a Tuesday White House event that was scheduled in their honor, leading the President to cancel their appearance. The 1,000 invited fans are still welcome to come for an event being held in its place that will honor America and the "heroes who fight to protect it."

"The Philadelphia Eagles are unable to come to the White House with their full team to be celebrated tomorrow," the President's Thursday evening statement began. "They disagree with their President because he insists that they proudly stand for the National Anthem, hand on heart, in honor of the great men and women of our military and the people of our country."
Man's Best Friend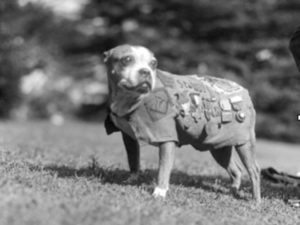 "WW1: Stormtroopers Strike Back; Sergeant Stubby's Trench Raid" I so enjoyed reading this story. I held my breath will reading figuring the dog did not survive the war but he did! It turns out Sergeant Stubby was a real hero and even honored even by General Pershing!
 "A century ago, millions of young Americans fought in the Great War, a conflict many today have nearly forgotten. More than a hundred thousand died, either from combat or from the influenza plague that accompanied the war, and more than two hundred thousand were wounded.
But one of the youngest casualties of the war doesn't get counted in the official statistics. Sergeant Stubby was only a year or two old when he battled the Germans and was twice injured in combat. Far too young to enlist, he had to be smuggled inside another soldier's coat to board the troop transport that took him across the Atlantic. He fit inside the coat because he was a puppy, a brindle-colored Boston terrier mix who was the mascot of the 102nd Infantry."
Revelation 22:20 He which testifieth these things saith, Surely I come quickly. Amen. Even so, come, Lord Jesus.