Texas Town 1st in Nation to Ban Abortion, Declares Itself 'Sanctuary City for the Unborn'
Verse of the Day
Psalm 94:16 Who will rise up for me against the evildoers? or who will stand up for me against the workers of iniquity?
Commentary
This is wonderful news. As the states enact these draconian abortion laws, the nation is dying. Between the cold hearted murder of the babies and the homosexual agenda, how much time can be left for America? There is NO hope without a revival for survival.

Proverbs 1:23 Turn you at my reproof: behold, I will pour out my spirit unto you, I will make known my words unto you.
Pro Life in America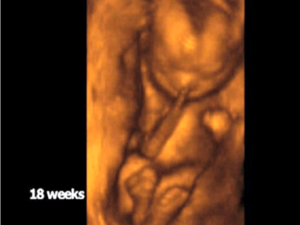 "Texas Town 1st in Nation to Ban Abortion, Declares Itself 'Sanctuary City for the Unborn'"
"The city of Waskom, Texas, has become the first in the nation to ban abortion, declaring itself a "sanctuary city for the unborn."

The Waskom city council unanimously voted Tuesday to adopt a resolution and an ordinance to make abortions in the city a criminal offense.

Jesse Moore, the mayor of Waskom, a city located 18 miles west of Shreveport, Louisiana, and called "The Gateway to Texas," said the city council was approached by Right to Life East Texas with concerns that, with Louisiana, Alabama, and Mississippi having passed laws restricting abortions, abortion providers may consider Waskom to be an ideal location for a clinic.

"The citizens in Waskom, they don't want to have an abortion clinic in Waskom, so they presented the board last night with an ordinance and resolution that will make abortions in the city of Waskom a criminal offense," Moore said, according to the Marshall News Messenger."
Hard Left War Against Christians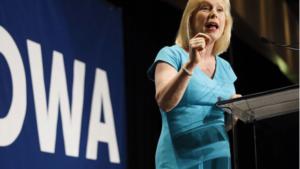 "Kirsten Gillibrand Says Christian Beliefs Not Allowed, and Pro-Lifers Are Like Racists and Anti-Semites" This is very serious because it shows how the Hard Left wants to strip us of our rights. Following the stripping of our rights, then comes the force to break us. They hate us, and the Hard Left is now out in the open, and what they plan to do to us if they gain enough power.
Psalm 68:1 Let God arise, let his enemies be scattered: let them also that hate him flee before him. (2) As smoke is driven away, so drive them away: as wax melteth before the fire, so let the wicked perish at the presence of God.

"Sen. Kirsten Gillibrand (D-NY), who hopes to win the Democratic Party's nomination for the 2020 presidential election, said pro-life views are "not acceptable" and compared them to racism.

Gillibrand made the comments during an interview with the Des Moines Register after being asked about appointing judges who would uphold Roe v Wade.

"I think there's some issues that have such moral clarity that we have as a society decided that the other side is not acceptable. Imagine saying that it's okay to appoint a judge who's racist or anti-Semitic or homophobic," she said."
States Falling to Hard Left Takeover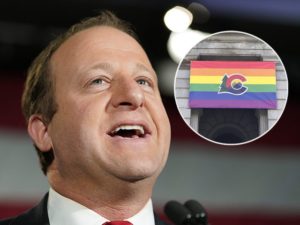 "Colorado Gov. Jared Polis Displays Pride Flag Outside State Capitol" This is what happens when a homosexual is elected governor. He will do everything he can to turn this state over to homosexuality. Colorado is going down the road to California into a "hell hole" and third world state.
Without revival for survival the state and America is doomed. There is no way to turn back except with the Lord.
Proverbs 1:23 Turn you at my reproof: behold, I will pour out my spirit unto you, I will make known my words unto you.

"Gov. Jared Polis (D-CO), the first openly gay man to be elected governor of a U.S. state, is celebrating Pride Month by displaying an LGBTQ flag on the state capitol building.

"The Pride Flag is on display this weekend at our Colorado State Capitol. I'm so proud to be the governor of a state that celebrates diversity and love," Polis wrote on Twitter Friday, sharing a photo of the flag tied by its four corners outside the capitol."
Real Life Results of Sexual Sin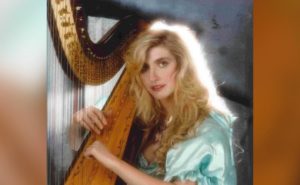 "Daughter of famed sci-fi author reveals sexual horrors she suffered growing up in LGBT home" She is a miracle of the Lord because although she lived through horrors of being sexually abused, she came to Jesus Christ as her Savior! This is a very interesting article.
"The couple's LGBT ideology was constantly imposed on the children by both parents. Greyland says that Zimmer Bradley expected her to take on masculine mannerisms and to become a lesbian, and was disappointed in her attraction to the opposite sex, accusing her of being a "breeder." Greyland also had to hide from her parents her conversion to Christianity which would have been received with terrible derision.

Alarmingly, Greyland reveals that her parents' sympathetic views of pedophilia and pederasty had been a public fact for decades, one known particularly among science fiction and fantasy fans who attended fan conferences. Science fiction fans documented Breen's molestation of at least ten children by 1963, which had only resulted in his temporary exclusion from the largest science fiction fan convention, Worldcon, and was never reported to the police. Breen continued to attend conferences for many years afterward, baiting children he targeted with abuse with various science education gadgets that would attract their attention."
Hard Left White Hatred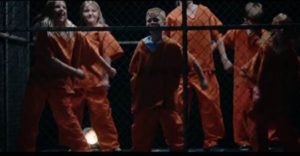 "It's Suddenly Hip on the Left to Abuse White Kids: Rapper Vic Mensa Puts White Kids in Cages Drinking Toilet Water in New Video" Look how the Hard Left just pushes lies and more lies. There really is no truth in them. I don't think they know what truth is. This kind of activity by the Hard Left is what leads to a civil war. I really believe that they think they can get away with this and just bully the Patriots. If their antics continue, it will head towards them getting real bold and using massive violence. The end will not be good for them.
"Rapper Vic Mensa released his latest video on Friday for his latest political anthem, "Camp America." In the video white kids are kept in cages and forced to drink toilet water. This is supposed to represent ICE detention centers under President Donald Trump's immigration policy. The practice of detaining illegal aliens in cages was used during the Obama years."
Hard Left and Hard Hearts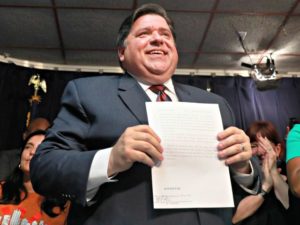 Illinois Gov. J.B. Pritzker Signs Sweeping Bill Allowing Partial-Birth Abortion into Law" A murdering spirit is taking over sections of America. The ultimate target of this spirit is Christians. The reprobate mind just loves to kill babies.
Proverbs 8:36 But he that sinneth against me wrongeth his own soul: all they that hate me love death.

"Illinois Democrat Gov. J.B. Pritzker signed an expansive bill into law Wednesday that repeals the state's ban on partial-birth abortion and makes abortion at any time during pregnancy a "fundamental right."

The new law is a sign the governor is "making good on his promise to make Illinois the most progressive state in the nation for women's reproductive rights," his office said."
Iran vs USA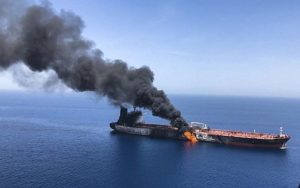 "US secretary of state says Iran behind tanker attacks" Iran is really escalating the tension in the Persian Gulf. This really is an act of war, so we wait to see what President Trump's response is.
"US Secretary of State Mike Pompeo blamed Iran on Thursday for attacks on a pair of tankers earlier in the day in the Gulf of Oman.

"This is only the latest in a series of attacks instigated by the Islamic Republic of Iran and its surrogates against American and allied interests," Pompeo told reporters at the State Department.

"On April 22, Iran promised the world it would interrupt the flow of the oil through the Strait of Hormuz. It is now working to execute on that promise," he added, referring to the narrow waterway separating the Persian Gulf and the Gulf of Iran."
Abba Father's International Fellowship
Luke 4;18 The Spirit of the Lord is on me, because he has anointed me to preach the gospel to the poor; he has sent me to heal the brokenhearted, to preach deliverance to the captives, and recovering of sight to the blind, to set at liberty them that are bruised,

We have seen Jesus healing many people in the crusade and  pastors conference for three days what wonderful God we are serving,

In this world, broken things are despised and thrown out. Anything we no longer need, we throw away. Damaged goods are rejected, and that includes people. In marriage, when relationships break down, the tendency is to walk away and find someone new rather than work at reconciliation. The world is full of people with broken hearts, broken spirits and broken relationships.
"The Lord is close to the broken-heated and saves those who are crushed in spirit" psalm 34;18 There is something about reaching a breaking point that causes us to seek the Lord more sincerely. King David was once a broken man, and he prayed, "Create in me a pure heart, O God, and renew a steadfast spirit within me… The sacrifices of God are a broken spirit; a broken and contrite heart, O God, you will not despise" psalms 51;10.17. There are some things in our lives that need to be broken: pride, self-will, stubbornness, and sinful habits, for example. When we feel our brokenness, God compensates: "I live in a high and holy place, but also with him who is contrite and lowly in spirit" Isaiah 57 ;15
The Bible says that God breaks those who are proud and rebellious. The mighty Pharaoh set himself against God, but God broke him and freed His people from bondage and shame. "I am the Lord your God, who brought you out of Egypt so that you would no longer be slaves to the Egyptians; I broke the bars of your yoke and enabled you to walk with heads held high" Leviticus 26 ;13  God punishes all those who proudly resist Him. "My servants will sing out of the joy of their hearts, but you will cry out from anguish of heart and wail in brokenness of spirit" Isaiah 65;14

as you can see the crowd down how i had wonderful  preaching and i an happy that you joined me in preaching about broken heard message for two days  people were crying even i got tears coming out of my eyes for the powerful message you shared to us   praising report more than 300 Muslims received Jesus and 100 attended the church on Sunday so keep praying for this great movement that is going to win as many  Muslims  as we can and our  target is mosques must be crossed   keep praying and supporting the work of God in East Africa  Abba Father International Fellowship

If you like our ministry, please consider making a

donation

to keep us going. May the Holy God of Israel bless you!
Revelation 22:20 He which testifieth these things saith, Surely I come quickly. Amen. Even so, come, Lord Jesus.