The Death of Britain
Verse of the Day



Psalm 9:17 The wicked shall be turned into hell, and all the nations that forget God.
Commentary
Britain died a while ago, and the nation now is like a walking dead man. The church is dead and Islam is filling the void. Londonstan is now becoming a Muslim city under the control of Sharia law. Britain is falling as fast as Sweden.
I can see the day coming when millions of freedom loving Europeans will have to flee Europe and maybe end up in America. We could trade our Hard Left and Muslims for the freedom loving Europeans. I'd even make it 3 to 1!

May the Holy God of Israel bless and protect you.
Hebrews 11:9,10 By faith he sojourned in the land of promise, as in a strange country, dwelling in tabernacles with Isaac and Jacob, the heirs with him of the same promise: For he looked for a city which hath foundations, whose builder and maker is God.
British Suicide by Muslims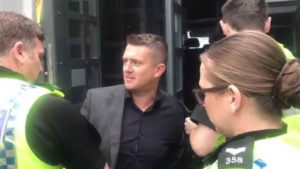 "The Death of Britain"
"With Theresa May's government being as Sharia-compliant as it is, it is entirely possible that Amy was targeted also for reminding police of the law forbidding public prayer in parks, or for "Islamophobia" in general — or if she wasn't, such arrests are coming, and coming soon, as indicated by the arrest on Friday of activist Tommy Robinson.
Robinson was standing outside the courthouse where a trial of a Muslim rape gang was taking place, discussing Britain's rape gang crisis. Reporters stand outside courtrooms all the time and make videos; Tommy wasn't doing anything that they don't do. But he was suddenly arrested (as shown in this video) for "breaching the peace," which is apparently British police code for "offending Islam."
DC Swamp and Pedophilia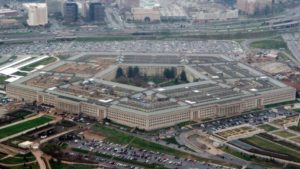 "Pentagon ordered by Senate to investigate child-on-child sexual abuse on US bases" There is no end to sexually abusing children. The Lord will put an end to it and his Second Coming.
"U.S. senators have demanded an independent investigation into how the Defense Department deals with reports of sexual violence among children who live and attend school on U.S. military bases across the globe.

The latest order is just one aspect of legislation that endeavors to revamp the Pentagon's handling of service members' children sexually abusing one another.

Pentagon officials reportedly have resisted a review by the department's independent inspector general, according to The Associated Press, despite evidence of widespread failures in ensuring accountability toward perpetrators and offering support to victims."
Disasters in America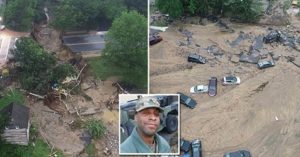 "Shocking drone footage reveals the devastation wrought on Maryland city by second '1,000-year flood' in two-years that swept away a National Guardsman as he tried to save a CAT" This happened while there is a volcano erupting in Hawaii and a powerful storm hitting Florida and then will run up the East Coast.
"Shocking drone footage reveals the devastation wrought on Maryland city by second '1,000-year flood' in two-years that swept away a National Guardsman as he tried to save a CAT."
Apostasy in America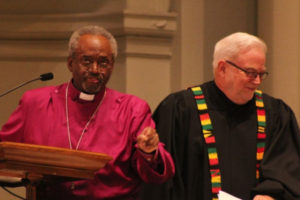 Don't Expect a Religious Left 'Great Awakening,' Says Researcher" The religious Left in America is dead. The more it heads Hard Left the more people flee from it. It offers nothing but acceptance of sin and denying the Bible. This will get swept up into the religion of the antichrist and that will end this abomination of false Christianity.
1 Timothy 4:1,2 Now the Spirit speaketh expressly, that in the latter times some shall depart from the faith, giving heed to seducing spirits, and doctrines of devils; Speaking lies in hypocrisy; having their conscience seared with a hot iron;

"Recently released research is casting doubt on the prospect of a "Great Awakening" for the Religious Left, noting that even liberal mainline churches don't inspire support for Democrats.

Since the election of Donald Trump, many have speculated that his rise to power will spur the emergence of a Religious Left to protest his agenda items.

Ryan P. Burge, a political science professor at Eastern Illinois University who specializes in religion and politics, noted while there were modern examples of liberal Christian activism, these efforts were not being inspired by regular church attendance."
Israel vs Hamas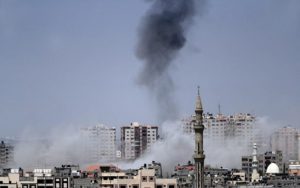 "Israel renews airstrikes on Gaza, denies reports of Egypt-brokered ceasefire" Hamas sent a barrage of missiles into Israel while Israel is retaliating with airstrikes into Gaza.
"Late night barrage sends residents across Gaza border region running for cover; IDF says some 70 projectiles fired into Israel in most serious flare-up since 2014.

The Israeli military confirms that it is carrying out additional strikes in the Gaza Strip, after targeting more than 35 Hamas and Palestinian Islamic Jihad positions earlier in the day."
Israel vs Hamas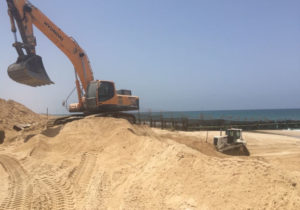 "Israel builds world-first marine barrier on the Gaza border" This is sad, but has to be done to protect Israel from Hamas terrorists infiltrating.
"The Defense Ministry has started construction on an underwater barrier, which will stretch from the southern Israeli community of Zikim out into the Mediterranean to stave off Hamas infiltration by sea.

The barrier is made up of three layers, including one below sea level, a layer of armored stone and a third layer with barbed wire. In addition, a fence will surround the breakwater to provide a final measure of security. The length and depth of the barrier have not been revealed.

"This is the only barrier of its kind in the world, which will effectively block the possibility of infiltrating into Israel via the sea… This will further thwart Hamas's loss of strategic capabilities," said Defense Minister Avigdor Liberman.

The decision to build an upgraded naval barrier was decided upon after five Hamas frogmen tried to infiltrate Kibbutz Zikim during Operation Protective Edge in 2014. Armed with automatic weapons, fragmentation grenades and several types of explosive devices, they were engaged and killed by the IDF in a combined attack from the sea, ground and air."
Hard Left vs American Patriots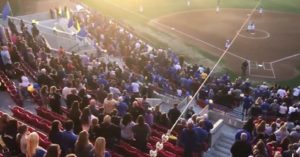 "They announced there'd be no national anthem before championship. The crowd did this" As the Hard Left tries to choke the life out of the nation, we are going to have to take matters into our own hands and get in their face with defiance!
I am so glad the people defied this order!
"Before Clovis High played Buchanan Friday night for the Central Section softball championship, the announcer representing the section stated there wouldn't be a national anthem prior to the game.

Those in attendance at Fresno State's Margie Wright Diamond weren't having any of that. Following a loud chorus of boos, the patriotic crowd stood up and began singing "The Star-Spangled Banner" a cappella.

Many removed their hats and placed their hands over their hearts. Others simply stood tall with pride. Players stopped their pregame warmups to turn around and face the American flag that waved beyond the center-field wall.

When the song was over, the crowd burst into a round of applause."
Economic  Upheaval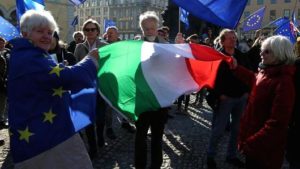 "Italy's power struggle could be a flashpoint for market 'contagion'" The Italian banks are in deep trouble, and this has been known for years. It is just a matter of time until the economy collapses. If this is time, it is too earlier to tell.
 "The contagion risks from a potential Italian implosion should concern market participants once again, according to analysts. The euro zone's third-largest economy is currently in the midst of an ongoing power struggle, with investors fearful the looming prospect of snap elections could be fought over the country's role in the European Union and its membership of the single currency.

Rome's deepening political crisis has prompted a second consecutive session of heavy selling in European financial markets Tuesday, with stocks tumbling and the euro slipping to fresh six-month lows.

"If you just look at the economic fundamentals of Italy, they are worrying," Mouhammed Choukeir, chief investment officer at private bank Kleinwort Hambros, told CNBC's "Squawk Box Europe" Tuesday."
Revelation 22:20 He which testifieth these things saith, Surely I come quickly. Amen. Even so, come, Lord Jesus.