The Jihad Within Israel and War With Hamas
Verse of the Day
Zechariah 12:6 In that day will I make the governors of Judah like an hearth of fire among the wood, and like a torch of fire in a sheaf; and they shall devour all the people round about, on the right hand and on the left: and Jerusalem shall be inhabited again in her own place, even in Jerusalem.
Commentary
What is very important is the Muslims in Israel, while rioting, are invoking the al-Aqsa Mosque. This is a sure sign the final battle between Islam and Israel over Jerusalem is getting very close. This will end Islam as a viable religion.
JERUSALEM JERUSALEM JERUSALEM
"When Jewish drivers and passengers are dragged from their cars to the shouts of "Allah Akbar" and beaten up, it is a religious war.

When thousands of Muslims are rioting under the chant "With our blood and spirits we'll redeem the al-Aqsa Mosque," it is a religious war.

When mayhem is described and labeled as a jihad, it is a religious war.
And it is a religious war when rioters in the Israeli cities of Jerusalem, Lod, Jaffa and Acre, among many other localities, unite around such jihadist slogans as "Khyber, Khyber Oh Jews, the army of Muhammad will return," evoking the slaughter of all men of this ancient Jewish community and the enslavement of their women by Islam's founder."
UPDATE: ISRAEL VS HAMAS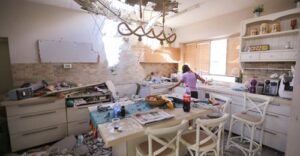 "Wide-scale Hamas rocket barrage scores direct hits in Ashkelon, Ashdod"
The longer the battle continues the greater the likelihood Israel will invade causing tremendous bloodshed. This could fuel the other Arab nations, like Jordan to join!
"Rocket sirens continued to blare throughout the night in Ashkelon and Beersheba, with Gaza terror groups continuing their assault on Israel late into the night.

Hamas rocket barrages on southern Israel continued Sunday with almost 300 projectiles launched at Israel since Saturday, 120 on Saturday night alone.
A few minutes later, a massive barrage was launched towards the Israeli south, with one rocket landing directly on a synagogue in Ashkelon. Video footage from the scene showed Israelis praising God for the "miracle" that the rocket missed the Torah scrolls by centimeters."
ISRAEL VS HAMAS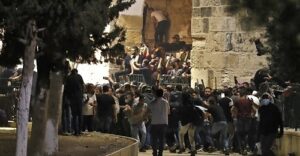 "IDF says it hit 130 targets in Gaza overnight after 200 rockets fired at Israel"
This is an update of the events taking place in Israel.
"The Israel Defense Forces says some 200 rockets have been fired toward Israel from the Gaza Strip from Monday night to Tuesday morning, dozens of which have been intercepted by the Iron Dome missile defense system.
The military says it has conducted retaliatory strikes on roughly 130 targets in the Strip, including the home of a top Hamas commander, Hamas's intelligence headquarters, two attack tunnels that approached the security barrier and rocket production and storage sites."
ISRAEL PROTESTS IN USA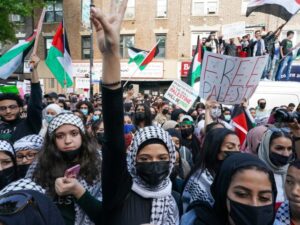 "Pro-Palestinian Demonstrators March Across Major U.S. Cities"
The Communists throughout America always unite against Israel. The long the war the lasts the great the chance the protests get violent.
"Thousands of demonstrators took to the streets of major U.S. cities on Saturday, attacking Israel while voicing support for a string of pro-Palestinian demands.
Los Angeles, New York, Boston, Philadelphia, Atlanta, and Dearborn, Michigan, hosted just some of the protest marches."
BIDEN FAILED MID EAST POLICY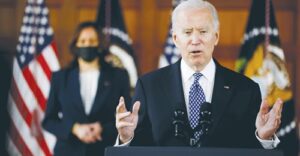 "Biden failed the Israel-Palestinian rocket and riot test – analysis"
This is an excellent article, and I learned great information what Biden did leading up to this renewed fighting between Israel and Hamas! Biden gave Hamas the green light!
"In April, Biden announced that America would restore some $235 million in aid to the Palestinians that had been withdrawn by former President Donald Trump. About two-thirds of the money is being given to the United Nations Relief and Works Agency (UNRWA), which Trump cut off in 2018 because of its ties to terrorism.

"Hamas and Islamic Jihad were looking and saying to themselves that if the US restored this aid unconditionally, then we can do whatever we want," Gilboa explained."
WAR ISRAEL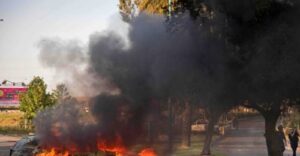 "Arab Citizens Riot in Israel; Attack Jewish Neighbors, Synagogues"
This is an update about what is happening in Israel.
"Arab citizens of Israel went on a rampage against their Jewish neighbors in the cities of Lod (or Lydda) and Ramle on Tuesday night, setting synagogues on fire, attacking stores, and forcing authorities to evacuate Jewish residents.
The attack, which is being called a "pogrom" (mob violence against Jews) is one of the worst experienced in the region since the 1930s, in the days before Israeli statehood, when Palestinian Arab leader incited locals to attack Jewish communities."
UPDATED: ISRAEL VS HAMAS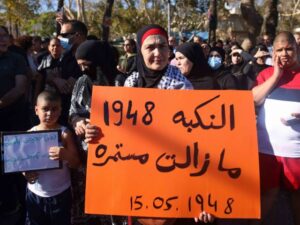 "'Rockets over Riots': Jews Hunker Down Amid Arab Violence in Jaffa"
If this explodes into an all-out civil war within Israel, it could very well be the event the Bible states will be the sign the Day of the Lord is very close!
"For more than a week, Arab rioters have set fires in the street, torched cars, and firebombed houses in Jaffa, north of Tel Aviv, one of several cities rocket by inter-communal violence. There have been Jewish reprisal attacks, such as an attack on an Arab driver in the city of Bat Yam. An Arab man was also shot during clashes in Lod last week.Yet the scale of Arab attacks on Jewish residents has reportedly been larger.
In Lod, Arab rioters torched synagogues. In Acre, they attempted to "lynch" a Jewish man. The attacks are being described as a "pogrom" — a term familiar from 19th-century Europe."
UPDATE: ISRAEL VS HAMAS (VIDEO)
It is very clear that China and Russia are getting involved in the conflict, and they are against Israel.
ISRAEL AND JERUSALEM UPDATE (NEWS VIDEO)
Events are breaking fast. This is an excellent update. This could be the start of a major war between Israel and Hamas and, if so, it could quickly spread with Hezbollah quickly joining.
Revelation 22:20 He which testifieth these things saith, Surely I come quickly. Amen. Even so, come, Lord Jesus.