UAE: Palestinian state at '67 lines a must despite peace deal with Israel
Verse of the Day
Zechariah 12:9 And it shall come to pass in that day, that I will seek to destroy all the nations that come against

Jerusalem

.
Commentary
I said from the beginning of the Peace Treaty the goal of the Muslim nations remained. This is get Israel back to the 1967 borders and divide Jerusalem. They are making this very clear and enormous pressure is coming to Israel. I don't think the treaty was good from the every beginning.
In the end it will all come down to Jerusalem.
May the Holy God of Israel bless and protect you
Zechariah 12:3 And in that day will I make Jerusalem a burdensome stone for all people: all that burden themselves with it shall be cut in pieces, though all the people of the earth be gathered together against it.
THE GOAL OF ISLAM OVER ISRAEL AND JERUSALEM
"The United Arab Emirates will insist on a two-state resolution to the Israeli-Palestinian conflict based on the pre-1967 lines in spite of the peace deal it signed with Israel earlier this month, UAE Foreign Minister Sheikh Abdullah bin Zayed told the UN General Assembly.
"The call for the establishment of an independent Palestinian state on the borders of 1967 with east Jerusalem as its capital in line with the relevant international resolutions and the Arab and international consensus will remain a firm demand," he said on Tuesday."
BREAKING THE DEEP STATE IN THE MILITARY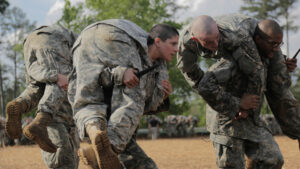 "Trump vows to revoke 'ridiculous' gender-sensitive Navy SEAL changes IMMEDIATELY"
This is what a leader and Commander does. This reveals how the military is riddled with the Hard Left, deep state operatives. How many of these operatives are in the army?
"US President Donald Trump apparently just found out the Navy Special Warfare Command had changed its ethos and creed statements to include women – though none are serving in the SEALs – and vowed to revert it right away."I will be overturning this ridiculous order immediately!" Trump tweeted on Thursday evening,
According to AMN, the Navy has removed gendered words such as "brotherhood" and "man" from the official SEAL ethos – replacing them with "citizen" and "warrior" – and made changes to the creed of Special Warfare Combatant Crewmen (SWCC), whose name is presumably also subject to revision itself."
AMERICAN HARD LEFT JEWISH POLITICIANS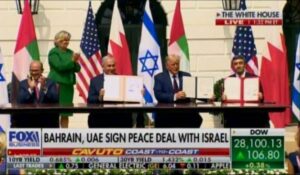 "Despite President Trump's Historic Support for Israel and Jewish People — Hateful Jewish Democrats Label Him a Nazi in New Ad"
These Hard Left Jewish politicians are playing a dangerous game of getting close to the Muslims. God may very well use the Muslims to discipline them. They actually hate President Trump more than love Israel and the Israeli Jews. The Israelis love the President! These Hard Left Jews in America are poisoned by God and American hating of the dems.
"President Trump has done more for the Jewish community and Israel in his first term than any president in US history.But despite all he has done for Jews in the US and Israel, Democrat Jews defamed him in a disgusting new ad while minimizing his many historic accomplishments."
HILLARY WITH BOOK CONNECTED TO DEVILISH PORNOGRAPHY!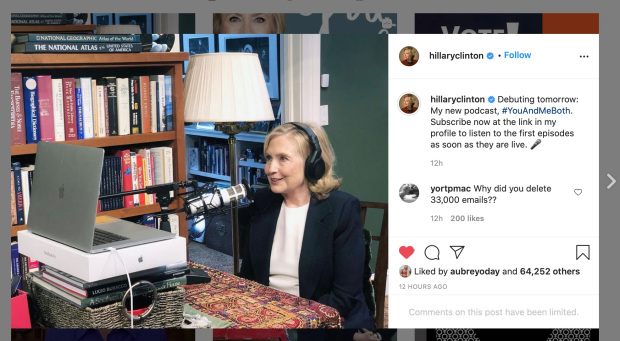 "HILLARY Clinton has inadvertently fuelled a bizarre QAnon conspiracy theory that she is a satanist by sharing a photo from her study showing a book that features glass devils having sex.
'Erotics' by Italian glass artist Lucio Bubacco is one of several books seen propping up Clinton's laptop in the picture, which was posted earlier this week showing her recording her new podcast, 'You And Me Both'.The hardcover 2018 book, which costs between $50 and $70, is said by one online seller to feature "carnavalesque orgies, crystalline incubi and erotic fantasies in glass". It features photographs of handmade glass devils posing in various positions, some of them sexual."
HARD LEFT TOTAL MENTAL BREAKDOWN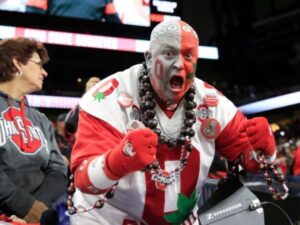 "Ohio State Professor to Undergo 'Anti-Racist Learning' After Writing Article Praising College Football"
It appears the Hard Left hatred for anything American is deeper than I thought. Now their hatred for college football is evident. These people now have destructive minds like that of the French Revolution, and at the root of it is their hatred for God.
Please take time to read this article, and you will see how insane they are with hatred!
"A professor at Ohio State opted to take "anti-racist learning" after writing an article talking about his love of college football. Ohio State University professor Matthew Mayhew wrote an article for Inside Higher Ed touting the virtues of college football, and saying that bringing back college football could help diminish the "great isolation, division, and uncertainty" we are experiencing in this dismal year.
Mayhew, a Higher Education professor at OSU, insisted that America's universities should get back to "essentializing college football."
If you like our ministry, please consider making a donation to keep us going. May the Holy God of Israel bless you!
Revelation 22:20 He which testifieth these things saith, Surely I come quickly. Amen. Even so, come, Lord Jesus.