UPDATE As America Has Done to Israel (Hurricane Michael-DOW Down)
Obadiah 1:15
For the day of the LORD is near upon all the heathen: as thou hast done (to Israel), it shall be done unto thee: thy reward shall return upon thine own head.
Commentary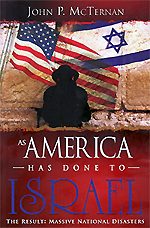 In my best selling book As America Has Done to Israel, I documented dozens and dozens of same day events when America did something against Israel, a tremendous disaster would hit the nation. With the election of Obama, things changed. In the beginning, there were disasters  where the correlations could be made, but as time went on into Obama's presidency the correlations ceased. What I realized was Obama was the judgment on the nation.
When President Trump was elected, he was a great blessing to Israel. He recognized Jerusalem as the capital and moved the US embassy to the city. He did many other things to bless Israel, but September 26, 2018, for the first time, President Trump announced he was in favor of the two state solution for Israel and was working on a plan that would be released in four months.
The President's speech on September 26, was right after Hurricane Florence devastated the Carolinas. There was record rains and flooding. The flooding was still taking place when he gave the speech. The correlation became obvious when on October 10, Secretary of State Pompeo made a speech announcing the two state plan was in the works and soon it would be released. On this very day, Hurricane Michael slammed into Florida as a Category 4 doing incredible damage. Also on this day, the stock market crashed 832 points! This is an indication that the correlations of judgment are back.
President Trump is a great friend of Israel, but the warnings in the Bible are very clear that no one or nation is to come against the land of Israel and especially try and divide it. I hope someone could get this message to President Trump and head off judgments on America.
I have a companion DVD to go along with As America Has Done to Israel. You can order the book and DVD at USAProphecy.com
Joel 3:2 I will also gather all nations, and will bring them down into the valley of Jehoshaphat, and will plead with them there for my people and for my heritage Israel, whom they have scattered among the nations, and parted my land.
The Correlations
Michael's death toll rises to 17, including 8 in Florida 10/10/18
"The devastation left by Hurricane Michael in several states is still coming into focus, with coastal Florida cities destroyed beyond recognition, and homes, businesses and agriculture torn or swamped from Georgia to Virginia.
More than 1 million customers were left without electricity, and emergency officials have no access to many towns. The US death toll has risen to at least 17 — including five in Virginia and eight in Florida — and it's expected to climb."
Pompeo Says Unreleased Mideast Peace Plan 'Truly Historic' 10/11/18
"US Secretary of State Mike Pompeo teased the Trump administration's upcoming peace plan on Wednesday as a "truly historic" effort to broker an agreement between Israelis and Palestinians, accepting an award from the Jewish Institute for National Security of America in Washington.

Speaking at the Grand Hyatt downtown, with senators and diplomats in the audience, the secretary hinted at a plan that would offer the Palestinians a state – a word only recently introduced into US President Donald Trump's lexicon, when he endorsed a two-state solution to the storied conflict last month.

"We are making a truly historic push for peace between Israel and the Palestinians," Pompeo told the crowd. The peace plan– designed by Jared Kushner, the president's son-in-law, and Jason Greenblatt, his special representative for international negotiations, over the course of nearly two years– will be released "before too terribly long, and we are hopeful that both sides will have constructive conversations to lead to that."
Dow plunges more than 800 points in worst drop since February, 10/10/18
"Stocks sank on Wednesday as a steep decline in tech shares and worries of rapidly rising rates sent Wall Street on pace for its worst day in eight months. The Dow Jones Industrial Average closed 831.83 points lower at 25,598.74 as Intel and Microsoft fell more than 3.5 percent each. The Nasdaq Composite plummeted 4 percent to 7,422.05."
Revelation 22:20 He which testifieth these things saith, Surely I come quickly. Amen. Even so, come, Lord Jesus.