UPDATES: WORLD WAR 3 China and Russia
Verse of the Day
Matthew 24:6 And ye shall hear of wars and rumours of wars: see that ye be not troubled: for all these things must come to pass, but the end is not yet. (7) For nation shall rise against nation, and kingdom against kingdom: and there shall be famines, and pestilences, and earthquakes, in divers places.
Commentary
Every time I see reports like these, I think of Biden as the Usurper in Chief and America under God's judgment. America is in serious trouble with the Lord. Notice how all this tension really came to head AFTER Biden was fraudulently elected and took office! China owns Biden and good chunk of the corrupt Congress, while the same thing happened with the corrupt politicians including the Biden Crime Cartel used Ukraine as their bribe and money laundering client. So with all this corruption how is this going to shake out? I think the Deep State will fold on China and sellout Taiwan which will start China's complete takeover of Asia. The Deep State will use NATO against Russia, but the bear is nasty and this could easily get out of hand. We will know shortly!

WORLD WAR 3:"SOUTH CHINA SEA
"Tensions between China and its regional neighbors in the South China and Philippine Seas increased markedly this week. Naval exercises by both the United States and China have massed an unusual number of warships in the South China Sea at a time of renewed diplomatic friction as concerns over China's territorial ambitions grow.
The uptick began late last week. The War Zone reported that China's Liaoning Carrier Strike Group (CSG) maneuvered through the strategic Miyako Strait on Sunday, just southwest of Okinawa. Since then, a separate point of tension between China and the Philippines over a mass of fishing vessels identified as part of China's People's Armed Forces Maritime Militia (PAFMM) led to a series of heated diplomatic exchanges between Manila and Beijing."
WORLD WAR 3: RUSSIA AND CHINA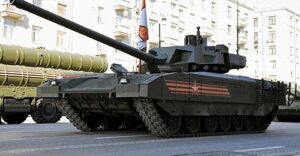 "Would Russia Invade Ukraine and China Invade Taiwan Simultaneously?"
Why not? If China wants Taiwan and willing to go to war and Russia wants parts of Ukraine why not coordinate?
"There is an emerging confluence of dynamics at play in the Indo-Pacific and in Eastern Europe that, if not managed well by Washington, could devolve to the point that the U.S. military is faced with a horrifying dilemma: choose to engage in a battle that could leave our Armed Forces fatally gouged or face humiliation by refusing to fight in the face of aggressive forces.
The potential flashpoint that could lead to such a situation would be the simultaneous decision by Beijing to use force to reunify Taiwan and Moscow to use force to conquer two provinces in eastern Ukraine. The chances of the coordinated events are not as outlandish as they might appear."
WORLD WAR 3: USA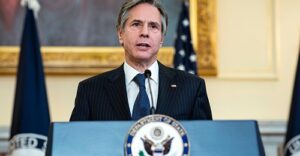 "Blinken warns China, Russia about military action"
Russia and China would never act like this with President Trump in power but with dementia Joe it appears they are ready for war. Remember, the USA is under God's judgment and Biden is the proof.
"Secretary of State Antony Blinken on Sunday said "it would be serious mistake" for China to strike at Taiwan and expressed "real concerns" about Russia's massing of forces on the border with Ukraine.
In addressing concerns about America's two great Cold War rivals, Blinken stopped short of promising U.S. military intervention — "I'm not going to get into hypotheticals" — but did vow there would be "consequences.""
WORLD WAR 3: CHINA VS TAIWAN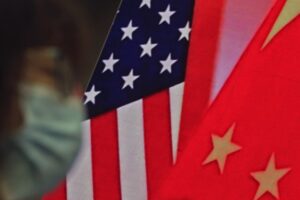 "US military cites rising risk of Chinese move against Taiwan"
The real hot spot now is Taiwan. Last year the Chinese military said war was coming over Taiwan. All this tension could be the prelude to war.
"The American military is warning that China is probably accelerating its timetable for capturing control of Taiwan, the island democracy that has been the chief source of tension between Washington and Beijing for decades and is widely seen as the most likely trigger for a potentially catastrophic U.S.-China war.
The worry about Taiwan comes as China wields new strength from years of military buildup. It has become more aggressive with Taiwan and more assertive in sovereignty disputes in the South China Sea. Beijing also has become more confrontational with Washington; senior Chinese officials traded sharp and unusually public barbs with Secretary of State Antony Blinken in talks in Alaska last month."
WORLD WAR 3: RUSSIA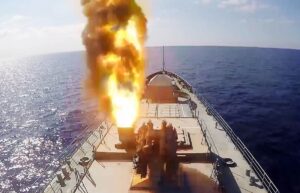 "The Russian Navy Is Getting to Ready to Fight Anything"
I don't know about the USA, but both Russia and China seem ready to fight a war right now.
"The Russian Navy successfully conducted the latest test of its advanced Kalibr cruise missile earlier this week.
The test launch was conducted from the Udaloy-class anti-submarine guided-missile destroyer/frigate Marshal Shaposhnikov, which recently completed a major upgrade that included 16 vertical launch systems for cruise missiles. The warship fired the missile from the Sea of Japan and hit a target on the Russian shores. "
WORLD WAR 3: UKRAINE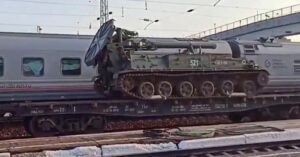 "Russian atomic mortars spotted moving toward border with Ukraine"
Putin has already warned Russia is not playing games and will use nuclear weapons! Remember, Biden is God's judgment on America.
"Russian Armed Forces are deploying its massive atomic mortars to the border with Ukraine, according to videos posted on social media.
Earlier last week, video footage had emerged on social media of the Russian 2S4 Tyulpan self-propelled mortars moving toward the border with Ukraine. The heavy artillery systems were spotted at the railway station in Kropotkin, Krasnodar region. The 2S4 Tyulpan, also known at West as the M-1975, is a Soviet design 240-mm self-propelled mortar."
WORLD WAR 3: USA VS RUSSIA
This article is an update.
"Turkey's foreign ministry on Friday confirmed that it's granted permission for US warships to use the Bosporus and Dardanelles straits to enter the Black Sea at a moment tensions with Russia over Ukraine are spiraling higher with tit-for-tat threats. Given it revealed the initial notification was two weeks ago, a pair of American warships are expected imminently to enter the Black Sea.
Late Thursday an unnamed US defense official had told CNN the warships would be deployed "in the next few weeks in a show of support for Ukraine," and further the deployment would "send a specific message to Moscow that the US is closely watching," according to the report."
WORLD WAR 3: UKRAINE VS RUSSIA
This article is just an update.
"VLADIMIR Putin's robot army will be deployed at Ukraine's border with 85,000 troops "ready for conflict" as war tensions mount.
The new unmanned firepower was inspected by Defence Minister Sergei Shoigu this week, at the 766th Production and Technological Enterprise in Nakhabino near Moscow."
WORLD WAR 3: RUSSIA VS UKRAINE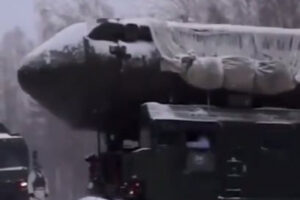 "Russia Sets Up Army FIELD HOSPITAL Near Ukraine; Moves Iskander Missiles and Amphibious Landing Craft from Caspian Sea to Ukraine Coast!"
As this unfolds, the events look like Russia is preparing for all-out against Ukraine and NATO should they interfere.
"Very serious developments took place Thursday, in the escalating military deployments between Russia and Ukraine signaling a likely INVASION and CONQUEST of Ukraine, by Russia. We begin with Conflict Intelligence Teams (CIT) who grabbed photos of a new Russian Army Staging Area and FIELD HOSPITAL erected in Voronezh, Russia, about 250km from the Ukraine border.
A CIT grabbed photos on the ground showing the brand new Field Hospital setup: After the team grabbed photos on the ground, satellite imagery was obtained showing an aggressive and large construction effort for a very large military camp and field hospital. The satellite pic appears below."
If you like our ministry, please consider making a donation to keep us going. May the Holy God of Israel bless you!
Revelation 22:20 He which testifieth these things saith, Surely I come quickly. Amen. Even so, come, Lord Jesus.