'Utter Disregard for the Value and Dignity of Human Life': Lawmakers Slam Human-Animal Chimeras Grown in Test Tubes
Verse of the Day
Matthew 24:37

But as the days of Noe were, so shall also the coming of the Son of man be.
Commentary
Notice whatever is evil, the demon-dems are for it! Tampering with the integrity of man is a sure sign the end is near and the Second Coming of Jesus Christ can't be far off!
DAY OF NOAH
" Democrats in the U.S. Senate voted Thursday to kill a Republican attempt to ban scientists from creating types of human-animal chimeras to be used in medical research.
Forbes Magazine reports Sen. Mike Braun (R-IN) and U.S. Rep. Chris Smith (R-NJ) proposed the amendment to a technology bill. It failed in a vote of 49 to 48.
The proposed "Human-Animal Chimera Prohibition Act" (HR 3542/S.1800), which would prohibit research involving human-animal combinations that blur human-animal species distinctions."
UPDATE: THE 666 SURVEILLANCE SYSTEM/IMAGE OF THE BEAST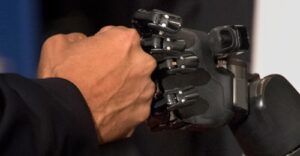 "This Brain-Controlled Robotic Arm Can Twist, Grasp—and Feel"
This is all part of preparing a cyborg body for the Image of the Beast.
"A team at the University of Pittsburgh needed a volunteer to test whether a person could learn to control a robotic arm simply by thinking about it. This kind of research into brain-computer interfaces has been used to explore everything from restoring motion to people with paralysis to developing a new generation of prosthetic limbs to turning thoughts into text. Companies like Kernel and Elon Musk's Neuralink are popularizing the idea that small electrodes implanted in the brain can read electrical activity and write data onto a computer."
THE 666 SURVEILLANCE SYSTEM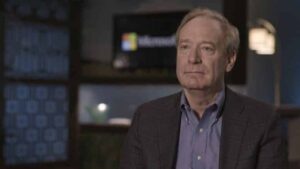 "Microsoft President Threatens That Orwell's 1984 Could Happen In 2024"
Eventually there will be the 666 Surveillance System, but not right now. World War 3 has to happen which might be soon, and then after the war, the time will be right.
My brochure "The 666 Surveillance System" is excellent for sharing.
Time is running out. Please use your time to work for Lord, and now is the perfect time to share 666 because it is unfolding before our eyes.
"Life as depicted in George Orwell's 1984 "could come to pass in 2024" if lawmakers don't protect the public against artificial intelligence, Microsoft's president has warned.
Speaking to BBC's Panorama, Brad Smith said it will be "difficult to catch up" with the rapidly advancing technology. The programme explores China's increasing use of AI to monitor its citizens.

Critics fear the state's dominance in the area could threaten democracy. "If we don't enact the laws that will protect the public in the future, we are going to find the technology racing ahead, and it's going to be very difficult to catch up," Mr Smith said."
UN VS ISRAEL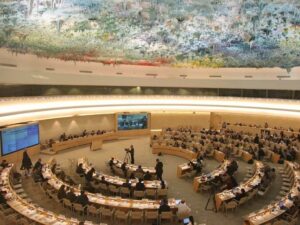 "U.N. Human Rights Council Puts Israel on Trial, Permanently"
You can see the fix is in. Hamas attacks Israel while Israel defends itself. Then the UN goes after Israel for punishment and nothing happens to Hamas. This is not going to end well for Hamas and the UN.
"The United Nations Human Rights Council (UNHRC) voted Thursday to establish a permanent "Commission of Inquiry" into Israel — and only Israel — in response to the recent 11-day war in Gaza, launched by Palestinian Hamas terrorists.
The resolution, which passed 24-9, with 14 abstentions, creates an ongoing independent, international commission of inquiry, to be appointed by the President of the Human Rights Council, to investigate in the Occupied Palestinian Territory, including East Jerusalem, and in Israel all alleged violations of international humanitarian law and all alleged violations and abuses of international human rights law leading up to and since 13 April 2021, and all underlying root causes of recurrent tensions, instability and protraction of conflict, including systematic discrimination and repression based on national, ethnic, racial or religious identity."
UN VS ISRAEL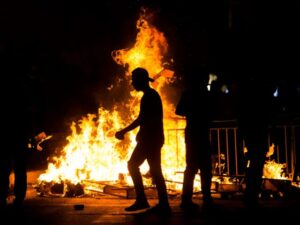 "U.N. Challenges Israel: Alleges Defensive Strikes in Gaza Possible 'War Crimes'"
This is easy to see through. Hamas is a terrorist organization whose goal is the destruction of Israel. It was elected by the Palestinians. The terrorists send 1000s of missiles into Israel, and it is not condemned, but Israel is for defending itself! Notice also how the UN slipped Jerusalem in as part of the problem. It looks like the world through the UN is going to move and try and take Jerusalem away of Israel. In the end, it's going to boil down to Jerusalem, exactly like the Bible states.
Zechariah 12:3

And in that day will I make Jerusalem a burdensome stone for all people: all that burden themselves with it shall be cut in pieces, though all the people of the earth be gathered together against it.
"Israeli forces may have committed war crimes in its defense against attacks by Gaza Strip-based terrorist group Hamas, the U.N. human rights chief Michelle Bachelet declared Thursday. The diplomat also called on Israel to allow an independent probe of the IDF's actions over the 11-day conflict.
The war crime allegation came as the U.N.'s top human rights body opened a one-day special session examining "the grave human rights situation" in Gaza, the West Bank and east Jerusalem."
HEZBOLLAH VS ISRAEL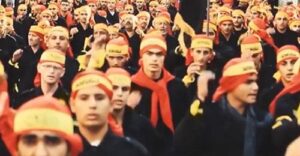 "Israeli Expert: Hezbollah Is 10 Times the Threat that Hamas Has Been with up to 200,000 Missiles"
In the end, Hezbollah and Lebanon will cease to exist along with other Arab nations. This war will break the back of Islam and free Israel to build the end times Temple. This coming war is going to vicious with entire Arab nations destroyed which leads me to believe nuclear weapons are going to used.
"Ganor estimates Hezbollah could have as many as 200,000 missiles – an amount that represents a far greater threat than Hamas. "If you ask me what concerns with Hezbollah? Everything that concerns me with the Hamas, but big-time, much more than what we had. So, everything we have seen in the last two weeks, we should multiply that in 10 and that's going to be the challenge that we would face from Hezbollah."
After studying the recent war, Ganor believes Hezbollah would try to overwhelm Israel's number one defense, the Iron Dome. Ganor also points out Hezbollah possesses not just rockets but missiles."
WAR MIDDLE EAST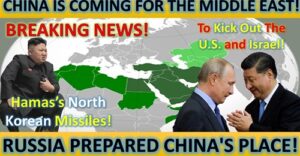 "China is Coming for the Middle East to Kick Out the U.S and Israel! Russia" (video)
This is great information how Russia and China are being drawn deeper into the Middle East heading for a confrontation with Israel.
What is coming is a forerunner to Armageddon! This will set off WW3, and it will be viewed as Armageddon! The antichrist will rise as the hero and accepted as a Messiah only false! This war will set the stage for the real Armageddon and the Second Coming of Jesus Christ. Wow are events lining up and fast!
Remember, the current conflict started over Jerusalem!
Zechariah 12:3

And in that day will I make Jerusalem a burdensome stone for all people: all that burden themselves with it shall be cut in pieces, though all the people of the earth be gathered together against it.
THE REAL JOE BIDEN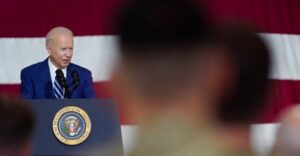 "Joe Biden to Veteran's Daughter: 'I Love Those Barrettes in Your Hair,' 'Looks Like She's 19-Years-Old'"
In the past, I've documented how Joe can't keep his hands off the little girls. Lately he's been making statements about the little girls. Remember what his son has done and together you can clearly see the pattern.
"In the middle of a speech to military personnel Friday in Hampton, Virginia, President Joe Biden said, looking towards the family who was being honored, "I love those barrettes in your hair … She looks like she's 19-years-old"… with her legs crossed."
CHINA VS RELIGIOUS FREEDOM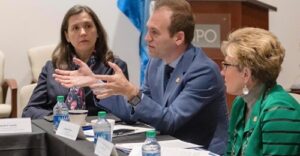 "US evangelical leader Johnnie Moore sanctioned by China for religious freedom advocacy"
Notice the link between totalitarianism and the attack on religious freedom. It has been this way all down through history. Americans were free, so they had religious freedom. Notice the tyrants are rising in America and this coincides with them attacking religious freedom!
"China sanctioned a United States private citizen and evangelical leader on Wednesday for exposing human rights abuses and standing up for the religious freedom of Uyghur Muslims, Christians and other minority faith groups that are being silenced and oppressed.
Rev. Johnnie Moore, a two-time commissioner who served on the U.S. Commission on International Religious Freedom and president of the Congress of Christian Leaders, said it is an "honor" to be sanctioned by China because of his advocacy for people of oppressed minority faiths.

"If the cost of sanctioning Chinese officials responsible for human rights abuses in China is the sanctioning of activists like me, then I say, 'fine, I am more than happy to be sanctioned,'" Moore told The Christian Post in an interview on Thursday."
JUDGMENT ON CHINA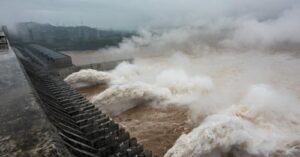 "China Braces For Summer Of Floods As 97 Rivers Exceed Warning Levels"
Last year, I followed the record floods in China which weakened the Three Gorges Dam. The dam actually bent and twisted under the pressure of the flood. This year is shaping up as another record flood putting enormous pressure on the dam! If this dam collapsed, it would destroy the heart of China's industrial production along with an enormous amount of the infrastructure!
"Wang Wei, an official with the flood and drought disaster prevention office of the Ministry of Water Resources, told state broadcaster China Central Television (CCTV) that total flood control capacity is approximately 69.5 billion cubic meters – most of the reservoirs have been discharged to full levels. He said the water level of the Three Gorges Reservoir is about 150.83 meters as of Wednesday and will decline through June 10.
Sun Chunpeng, director of the hydrological information and forecast center under the water resources ministry, told CCTV rivers of southern China are experiencing record-high levels. More precipitation is expected in the weeks ahead and could push river levels to even higher dangerous levels."
Revelation 22:20 He which testifieth these things saith, Surely I come quickly. Amen. Even so, come, Lord Jesus