Wave After Wave of People, Broken Before the Lord': News of Revival Sweeping TN City
Verse of the Day
Proverbs 1:23  Turn you at my reproof: behold, I will pour out my spirit unto you, I will make known my words unto you. 
Commentary
I hope this is real with God's power flowing. We need a continuous outpouring of the Holy Spirit to shake this nation to its foundation.
May the Holy God of Israel bless and protect you.
2 Chronicles 7:14  If my people, which are called by my name, shall humble themselves, and pray, and seek my face, and turn from their wicked ways; then will I hear from heaven, and will forgive their sin, and will heal their land.
A MOVE OF THE LORD?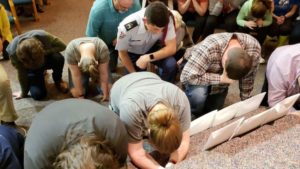 "'Wave After Wave of People, Broken Before the Lord': TN Pastor Tells CBN News of Revival Sweeping His City"
"Revival is taking place in Tennessee after churches from various denominations partnered together in prayer and fasting, igniting a move of God's Spirit that has transformed lives across the region.

CBN News has learned more about the revival that's underway in Tennessee involving 1,000 churches across the Volunteer State. It's a part of "Awaken Tennessee", a 30-day prayer and fasting initiative that launched on Jan. 26 and will run through Feb. 23.

As CBN News reported on Monday, churches across Tennessee are fasting and praying for unity, according to Sheldon Livesay, East Tennessee coordinator for Awaken Tennessee."
JUDGMENT ON DEMOCRAT PARTY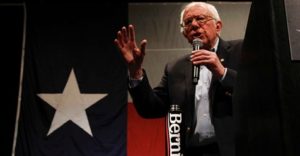 "Sanders' ascent forces reckoning for Democrats" The demon-dems rejected the Lord and promote sin as part of their party. It now appears that the Lord is turning this party over to open Communism for judgment. Those that hate God will get sucked into Sander's movement.
I see on of two things happening. The Lord will use America to judge these Communists or this will tear apart the nation. We cannot live with Communist in power because we know where it ends. Communism ends with millions dead.
"Bernie Sanders has seized a commanding position in the Democratic presidential race, building a diverse coalition that is driving his liberal movement toward the cusp of a takeover of a major political party.

The senator's ascendancy, though years in the making, is forcing a sudden reckoning in the Democratic Party's hierarchy as centrist politicians and their wealthy benefactors grapple with the upheaval brought by an electorate not only hungry to defeat President Donald Trump but also clamoring for radical change.

After Sanders' resounding victory in Saturday's Nevada caucuses, and with polls showing him on the rise, Democrats are entering a season of open warfare over whether Sanders, I-Vt., is equipped to beat Trump in what could be a brutal general election. The senator and his allies insist he could, but his detractors say he is too polarizing to win in November – and could severely cost Democrats in congressional or state races if Republicans use Sanders' self-description as a Democratic socialist to paint all Democrats as extreme."
AMERICAN ISRAEL HATING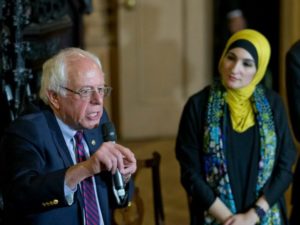 "Bernie Sanders Goes to War Against Pro-Israel AIPAC, Accuses It of 'Bigotry'" What will happen is all the Israeli and Jew haters will gravitate to Sanders. He brings a clear division with President Trump over Israel, and so many other issues. Sanders with his Communist ideology is death to America.
"Sen. Bernie Sanders (I-VT) denounced the American Israel Public Affairs Committee (AIPAC) on Sunday evening, accusing the pro-Israel organization of promoting "bigotry." It was not clear what he meant, and he did not specify any examples of what he was talking about.

Only one Democratic candidate for president — New York City Mayor Bill de Blasio, who has since dropped out of the race — attended AIPAC's annual conference last year, which many observers interpreted as a sign of the anti-Israel drift of the party."
APOSTATE CHRISTIANITY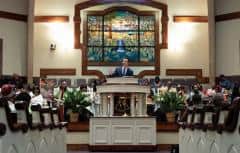 "Buttigieg Speaks at Sunday Service in Baptist Church and Cites Proverbs 3:5" Buttigieg standing in the pulpit of a "church" is evidence of how depraved the church in America has become! I wonder if the had is "husband" with him! How much more of this can the Lord allow?
This is a great verse for Saint Pete:

1 Peter1:15,16 But as he which hath called you is holy, so be ye holy in all manner of conversation; Because it is written, Be ye holy; for I am holy.
"Pete Buttigieg, a candidate for the Democratic presidential nomination, spoke at a Sunday service at the First Baptist Church in James Island, South Carolina, yesterday and cited a verse from Proverbs 3 in his address to the congregation.

"My point in standing before you is not to claim that I understand more than I do, but rather to promise—as the Scripture says–not to lean on my own understanding too much, but to do a lot of listening along the way."
TRUMP IN INDIA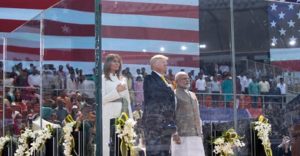 "Trump rallies massive crowd in India, inks military deal with Modi" The President is generating energy no matter where he speak, except for the Hard Left in America. It really does appear that the Lord's blessings are on him for his marvelous stand for Israel.
"President Trump drew the crowd of a lifetime to kick off his first official visit to India. The president, who loves to play to a big audience, was met with a raucous ovation Monday as he addressed a crowd of more than 110,000 people in a joint rally with Indian Prime Minister Narendra Modi. Along with first lady Melania Trump, the visiting first family packed the world's largest cricket stadium, as the U.S. president declared America's love for the country and solidarity with its people — and announced a military partnership with the Indian government.

At the rally, Trump announced a $3 billion deal that will send state-of-the-art military helicopters to the country. "I believe that the United States should be India's premier defense partner and that's the way it's working out," Trump said."
Monday Night Prayer
Abba Father's International Fellowship
Greetings and praise the lord Pastor Hauser and McTernan, have been able to do evangelism and follow to those already received the newsletters and found out that many people are being changed and getting Back to Jesus, every big change has come to be seen in the community and young children ,youth and even their parents are coming
to Jesus, as I have been sharing the updates to them, every one agreed with you and that the time is seen and Jesus is at hand, may are growing up in faith as they follow the way of the Lord. I will continue updating you on what am doing here and I believe It will come out to be an evangelism season, I have seen others as well coming to church and testifying what Jesus did to, them though this prophesy
Kindly sent me additional material, kingdom assignment pictures of the evangelism is here attached to this email, also pray for the devotional of the new convert to remain in the anoint of Lord of Lords .please may i also request for the 20 pieces bibles for the Recent newly believer, that accepted Jesus
In Christ Peace to you all
Pastor J N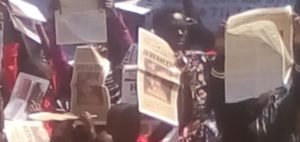 If you like our ministry, please consider making a donation to keep us going. May the Holy God of Israel bless you!
Revelation 22:20 He which testifieth these things saith, Surely I come quickly. Amen. Even so, come, Lord Jesus.