Woman enraged by Trump bumper sticker rammed car, police say
Verse of the Day
Philippians 2:14,15 Do all things without murmurings and disputings: That ye may be blameless and harmless, the sons of God, without rebuke, in the midst of a crooked and perverse nation, among whom ye shine as lights in the world;
Commentary
There are now untold numbers of people like this woman. They are believing their own lies and now full of violence. They are breaking down mentally and physically under the tension of all their hatred. They have no way out of this pressure because the government is their god and President Trump is slaying it like an idol! Sin is destroying their minds.
May the Holy God of Israel bless and protect you.
Ephesians 4:17-19 This I say therefore, and testify in the Lord, that ye henceforth walk not as other Gentiles walk, in the vanity of their mind, Having the understanding darkened, being alienated from the life of God through the ignorance that is in them, because of the blindness of their heart: Who being past feeling have given themselves over unto lasciviousness, to work all uncleanness with greediness.
Hard Left and Violence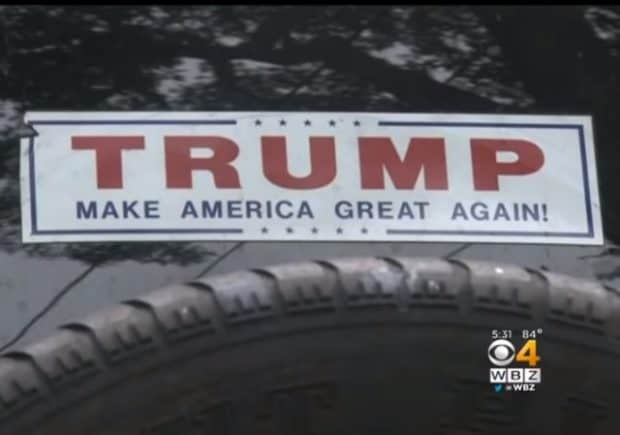 "After the incident, the man she hit reportedly contacted the Barnstable Police Department and recalled hearing a motorist behind him honking their car horn as he waited at a red light.According to the police report, the honking continued and by the time he reached another red light, the motorist started shouting at him, the Times reported.
Fearing that the alleged honking and shouting was regarding a problem with his car, the man reportedly got out, at which point, the man said he heard the other motorist shouting about his bumper sticker supporting Trump, according to the report. "She said, 'You voted for Trump?'" the man recalled her saying. "I said yes. She called me a racist and several other names."

The man then claimed that the woman repositioned her vehicle and hit his car with hers, the Times said, citing the police report. After this, the woman reportedly left the scene. "She bent my door and I had to lean back to avoid getting hit," the man reportedly said. "She also hit the side of my car."
Draining the DC Swamp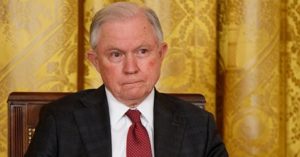 "Trump urges Attorney General Sessions to end Russia probe" I am so glad the President is doing this. This is a great way to take the Deep State head and force the establishment leadership in the Republican Party to act.
This is heading towards a huge crisis that is going to hurt the nation.
"President Trump called Wednesday for Attorney General Jeff Sessions to end Special Counsel Robert Mueller's Russia investigation "right now," alleging bias on the investigative team and complaining about the trial of his former campaign chairman.
"This is a terrible situation and Attorney General Jeff Sessions should stop this Rigged Witch Hunt right now, before it continues to stain our country any further," Trump tweeted. "Bob Mueller is totally conflicted, and his 17 Angry Democrats that are doing his dirty work are a disgrace to USA!"
Hard Left: Abortion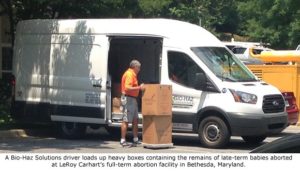 "Company Caught Hauling Away Boxes of Babies Killed in Late-Term Abortions Up to Birth" This is about the killing late term babies. The church is so weak that this can't be stopped. The dullness of powerlessness of the church is highlighted by this happening out in the open.
We need a revival for survival.
Please contact Bio-Haz Solutions owner David Henritzy and politely ask him to cancel his contract with LeRoy Carhart and AbortionClinics.org.
David Henritzy
Voice: (888) 794-7894 or 570-645-2180
E-Mail: [email protected]
or click for web-based contact form.
"A new medical waste company has been hired by AbortionClinics.org (ACO), a late-term abortion facility located in Bethesda, Maryland, after two other companies cancelled contracts to pick up aborted baby remains there last month. The new company, Bio-Haz Solutions, Inc., based in Nesquehoning, Pennsylvania, was first seen at ACO in early July making a pick-up of four large and apparently very heavy boxes.

ACO, which is owned and operated by the notorious late-term abortionist LeRoy Carhart of Nebraska, is one of a handful of abortion facilities in the U.S. that openly abort babies through all nine months of pregnancy. In fact, Carhart specializes in the extremely expensive multi-day abortions on nearly full-term babies and has been known to abort as many as a dozen such babies per week.

The driver of a Bio-Haz Solutions van was seen going into ACO with flat cardboard boxes and empty red plastic biohazard bags. He came out with two boxes at a time that were so full of aborted baby remains that the cardboard bowed out and crunched at the bottom.
USA vs Iran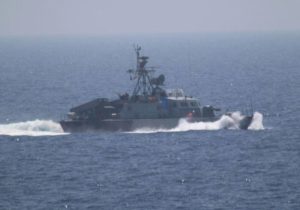 "Iran's naval exercise threatens strategic Straits of Hormuz" This is a good article about possible war with Iran over the Straits of Hormuz. This is a very strategic location as it is a choke point for the shipping of 35 percent of the world's oil.
"Iran is conducting naval exercises next to the strategic Straits of Hormuz at the south end of the Persian Gulf as tensions rise with the US and Gulf states. A Navy spokesman with US Central Command said that American forces are monitoring the increased Iranian activity closely, and that the US would "ensure freedom of navigation." The tensions come as Israel warned it will oppose any Iranian attempt to block the Bab al-Mandab straits at the south end of the Red Sea after Iranian-backed Houthi rebels in Yemen fired on Saudi Arabian tankers sailing in the strategic waters.

Using increasingly belligerent rhetoric, Iran has threatened to disrupt oil shipping in both the Straits of Hormuz and the Bab al-Mandab. The Straits of Hormuz, which sees 30% of the world's sea-borne oil pass through daily, is 33 km. wide at its narrowest point. Reports indicate that Iran would use its "swarm" of speedboats to harass tankers, a tactic it has repeatedly used in recent years. Operated by the Islamic Revolutionary Guard Corps (IRGC), these boats have harassed the US fleet and other vessels in the past. In March, British and US ships had to change course as two Iranian speedboats approached within 500 meters. In 2016, Iran captured two small US commando boats, and in 2007 Iran detained UK navy personnel."
Revelation 22:20 He which testifieth these things saith, Surely I come quickly. Amen. Even so, come, Lord Jesus.