WORLD WAR 3: ATTACK ON SYRIA
Verse of the Day
Isaiah 13:5 They come from a far country, from the end of heaven, even the LORD, and the weapons of his indignation, to destroy the whole land.
Commentary
This is the best article I found about what happened. What will happen next? Will Russia retaliate? I don't think so at this time. Putin might wait for another time that is more to his advantage.
I gleaned two thing from this event. The first is just how real tense the situation in the Middle East is. Syria could ignite a clash between the US and Russia which is very dangerous. There also is very great danger of war between Israel and Iran. The danger is greater than I realized.
The second is President Trump put the world on notice, especially North Korea, that he keeps his word, so the world knows what to expect from the President. China, Russia and other countries now realize that he is a man of his word and not a typical lying American president.
May the Holy God of Israel bless and protect you.
Luke 21:28 And when these things begin to come to pass, then look up, and lift up your heads; for your redemption draweth nigh.
"BATTLE ASSESSMENT: Here Is How The Devastating Strike On Syria Went Down" 
"The early morning coalition strikes on Syria's chemical weapons infrastructure Saturday destroyed three critical targets, crippling the Syrian regime's ability to create chemical weapons.

"We sent a very clear message last night," Pentagon spokesman Dana White explained Saturday, further commenting, "We hope he [Syrian President Bashar al-Assad] heard it." Around 4 a.m. in Syria, American, British, and French naval and aviation assets opened fire on multiple targets associated with the Syrian regime's chemical weapons program.

The three targets included the Barzah research and development center in Damascus, Him Shinshar chemical weapons storage facility near Homs, and the Him Shinsar chemical weapons bunker. Marine Lt. Gen. Kenneth F. McKenzie Jr. described the coalition strikes on these targets as "precise, overwhelming, and effective." He added that coalition forces "delivered a very serious blow" to the "heart" of Syria's chemical weapons program."
Jerusalem Jerusalem Jerusalem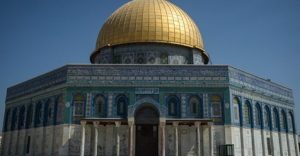 "'Jerusalem is the capital of Palestine'" The Palestinians demand that Jerusalem is their city. In the end, this is going to start the all-out war between Israel and the surrounding Muslim nations. These nations will be destroyed according to the Bible.
Zechariah 12:6 In that day will I make the governors of Judah like an hearth of fire among the wood, and like a torch of fire in a sheaf; and they shall devour all the people round about, on the right hand and on the left: and Jerusalem shall be inhabited again in her own place, even in Jerusalem.

"The ninth International Conference on the Holy City of Jerusalem concluded in Ramallah on Thursday with the publication of an official statement claiming that "the occupied city of Al-Quds is the eternal capital of Palestine."

Yusef Edais, the Palestinian Authority (PA) official in charge of religious affairs who read out the statement, called on the Palestinian Arab public to unite behind the PLO, the only legitimate representative of the Palestinians, in support of the efforts of PA chairman Mahmoud Abbas to achieve national reconciliation."
Iran vs Israel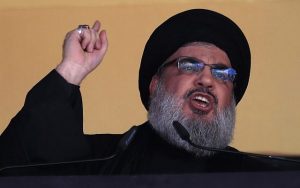 "Hezbollah says Syria base strike puts Israel in 'direct confrontation' with Iran" Israel has made it very clear if Iran moves its military into Syria, Israel is going to attack. Israel is ready for an all-out war with Iran. At some point soon, Iran's movements in Syria are going to trigger the war.
Iran has vowed to destroy Israel, so Israel will attack Iran when the time is right.
"The leader of Lebanon's Hezbollah terror group said Friday an alleged Israeli airstrike on an air base in central Syria that killed seven Iranians was a "historic mistake" that has brought Israel into direct conflict with Tehran.

Hassan Nasrallah said Monday's attack on the T-4 air base ushers in a new phase that puts Israel in a state of "direct confrontation" with the Islamic Republic of Iran.

Iran, Russia and Syria have blamed Israel for the airstrike. Israel has refused to comment on the matter, keeping with its policy of ambiguity regarding airstrikes outside the country's borders. "This is unprecedented in seven years (of war in Syria): that Israel directly targets Iran's Revolutionary Guard," Nasrallah said"
Iran vs Israel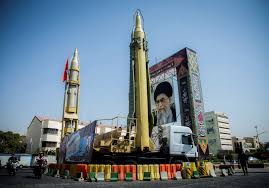 "WW3 RED ALERT: Iran openly vows to destroy Tel Aviv and Haifa due to Israeli airstrikes that killed their soldiers in Syria" The war rhetoric between Iran and Israel continues. Israel has warned Iran not to move its military into Syria. Iran is on a mission to move its military in Syria to position for war with Israel.
At some point this is going to escalate into a full scale war. According to the Bible, Iran's future is very bleak.
"Iran can destroy Israel so Tel Aviv should avoid any stupid measures against the Islamic Republic, the supreme leader's representative to the Quds force said on Thursday according to the semi-official Fars news agency.

"If Israel wants to continue its treacherous existence… it should avoid stupid measures. If they give excuses to Iran, Tel Aviv and Haifa will be destroyed," Supreme Leader Ayatollah Ali Khamenei's representative at the Quds force cleric Ali Shirazi was quoted by Fars as saying. "Iran can destroy Israel."

The Quds Force is the espionage and paramilitary wing, in charge of overseas operations, of the elite Revolutionary Guards. Fars said Shirazi made the comments in response to Prime Minister Benjamin Netanyahu's Wednesday speech at Israel's annual Holocaust commemorations when he called for action against Iran."
World War 3: Russia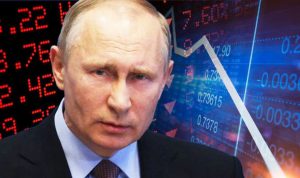 "RUBLE RUBBLE: Russia in financial free-fall as Syria backlash sees market conditions 'like a volcano'" The sanctions are starting to put a lot of economic pressure on Russia. If this economic decline continues, Russia is running out of time.
"The rouble plunged 4.1 percent against the dollar, while the country's bonds also plummeted as traders described conditions as "like living on a volcano".

Donald Trump has imposed fresh sanctions on Russia and a handful of influential oligarchs in response to Putin's support of Syrian President Bashar al Assad after he allegedly carried out a chemical attack on civilians.

Confidence in Russian stocks has slumped, sparking a mass sell-off that sent Moscow's blue-chip MOEX index down 8.34 per cent. The rouble dropped against the dollar despite rising prices of oil, the country's main export, as investors continued an asset sell-off fearing more sanctions. Inherent risks for Russian credit and assets have substantially increased as the Kremlin fights to find a way to retaliate against President Donald Trump."
Hard Left: Protecting Muslim Terrorist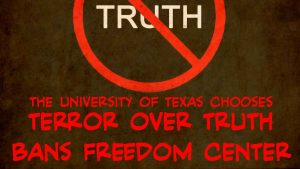 "Banned for Exposing a Terrorist Threat" The reprobate mind in America is acting just like their brothers and sisters in Europe. On college campuses they are overtly moving to protect Muslims terrorists and shutting down those who are exposing them.
These reprobates must be stopped because they put the entire nation in danger. The Left love the terrorists because they both hate America and the nation's Christian roots! They are like first cousins in their thinking.
Isaiah 5:20 Woe unto them that call evil good, and good evil; that put darkness for light, and light for darkness; that put bitter for sweet, and sweet for bitter!
" Can you imagine a public university banning free speech and threatening arrests over flyers exposing anti-Semitism and warning about a student group funded by terrorists that promotes their propaganda? But that's exactly what happened to the Freedom Center at the University of Texas at San Antonio.

"Disciplina Praesidium Civitatis" is the Latin motto that circles the seal of the University of Texas. The University of Texas system motto is a latinized quote from the second president of the Republic of Texas, "A cultivated mind is the guardian genius of democracy."

The University of Texas at San Antonio disgraced the motto by banning any flyers and posters from the David Horowitz Freedom Center under threat of criminal prosecution. The threatening letter from UTSA contains a "criminal trespass warning" to "the David Horowitz Freedom Center and its members." "You are barred and forbidden from entering or remaining on any UTSA properties. If any member of your organization returns, they are subject to arrest," the public institution has threatened

At the University of Texas at San Antonio the guardian genius of democracy is behind bars. Its administration is protecting Hamas front groups while suppressing free speech and civil rights."
Hard Left Destruction of California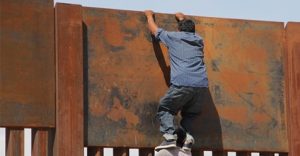 "California Will Become a Third World Country' – Immigrant Mayor Slams Sanctuary Policies" I've written about this and this article states what I see coming. Either the Hard Left is stupid beyond belief or this is all planned and part of bringing America down.
Isaiah 1:7 Your country is desolate, your cities are burned with fire: your land, strangers devour it in your presence, and it is desolate, as overthrown by strangers.
"The mayor of Escondido, California – a legal immigrant from Lebanon, has slammed Sacramento's decision to declare the entire state as a sanctuary for illegal immigrants and criminals. Mayor Sam Abed expressed his outrage at the direction of California in an interview on Fox Newsover the weekend, warning that the once-Golden State is regressing into third world status under Democrat leadership. I came to this country 30-plus years ago – I came here for the American dream, I came here to live safely with my family, and here, I'm fighting for our sovereignty and to keep our community safe," Abed told host Neil Cavuto. "This is insanity. This doesn't happen in any country in the world."

"California now is sanctuary for poverty, for illegal immigration, for illegal criminals. We have 12% of the [country's] population, and we have 30% of the welfare. 25% of the homeless in the nation are in California. And now we're going to harbor illegal criminals."
FBI and the DC Swamp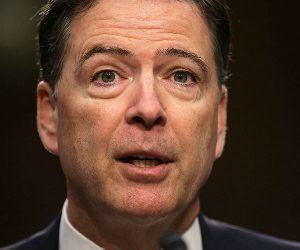 "Comey to ABC: I Didn't Tell Trump Democrats Paid for Dossier" What an amazing confession by Comey. He failed to tell the President that the dossier against him that started the investigation was funded by Hillary!
I am so glad that Trump fired Comey and next he has to fire Rosenstein from the DOJ and clean out the Justice Department of the Obama/Hillary ideologues!
"Former FBI Director James Comey admitted that he did not inform President Donald Trump that Democrats bankrolled the research that resulted in the dossier about him.

In his interview with ABC's George Stephanopoulos to promote his book, Comey said he did not inform the president about the source of the financing of the Christopher Steele dossier because doing so "wasn't necessary for my goal."

Stephanopoulos pressed Comey about it, asking him if the president had a right to know who financed the GPS Fusion opposition research that led to the Steele dossier. "That it had been financed by his political opponents? I don't know the answer to that. It wasn't necessary for my goal, which was to alert him that we had this information," Comey tells Stephanopoulos."
Pro Life News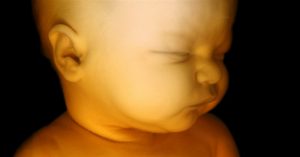 "Indiana Adopts Law That Counts Unborn Children as Persons" How can this bill NOT pertain to abortion! What a sad joke this is. Kill a "wanted" baby in the womb and it is murder, but kill and "unwanted" baby through abortion and it is not murder!
This law condemns the entire abortion structure in America. They are liars living in a huge delusion.
Romans 1:18 For the wrath of God is revealed from heaven against all ungodliness and unrighteousness of men, who hold the truth in unrighteousness
" The state of Indiana has adopted a new law that essentially grants personhood to unborn children. Relevant Magazine reports that Indiana Gov. Eric Holcomb has signed a bill into law that allows suspects to be charged with murder if they harm a pregnant woman who then loses her unborn child. Pro-life supporters are championing this bill, as it acknowledges the personhood of unborn children. The law, however, does not apply to legally obtained abortions."
Interesting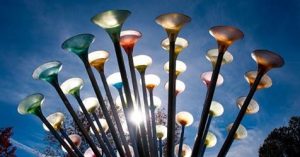 "Mystery 'trumpet sounds from sky' in Hawaii"
Listen to the video as the sounds are loud and really weird.
 

Does the lying from the DC swamp ever stop or even slow down?


Proverbs 13:5 A righteous man hateth lying: but a wicked man is loathsome, and cometh to shame.