WORLD WAR 3: NORTH KOREA
Verse of the Day
Isaiah 57:20,21 But the wicked are like the troubled sea, when it cannot rest, whose waters cast up mire and dirt. There is no peace, saith my God, to the wicked.
Commentary
It appears by the talk coming from the Trump administration the time of war with North Korea is now very close. Kim Jong-un is not backing down and gives all signs of increasing the testing of his long range missiles and nuclear weapons. The only option is to crush him economically, but I think it is too late for this, or it will push him into war.
I believed all along that Russia and China were backing him and building us the NK military. Both nations have everything to gain with a war between the USA and NK. China wants to dominate Asia but America is in the way. War with NK could weaken the USA for a war with China.
May the Holy God of Israel bless and protect you.
Philippians 4:6,7 Be careful for nothing; but in every thing by prayer and supplication with thanksgiving let your requests be made known unto God. And the peace of God, which passeth all understanding, shall keep your hearts and minds through Christ Jesus.
"McMaster: US Must Move With Urgency Against North Korea" 09/17/17 The war rhetoric against North Korea continues as NK launches it missiles.
From the article: "The United States needs to move "with a great deal of urgency" in response to North Korea's increasingly aggressive nuclear missile buildup, national security adviser H.R. McMaster said Sunday. In an interview on "Fox News Sunday," McMaster said all options are on the table to thwart any nuclear strike threat to the United States from Pyongyang. "We really have to move with a great deal of urgency, on sanctions, on diplomacy and on preparing if necessary, a military option," McMaster said.

In a separate interview on ABC News' "This Week," he also defended President Donald Trump's derisive nickname for North Korea leader Kim Jong Un as a "rocket man." "That is where the rockets and missiles are coming from, is North Korea," he said."
"Haley: 'NKorea Will Be Destroyed' If US Has To Defend Self" 09/17/17 There are two videos with this article. Make sure that you watch them.
Revelation 22:20 He which testifieth these things saith, Surely I come quickly. Amen. Even so, come, Lord Jesus.

From the article: "U.N. Ambassador Nikki Haley said Sunday "North Korea will be destroyed" if the U.S. is forced to defend itself against the belligerent country. CNN host Dana Bash asked Haley on "State Of The Union" if President Donald Trump's "fire and fury" remarks last month against dictator Kim Jong Un was an empty threat. Haley said the threats were not empty and if the diplomatic process with North Korea doesn't work she "would be perfectly happy to send this over to [Defense] Secretary Mattis" since he has "plenty of military options."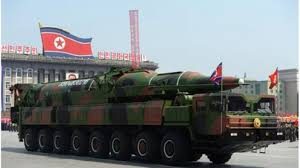 "North Korea fires missile over Japan, US confirms" 09/14/17The pressure for war continues to build. Kim Jong-un seems prepared for war with the USA. He does not fear retaliation. I think the reason for this is China and maybe Russia has his back.Remember, war between NK and the USA is a big plus for China. NK could soften up the US for a war with China, This is red hot.
Daniel 12:9,10 And he said, Go thy way, Daniel: for the words are closed up and sealed till the time of the end. Many shall be purified, and made white, and tried; but the wicked shall do wickedly: and none of the wicked shall understand; but the wise shall understand.
From the article: "North Korea fired an unidentified missile over Japan early Friday, the rogue nation's first missile launch since its massive nuclear test more than a week ago, a U.S. official confirmed to Fox News.The missile was launched eastward early Friday from Sunan, which is the site of Pyongyang's international airport, flying over northern Japan before it landed in the Pacific Ocean, according to U.S. Pacific Command.An initial U.S. assessment of the launch indicated it was an intermediate-range ballistic missile (IRBM).
In response to the test, South Korea launched a ballistic missile of its own to show it can reach North Korea's launch site."
NORTH KOREA NUCLEAR TESTING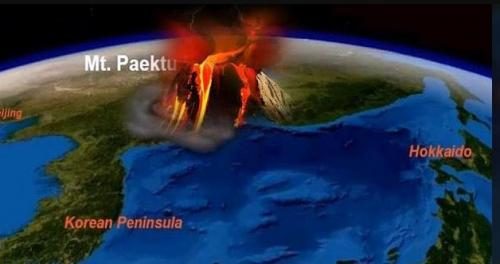 "NKorea Nuclear Tests Could Trigger 'Supervolcano' Eruption" 09/17/17 I learned a great deal of information about volcanoes from this article. What is sitting in North Korea near where the nuclear weapons are tested is a super volcano! This is getting worse by the week. If this volcano exploded, it could kill millions.
From the article: "After North Korea's latest nuclear test, scientists are worried that more underground explosions in the isolated country's rocky north could set the stage for a deadly volcanic eruption not unlike the one that NASA fears could be brewing in the Yellowstone caldera. Following the North's sixth nuclear test Chinese authorities have stepped up radiation monitoring and even closed part of their border with North Korea as fallout fears have intensified.

And now, as Newsweek reports, China has limited access to a nature reserve on its border with North Korea after a mysterious series of seismic shakes at the rogue nation's nuclear test site were detected less than 10 minutes after it conducted its latest test, which also triggered a sizable tremor. The severity of the tremors prompted Beijing to close the site over fears that underground detonations by the North Koreans at a facility near Punggye-ri could lead to rockslides, or worse, trigger an eruption of the active "super volcano" Mount Paektu, according to Disclose.tv."
POLITICAL PEDOPHILIA
"At Least 11 Mayors Accused Of Child Sex-Related Crimes Since 2016" 09/13/17 What is going on in America? So many of these politicians are pedophiles. We even see teachers constantly being arrested for sexual involvement with the students. We also see the constant arrest of Catholic priests for this. It seems to never end.
I am convinced that Washington, DC is loaded with pedophiles, and they use their power to molest the children and cover it up from detection and prosecution.
We need constant prayer to pull down these satanic strongholds.
From the article: "Seattle Mayor Ed Murray resigned on Wednesday after a fifth man publicly accused the Democrat of molesting him as a child. But Murray isn't alone. At least 11 then-current and former mayors have been accused of child sex abuse-related crimes since 2016. The allegations range from child porn to physical abuse. The alleged victims were as young as four years old."
666 SURVEILLANCE SYSTEM
"Implanted Microchip to Replace Credit Cards, Car Keys" 09/14/17 The technology for the Mark of the Beast is in place. The high tech needs more development, but the foundation is there. This technology is spreading all over the world, and it is just a matter of time until every corner of the earth is under it. One goal is to do away with cash, so everyone will be controlled by a world government. It is coming real fast with no way of stopping it. It is prophecied in the Bible, so it has to be in place just prior to the Second Coming of Jesus Christ.
Revelation 13:16,17 And he causeth all, both small and great, rich and poor, free and bond, to receive a mark in their right hand, or in their foreheads: And that no man might buy or sell, save he that had the mark, or the name of the beast, or the number of his name. (18) Here is wisdom. Let him that hath understanding count the number of the beast: for it is the number of a man; and his number is Six hundred threescore and six.
From the article: 'A microchip embedded under the skin will replace credit cards and keys according to Stephen Ray, who has already overseen a program for Sweden's largest state owned train operator that allows customers to scan their chips instead of using tickets. BBC News showcased the system in which Swedes are able to have their embedded chip scanned by a conductor who uses an app to match up their chip membership number with a purchased ticket. Around 3,000 people in Sweden have already had a chip embedded in their hand in order to access secure areas of buildings."
CALIFORNIA EARTHQUAKES
"San Diego quake could kill 2,000, inflict $40B in property damage" 09/14/17 Another article about the dangers of a massive earthquake in California. I never heard of this fault until now.
From the article: "San Diego's Rose Canyon fault is capable of producing a magnitude 6.9 earthquake that could kill 2,000 people and inflict $40 billion in property damage, according to a preliminary study sponsored by the Earthquake Engineering Research Institute. The EERI team also says in the study to be made public on Wednesday that the quake could cause an offshore canyon to collapse, producing a tsunami that would swamp the Silver Strand and send waves surging into San Diego Bay.

The tsunami would strike before the public could be widely notified of the threat, making it particularly deadly, said the study team, which is mostly composed of scientists, geologists and engineers from EERI's San Diego chapter. The study further says the quake could badly damage San Diego International Airport, Naval Air Station North Island, and older buildings in Balboa Park. Nearly 200,000 buildings countywide would suffer moderate to severe damage, and 33,000 families would be displaced.

The shaking would break scores of water and sewer lines, possibly causing wastewater to spill into San Diego and Mission Bays."