House Urged to Ban Democratic Party for Supporting Slavery!
Verse of the Day
Titus 2:13 Looking for that blessed hope, and the glorious appearing of the great God and our Saviour Jesus Christ;
Commentary
(The lead picture is Nathan Bedford Forrest, the Democrat, Confederate general who founded the KKK) We need to expose the history of the dem party and its evil. This is wonderful that the dem name should be remove for all the evil including slavery! It was the KKK and Jim Crow laws. All the evil which was done by the dems they now try and transfer to us!!! They have absolved themselves of what there forefathers did and now try and blame us.

Looking for the Blessed Hope, the coming of Jesus Christ for his bride:
Philippians 3:20,21 For our (Citizenship) is in heaven; from whence also we look for the Saviour, the Lord Jesus Christ: Who shall change our vile body, that it may be fashioned like unto his glorious body, according to the working whereby he is able even to subdue all things unto himself.
DEM PARTY SOURCE OF EVIL IN AMERICA
We need to expose the history of the dem party and its evil. This is wonder the dem name should be remove for all the evil including slavery! It was the KKK and Jim Crow laws.
"Rep. Louie Gohmert (R-TX) introduced a privileged resolution on Thursday that calls upon Congress to ban the Democratic Party for supporting slavery and the Confederate States of America, Breitbart News has learned exclusively.
Gohmert released a privileged resolution on Thursday that details the Democratic Party's history of supporting slavery, the Confederacy, and other racist policies throughout the party's history.
A privileged resolution allows for Gohmert, or any other congressman, to "supersede or interrupt other matters that might be called up or pending before the House." Reps. Andy Biggs (R-AZ), Jody Hice (R-GA), Rand Weber (R-TX), and Andy Harris (R-MD) cosponsored Gohmert's resolution."
CHRISTIAN COURAGE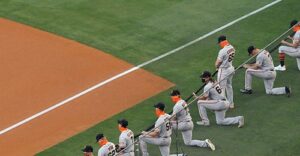 "Giants' pitcher Sam Coonrod refuses to kneel during Black Lives Matter moment because of faith: 'I'm a Christian'"
 I hope all the professional sports go bankrupt as they turned against the United States. BLM is a Communists organization that wants to destroy the family unit as we know it. May the Lord greatly bless this man. His action condemns all the "Christians" and these baseball teams.
"San Francisco Giants pitcher Sam Coonrod was the only player to stand during a moment honoring the Black Lives Matter movement ahead of the season opener against the Los Angeles Dodgers, telling reporters after the game that as a Christian he "can't kneel before anything besides God."
MLB provided teams with a long black ribbon that players on both sides jointly held as they kneeled in unity. Every player and coach from the Washington Nationals and New York Yankees took part in the demonstration ahead of their game, but hours later, Coonrod stood alone. I'm a Christian," he said, according to TMZ Sports. "So I just believe that I can't kneel before anything besides God."
CHRISTIAN MURDERED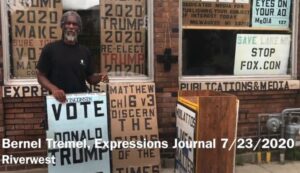 ""I Believe Donald Trump Is a Sign of the Times" – FINAL VIDEO: Black Trump Supporter Bernell Trammel's Last Interview Before He Was Shot Dead"
It appears unless the Lord intervenes we are heading into a time of great bloodshed. They hate us so much and are taking the fight to us.
We need an outpouring of the Holy Spirit for a revival for survival.
"Bernell Trammell, a well-known Black supporter of Donald Trump who was a community fixture known for his publishing company and long conversations on religion and politics, often delivered from street corners while holding pro Trump and other signs, was shot to death in Milwaukee, Wisconsin.
Trammell, 60, was gunned down on July 23 near the very spot where he gave a video interview a few hours before explaining why he supported Trump. Milwaukee police are seeking what they described as "unknown suspects." The motive is not clear, including whether the slaying was tied into Trammell's political beliefs or Trump support. Some news outlets gave the victim's name as Bernell Tremmell, but he goes by Trammell on social media."
FREEDOM IN HARD LEFT REPROBATE CITY
This is what America will be like under a Hard Left president and government and this would be just the beginning.
"Here is a list of things you can currently do in the city of Los Angeles with impunity: defy pandemic stay-at-home orders to protest in crowded streets by the tens of thousands; throw Molotov cocktails at police;

break the windows of both private and public property;

burn down neighborhood businesses;

tear down monuments on public property;

drag innocent commuters from their cars, beat them mercilessly, and destroy their vehicles;

poop in public streets;

openly use illegal drugs on public streets;

steal cars or bicycles; erect tent cities on private property;

steal up to $950 of merchandise per day without fear of prosecution…under state law
It's a great time to be a criminal in the City of Angels, but if you're a business owner, L.A. Mayor Eric Garcetti will find you and make sure you are fined and prosecuted to the fullest extent of the law for… Are you ready for this? Hanging a "We are open" sign in front of your business."
HARD LEFT IN MILITARY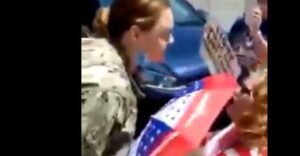 "Navy Is Investigating Uniformed Sailor Sarah Dudrey for Busting into Pro-Trump Rally, Harassing Protesters while Screaming "F**k Trump!"
How many more like Dudrey are in the military? This is frightening to think there could be Hard Left insane people like her in the ranks of the military.
She needs to do hard time in military prison for disgracing the United States Navy, the President and the American people.
"The US Navy is investigating this vulgar and violent outburst by Aviation Boatswain's Mate 2nd Class Sarah J. Dudrey.

The Daily Mail reported: An investigation has been opened after Navy chiefs were made aware of the footage. Ms Dudrey blocked a lane of traffic when she stopped her car 'on a busy main street' outside the Ventura County Government Center on Sunday at around 1pm, one witness said.
A woman who posted the clip to Facebook wrote: 'This attack took place on Sunday July 19th at about 1:00 pm. 'A large group of people were having a pro-America rally and had lined the sidewalks with happiness and American flags. 'Dudrey pulled up in a BORROWED CAR, parked illegally on a busy main street, blocking an entire lane, got out…"
PRO LIFE AMERICA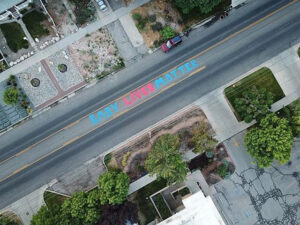 "Pro-Life Artist Paints 'Baby Lives Matter' in Front of Planned Parenthood"
This is wonderful. I so enjoyed looking at this picture.
"A pro-life artist painted the words, "Baby Lives Matter," in front of a Planned Parenthood facility in Salt Lake City, Utah.
In a video message Friday, Tayler Hansen said, given the millions of babies who are aborted each year, he "felt inclined to demonstrate a true peaceful protest dedicated to those abandoned without a voice."
CHRISTIANITY
Chinese Government Orders Low-Income Families to Abandon Their Christian Faith or Lose Financial Aid
DEM/COMMUNIST WAR AGAINST AMERICA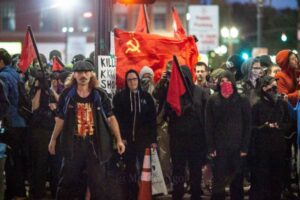 "SATURDAY: Antifa Cells Announce Day Of Retribution Across US After Feds Quell Riots In Portland"
They are taking the fight to us and will keep on coming until they are stopped.
"Antifa splinter cells are planning a day of terrorism across the country in retaliation for the feds doing the job that Portland police won't do after they took control of the rioting mobs."
COMMUNIST MAYOR OF NYC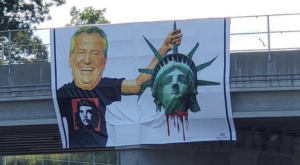 "NYC banner shows Commie de Blasio holding Lady Liberty's severed head"
He is an admitted Communist and he is doing to NYC what Communists can only do and this is destroy.
"The most reviled and despised Mayor inn America and that is saying A LOT. New Yorkers' anger with Mayor Bill de Blasio appeared to reach a boiling point Tuesday – with a banner of the mayor unfurled over the Staten Island Expressway.
NYC mayor shown holding severed head of Lady Liberty in mocking banner "He hates the true New Yorkers … people who built this city," the artist says about Bill de Blasio"
If you like our ministry, please consider making a donation to keep us going. May the Holy God of Israel bless you!
Revelation 22:20 He which testifieth these things saith, Surely I come quickly. Amen. Even so, come, Lord Jesus.