Israel at War: The Day of the Lord is Near: December 6, 2023 (The all-out war Obadiah warns has started)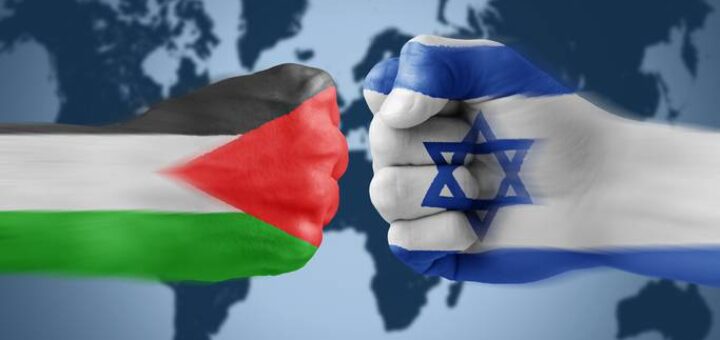 Obadiah 1:15  
For

the day of the LORD is near

upon all the heathen: as thou hast done (to Israel), it shall be done unto thee: thy reward shall return upon thine own head. 
About 30 years ago, I begin to preach about the Day of the Lord is Near as found in the Book of Obadiah. In my best selling book As America Has Done to Israel, I included a chapter about the Day of the Lord. The Day of the Lord is a reference in the Bible to the Second Coming of Jesus Christ.  Obadiah gives a clear indicator to the immanent Second Coming of Jesus Christ. The key event is when Israel enters into an all-out battle with the Palestinians in which none of them survive.
I believe the Hamas attack on October 7, 2023, and the subsequent war was the trigger for the battle described in Obadiah.  This blog will keep you on the cutting edge of events leading to proving the Day of the Lord is Near and soon Second Coming of Jesus Christ. This can be proved by the Bible.

Obadiah 1:18 And the house of Jacob shall be a fire, and the house of Joseph a flame, and the house of Esau for stubble, and they shall kindle in them, and devour them; and there shall not be any remaining of the house of Esau; for the LORD hath spoken it. 
Hamas even named the attack and war they started. It was call: Operation Al Aqsa Flood! This means the Temple Mount in Jerusalem. All the wars triggered by Hamas' attack are heading towards Jerusalem where God will bring his final judgment on Islam. Incredible events are soon about to unfold, but if you understand Bible prophecy you know how it is going to end.
See my complete preaching and teaching about the Obadiah and the Day of the Lord is Near: McTteachingvideo.com

Two of the videos follow:
 Zechariah 12:3 And in that day will I make Jerusalem a burdensome stone for all people: all that burden themselves with it shall be cut in pieces, though all the people of the earth be gathered together against it.
ISRAEL: Latest Update (The * is for the latest postings)
IDF Is Ignoring Warnings About Impending Massacre in Judea, Samaria, Say Sources
From article:""Terrorists are planning the same thing here, they are hoarding weapons, they are carrying out training, exactly like what happened in Gaza," the user who identified as an observer in Judea and Samaria continued. "My friends and I are alert, but also here, we receive the same answers and threats [from superiors]. And by way of illustration, it took 7-8 hours for the IDF to arrive en masse to Gaza on [the Jewish holiday of] Simchat Torah, what do you think the terrorists in Judea and Samaria will be able to carry out in that time? Apparently [they'll be able to massacre] more than 1,200 soldiers and civilians."
At Dearborn, Michigan Pro-Hamas Rally Praising The October 7 Attack, Held In Front Of Henry Ford Centennial Library
From article:"Imam Usama Abdulghani spoke at the "Al-Aqsa Flood" protest at the Ford Centennial Library in Dearborn, Michigan on October 14, 2023, saying: "We are lucky to be alive in the era of Imam Khomeini, the leader of the Islamic Revolution in Iran." He continued to say that October 7 was a "day of God," a "miracle come true," and he acknowledge IRGC Qods Force commander General Qassem Soleimani.

Abdulghani said that the "lions" are defending not only Palestine, but the nation of Muhmmad the Messenger. He added that the "honorable soldiers" of Palestine have chosen the only path to victory. Abdulghani asked: "How dare you compare Hamas to ISIS?" He added that Israel is worse than ISIS. Addressing the "friends of the Zionist occupiers," he said they should advise their friends that "the jig is up," that Israel is over, "the Titanic is sinking."

October 7 Was A Day Of God, A Miracle; The Honorable 'Lions' Of Palestine Are Not Only Defending Palestine But Are Fighting On Behalf Of Muhammad The Messenger; The Friends Of The Zionist Occupiers And Colonialists Must Know That Their Time Is Over"
California Republican doubles down on Israel support after protesters vandalize office: 'Not going to change'
From article:""It's not going to change my position. We're going to continue to be as supportive of Israel as we possibly can. We want to make sure that they eliminate Hamas from the region and allow those people in the region, especially Israel and all the neighboring communities, to live in peace," he told "FOX & Friends First" on Wednesday. "I think that has to be our focus and [we have to] continue to move forward in that direction."
UN calls for 'irreversible' move toward two-state solution to Israel crisis
From article:"It is long past time to move in a determined, irreversible way towards a two-state solution, on the basis of United Nations resolutions and international law," said Tatiana Valovaya, Director-General of the U.N. office in Geneva, delivering a speech authored by U.N. Secretary General Antonio Guterres. She added this would mean "Israel and Palestine living side-by-side in peace and security with Jerusalem as the capital of both states." The comments coincide with the United Nations' International Day of Solidarity with the Palestinian People, which it observes annually. It marks the United Nations General Assembly's approval of a plan to partition Palestine into Arab and Jewish states and for international rule over Jerusalem."
Erdogan tells UN chief Israel must be tried in international courts for Gaza crimes
Hamas forced hostage kids to watch videos of Oct. 7 atrocities, family member says
Top Israeli intel unit wasn't operational on October 7 due to personnel decision
From article:"The military's vaunted 8200 signals intelligence unit was not operational near the Gaza border on the morning of October 7 due to a two-year-old decision to reduce personnel and halt operations overnight and on weekends, a new report alleged Monday…According to Kan, following private consultations, a high-ranking officer within the Israel Defense Force's Intelligence Corps reduced the unit's manpower two years ago after concluding that intelligence-gathering methods utilized by 8200 would not help detect a threat from Gaza in real-time. "An alert in the Gaza arena will not come from the classic sources," the officer was quoted saying. The decision significantly downgraded the unit's operational activities in the Gaza border region and ceased operations entirely overnight and on weekends."
The Most Chilling Aspect of the Anti-Israel Demonstrations What it means when mobs chant "Khaybar, Khaybar!"
From article:"Thus when modern-day Muslims invoke Khaybar, they are recalling an aggressive surprise raid by Muhammad that resulted in the final eradication of the once considerable Jewish presence in Arabia. To jihadists, Khaybar means the destruction of the Jews and the seizure of their property by the Muslims. The fact that modern pro-Palestine demonstrators want exactly that is all too clear."
Palestinians: 'Extreme' Support for Terrorist Group Hamas, Israel's Destruction
From article:"The results of the poll confirm what most Arabs and Muslims already know: that the only solution most Palestinians are willing to accept is one that leads to the murder of all Jews and the destruction of Israel. It remains to be seen whether the latest Palestinian slaughter of Jews serves to awaken the Biden administration and the Europeans to this inconvenient, uncomfortable fact."
*Is the Hamas conflict a prophetic window into the end times?
IDF is following Hamas leaders around the world
High School Students Riot in Queens After They Discover Teacher Attended Pro-Israel Rally, Teacher Forced to Hide From 'Radicalized' Mob There is no doubt the mob is building in America to go after the Jews. They are being driven back to Israel where God wants them.
Jihadis From Iran, Iraq, Lebanon, Syria, And Yemen Amass In Multifront Threat To Israel
From article:"Since the October 7 Hamas attack on Israel, Iran and its regional proxies in Lebanon, Syria, Iraq, and Yemen, have joined in hostilities against Israel and the U.S. in a multifront maneuver which threatens regional escalation. Iran-backed groups have conducted attacks from Israel's north, east and south to bolster Hamas's war aims and detract from the Israeli response to the militant group in Gaza. Below, MEMRI JTTM provides an update on the most recent developments in the multifront threat to Israel."
Hezbollah hits Israel with heavy rocket barrages, anti-tank missile attacks It is just a matter of time until Israel is in a full blown war with Hezbollah.
"Attacks On US Forces Essential To Stop Bloodbath In Gaza": Hezbollah Leader
From article:"When asked about the fighting between Hezbollah and the Israeli army at the Lebanese border – which has been ongoing since 8 October – Qassem said Hezbollah has a plan to "force Israel to restrain itself." Nonetheless, he added that any decision "will be made on the battlefield," as the possibility of the fighting spreading beyond the Lebanese border region depends on "the evolution of the Gaza war and on Israel's (hypothetical) decision to start a broader war."
Jordan says it beefs up army presence along borders with Israel
From article:"Jordan said on Tuesday the army had beefed up its presence along its borders with Israel and warned that any Israeli attempt to forcibly push Palestinians across the Jordan River would represent a breach of its peace accord with its neighbour. Prime Minister Bisher Khasawneh said his country would resort to "all the means in its power" to prevent Israel from implementing any transfer policy to expel Palestinians en masse from the West Bank."
California Imam Calls to 'Annihilate' Zionist 'Dogs,' Accuses Israel of Fabricating Videos Like a 'Hollywood Studio' I'm sure there are huge numbers of Imams just like him across America.
China Hosts Pro-Hamas Arab Dialogue Summit on Israel
Xi Jinping Demands Israel Stop Defending Itself in First Remarks on Hamas War
Israelis No Longer Want Two-State Solution After October 7 Attack This is part of the lead up to the coming Obadiah war which will result in all of the Palestinians being removed from Israel!
From article:"If you want to compare it to something it was almost like the Rwandan genocide where people looked their victims in the face before doing horrific things to them. I think that changed the Israeli attitude towards Hamas and its role and its relationship with the Palestinian people. I do think it does put the entire idea of a two-state solution in question. I mean if that was on the table and for the Biden administration it still is, it's really off the table for now. Because it is impossible for the Israelis to accept that they would live next to another entity that is controlled by Palestinians where this kind of thing is allowed to happen."
Hamas terror organization charter targets Christians and US service organizations
From article:"Israeli security forces restricted young Palestinians from entering Al-Aqsa mosque in Jerusalem for prayers on Friday and deployed in strength across the Old City and beyond to quell any unrest spilling over from the conflict in Gaza. Large numbers of Israeli police kept guard around Al-Aqsa, a perennial flashpoint and often the scene of clashes, as Palestinians gathered for Friday prayers, Reuters journalists said. At one point they fired teargas. It was the third week in row that Palestinians have been restricted from praying at the mosque following the Hamas assault on southern Israel on Oct. 7 and the ensuing Israeli bombardment and siege of Hamas-ruled Gaza."
Hezbollah – Israel's monster to the north: Iran-backed terror group that could join war in the region is ten times stronger than Hamas, with 200,000 missiles, rockets and mortars
From article:"But while tens of thousands of Israeli troops, battalions of tanks and heavy artillery begin to mass along the border with Gaza, many fear that the real threat is found 125 miles to the north. Hezbollah, or the 'Party of God' in Arabic, is a Shiite Islamist political and military organisation based in Lebanon that was founded in the 1980s during the Lebanese Civil War with the support of Iran's Revolutionary Guard. Its dual political and military setup echoes that of Hamas, but while both groups are backed by Iran's Islamic Republic, Hezbollah has evolved into a far graver military threat. The group has been exchanging fire with Israel across the border intermittently since Hamas' October 7 attacks – the latest escalation since Israel and Hezbollah fought a major war in 2006. So far the skirmishes have been just that, with Hezbollah reluctant to commit any meaningful numbers of troops and rockets to fight Israel."
Iran is now flirting with its own destruction
House Approves Resolution Backing Israel In New Speaker's First Move
From article:"The resolution passed in a vote of 412-10 and says that the US "stands" with Israel in the wake of the October 7 Hamas attack and as Israel is relentlessly bombing Gaza. The resolution reaffirmed the US commitment to providing military aid to Israel and said Congress will work to pass more. The bill says the House "stands ready to assist Israel with emergency resupply and other security, diplomatic, and intelligence support." It also called for the US to continue enforcing sanctions on Iran and condemned the Hamas attack.

Nine Democrats voted against the resolution, including Reps. Jamaal Bowman (NY), André Carson (IN), Cori Bush (MO), Al Green (TX), Summer Lee (PA, Alexandria Ocasio-Cortez (NY), Ilhan Omar (MN), Delia Ramirez (IL) and Rashida Tlaib (MI). The sole Republican who voted against the measure was Rep. Thomas Massie (KY)."
Hamas Delegation Arrives In Moscow As Russia Blames US For Escalation
From article:"The visit had not been previously announced by either side, and the Hamas delegation is being led by a senior member of the group, Moussa Abu Marzouk. Hamas is a designated terror organization in the US, European Union, and some other countries; but it has official relations with countries like Iran, Turkey, Syria, and now apparently Russia.
Hezbollah, Hamas and Islamic Jihad leaders discuss how to achieve 'victory'
Los Angles: Knife-Wielding Man Shouting "Free Palestine" Arrested After Israeli Father Saves Family by Fighting Off Attempted Home Invasion (Video)
'We are not afraid to die': Ruthless Hamas prepare for bloody ground battle with Israel What a terrifying surprise these terrorist are for when they die. They will met the Holy God of Israel and face the same terrifying judgment as their allah!
Hebrews 10:31 It is a fearful thing to fall into the hands of the living God. 
Turkey's Erdogan: Hamas aren't terrorists, they're mujahideen defending homeland Soon Turkey will leave NATO as the old political order is breaking apart. Turkey has no future other than judgment for coming against Israel.
Richmond, California, council meeting explodes over resolution blaming Israel after Hamas attack I've been saying for a long time that the "love" affair between the Hard Left and the Jews would come to end. The 'natural" hatred for the Jews would surface, and the American Left would viciously turn against them. This hatred now is manifesting towards the Jews in the USA, and they are heading for huge trouble. This is a great time to the church to stand with the Jews in the name of Jesus. There is coming a time when there will be a massive exodus of American Jews to Israel. The window maybe short, but many will escape.
From article:"The measure, which states that Palestinians are "currently facing a campaign of ethnic cleansing and collective punishment by the state of Israel," passed in the Bay Area city of Richmond early Wednesday morning by a 5-1 vote. A public comment hearing that lasted for hours leading up to the vote became heated at times with shouting between audience members.
Gaza tunnels, terrorist infrastructure uncovered by Israeli geologist
From article:"The infamous Hamas tunnels have played a central role in this worrisome development. Prof. Joel Roskin, a geomorphologist and geologist at Bar-Ilan University's geography and environment department, has followed the changes in the Gaza tunnels over the years, analyzed the conditions that allowed their formation and expansion and revealed what geological and security conditions have enabled their speedy development."
Weapons Flood West Bank, Fueling Fears of New War Front With Israel If you look closely at the weapons, they are all US made and not Russian. Most likely, the weapons come from Afghanistan!
From article:"The bulk of Iranian weapons to Palestinians go into the West Bank, particularly to the Palestinian Islamic Jihad, a militant group allied with Hamas, according to a senior Jordanian security official. Both have been designated terrorist organizations by the U.S., Europe and Israel. The official said networks of smugglers, assisted by the Syrian government and Iranian-backed militias like Hezbollah, were growing. "The weapons flow has really increased, specifically over the past year. This is because Iran has been much more focused on the West Bank recently, and trying to arm some of the groups there, especially the Palestinian Islamic Jihad, which is Iran's more direct partner," said Michael Horowitz, Israel-based head of intelligence at Le Beck International, a risk consulting firm."
Hamas Fighters Trained in Iran Before Oct. 7 Attacks
Israel Agrees to U.S. Request to Delay Invasion of Gaza
From article:"The Pentagon is rushing to deploy nearly a dozen air-defense systems to the region, including for U.S. troops serving in Iraq, Syria, Kuwait, Jordan, Saudi Arabia and the United Arab Emirates, to bolster protection of U.S. troops from missiles and rockets. U.S. officials have so far persuaded the Israelis to hold off until those pieces can be placed in the region, as early as later this week."We will act when there are the best possible conditions for us," said Israeli military spokesman Daniel Hagari in a briefing Monday when asked about a delay request from the U.S."
*IDF chief: We are well prepared for ground operations in the south
Lt. Col. Davis: U.S. Lost Its Global Influence, Middle East 'Powder Keg' Can 'Explode' into Regional Conflict
Son of Hamas founder says mainstream media 'afraid' to label group a genocidal religious movement Hamas is the modern day Nazis. In every way they are like the Nazis.
From article:""Look at the division and the global confusion because of Hamas. They brought us to our knees somehow by their brutality and their barbarism. Brutality is even understating Hamas' acts. Hamas is a religious movement, and they are a raging religious movement against Israel. The mainstream media cannot say this, because they are afraid to ignite a religious war. And what I say, it already is. They want to annihilate the Jewish people because they are Jewish people, because they are a Jewish state."
Ted Cruz Castigates Biden for Funding Hundreds of Billion to Iran and, by Proxy, Hamas: "Biden's Obsession with Appeasement and Funding Terrorism is Deadly"
WORLD WAR 3 WATCH: Israel Warns to Cut Off 'the Head of the Snake' — Threatens to Wipe Iran and Lebanon Off the Face of the Earth
From article:"Cruz lambasted the Biden regime for allowing nearly $100 billion to flow into Iran over the last two and a half years. Cruz emphasized that Iran acts as a patron to Hamas, and without this financial backbone, Hamas's capacity for terror would be significantly crippled. "Over the last two and a half years, Joe Biden and the Biden administration have flowed nearly $100 billion to Iran. Understand Hamas is a proxy for Iran. Without Iran, there would be no Hamas,"
How the Biden Administration Helped Iran's Mullahs Try to Fulfill Their Dream of Annihilating Israel
From article:"Iran provides roughly $100 million a year to Palestinian terrorist organizations such as Hamas and Palestinian Islamic Jihad, and $700 million a year to Hezbollah. Thanks to the Biden administration, the sudden influx of billions of dollars into the regime's treasury will help the regime to provide more funds, arms and rockets to its terrorist proxies, including Palestinian armed groups, including Hamas and Islamic Jihad. Iran's President Ebrahim Raisi, meanwhile, has already announced that his country will use the new $6 billion "wherever we need it."
Israeli Christian says Hamas isn't just a danger to Jews: 'Fight of light against darkness'
Six terrifying steps that could see Gaza crisis spiral into WW3 with Brit & US boots on the ground, warns ex-Navy chief
Citing "Escalating" Iran Threats, Pentagon Sends 2nd Carrier, Patriot Missiles & THAAD to Middle East The armies of the world are now being drawn to Israel. There is a realization that the first battle for Jerusalem is not too far off. This battle will put an end to Islam.
From article:"Austin has ordered that the USS Dwight D. Eisenhower Carrier Strike Group be re-directed to join the USS Ford in the Eastern Mediterranean. This is quite significant as the US Navy has already trained for "dual carrier" operations, the kind of interoperability which would enable a "massive" air attack campaign from the sea. The USS Ford, as a new, high-tech carrier, already operates with a much larger deck space and the ability to maintain a 33-percent increase in a sortie rate. Adding the USS Eisenhower Strike Group can add very large amounts of additional airpower, particularly in the event that the two carriers are "networked" and can maintain interoperability and coordinate operations."
Israel says it found Hamas files with instructions for making cyanide-based weapon
Hezbollah joined fighting, is paying price
From article:""Hezbollah has decided to participate in the fighting, we are exacting a heavy price from it," Gallant said to troops at the 91st territorial division base, at the Biranit camp on the Lebanon border. "I assume that the challenges will be greater [than they are now], and you have to take this into account, to be ready like a [coiled] spring for any situation," he added to the forces."
Day of rage: Anti-Israel protests spread around the world with Hamas supporters calling for suicide bombers to hit Tel Aviv and US and UK flags burned as global fury over Gaza erupts once more This article has tremendous articles of the massive crowds.
Israel Just Revealed A Dangerous Nuclear Submarine
Inside Iran's arsenal from hypersonic missiles to fanatical troops & secret terror legion amid fears of new Israeli war
Analysis-China and Russia find common cause in Israel-Hamas crisis The Lord is bring the world together for the first battle of Jerusalem. What we are witnessing if the events taking place for the Day of Lord is Near!
From article:"With anger building across the Middle East over Israel's strikes in Gaza, China and Russia are finding common cause with countries across the region in support of the Palestinians. For Moscow and Beijing, Israel's bombardment of Gaza following the Hamas attacks that killed 1,400 Israelis presents an opportunity to burnish their credentials as the champions of the developing world, in contrast with the United States, which has put its support squarely behind ally Israel. China has consistently called for restraint and a ceasefire but has also sharpened its criticism of Israel. "Israel's actions have gone beyond the scope of self-defense," Chinese Foreign Minister Wang Yi said this week, called on it to stop its "collective punishment" of Gaza residents, Chinese state media reported."
Why a wave of anti-Semitism is sweeping across China Chinese Communism is about to fall. Go is going to destroy it because it does not fit within the Whore of Babylon which is the religion of  whore.
From article:"Sitting in front of a map of the world, Chinese influencer Su Lin has been live-streaming rants in support of Hamas and against Israel since the war broke out. Coming almost every day, they are rife with anti-Semitism. "Hamas is still being too soft, going way too easy," says Ms Su, who has nearly one million followers online, in one video, adding that the Israelis are "lackeys of colonialism". "Shouldn't they be captured?" she shouts into a microphone, referring to Israeli citizens taken hostage. "Israel is now just a Jewish version of the Nazis and militarism." Ms Su's videos are part of a wave of anti-Semitism that has emerged online in China since Hamas attacked Israel on Oct 7."
Jew hatred has become a Left-wing shibboleth – and it's only getting worse
From article:"The broadcast media, and even the police, are caught in a contrived game of moral equivalence at which the professional Left has always been expert. Seeing Socialist Worker posters held proudly aloft among the Palestinian flags, amid chants that call for the elimination of Israel and its population, might have been shocking a generation ago – but not anymore. Does this all-consuming hatred of Israel take precedence over the commitment to basic human rights which the Left was once committed to defend? Does the hatred of capitalism – of which Jews are seen to be the expert practitioners – now cancel out every other moral principle?"
On Israel, Progressive Jews Feel Abandoned by Their Left-Wing Allies Throughout history the Jews have wondered away from the faith and into the world. The Lord would use the world to chasten them to get the Jews back into the fold. God now is in the process of chastening the Jews with with the Hard Left, Muslims, Communism and woke to drive them back into the fold. You might start to see the Jews beaten and even murdered by their God hating buddies as the old satanic hatred of the Jews comes into play!
From article:"Progressive Jews who have spent years supporting racial equity, gay and transgender rights, abortion rights and other causes on the American left — including opposing Israeli policies in the Gaza Strip and the West Bank — are suddenly feeling abandoned by those who they long thought of as allies. This wartime shift represents a fundamental break within a liberal coalition that has long powered the Democratic Party."
Israel-Hamas war tipped to spark 'nuclear showdown' as Iran on 'crash course' to bomb
With eyes of the world on Gaza, Iran's 'axis of resistance' is quietly moving in for the kill
From article:""They've created a war room in Beirut. They are meeting there the Palestinians, Hamas, Islamic Jihad and Hezbollah, and the IRGC. They were meeting in Lebanon and now also have a foothold in Syria in order to consolidate," said Ms Shine. "We see Qaani has been visiting all the time – Iraq, Syria, Lebanon; Iraq, Syria, Lebanon. Always organizing."
Israel-Hamas war 'spiraling out of control' as China deploys warships to Middle East Now China is being drawn into the war by sending warships!
From article:"China has deployed six military warships to the Middle East, amid growing fears that the Israel-Hamas war could spark an all-out war. China's 44th naval escort task force has been involved in what it says are 'routine' operations in the area for the past week."
From article:"Hamas terrorists who carried out a surprise attack on October 7 were found to be under the influence of Captagon, a synthetic amphetamine-type stimulant that has been clandestinely produced in southern Europe and trafficked through Turkey to the consumer markets on the Arabian Peninsula, as reported by

Nir Dvori of Channel 12

.The pills were recovered from the pockets of many terrorists who lost their lives on Israeli soil.This stimulant drug, also known as the "

cocaine

for the poor," allowed the terrorists to commit heinous acts with a sense of calmness and indifference. Simultaneously, it kept them highly alert for extended periods and suppressed their appetite."
Archives
Footage shows Israeli army obliterate Hezbollah targets as fear of new conflict erupts
Hamas yet to give up on the 'unity of the battlefields' against Israel
From article:"According to the Hezbollah-affiliated Al-Akhbar newspaper, an operation room involving all members of the "axis of resistance," including Hamas and Hezbollah, has been set up to coordinate military activities in the Gaza Strip and Lebanon. The increased tensions in northern Israel came less than 48 hours after Hamas leaders expressed concern over the failure of Iran and its proxies, including Hezbollah, to join the fight against Israel. Despite the concern, Hamas has still not given up its hope that Hezbollah would ultimately join the war."
Terrifying video shows '5,000 strong Hezbollah squad' training for Hamas copycat attack If Israel thinks Iran is going to attack like this, I'm sure there will be a preemptive strike on Lebanon to stop it. This would immediately start the all-out war spreading to Syria and beyond.
Israel-Hamas war tipped to spark 'nuclear showdown' as Iran on 'crash course' to bomb
From article:"The Israel-Hamas conflict could spark a "nuclear war" if Iran races to build the bomb, a former Defense Intelligence Agency officer has warned. The terrifying warning comes as Israel prepares to mount a ground invasion of Gaza in response to the Hamas atrocities on October 7 that left at least 1,400 Israelis dead.  The bombing campaign has sparked sabre-rattling from Iran, with fears a new front could soon open up on the Lebanon-Israel border if Hezbollah – an Iranian-backed terrorist group – gets involved. All this volatility is raising the spectre of "nuclear war", former Defense Intelligence Agency officer Matt Shoemaker has warned."
Israeli TV footage appears to show Gaza hospital blast came from Palestinian rocket
Israeli official predicts US 'involvement' if Iran, Hezbollah join fighting with Hamas
Iran shares chilling message for Israel after Gaza hospital explosion kills 500: 'Time is OVER' This war is going to expand to an all-out war between Muslims and Israel. In the end, go is going to destroy Islam and prepare the world for Tribulation. Paganism with the Whore of Babylon will be the world religion.
From article:"Hossein Amir-Abdollahian posted the tweet after Hamas blamed Israel for the blast at the Al-Ahli Arab Hospital, where the Gaza health ministry said more than 500 were killed. The Israeli Defense Forces (IDF) denied attacking the hospital and has since investigated the blast. The IDF determined the blast was caused by a rocket misfire launched by the Palestinian Islamic Jihad. U.S. intelligence also points to a terror group, and not Israel, as causing the explosion. "After the terrible crime of the Zionist regime in the bombing and massacre of more than 1,000 innocent women and children in the hospital, the time has come for the global unity of humanity against this fake regime more hated than ISIS and its killing machine," Amir-Abdollahian tweeted. He added: "Time is OVER!"
IDF: US is deterring Hezbollah from starting all-out war with Israel
"NO REFUGEES in Jordan, NO REFUGEES in Egypt!" – King Abdullah Pushes Back on Jordan Taking Palestinian Refugees – Not a Chance! (VIDEO) Their own people don't want them!
Martin Armstrong: Western leaders – who are actually fascists – funded the terror attacks in Israel to draw Russia into WWIII
Head of Shin Bet Security Agency Accepts Responsibility For Failing to Thwart Hamas Terror Attack Against Israel
IDF to evacuate civilians from 28 communities along Lebanese border amid attacks
London Is Falling: Anti-Israel Protesters Raise Palestinian Flag on Statue of King Charles I – Wave Keffiyeh Scarf Around His Head – Beat Pro-Israeli Protester
Israel threatens to destroy the Lebanon if Hezbollah joins the war Israel warned Lebanon many times in the past. Lebanon will not survive this coming war.
Schumer's Words Come Back to Haunt Him as Dozens Arrested Outside His Home I enjoyed every minute of reading this article and watching the videos!
Middle East on 'verge of the abyss,' UN warns as Gaza suffers and Israel prepares for offensive
Israel's 'Iron Beam' weapon which is set to be unleashed on Gaza
From article:"Israel is looking to escalate the deployment of an experimental air defence weapon that uses futuristic technology to fire a laser beam at incoming threats. The "Iron Beam" system was not due to be fielded for several years but Israeli officials are reportedly looking to accelerate the timetable in response to the threat of Hamas rockets. Palestinian militants have fired a huge number of missiles in the latest wave of violence many of which are intercepted by the well-established "Iron Dome" air defence system. What makes the "Iron Beam" different is rather than firing a missile to take out the incoming projectile, a powerful beam of light is used."
Poll: 71 Percent of Americans Have Deep Sympathy for Israelis over Hamas Terrorist Attacks
Iran Directly Threatens US Over Israel-Hamas War: "If the scope of the war expands, heavy losses will befall America as well"
From article:""BREAKING: Iran's Foreign Minister has made his strongest warning yet in remarks to Al Jazeera: "If stopping the aggression against Gaza does not succeed, the expansion of the war fronts is not excluded and its possibility increases every hour. Iran cannot remain a spectator."…"If America and Israel do not stop this policy, the scope of the war cannot be stopped During my meeting in Lebanon, I learned from Sayyed Hassan Nasrallah [the leader of Hezbullah] that all scenarios were put on the table."…"The continued aggression and the absence of a political solution add fuel to the fire and things may get out of control. The region and its actors will not remain spectators." – Iranian Foreign Minister Hossein Amirabdollahian, speaking to Al Jazeera"
68% to 89% of Palestinians Support Terror Attacks on Israel in PCPO Poll – Democrats Want to Bring One Million to the US
Iran demands Islamic countries declare unified support for Palestine after crisis call
Israel warned not to fall for Hamas trap that would lure three other countries into war The only choice Israel has is to destroy Hamas and render Gaza unable to function with the hope of Muslim countries taking the people as refuges.
From article:"A defence analyst has warned that the Hamas incursion might have been designed to trigger a knee-jerk heavy-handed response from Israel. Expert Michael Clarke believes that Hamas plans to draw Israeli forces into brutal urban combat where images of ordinary Palestinians caught in the middle could spark interventions by neighbouring Arab countries. Fear of a regional spillover has been heightened by skirmishes in the north between Israeli forces and Lebanon-based Hezbollah fighters."
Ted Cruz Accuses 'Virulently Anti-Israel' Biden Admin of 'Funding' Hamas Attack, Calls to 'Stand with Israel'
Palestinians flee northern Gaza after Israel orders 1 million to evacuate as ground attack looms
IDF strikes Hezbollah posts on border as terror group, Iran threaten to join war
Jordanian Forces Deploy Tear Gas Against Protesters Approaching Western Border; 'Day of Jihad' March Continues Towards Israeli Territory (VIDEO) I have warned and warned that Jordan was going to turn against Israel and lead the attack. This will be Islam's final jihad, and the Lord God of Israel is going to destroy Islam when they try to destroy Israel and take Jerusalem. The end of Islam is going very near. The Day of the Lord is Near!
From article:"Jordanian police fired tear gas at protesters who were marching towards the West Bank border in solidarity with Palestinians. The Jordanian government has asked people to avoid confrontations amidst the growing tensions. Some protesters accused the Jordanian police of "treason" for their actions. The protests in Jordan were part of a larger 'Day of Jihad' called by Hamas. The terrorist group urged tribes and armies from neighboring countries to join the fight against Israel. Khaled Meshaal, the head of Hamas's office in the diaspora, said that the governments and people of Jordan, Syria, Lebanon, and Egypt had a responsibility to support Palestinians in Gaza."
From article:""We have been preparing for this for two years. We have local factories for everything. We have rockets with ranges of 250 kms, 160 kms, 80 kms, 45 kms, and 10 kms," he said in an October 8, 2023, Russia Today interview."We have factories for mortars and their shells. We have factories for manufacturing B-7 and B-10 guns and their shells. We have factories for manufacturing Kalashnikov rifles and their bullets. We have a Russian license to produce Kalashnikov bullets in Gaza," he added.Baraka said Hamas was assisted by Iran — a claim for which the Biden administration it lacks direct evidence."Our allies are those that support us with weapons and money. First and foremost it is Iran that is giving us money and weapons. There is also Hizbullah, and the Arab and Islamic people who are standing by us,"
From article:""Interesting how it always comes back to Jerusalem,". "The Bible predicted, thousands of years ago, that the end time events would revolve around Jerusalem. Not San Francisco. Not Los Angeles. Not Moscow. Not Paris," Laurie explained. "But Jerusalem, this tiny little city, in this tiny sliver of land, will play a key role in the events of the last days. It's the focal point of end times events. It's amazing when you think about it, because in Zechariah 12:3-4 God says, 'I will make Jerusalem like an intoxicating drink that makes the nearby nations stagger when they send their armies to besiege Jerusalem and Judah. On that day I will make Jerusalem an immovable rock. All the nations will gather against it to try to move it, but they will only hurt themselves (NLT),"
REAL plan of Hamas: 'Kill every Jew and every Christian' on Earth
From article:"On social media, Franklin cited a video of Hamas' Mahmoud al-Zahar, and wrote, "We just saw Hamas brutally murder 900+ Israelis, most all civilians. If you want to know what else they're after, a Hamas commander made it clear. He said they want to kill every Jew and every Christian – and take control of the 'entire 510 million sq. kilometers of Planet Earth.' If you think what is happening in Israel is limited to Israel, think again."
Vladimir Putin breaks silence on war in Israel as he makes bold Iran claim
Students hide identities with masks while praising Hamas' massacre of Israelis
Hamas Leader and Founding Member Khaled Mashal Calls for Global Muslim Uprising, Asking for Muslim's Blood and Souls to be Sacrificed for Palestine This Upcoming 'Friday of Al-Aqsa Flood' (VIDEO)
From article:"This is nothing short of an undisguised call for international unrest. Given the volatility of the situation in Gaza and the broader Middle East, these words should not be taken lightly. The intention is to send a "message of rage" to Israel and the United States, but what might actually be unleashed is a wave of violence and discord that could engulf multiple nations. The most harrowing part of Mashal's speech was his direct appeal for Muslims to engage in Jihad by laying down their lives for the cause. While terrorism is nothing new, this clear and explicit call for people to become martyrs in a holy war against Israel is bone-chilling."
US ammo arrives in Israel ahead of expected ground operation in Gaza
NOT JUST ISRAEL: Hamas vows to cleanse world of Christianity
From article:"We are not talking about liberating our land alone. We believe in what our Prophet Muhammad said: 'Allah drew the ends of the world near one another for my sake, and I have seen its eastern and western ends. The dominion of my nation would reach those ends that have been drawn near me,'" said Mahmoud al-Zahar, a co-founder of Hamas, in a December 2022 video that has attracted attention once again."The entire 510 million square kilometers of Planet Earth will come under [a system] where there is no injustice, no oppression, no Zionism, no treacherous Christianity and no killings and crimes like those being committed against the Palestinians, and against the Arabs in all the Arab countries, in Lebanon, Syria, Iraq and other countries," he said in the video, which was translated and published by watchdog group MEMRI."
Hamas Declares Friday, October 13, As General Mobilization Day For 'Al-Aqsa Flood Operation,' Urges West Bank, Jerusalem Palestinians To Join Massive Rallies And Confront Israeli Soldiers
From article:"Addressing Palestinians residing within Israel, it implored them to participate in guarding duties (Ribat) within Al-Aqsa Mosque "to safeguard it, its Islamic heritage, and its divine message, and to prevent the settler gangs from desecrating it, and to thwart the fascist occupation's plans aimed at dividing and Judaizing it, and building its alleged temple… and to unite with the sons of your people in Gaza and the West Bank." Additionally, the statement called upon Arabs, Muslims, and Palestinians in refugee camps worldwide to converge in massive gatherings near the borders of Palestine, showcasing their unwavering solidarity with Palestine, Jerusalem, and Al-Aqsa. Those living farther away from Jerusalem were urged to assemble at the nearest point leading to the city."
The ayatollah's plan for Israel and Palestine
From article:"Khamenei makes his position clear from the start: Israel has no right to exist as a state. He uses three words. One is "nabudi," which means "annihilation." The other is "imha," which means "fading out," and, finally, there is "zaval," meaning "effacement." Khamenei claims that his strategy for the destruction of Israel is not based on anti-Semitism, which he describes as a European phenomenon. Rather, his position is based on "well-established Islamic principles," he claims. One of these being that a land that falls under Muslim rule, even briefly, can never again be ceded to non-Muslims. What matters in Islam is control of a land's government, even if the majority of inhabitants are non-Muslims. Khomeinists are not alone in this belief.

Finally, Israel is a special case because it occupies Jerusalem, which Khamenei describes as "Islam's third Holy City." He intimates that one of his "most cherished wishes" is to one day pray in Jerusalem. Khamenei insists that he is not recommending "classical wars" to wipe Israel off the map. Nor does he want to "massacre the Jews." What he recommends is a long period of low-intensity warfare designed to make life unpleasant if not impossible for a majority of Israeli Jews so that they leave the country."
'At least 40 babies killed': Foreign reporters taken to massacre site in Kfar Aza
Shells launched at Israel from Syria, IDF fire at source
Rows of tanks, closed shops: Israel's North prepares for war
NO WORDS: Hamas Savages Cut Off the Heads of BABIES and Gunned Down Families In their Beds (VIDEO) This is real Islam as practiced by Muhammad and his followers. We have to realize what REAL Islam is and its true horror.
Huge crowd chant 'free Palestine' at Israeli embassy in London in 'terrifying' scenes I warned and warned about the Muslims in Western countries, but especially Europe. There are enough Muslims in Europe to destroy almost every nation, but especially Great Britian, France and Germany. The Muslims have planned this for at least 30 years. Any nation that supports Israel, will be attacked by the Muslims. Europe will need to fight for its survival, but what is left of  Europe to fight? Tremendous Muslim violence is about to decend on Europe. The same also is coming to America but I believe to a lesser degree.
Hezbollah threatens retaliation for deadly border flare-up; Gaza rockets bombard south There is NO doubt that Hezbollah is entering the war against Israel. It is just a matter of when. I think it is going to be soon. Maybe right after Israel is bogged down in Gaza. In the end, Hamas and Hezbollah are going to be totally destroyed.
Street Fight Breaks Out After Pro-Hamas Thugs Attempt to Disrupt Pro-Israel Rally in Florida (VIDEO)
Egypt intelligence official says Israel ignored repeated warnings of 'something big' The major reason for this failure is the military was divided for political reasons. What happened to Israel is the perfect example of the military staying out of politics. I think the US military is divided just like Israel and this could really show up in time of war.
From article:" The Egyptian official said Egypt, which often serves as a mediator between Israel and Hamas, had spoken repeatedly with the Israelis about "something big," without elaborating. "We have warned them an explosion of the situation is coming, and very soon, and it would be big. But they underestimated such warnings," the official, who spoke on condition of anonymity because he wasn't authorized to discuss the content of sensitive intelligence discussions with the media, told The Associated Press. However, Israel was not only ignoring clear warnings from its allies."
Iran 'gave green light,' helped plan Hamas massacre
From article:"Hamas's attacks on Israel, which began Saturday morning, were planned weeks in advance with assistance from Iranian security officials, according to a Sunday report from The Wall Street Journal. The report, citing senior members of Hamas and Hezbollah, stated that the Iranian officials "gave the green light" for the attacks during a meeting between them and Hamas in Beirut last week. IRGC officers worked with Hamas since August to plan incursions from the "air, land, and sea," the report noted. Officers of Iran's Islamic Revolutionary Guard Corps were also at the meetings in Beirut."
Al-Jazeera Airs Hamas Leader Ismail Haniyeh's Statement On Hamas's Invasion Of Southern Israel: I Call On Palestinians In The West Bank, Israeli Arabs, And The Entire Nation Abroad To Join The Battle; To The Enemy I Say: Get Out Of Our Land!
From article:"Al-Jazeera Network (Qatar) aired Hamas leader Ismail Haniyeh's October 7, 2023 statement on Operation Al-Aqsa Deluge, in which he called the operation a "great triumph" and said that that the enemy had suffered a political, military, intelligence, security, and moral defeat. He stated that the operation had begun in Gaza and would spread to the West Bank, Jerusalem, Israel within the pre-1967 borders, and to the resistance and Palestinian people abroad. This, he said, was not only a Palestinian battle but that of the entire nation, and went on to call on the sons of the nation to join the battle. Stressing that "We are on the verge of victory," he concluded: "Get out of our Jerusalem and our Al-Aqsa Mosque… This land is ours, Jerusalem is ours, everything is ours."
Israel faces an 'existential' threat if war expands – former security advisor
From article:"Israel will face an existential threat if Hezbollah, Iranian militias in Iraq and Syria, and Palestinian terrorists from Judea and Samaria join the fighting, former National Security Adviser Giora Eiland said in a chilling assessment on Sunday. In an interview with Kan Bet, Eiland – a former head of the IDF's Planning Directorate – said that the "State of Gaza" has declared war on the State of Israel, and in this situation, it is not enough just to fight combatants, but it is incumbent upon Israel to hit the infrastructure inside Gaza that enables it to continue waging this war. Eiland suggested that Israel hit Gaza's water supply, as well as cut it off from Egypt so that supplies cannot come in from there. When one state wages war against another, he said, it is necessary to take the steps to ensure that the attacking state cannot function properly and continue to wage war."
Will Israel hold Iran responsible for Hamas' surprise assault, massacre? – analysis There is no doubt that Iran is going to be involved in this war. Iran will be greatly damaged but will survive for the Ezekiel 38 war.
How Biden Helped Fund Hamas's Allies Before Unprecedented Israel Attack
From article:"Appeasement policies towards Iran have been a cornerstone of the Biden administration's approach to the Middle East. Tehran most recently received word that the White House would move to allow it to access $6 billion in assets frozen as part of sanctions on the country for its funding of terrorist activity. Biden reportedly traded the $6 billion for the release of five Americans held hostage in Iranian prisons. The United States reportedly facilitated the unfreezing of the $6 billion, held in South Korea, and the transfer of the money to Iranian ally Qatar before the Americans were freed. "This is not a ransom," White House National Security Council Coordinator for Strategic Communications John Kirby insisted in August, before reports citing Biden administration officials confirmed the agreement on September 11."
Hezbollah Fires Rockets into Israeli-Contested Areas in 'Solidarity' with Palestinians, Threatens Escalation if Israel and U.S. Will Not Stop Its "Foolishness" (VIDEO)
From article:"Senior Hezbollah official Hashem Safieddine warned that the attack in Shebas was a "message" to the Israelis and the US to stop this "foolishness" or the whole region will be involved in the war. "The resistance sent a message this morning in Kfarshouba to say that it is our right to target the enemy that is still occupying our land and the Israelis must read this message well," he added. "There is a message to the Americans and Israelis that what happened in Gaza means that your protracted foolishness and underestimation have led you to the Al-Aqsa Flood (Operation), and if you go further today you will witness the flood of the entire nation, not only al-Aqsa," Safieddine threatened. He also warned that "the scene of the storming of settlements around Gaza coupled with rocket shelling will one day be repeated dozens-fold stronger, from Lebanon and from all the areas that are adjacent to occupied Palestine."
Hamas Brags and Posts Photo of the Paragliders They Used to Breach Israeli Border and Murder and Kidnap Innocent Kids at Rave Party The Israeli Left and Woke are now are seeing real Islam and what they face by weakening Israel. The Left in the Israeli military now are face to face with reality, and all the damage they did to weaken the Israeli military. This is reality. Hamas is now manifesting like ISIS. They have captured many females, and there is no doubt they will be treated as the spoils of war under Islam.
From article:"Hamas terrorists launched a massive surprise attack on Israel on Saturday, killing dozens of soldiers and innocent families inside Israel. Hamas reportedly launched over 5,000 missiles into southern and central Israel. Over 250 Israelis are dead, and over 1,000 were hospitalized following the massive assault inside Israel. Hundreds of Israelis were attending a nature party, also described as a peace party, in the desert near the border on Saturday when Hamas launched its attack. Chaos erupted after Hamas reportedly opened fire on the gathering. Hundreds of Israelis ran into the desert to hide. YNet News reported on the partygoers running for their lives as Hamas terrorists attacked the dance party or rave."
Code Pink Endorses Hamas Attacks on Israel; "Anti-War" Groups Announce Pro-Hamas Rallies in US
US pro-Palestinian groups applaud Hamas terror onslaught, plan support rallies
From article:"The US Council of Muslim Organizations, an umbrella group, said, "The recent unprovoked and continuous attacks by Israel on Palestinian towns, cities, and refugee camps have resulted in tragic loss of Palestinian lives." "We condemn Israel's targeted and indiscriminate killing of civilians, including innocent children, women, and the elderly," the council said, blaming Israel and the US for the violence, and tying the attacks to the Al Aqsa Mosque, a common terrorist pretext for attacks on Israel. The statement did not mention Hamas or any of its atrocities. The Council on American-Islamic Relations (CAIR), a leading Muslim civil rights group, expressed its "support for the Palestinian people's right to freedom."
Taliban 'vows to conquer Jerusalem if Iran, Iraq and Jordan allow passage to Israel'
From article:"The Taliban has reportedly asked Iran, Iraq and Jordan to grant them passage to Israel so that they can "conquer Jerusalem". A statement widely circulated online suggests Taliban's foreign office has contacted Middle Eastern governments requesting passage, seemingly to aid Hamas terrorists and promising to take control of Jerusalem. The elusive leader of Hamas' military wing, Mohammed Deif, announced the beginning of what he called "Operation Al-Aqsa Storm".
Tim Scott Blasts Biden for Paying $6B Ransom to Hamas-Supporting Iran Biden sent Iran all funds needed to fund Hamas for this war with Israel.
Massive IDF call-up as gunfights continue in towns; 250 Israelis dead, rockets persist
From article:"In an assault of startling breadth, Hamas gunmen rolled into as many as 22 locations outside Gaza, including towns and other communities as far as 15 miles (24 kilometers) from the Gaza border. In some places, they roamed for hours, gunning down civilians and soldiers as Israel's military scrambled to muster a response. Gun battles continued well after nightfall, and terrorists held hostages in standoffs in at least two towns. The death toll from the day's events continued to rise by the hour and stood at 250 people, many of them civilians slain in their homes and in the streets, as well as at a large outdoor party targeted by the terrorists."
Iran-funded terror proxies launch war against Israel amid surprise invasion against Jewish state
From article:""Iran is trying for years, especially in the last few months, to have a terror organization, both the Islamic Jihad that is fully supported and financed by Iran, and Hamas terror organization that is also financed but not fully by Iran. They are calling them to attack Israel and Israelis." He stressed that Iran is "without a doubt . . . behind the scenes" of this war against Israel. The Iranian regime-controlled Tehran Times reported on Saturday that the Islamic Republic backs the Palestinian Hamas and PIJ war against Israel. According to the Tehran Times article, Iran's Major General Yahya Rahim Safavi declared the war on Israel as  "glorious" that has murdered at least 100 Israelis. "We declare our support for this operation, and we are confident that the Resistance Front also supports this move," Safavi told attendees at the 6th International Conference of Solidarity with Palestinian Youth. He added that Iran will stand alongside the Palestinian resistance "until the liberation of Palestine and al-Quds." Iran's reference to Palestine means the Jewish state, and al-Quds is the Arabic name for Jerusalem, the capital of Israel. The Iran-backed Hamas invasion of Israel follows President Biden's decision just last month to release $6 billion dollars to Iran as part of a prisoner swap."
Kingdom of Saudi Arabia and Qatar Release Statements Holding Israel Responsible for Hamas Attacks
The Taliban Asks Iran for Passage Across Country to Assist Hamas in Annihilation of Israel – After Joe Biden Armed Taliban with $80 Billion in US Weapons and Supplies
Hamas commander says attacks are in defense of Al-Aqsa, claims 5,000 missiles fired
From article:"Muhammad Deif calls on Arabs in Israel and West Bank, as well as Iran-backed terror groups, to join Operation 'Al-Aqsa Deluge'; 'Today the people are regaining their revolution' The terror group also breached the barrier surrounding Gaza, with dozens of gunmen infiltrating Israeli towns and communities in an unprecedented attack that killed over 200 and wounded over 1,100 by 9 p.m., with numbers expected to rise. "Today the people are regaining their revolution," Hamas military commander Muhammad Deif said in a recorded message, as he called on Palestinians from East Jerusalem to northern Israel to join the fight and "expel the occupiers and demolish the walls." "We must set the earth on fire under the feet of the occupiers," he said, claiming that Hamas had fired over 5,000 rockets into Israel. Israel put the number at more than 2,200 rockets."
Hamas Launches Unprecedented Terror Attack on Israel, Netanyahu: Gazans' should flee, IDF to revenge 'black day'
From article:"Prime Minister Benjamin Netanyahu urged Gaza residents to flee as IDF seeks to revenge "this black day" in which Hamas killed over 200 Israelis.  "I say to the residents of Gaza: get out of there now, because we will act everywhere and with all the strength," Netanyahu said in a video address to Israeli citizens. Hamas began "a cruel and evil war" but "we will win this war." The price of that victory, he said, "is too heavy to bear. This is a very difficult day for all of us." "What happened today is not seen in Israel – and I will make sure that it does not happen again. The entire government stands behind this decision," Netanyahu said."
Israel at War: Dead rises above 250
"Citizens of Israel, we are at war, not in an operation or in rounds, but at war," he said before entering a hastily called cabinet meeting in Tel Aviv. Earlier, the IDF had announced that the campaign was called Operation Swords of Iron. "This morning, Hamas launched a murderous surprise attack against the State of Israel and its citizens. We have been in this since the early morning hours," Netanyahu said. "I call on the citizens of Israel to strictly adhere to the directives of the IDF and Home Front Command. We are at war and we will win it," he said."
Saudi Arabia has given up on Palestine with Israeli peace – terror chief
From show:"The head of Islamic Jihad denounced Arab attempts to normalize relations with Israel on Friday, as the militant group staged demonstrations in the Palestinian territories and neighboring states amid Israeli efforts to make peace with Saudi Arabia. "Those who rush towards normalization with the Zionist project must know, and they do know, that this is their acknowledgment that Palestine is not ours, and that Jerusalem with its mosque is not ours," Ziad al-Nakhala, the leader of the PIJ terror group, said in the video address. The remarks were broadcast to demonstrators in Gaza, the West Bank, Lebanon and Syria, who marked the 36th anniversary of the founding of the movement."