Ministry Update: Abba Father International Fellowship: 9/19/21
Verse
Romans 8:15  …but ye have received the Spirit of adoption, whereby we cry, Abba, Father. 
Commentary
Since Coid-19 lock downs were lifted, the ministry has really taken off in Africa and Asia. Kenya in Africa is main country and the focus of our work. Thousands have come to the Lord along with several Imams. The Prophecy Packet is in great demand with thousands of pieces of literature being sent. We have a tremendous backlog of requests for the Prophecy Packet, but we send them out as the funds come in.
I've been preaching live through Skype in Pakistan and Kenya, these meetings are steamed live on YouTube and FaceBook. I'll let you know the day and time, so you can watch or go to YouTube archives. The show is streamed on both YouTube and FaceBook on John McTernans Insights.
Schedule of preaching: (These are third world nations and the starting times may vary, sorry. Sometimes the video quality may be poor/
Saturday September 25: 9:00 AM EST John McTernan speaking in Nairobi, Kenya
Saturday September 25: 11: AM EST (Yes, both on same day) John McTernan Speaking in Pakistan
Sunday September 26, 9:00 AM John McTernan speaking in Nairobi.
Videos
Live in Pakistan with Chaplain John McTernan 9/10/21
Live in Kenya with Chaplain John McTernan 9/19/21
Update From Kenya
The Prophecy Pack
Dearest in Christ Dave :

Receive much and sincerely greetings? May the peace of the Lord he with you. I just finished my mission trip and the Lord did great work in our midst. The lord opened the eyes of many in our area and they just saw the light in his word through the revelation that's in the materials you just send to us. I was able to give each the newsletter and people rejoice for the message. some people when I was preaching to them 33of them they accepted Jesus Christ as their Savior. I have attached pictures to you and I also humbly requesting for more materials we have the big Mission Starting Next week and I would like to share to more than 100 people that
will attend the meetings.
Our mailing address is 354-40632 Kisii Kenya,
east Africa.
In Christ..
Pastor Nicholas Juma

My brother David and John;
Our God has been so good to us and we have seen His love,care and Grace when we have been serving Him.The Lord helped me to preach the Word and thought people all things and Prophecy that is in the Last Trumpet .Many people in our area has given their lives to Christ, and the Materials are in high demand,every person needs them.By the Grace of God we got 71 new converts who came to Christ as a results of what is written on the Materials and we praise the Name of God.
I have attached pictures and may the Lord bless you as you prepare to send more Materials to us In Christ.I am being requested to go to another Church and share with them. I will appreciated to read from you soon.
Pastor M K
Shalom
The last Trumpet in Kenya.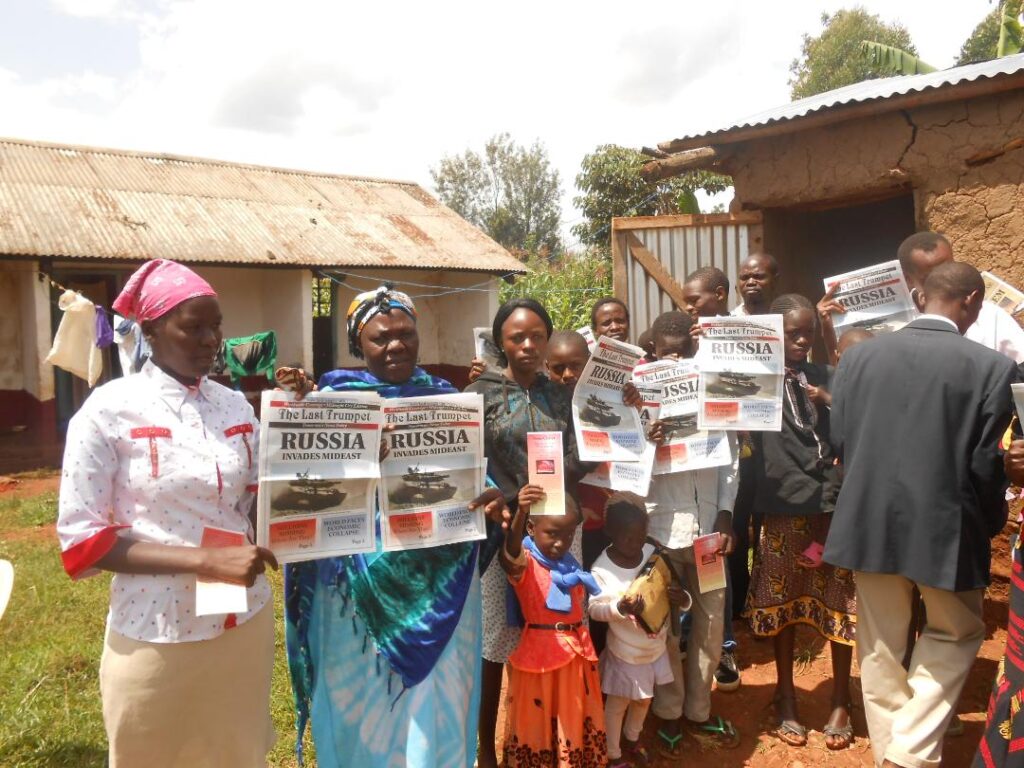 End-Time Witness for the Lord Jesus -Time is Running Out!



Daniel 12:3 And they that be wise shall shine as the brightness of the firmament; and they that turn many to righteousness as the stars for ever and ever.
As events in the Middle East with Israel are exploding right before our eyes, now is the time to use God's prophetic scriptures to win souls to Jesus. World events are opening hearts to God. It is now easy to use God's prophetic word to share the gospel. Please do not miss this opportunity to witness for the Lord.
We offer the Prophecy Packet  free of charge. If you want one, email Dave at: [email protected]  Make sure to give your name and mailing address.
The packet contains The Last Trumpet Newspaper, 666 Surveillance System brochure, Jesus Came to Heal the Brokenhearted brochure, Looking for the Blessed Hope brochure, prophecy timeline chart, CD about the Last Trumpet and a CD titled: Sinners in the Hands of an Angry God.
If you are involved in a prison or police ministry, we will provide a copy of the book When Jesus Sets You Free.  The request for our information is now staggering, and we thank the Lord for this. Most of the foreign contacts are very poor and cannot afford to pay. If we do not send the material free, then it will never be sent. Sending the Prophecy Packet free to Kenya is what opened this tremendous door. To continue to send the material, we need your help. It cost $75.00 to send a box overseas. Please consider sponsoring one box a month on a regular basis.
God is opening Pakistan and many other countries. NOW is the time to act. If we get the material in their hands, they use it!
Revelation 22:20  He which testifieth these things saith, Surely I come quickly. Amen. Even so, come, Lord Jesus.