Palestinians Riot Again at Al-Aqsa Mosque; Israeli Police Enter Compound
Verse of the Day
Zechariah 12:9 And it shall come to pass in that day, that I will seek to destroy all the nations that come against Jerusalem.
Commentary
I think the cease fire is going to be very short. If the Muslims try and overrun Israel and take Jerusalem, it will be their doom. The Bible is clear there is coming a huge battle between the Muslims and the Lord in which they are destroyed to the point several nations will cease to exist. It is all up to the Muslims now. When they unite and attack, God has Israel's back and the Muslims are crushed along with allah. What a time we live in.
JERUSALEM JERUSALEM JERUSALEM
"Palestinians rioted again Friday at the Al-Aqsa Mosque, hurling stones and incendiary devices, and Israeli police enter the Temple Mount compound to stop the violence and disperse them– the same pattern that the Hamas Palestinian terrorist group used as a pretext to launch a war with Israel two weeks ago.
Video of the confrontations emerged, with anti-Israel media falsely claiming Israel had attacked "worshipers" at the mosque — which, despite being an Islamic holy site, is used as a base for rioters."
THE TIMES OF THE GENTILES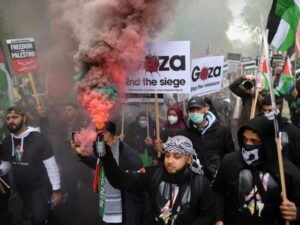 "Pro-Palestinian Mob Attacks Car on the Streets of London"
I preached for many years just before the final countdown to Christ's Second Coming, the Jews from around the world would be driven back to Israel. This would coincide with the all-out Muslim attack on Israel to take Jerusalem. This is not going to end well for the Muslims nor their god allah.
"Appearing on Sky News on Sunday, Isreal Embassy spokesman Ohad Zemet told Trevor Philips that he is deeply concerned about the rise of antisemitism in the UK.
"What we have seen is the same ideology that we've seen in Gaza, the same jihadi ideology… Now with social media we see it here, we've seen it in front of the Israeli embassy, Israeli flags torn up, rocks fired at the police, and this convoy, this ISIS-like convoy chanting death to Jews and rape to their daughters, this is appalling," Zemet said.
Last Saturday, a similar 'Free Palestine' demonstration was held outside the Israel embassy in London. Police were attacked by radicals chanting "Allahu Akbar" while pelting officers with makeshift missiles and wooden sticks."
If you like our ministry, please consider making a donation to keep us going. May the Holy God of Israel bless you!
Revelation 22:20 He which testifieth these things saith, Surely I come quickly. Amen. Even so, come, Lord Jesus.