Shock: Canadian Government Openly Embraces Transhumanism
 Verse of the Day
Genesis 1:26 And God said, Let us make man in our image, after our likeness…(27) So God created man in his own image, in the image of God created he him; male and female created he them.
Commentary
What I warned about so many years ago is now coming to pass right before us. They are getting the people ready to accept it. This is all to destroy man being created in the image and likeness of God our Creator.
TRANSHUMANISM AND THE IMAGE OF THE BEAST
"In the coming years, biodigital technologies could be woven into our lives in the way that digital technologies are now. Biological and digital systems are converging, and could change the way we work, live, and even evolve as a species. More than a technological change, this biodigital convergence may transform the way we understand ourselves and cause us to redefine what we consider human or natural.
Biodigital convergence may profoundly impact our economy, our ecosystems, and our society. Being prepared to support it, while managing its risks with care and sensitivity, will shape the way we navigate social and ethical considerations, as well as guide policy and governance conversations."
MEDICAL TYRANNY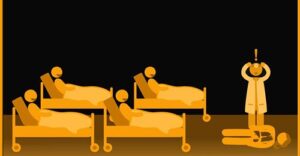 Medical Utilitarianism: It's OK To Sacrifice A Few For The Good Of The Majority" This is exactly the thinking the Nazis used to conduct so much of their terror on the people. They used it to take away people's rights, and then inflict the horrible murdering the medical society did. With this mentality, they could justify anything they did!
It is trying to make a come back in America. Notice how this ties together with all that is happening in America.
"Utilitarianism is a discredited pseudo-ethic that has repeatedly been used to justify horrific human rights abuses. By now, we can accurately predict what the outcome will be if we allow it to be used to justify vaccine passports and mandatory COVID vaccinations.
In short, utilitarianism is based on a mathematical equation that some individuals can be sacrificed for the greater good of the majority. In other words, if some people are harmed by vaccines, it's an acceptable loss because society as a whole may or will reap gains.
Caplan and Reiss express this as "acting for the benefit of the greatest number." The flip-side is that a smaller number — it could be 49 out of 100 — may be harmed and that's acceptable, because the people harmed is still a smaller number than the majority."
FIGHTING IN ISRAEL
An update on what is happening.
"The IDF responded to Sunday's rockets and incendiary balloons by attacking several Hamas military positions in the Gaza Strip, the IDF spokesperson announced.

On Sunday, Two rockets were launched from the Gaza Strip. One rocket fell in an open area and Air Defense Artillery combat soldiers intercepted the second, according to the IDF."
JERUSALEM JERUSALEM JERUSALEM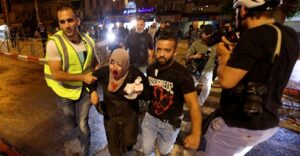 "Dozens injured as Palestinians riot in Jerusalem, al-Aqsa"
Anything involving Jerusalem is very serious and this is about the Temple Mount! This is the start of the current battle between Israel and Hamas over the Temple Mount.

"Over 100 Palestinians were injured in clashes with Israeli security forces in Jerusalem on Saturday night and Sunday morning, amid violent riots throughout the capital and the West Bank, fueled by tensions surrounding planned evictions in east Jerusalem.

Over 90,000 worshippers visited al-Aqsa Mosque on Saturday night to mark Laylat al-Qadr (Night of Power), which commemorates the night that Muslims believe the Quran was first revealed to the Prophet Mohammed."
IRAN UPDATE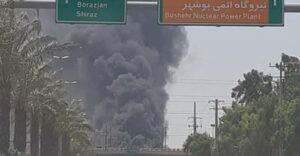 "Massive fire breaks out near Iran's Bushehr nuclear power plant – Watch"
With a fire of this magnitude, I immediately think Israel!
"A massive fire broke out in Iran's southwestern city of Bushehr near the Islamic Republic's only functioning nuclear power plant late on Friday night, the semi-official Fars News Agency reported on Saturday.
The cause of the fire is still unknown, according to Iranian media reports. The IRGC-affiliated Tasnim News Agency reported that the fire was "intentional," without providing further details."
MIDDLE EAST UPDATE
An update on the Middle East tensions
"Turkish President Recep Tayyip Erdogan on Saturday called Israel a cruel "terrorist" state, as Turkish media called to "free al-Aqsa" in Jerusalem, just like he reconsecrated the historic Church of Hagia Sophia as a mosque last year.

Writing in Turkish, Erdogan said he "invite[s] the whole world, especially the Islamic countries, to take effective action against Israel's attacks on al-Aqsa Mosque, Jerusalem and Palestinian homes."
Revelation 22:20 He which testifieth these things saith, Surely I come quickly. Amen. Even so, come, Lord Jesus.