Turkey calls on International forces to conquer Jerusalem: 'Zechariah's Gog-Magog prophecy'
Verse of the Day
Zechariah 12:3

And in that day will I make Jerusalem a burdensome stone for all people: all that burden themselves with it shall be cut in pieces, though all the people of the earth be gathered together against it.
Commentary
Wow, the focus now is on the city of Jerusalem, just as the ancient Prophet Zechariah said it would be! I've said for 40 years that God was going to destroy Islam over Jerusalem. When the Muslims try and take Jerusalem, God is going to smash them so terribly, that Islam will cease to exist as a viable religion.
JERUSALEM JERUSALEM JERUSALEM
"After a cabinet meeting at the Presidential Complex in Ankara late Monday, Turkey's President Recep Tayyip Erdoğan held a media conference in which he called on the UN, UN Security Council, Organization of Islamic Cooperation (OIC), and other international organizations to take action focusing on wrestling Jerusalem away from Israel.
"At this point, we believe there's a need for a separate arrangement on Jerusalem. To achieve lasting peace and tranquility in Jerusalem, which contains the indispensable religious symbols of Muslims, Jews, and Christians, everyone must make sacrifices," Erdogan said. "In today's circumstances, it would be the most correct and consistent course of action for Jerusalem to be administered by a commission of representatives from the three faiths. Otherwise, it doesn't appear it will be easily possible to achieve lasting peace in this ancient city," he added.

In his speech on Monday, Erdogan referred to Israel as a "terror state." "This terror state, that has encroached on the privacy of Jerusalem on the one hand, while ruthlessly bombarding civilians in Gaza and leveling a colossal building housing media groups on the other, is Israel," said Erdogan."But, you [Israel] are using disproportionate force, and you are dropping bombs on Gaza with your warplanes. Does Gaza have warplanes? No. Yours are countless, with which you strike."
HARD LEFT AND JEW HATING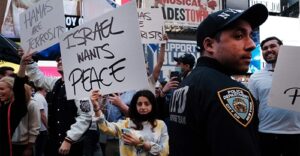 "US seeing wave of 'textbook anti-Semitism' amid Israel-Gaza tensions"
The demon-dems are electing vicious Jew haters to various positions with the most obvious in Washington, DC. The colleges are full of Israeli and Jew haters. Notice how the Muslims are leading these attack. It might be time for the Jews in America to start thinking about moving to Israel.
"From New York and California to Illinois and Utah, the recent conflict between Israel and Gaza has generated a disturbing backlash against American Jews – who have found themselves the targets of death threats, hate speech and violent physical attacks.
"Stop telling me this is about Israel and Gaza," said a New Yorker who was confronted by a pro-Palestinian mob on his way to synagogue this week. "My people are being targeted across the United States in broad daylight. This is textbook anti-Semitism, and we will continue to live in danger until the public starts to recognize it for what it is."
His remarks were a common refrain rippling across U.S. Jewish communities in recent days. Here's a look at some recent incidents throughout the country."
UPDATE: ISRAEL VS HAMAS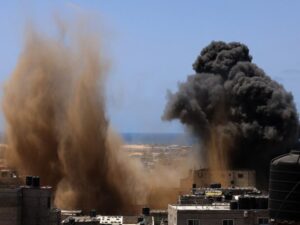 "Gaza Palestinian Tells IDF Soldier: 'If the Children Need to Die, Then They'll Die'"
Only crazed lunatics would put their children in danger. This shows the mentality Israel has to deal with when fighting the Palestinians. They will allow their children to die and then blame Israel.
"A recording making the rounds on social media appeared to show a Palestinian in Gaza telling an IDF soldier who warns him to evacuate a targeted building that if Palestinian children "need to die, then they'll die."
Israel uses several methods to warn Gazans to evacuate targeted areas including telephone calls, messages and what the IDF calls "roof-knocking" – sending a non-explosive device 15 minutes before a strike."
UPDATE: ISRAEL VS HAMAS
This is an update from Israel.
"The Israel Defense Forces believes that Hamas is "trying to have a major success," such as a cross-border attack or other major assault, which it can hold up as a victory over Israel as the current round of fighting appears to be drawing to a close, a senior officer in the military's Southern Command told reporters on Wednesday.
The senior officer said he believed the military's intelligence capabilities would prevent the terror group from conducting a large invasion into Israel, but acknowledged that a smaller operation was possible."
PROLIFE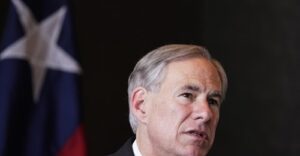 "Texas Gov. Greg Abbott signs bill banning abortions after six weeks"
This is wonderful news and God honors a state when it moves to protect the babies. Now, watch the federal courts move to block the Texas law.
"Texas Gov. Greg Abbott signed legislation that will ban abortions after six weeks into pregnancy, before many women know they're pregnant, opening the door to legal challenges from private citizens against abortion providers they accuse of violating the law.
"Our creator endowed us with the right to life, and yet millions of children lose their right to life every year because of abortion," Abbott said Wednesday. "In Texas, we work to save those lives. That's exactly what the Texas Legislature did this session."
ATTACK ON MIDDLE CLASS
"Unsustainable' Suburban America Contributes to Climate Change"
Once I hear something is being done because of climate change, I know it is a lie. This all part of their plan to destroy the middle class in America.
"The iconic American suburban neighborhoods that attract families looking for safe and prosperous areas have been targeted in recent years – first from those who believe zoning is a racist tactic to keep certain people out of the neighborhoods.
And now a report from the left-leaning Brooking Institute is claiming that the "unsustainable" nature of the suburbs means they must be transformed in the name of preventing climate change."
REAL SCIENCE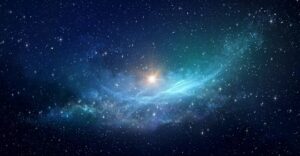 "3 Scientific Discoveries That Call for a God Hypothesis:
True science and not political science always leads to the truth found in the Bible. In time, all the political science is proven false, but the truth remains.
Genesis 1:1

In the beginning God created the heaven and the earth.
"Another discovery was how finely tuned the universe is. The very laws that govern the cosmos, such as gravity, electromagnetism, nuclear forces, and the cosmological constant, are precisely calibrated in such a way that makes life possible. There's not a compelling way to explain this "Goldilocks universe," one "just right" that could have been otherwise, within a naturalistic worldview. As English astronomer and former atheist Fred Hoyle put it, "A common-sense interpretation of the facts suggests that a super-intellect has monkeyed with physics…"
WESTERN USA DROUGHT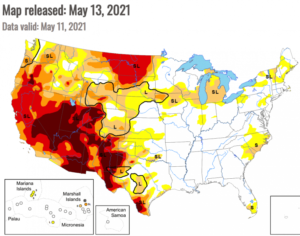 "Megadrought Nightmare: No Water For Crops, Horrific Wildfires, Colossal Dust Storms And Draconian Water Restrictions"
I just posted on this, but this updated information is very important. Every way we look, there is curse hovering over America.
Without real national repentance there is no hope for the nation. I really believe America has offended God's holiness and the Lord is moving in judgment.
"The megadrought that has almost the entire western half of the country in a death grip is starting to become extremely painful. In some areas, irrigation water is being totally cut off for farmers, and that is going to result in a totally lost year for many of them.
Without water, you simply cannot grow crops, and irrigation water is the difference between success and failure for multitudes of western farmers. Scientists are also warning that this upcoming wildfire season could be even worse than last year due to the bone dry conditions. For me, it is difficult to imagine a wildfire season that is any worse than what we experienced in 2021. But this is what they are telling us. This megadrought has already been going on for many years, and experts are giving us very little hope that things will improve any time in the foreseeable future. In fact, CBS News is reporting that this current drought is in danger of evolving into a "permanent drought"
If you like our ministry, please consider making a donation to keep us going. May the Holy God of Israel bless you!
Revelation 22:20 He which testifieth these things saith, Surely I come quickly. Amen. Even so, come, Lord Jesus.