25 'impeachable' Obama scandals far more serious than Comey firing
Verse of the Day
Revelation 6:16-17  And said to the mountains and rocks, Fall on us, and hide us from the face of him that sitteth on the throne, and from the wrath of the Lamb: For the great day of his wrath is come; and who shall be able to stand? 

Commentary
This first article, below, is really a good article because it details all of the crimes committed by Obama! It was shocking because I had forgotten many of them. Obama did what they accuse President Trump of doing and more!
Just look at how the media covered Obama's crimes!
May the Holy God of Israel bless and protect you
1 Thessalonians 5:23  And the very God of peace sanctify you wholly; and I pray God your whole spirit and soul and body be preserved blameless unto the coming of our Lord Jesus Christ.
Hard Left/ American Politics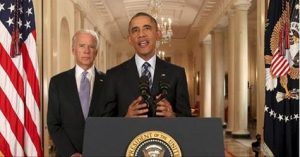 25 'impeachable' Obama scandals far more serious than Comey firing 05/18/17
Zechariah 9:10  And I will cut off the chariot from Ephraim, and the horse from Jerusalem, and the battle bow shall be cut off: and he shall speak peace unto the heathen: and his dominion shall be from sea even to sea, and from the river even to the ends of the earth.

"Talk-show host Mark Levin said the latest attacks on Trump reveal a glaring double standard. "Remember, the whole point here is to take out Trump," Levin said on his show Tuesday. "The whole point is to destroy the man's character and his reputation. 'He must be an incompetent boob.' 'He shoots from the hip.' 'Maybe he's even working with the Russians, giving them information – it's just so absurd.
"Did Barack Obama ever have a situation like this?" Levin asked, noting how the mainstream media go wild almost every day with reports of some Trump misstep. "The media frenzy never existed. It never occurred. It just didn't happen."
What do YOU think? Who is most deserving of impeachment? Sound off in today's WND poll!
WND has assembled the following list of 25 egregious scandals and violations committed under President Obama's administration – and few ever sparked widespread calls for the nation's 44th president to be impeached for high crimes and misdemeanors."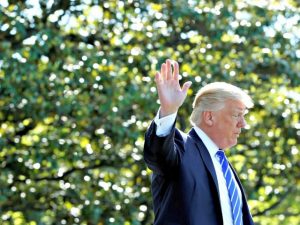 Dems, Media, Intel Folks Fall Into 'No Evidence' Column on Trump Campaign Collusion with Russia 05/20/17  I believe that the Lord wanted Trump as President to have Israel's back in the coming war. If the Lord wanted him elected, then the devil is NOT going to run him out of office.
You can visibly watch the devil's crowd in action trying to remove Trump from office. I think they've fired all of their ammo, and he has weathered the attack. He needs time to get the reprobate holdovers out of his administration and out of the deep state. He will fulfill the Lord's will.
Proverbs 21:1  The king's heart is in the hand of the LORD, as the rivers of water: he turneth it whithersoever he will.

"With headlines swirling and lawmakers meeting behind closed doors, it's not difficult to conclude there is trouble in the Trump White House.
But a deeper dive reveals that lots of people who would not consider themselves Trump supporters admit there is no evidence of any wrongdoing by the Trump campaign regarding alleged collusion with Russians.
Here's a list of some of those who fall into the "no evidence" column:
Sen. Diane Feinstein (D-CA)
"The last time we spoke, Senator, I asked you if you had actually seen evidence of collusion between the Trump campaign and the Russians, and you said to me — and I'm quoting you now — you said, 'not at this time.' Has anything changed since we spoke last?" asked CNN's Wolf Blitzer "Well, not—no, it hasn't," Feinstein said.
"But I just want to be precise, Senator. In all of the—you've had access from the intelligence committee, from the Judiciary committee, all of the access you've had to very sensitive information, so far you've not seen any evidence of collusion, is that right?" Blitzer pressed. "Well, evidence that would establish that there's collusion. There are all kinds of rumors around. There are newspaper stories, but that's not necessarily evidence," Feinstein admitted."
Leaked Trump memo could backfire big-time on former FBI director 05/19/17  This is a great article and gives wonderful information about what is going on with Comey. It is a long article, but please take the time and read it.
I will post cutting edge articles about what is going on with the Hard Left trying to bring down President Trump. I am not worried about this because the Lord called Trump into this position to protect Israel. The Lord might use him to break the minds of the Hard Left.
"The leak of the infamous Comey memo to the press might severely boomerang on the former FBI director, according to legal experts.
Democrats are hoping newly appointed special prosecutor Robert Mueller will find President Trump committed obstruction of justice by allegedly telling former FBI Director James Comey to drop the investigation into former national security adviser Mike Flynn.
Those hopes are based on a New York Times report that Comey drafted a memo after a meeting with Trump in February that said the president had asked the director to "let this go," in reference to the Flynn investigation.
Everything hangs on the accuracy of that account, but a number of factors put its credibility into question."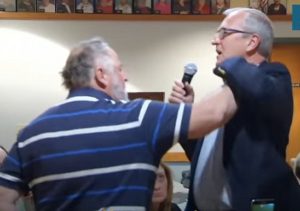 Democrats and media are engineering an era of political violence 05/18/17  There is no doubt that the Democrat leadership knows full well their rhetoric is leading to violence. This could be a very violent summer.
"By constantly whipping up hysteria over imagined misconduct (remember the phony story, thoroughly debunked under oath, that President Trump fired James Comey after he requested more resources for the Russia investigation?), the media and their hyperventilating Democrat allies are driving insane the more unstable elements of their coalition. The entirely predictable consequences include violent attacks on Trump supporters and eventually could lead to a wave of political assassinations.
Think I am exaggerating? These are just the most recent incidents of political violence form individual leftists:
Jonathan Tobin reported yesterday in NRO:
[E]arlier this month … a Tennessee woman began chasing Representative David Kustoff as he drove away from an appearance. Fearing for his safety as the woman tried to force his car off the road, the GOP congressman pulled off and was then confronted by 35-year-old Wendi Wright, who struck his vehicle and then reached into a window, all the while expressing her anger about his vote on the Obamacare repeal-and-replace bill. She was ultimately charged with felony reckless endangerment but only after she had bragged on Facebook about running Kustoff to ground and giving him a piece of her mind."
Hard Left/ Homosexuality
LGBT activists slam 'the most important psychiatrist of the last half-century' because he debunks transgender ideology 05/18/17  I have little use for psychiatry because it conflicts with the word of God, but in this case the psychiatrist is correct. He is busting the delusion of the Hard Left, and they are viciously attacking this man. Look at how they try and destroy him!
Genesis 5:1  This is the book of the generations of Adam. In the day that God created man, in the likeness of God made he him; Male and female created he them

"In a recent interview with LifeSiteNews, McHugh, 85, said he was "amused" by HRC's online attack-site demonizing him, and said he will not be intimidated from speaking out against the current "craze" of transgender surgeries and hormone therapies pursued by gender-confused people seeking to "become" the opposite sex.

"I'm proud of what I've achieved," he said, noting in particular his election to the prestigious National Academy of Science's (NAS) Institute of Medicine, and the recognition and honors he has received from colleagues in the psychiatric and medical fields. "I've been a part of American psychiatry for more than 50 years." "These are things they [HRC] wouldn't even understand," he said. "They want to portray me as some kind of crank."

HRC and other pro-LGBTQ organizations are trying to discredit McHugh because he is the most respected medical and psychiatric authority debunking transsexual "gender change" ideology, which includes recommending "sex reassignment" surgical reconstructions — even minors —of healthy sexual organs to imitate body characteristics of the opposite sex."
Hard Left/ Islam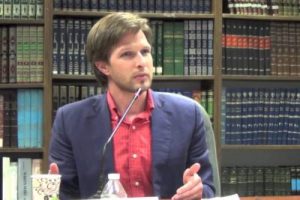 Georgetown Muslim convert professor Jonathan Brown openly rallies for 'religious discrimination' against Jews 05/19/17
I am documenting the hardening of the Hard Left against the Jews and Israel. Soon Jews will not be able to attend many US universities because they are ruled by thugs who hate both America and Israel. This hardening is happening very fast, so watch for the Democrats to start picking up on this and lead the attack against Israel. God is merging the Hard Left with Islam for judgment.
"The radicalization of our nation's colleges and universities continues apace. Hard-left, antisemitic propaganda has now been institutionalized in academia. The ugliest rhetoric is sanctioned under the guise of "free speech," while courageous voices for freedom are blacklisted. My colleagues and I are banned from speaking, for the most part. And in the rare instance where we are invited, violent and vicious pandemonium ensues. Robert Spencer's talk at the University at Buffalo, Milo at Berkeley or mine at Brooklyn College best demonstrate what we face. And yet, Linda Sarsour, a pro-jihad terror activist and vicious anti-Semite is invited to give the keynote commencement address at CUNY (which we are protesting on May 25th here).

Professor Jonathan Brown is a notorious Jew-hater with a long history of anti-Semitic agitation. His wife is the daughter of Palestinian Islamic Jihad leader Sami al-Arian. Brown converted to Islam as a student at Georgetown in 2010. He later married the daughter of Al-Arian, the former professor at the University of South Florida who was found guilty of providing material support to Palestinian Islamic Jihad, a terror group."
ISLAMOPHOBIA VS. HOMOPHOBIA: INDONESIA'S SHARIA LAW TO CANE GAY MEN 05/18/17  The great reprobate mind dilemma is before your eyes. The reprobates love Islam and homosexuality, but the Muslims want to attack, beat and even kill homosexuals. What are they going to do?
I think they love homosexuality more than they love Islam, but they will grow to fear the Muslims, so in the end there is a good chance the Hard Left will go with Islam. Remember, they really do love sexual sins, so this is a difficult choice for them.
Colossians 3:5 Mortify therefore your members which are upon the earth; fornication, uncleanness, inordinate affection, evil concupiscence, and covetousness, which is idolatry:
"Remember "moderate" Indonesia. And Obama's fondness for the moderate version of Islam there. Here's how moderate it is.
A Shariah court in Indonesia's conservative Aceh province has sentenced two gay men to public caning for the first time, further undermining the country's moderate image after a top Christian politician was imprisoned for blasphemy.
The court, whose sentencing Wednesday coincided with International Day Against Homophobia and Transphobia, said the men, aged 20 and 23, would each be subjected to 85 lashes for having sexual relations. One of the men cried as his sentence was read out and pleaded for leniency.
The chief prosecutor, Gulmaini, who goes by one name, said they will be caned next week, before Ramadan starts on about May 25."
Islam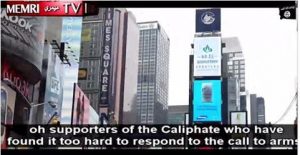 ISIS Video Features American, Canadian, British, Russian, Belgian Muslim Fighters Urging Muslims To Carry Out Attacks In West, Shows Landmarks In NYC, DC, Baltimore, Las Vegas 05/19/17  ISIS wants its fighters in America to take the fight to the streets. There is no doubt in my mind that the Hard Left will protect Islam even with American blood flowing in the streets.
"Today's moderate Muslim is tomorrow's jihadi. The Islamic State is calling the ummah (worldwide Muslim community) to jihad according the Islamic texts and teachings.
A vast proportion of ISIS recruits are "far from being uneducated or illiterate," a World Bank has found in a study of why people join terrorist groups. The report says some of the recruits tend to be even better educated than their average countrymen. It is not surprising. The Caliph himself has a PhD in Islamic theology.
Herein lies further proof that the lie that Islamic apologists and Muslim supremacists advance is propaganda. Here again, reality flies in the face of the bogus narrative of Islamic supremacists and the leftist lapdogs on their payroll, that jihad is caused by illiteracy and poverty. We are clubbed to death with the lie (literally). But it is often just the opposite. Well-educated and affluent, the jihadis shows that the catalyst for jihad is a move towards the faith of Islam. Religiosity is the catalyst."
The Great Price of "Blaspheming" against Muhammad 05/17/17  When reading this article remember is not about ISIS, but what is happening in Pakistan. This is Muslim nationalistic terrorism along the lines of ISIS. It based on the Koran. This is real Islam and this shows just how dangerous it is.
Because the word of a Christian "infidel" is not valid against the word of a Muslim, accusations of blasphemy, often with little or no evidence, routinely lead to the beating, imprisonment, and possible killing of Christians and other minorities every month in Pakistan.
"The available evidence in all these cases suggests that charges were brought as a measure to intimidate and punish members of minority religious communities… hostility towards religious minority groups appeared in many cases to be compounded by personal enmity, professional or economic rivalry or a desire to gain political advantage." — Amnesty International.
"Iran sentences a 21-year-old man to death for 'insulting Islam' … after confessing when police promised he would be pardoned if he came clean." — Daily Mail."
Health and Nutrition
More Americans suffering from stress, anxiety and depression, study finds 05/17/17  As the nation turns away from God and becomes more secular, this is what happens. There is a void inside of people which is now being filled with fear and depression. What is the help from the medical system: drugs? This is no help. This is all a sign that America needs a great outpouring of the Holy Spirit to fill this void in peoples' hearts.
Luke 4:18  The Spirit of the Lord is upon me, because he hath anointed me to preach the gospel to the poor; he hath sent me to heal the brokenhearted, to preach deliverance to the captives, and recovering of sight to the blind, to set at liberty them that are bruised,

"More Americans than ever before are stressed, depressed and anxiety-ridden, and many are unable to get the help they need, a new study suggests.
An estimated 8.3 million American adults — about 3.4 percent of the U.S. population — suffer from serious psychological distress, an evaluation of federal health data concluded. Previous estimates put the number of Americans suffering from serious psychological distress at 3 percent or less, the researchers said.
"Mental illness is on the rise. Suicide is on the rise. And access to care for the mentally ill is getting worse," said lead researcher Judith Weissman. She's a research manager in the department of medicine at NYU Langone Medical Center in New York City.
This increase is likely a lasting after-effect of the Great Recession that began in late 2007 — a stress-filled time that caused long-term emotional damage to many Americans, Weissman suggested.
Many people psychologically affected by the Great Recession haven't been able to get the help they need, either because they can't afford it or because their condition hampers their ability to seek out treatment, she said."

Psalm 37:1-4  Fret not thyself because of evildoers, neither be thou envious against the workers of iniquity. For they shall soon be cut down like the grass, and wither as the green herb. Trust in the Lord, and do good; so shalt thou dwell in the land, and verily thou shalt be fed. Delight thyself also in the Lord: and he shall give thee the desires of thine heart.