Islam's Conquest of America…One Town at a Time
Verse of the Day
Philippians 4:6 Be careful for nothing; but in every thing by prayer and supplication with thanksgiving let your requests be made known unto God.
Commentary
This is the conquering concept taught by Muhammad and now is being employed across Europe with its beginnings in America. It is like a metastasized cancer spreading. It also is fatal to the nation if not checked. Noticed how the Hard Left loves to unite with the Muslims against America! Whatever is against America, the Hard Left protects and promotes.

We need revival for survival.
Proverbs 1:23 Turn you at my reproof: behold, I will pour out my spirit unto you, I will make known my words unto you.
America's Silent War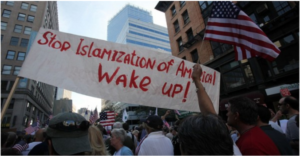 "Islam's Conquest of America…One Town at a Time"
"From Minneapolis (MN) to Hamtramck (MI) to Falls Church (VA) to Paterson (NJ) and many other towns and cities across the fifty states, the Islamic Movement is quietly conquering America.
The federal government sleeps, many state governments – including those controlled by Republicans – do their best to accommodate muslims waging Civilization Jihad against America, and the hard-left Marxists – including nearly all of the local and national media – are collaborators in the enemy's efforts."
Victory Over the Hard Left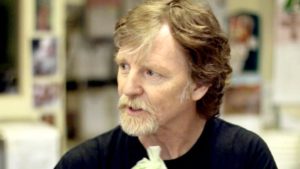 "Court Cites Colorado's 'Hostility' Against Christian Baker, Says Jack Phillips Can Sue for Religious Discrimination" It feels so good to report Christian victories over the Hard Left. We need to thank the Lord for all the victories he gives us.
"Colorado cake artist Jack Phillips may proceed with his lawsuit against the state for its targeting of him over his Christian faith, a federal district court has ruled.
Friday's court order comes in response to Colorado's decision to come after Phillips for a second time after losing their original case against him in a June ruling by the US Supreme Court. In this latest round, Colorado sued Phillips for refusing to bake a cake to celebrate a gender transition."
The Global Government Meltdown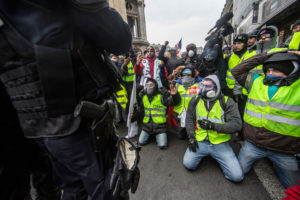 "France in Free Fall" If God did not spare us with President Trump's election, America would be in the same position as France. All the elements for a revolution are here in the USA. We will not submit to the NWO and Hard Left who hate us.
Titus 2:13 Looking for that blessed hope, and the glorious appearing of the great God and our Saviour Jesus Christ;

"French officials evidently understand that the terrorists are engaged in a long war and that it will be difficult to stop them; so they seem to have given in. These officials are no doubt aware that young French Muslims are being radicalized in increasing numbers. The response, however, has been to strengthen Muslim institutions in France.

At the time President Macron was speaking, one of his emissaries was in Morocco to sign the UN Global Compact for Safe, Orderly and Regular Migration, which defines immigration as "beneficial" for the host countries. Under it, signatory states pledge to "strengthen migrant-inclusive service delivery systems."

A group of retired generals published an open letter, saying that signing the Global Compact was a further step towards "the abandonment of national sovereignty" and noted that "80% of the French population think that immigration must be halted or regulated drastically".

The author Éric Zemmour described the "yellow vests" revolt as the result of the "despair of people who feel humiliated, forgotten, dispossessed of their own country by the decisions of a contemptuous caste".
2ND French Revolution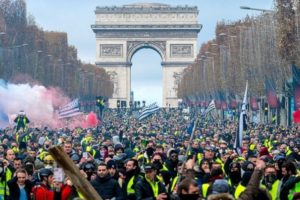 "FRANCE: "BANK RUN, THIS SATURDAY 8:00 AM" – Protesters to Crash the banks!" What a great idea and we need to do this here with the credit card companies who want to freeze us out. We have the numbers to destroy any financial institution who tries to freeze us out of society.
"In a bare-knuckles effort to collapse the French government, "Yellow Jacket" protesters are abuzz on social media with their plan for this Saturday: "BANK RUN at 8:00 AM"

For the past 8 weeks or so, tens-of-thousands of French citizens have taken to the streets in protest of conditions in their country. They want change. Instead, they have government using cops to beat them and tear-gas them.

So this Saturday, the "Yellow Jackets" are going for the "kill shot": They're going after the banks! Social Media is abuzz today with hundreds of confirmations that the Yellow Jackets intend a deliberate BANK RUN starting this Saturday at 8:00 AM.

The trouble is, as other French citizens see these plans revealed . . . THEY are already heading to the banks. Right now. Today.
Earthquake and Volcano Update(video)

"Japan M6.3 Earthquake — Direct EQ forecast location hit — Seismic unrest spreading" This is an update from Dutchsinse. The earthquakes are getting more frequent and powerful, while he is getting more and more accurate in his earthquake forecast.
Psalm 104:32 He looketh on the earth, and it trembleth: he toucheth the hills, and they smoke.
Justice!!!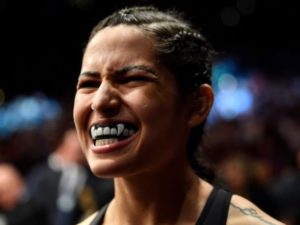 "Female UFC Fighter Pummels Would-Be Mugger with Punches and Kicks:" I so enjoyed reading this and wait until you see the picture of his beaten to a pulp face! This was instant judgment!
"A female UFC fighter proved herself to be too much to handle for a would-be armed robber in Rio de Janeiro, who ended up with a face full of bruises instead of a pocket full of cash.

Strawweight UFC fighter Polyana Viana, nicknamed "the Iron Lady," was waiting on an Uber in Rio, one of Brazil's more dangerous cities. Viana told police that a man approached her with a fake gun and demanded her valuables, Australia's ABC reported. Viana told police that the man asked her for the time but then the conversation turned grim."
Israel History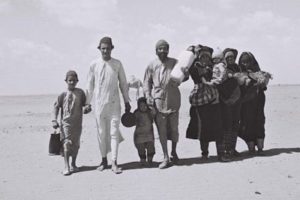 "Israel said set to seek $250b compensation for Jews forced out of Muslim countries" This is long overdue and keeps alive this part of history which few realized what happened to a million Jews in the Muslims nations!
"Israel is preparing to demand compensation totaling a reported $250 billion from seven Arab countries and Iran for property and assets left behind by Jews who were forced to flee those countries following the establishment of the State of Israel.

"The time has come to correct the historic injustice of the pogroms (against Jews) in seven Arab countries and Iran, and to restore, to hundreds of thousands of Jews who lost their property, what is rightfully theirs," Israel's Minister for Social Equality, Gila Gamliel, who is coordinating the Israeli government's handling of the issue, said Saturday."
Abba Father's International Fellowship – East Africa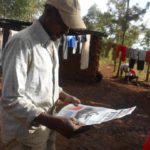 Dear Rev Dave;
Peace and Grace be with you all. I bless the Lord for you and your prayers towards us as we serve God. The Missions was  good and I gave all out the copies of the Materials to my friends and neighbors who was willing to read and learn more about Gods word. one woman when I was sharing she just kept crying  with tears when I speak so much about the  last days and how things will change all over the world. she gave her life to Christ and she promised to come to our church this week.

Another man who have been a Which Doctor for the last 36 years, found me speaking about what has been  wrote in the Newsletter and how Things are going on to this last days and how soon our Lord Jesus Christ He is ready  to come.

I speak also about repentance and he decided to come to Christ and surrendered to Jesus Christ! I was able to Distributes out the whole Materials and 11 men and 21 women came to our Lord and now their living for Him. We have send pictures to you so that you  share with others to encourage them and also pray for this new Converts in the Kingdom. If you send me more Boxes I will say thank you.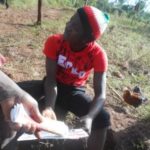 In Messiah..
Pastor Patrick Khisa. 
Blessings.
Revelation 22:20 He which testifieth these things saith, Surely I come quickly. Amen. Even so, come, Lord Jesus.
If you like our ministry, please consider making a donation to keep us going. May the Holy God of Israel bless you!