6 UN resolutions on Israel; ignore Jewish ties to Temple Mount, urge transfer of Golan to Syria
                 Verse of the Day
 Zechariah 12:3 And in that day will I make Jerusalem a burdensome stone for all people: all that burden themselves with it shall be cut in pieces, though all the people of the earth be gathered together against it.

Commentary
The UN is getting harder and harder against Israel. Does anyone pay any attention to this cabal of nonsense? They act now the same way as the Democratic Party does in America. They live and act in a massive delusion which will bring the nations into the final confrontation with God over Jerusalem.
May the Holy God of Israel bless and protect you.
Psalm 122:6 Pray for the peace of Jerusalem: they shall prosper that love thee.
Israel
6 UN resolutions on Israel; texts ignore Jewish ties to Temple Mount, urge transfer of Golan to Syria 12/02/16
"Today the UN General Assembly is marking "Palestine Day" with the scheduled adoption of six resolutions against Israel, part of its annual ritual of enacting 20 Arab-sponsored resolutions singling out the Jewish state. See chart below of today's resolutions.
[Nov. 30 Update: resolutions were rescheduled for adoption today, Wednesday, Nov. 30]
One resolution calls on Israel to transfer control of the Golan Heights to Syria, oblivious to the mass killings now being perpetrated by the regime of President Bashar al-Assad. Another resolution condemns Israel for actions in Jerusalem, and uses only the Islamic term for the Temple Mount, ignoring the site's biblical role in Judaism and Christianity.
"The UN's assault on Israel today with a torrent of one-sided resolutions is surreal," said Hillel Neuer, executive director of UN Watch, a Geneva-based non-governmental watchdog organization.
"On a day when forces loyal to President Bashar al-Assad are attacking Syrian civilians in Aleppo, causing thousands to flee, it is obscene for the UN to adopt a resolution mentioning Syrian territory and invoking the Geneva Convention and the 'protection of civilians' — yet only to condemn Israel," said Neuer.
"It's astonishing," said Neuer. "At a time when the Syrian regime is killing its own people by the hundreds of thousands, how can the UN call for more human beings to be placed under Assad's rule? The timing of today's text is morally galling, and logically absurd."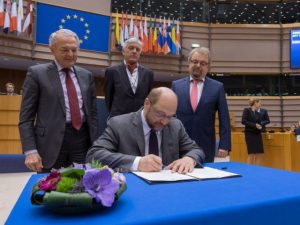 EU Budget: Huge Increase in Funding for Migration, Security and Palestinian Causes 12/02/16  America is growing closer to Israel through Trump, while Europe is growing colder and harder. Notice how the Muslims are gaining more control over Europe, while at the same time they are trying to divide Israel and Jerusalem.
"MEPs have approved a more than €2 billion increase in the EU budget for next year, handing EU officials a three per cent pay rise and raising its contributions to Palestinian causes by 10 per cent.
Migration and security measures will also receive hefty budget increases. The extra funds will bring the total budget for 2017 up to a staggering €157.86 billion.
Europe was hit by a huge increase in inward migration last year, with more than a million migrants arriving in Germany alone. Greece, Italy and the Eastern border countries including Hungary have continued to bear the brunt of migration this year, leaving them begging for help from the rest f the EU."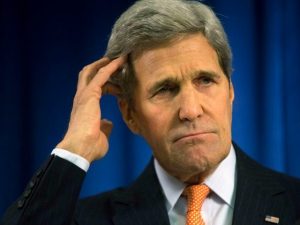 John Kerry's Dangerous Ignorance On The Israeli-Palestinian Conflict 12/05/16  Obama is very dangerous to Israel right up to his last day in office. We can breath easier when he is out of office.
"Speaking to the Saban Forum in Washington, Secretary of State John Kerry demonstrated dangerous ignorance of the Israeli-Palestinian conflict and a biased perception of the core problems impeding peace between the two sides.
Firstly, Kerry claimed the larger Arab world will not make peace with Israel until Israelis and Palestinians sign a deal ostensibly resulting in a Palestinian state.
"There will be no separate peace between Israel and the Arab world – I want to make that clear to all of you," Kerry lectured, "without the Palestinian process and without Palestinian peace."
Islam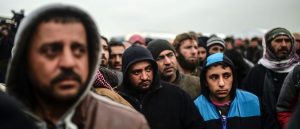 India Set To 'Detect-Delete-Deport' 20 Million Illegal Muslims  India is having the same problem with illegal aliens as America. They want to remove 20 million Muslims!
"Indian officials are registering Bangladeshi residents in the state of Assam in an apparent bid to reduce the Muslim population.
"The Hindu rate of population growth is declining. But the Muslim rate is rising. Most of the Muslims here are from Bangladesh. If this continues, the Assamese Hindus will become a minority soon — we will lose our language, our culture, our identity," Assam's finance minister told The Washington Post.
Assam shares a long border with Bangladesh, with much of it consisting of wetlands easily crossed by boat. The majority of the Indian Army and its border forces are positioned hundreds of miles away on the Pakistani border, particularly clustered over the disputed territory of Kashmir."
Jerusalem
Jonathan Cahn and Muslim Authorities Have Prophetic Showdown at Temple Mount 12/05/16  I believe the Psalm 83 war will break the back of Islam and end the rule of Muslims in the Middle East. I don't think this war is too far off.
Psalm 83:18 That men may know that thou, whose name alone is JEHOVAH, art the most high over all the earth.

"I then shared how throughout Jewish history, calamity after calamity has taken place on that same day. It's actually one of the mysteries from The Book of Mysteries. I then shared how the birth of America actually begins with the same ancient mystery and day. I then began to speak of the connection between the Temple Mount and Eden. The Muslim authority pulled me aside—as hundreds looked on, some praying.
"Others of the Muslim authorities began to converge around me. They told me I had committed a major transgression: I had spoken of the Temple on the Temple Mount! They said that the Temple Mount is a Muslim holy site. They deny that there was ever a Temple on the Temple Mount. Our Israeli tour guides, along with Joseph Farah of WND, now also converged.
"The situation now grew even more tense. It went on for several minutes. Then they told me and the group to leave the Temple Mount immediately. One of our guides informed me he could have called the Israeli authorities. I decided it best to avoid causing an international incident. I went back to the group and told them that what was happening now was exactly what I had spoken of earlier, the warfare over the mount."
American Politics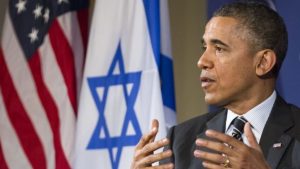 Most Democrats consider Israel is 'a burden' on US, has too much influence on policy, poll claims 12/02/16  I fully expect the Democrats in America to become just the Europeans towards Israel and the Jews. The hard are already like the Europeans.
"The survey found a clear majority of Americans (76%) said Israel was "a strategic asset" to the US, its authors said. At the same time, they said, "a majority of Democrats, 55%, say that Israel is also a burden"; among Republicans, 24% consider Israel a burden. Fifty-two percent of Independents do not consider Israel a burden and 41% think it is.
The findings were among the results of twin surveys conducted by the think tank's Shibley Telhami before and after the November 8 presidential elections.
Overall, "slightly more than half of Americans (54%) disagree with the concept of Israel being a burden to the US as Israel's actions in the region generate hostility toward the United States in Arab and Muslim-majority countries whereas 40% of Americans feel this way," the survey's authors said. It was not clear from the published findings whether this was the specific wording of the question that was put to respondents, and whether the consequent results were impacted by such wording, with its reference to "hostility toward the United States" in the Arab world."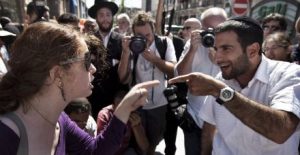 The day the music died for Jewish American Liberals 12/03/16  Wow, what an article this is from an Israeli Jew analyzing the state of the American-Israeli Jews. These American Jews always sided with Obama against Israel and now they are without power! They got in bed with the devil and now what?
The Democrats are turning to a Hard Left Muslim for leadership and what are these Jews going to do? Once again, this is a tremendous article.
"For most American Jewish liberals, November 8 was not only a watershed election, but a day on which the music died. They have been left speechless and traumatized, unwilling to fathom the implications.
These liberal Jews have become disoriented and unsure about what to do and what to say; they seem to be suffering from a bad case of PTSD (Post Trump Stress Disorder). Many of these liberal Jews are slowly waking up to a new reality in which they have lost their political clout, are left out of the multiple loops of power and access to the White House.
They have been demoted to the rank of irrelevancy."
Hard Left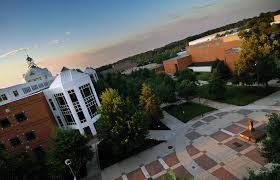 University Creates A "Safe Space" for Terror Supporters; Throws Anti-Jihad Activist in Jail 12/07/16  This is about George Mason University, and look at what a "hell hole" it has turned into. These Hard Left colleges are getting really dangerous for anyone who stands for the Lord. Evil is good to these people.
Isaiah 5:20  Woe unto them that call evil good, and good evil; that put darkness for light, and light for darkness; that put bitter for sweet, and sweet for bitter!

"After successfully hanging several posters, utilizing a basic water-soluble wheat and water paste, together with commercially available stickers, Oleg and his partner were suddenly accosted by George Mason campus police, pulled over in their vehicle, detained and arrested.
According to Oleg, after repeatedly searching them for weapons, the police slapped handcuffs on them, and immediately targeted them for the content of their work,
My friend and I tried to be as friendly and cooperative as the situation allowed, but that had no effect. We were ordered to sit on the curb, as Officer Daniels told us that the content of our posters was violent and disturbing to some students, especially the one with the Hamas terrorist standing in pools of blood over his dead victims. Such interpretation flipped our message on its head entirely, turning it from sympathy for the victims of violence into a threat of violence.
Since offending the sensibilities of millennial college students is not yet an actual crime, the officers charged Oleg and his confederate with a Class 6 felony, "destruction of property worth over $2500". The GMU campus police alleged (incorrectly) that the mixture used to hang the posters and stickers was "superglue," and thus caused irreparable damage.
Oleg maintains the stickers and posters could be removed with a good rain and perhaps a little "Goo Gone," solution and gladly volunteered to do exactly that.
Instead, Oleg and his partner spent the rest of the morning in the Fairfax County Adult Detention Center and were brought before a magistrate who ordered the artists' bail set at $8,000. Now Oleg and his partner face up to five years in prison for the act of hanging protest posters."
World War 3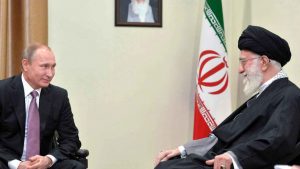 HIGH-STAKES GAME OVER SYRIA AS KHAMENEI-PUTIN AXIS ADVANCES 12/02/16  I believe there is no doubt that soon there will be a major confrontation over Syria between Israel and Russia/Iran. In the end, Israel is going to be left standing. If Russia fights Israel, Putin is in for a huge surprise and is going to suffer.
"And regarding Israel and Russia, in Kuperwasser's own words:
There is a mutual understanding of each other's interests. Though Russia and Iran are backing Hezbollah combat rebel forces fighting against the Assad regime, Russia understands that Israel cannot allow weapons from Hezbollah in Syria to be moved to Lebanon, where they will be aimed at the Jewish state.
How long can this relatively tolerable—for Israel—situation continue?
Indications are that its days may be numbered. Even if Putin's strategic goals are not identical to those of his allies—he is clearly not a Shiite ideologue like the Iranians and Hizballah or a Shiite-aligned Arab like Assad—his steps have been increasingly brazen.
Along with the transfer of major weapon systems to Syria, and an aircraft carrier to its coast, they include major weapons sales to Iran, joint provision with Iran of weapons to Iran's Houthi proxies in Yemen, and reports of Russian aid to Iranian-backed Shiite militias in Iraq."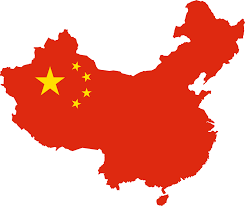 China flew nuclear-capable bombers around Taiwan before Trump call with Taiwanese president 12/05/16  Nothing has changed as China keeps increasing the tensions in Asia. Now we know why Trump spoke with Taiwan's president!
"Less than a week before President-elect Donald Trump spoke with Taiwan's president over the phone, China flew a pair of long-range nuclear-capable bombers around Taiwan for the first time, two U.S. officials revealed to Fox News.
On Nov. 26, two Chinese Xian H-6 bombers, along with two escort planes, a Tupolev Tu-154 and Shaanxi Y-8, flew around the island of Taiwan from mainland China, taking off and landing from two separate Chinese military bases.
The escort jets were used to collect radar information and conduct other surveillance on American allies such as Japan, Fox News is told. The Chinese bombers stayed in international airspace, according to officials."

Isaiah 29:8  It shall even be as when an hungry man dreameth, and, behold, he eateth; but he awaketh, and his soul is empty: or as when a thirsty man dreameth, and, behold, he drinketh; but he awaketh, and, behold, he is faint, and his soul hath appetite: so shall the multitude of all the nations be, that fight against mount Zion.