A Call for Kristallnacht Against Christians
Verse of the Day
2 Timothy 3:1-4 This know also, that in the last days perilous times shall come. For men shall be lovers of their own selves, covetous, boasters, proud, blasphemers, disobedient to parents, unthankful, unholy, Without natural affection, trucebreakers, false accusers, incontinent, fierce, despisers of those that are good, Traitors, heady, highminded, lovers of pleasures more than lovers of God;
Commentary
This article is loaded with tremendous information. It is a real eyeopener. There is NO doubt the Muslims and Hard Left in America are merging to take the nation down!
What about a revival for survival? The believers in America need to be revived before the nation can be.

Psalm 138:7 Though I walk in the midst of trouble, thou wilt revive me: thou shalt stretch forth thine hand against the wrath of mine enemies, and thy right hand shall save me.
THEY HATE US AS MUCH AS THE NAZI DID THE JEWS
"In a supposedly "white supremacist" United States, the son of an African American father and white mother became president of the United States, the most powerful person in the world. That president brought Black Lives Matter bosses to the White House and the ex-president recently expressed the hope that his vanguard of protesters would "seize the moment." As he knows, the current surge of violence has nothing to do with George Floyd and everything to do with taking power by force.
Any campaign against murals and stained glass windows would be a prelude to the targeting of churches, ministers, and Christians. In similar style, the axis of Black Lives Matter, Antifa, and prominent Democrats aims to remove President Trump from office, but the strategic target is the United States itself. For this crowd, the ultimate statue for takedown is Lady Liberty herself, and radical Muslims are taking the lead.

"The Islamic State militant group (ISIS) planned to attack the Statue of Liberty in New York City with pressure cooker bombs," Newsweek reported in January of 2018, "the Statue of Liberty has a very weak point in its lower back," noted Munther Omar Saleh, 21, "if I can get a few pressure cooker bombs to hit the weak point, I think it will fall face down." The FBI busted Saleh and fellow bomber Fareed Mumuni, 22, who were aided by Australian jihadi Neil Prakash and an English supporter of ISIS.

Islamic militants and the American left are united in their hated of Christians and Jews. As Daniel Greenfield notes, a Farrakhan supporter played a leading role in violence that targeted Fairfax, the oldest Jewish community in Los Angeles. For Melina Abdullah of Black Lives Matter, these were people "who think that they can just retreat to white affluence."
MINNEAPOLIS: MERGING OF HARD LEFT AND ISLAM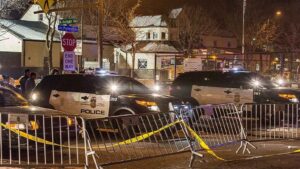 "Minnesota State Rep: Antifa and Muslim Groups Plan to 'Police Minneapolis Under Muslim Rule'"
I never thought for a second that Minneapolis was going to do away with the police. The police are in the way of a Communist/Islamic takeover of the city. So what they will introduce is a local community takeover, so the city will come under the Muslims/Communists with a form Sharia law. Something has to give with these states and cities under the authority of Communists with a mix a Islam. They hate America and the Constitution, so a "new" form of government like under Stalin/Mao, plus Muhammad might look good to them.
The people voted in these monsters. This is what happens when a nation turns from God, satan fills the void.
"As the city of Minneapolis moves to dismantle its police force, Minnesota state Rep. Steve Green on Tuesday stated the obvious that virtually everyone else has been tiptoeing around and pretending isn't there: "What you're looking at, in my humble opinion, is communism moving into Minneapolis and St. Paul." And not just Communism, but the Leftist/Islamic alliance. Green asserted that Antifa and Muslim organizations plan to "police Minneapolis under Muslim rule." Those who scoff at such a notion simply aren't paying attention to recent developments.
If members of the local community end up policing Minneapolis, what might that look like? Back in 2016, a series of Minneapolis Muslims in man-on-the-street interviews stated matter-of-factly that they preferred Islamic law over American law. We have seen Sharia patrols in Germany, Britain, and even New York City, where the Muslim Community Patrol (MCP) is decked out in uniforms that strong resemble New York Police Department uniforms, and drives cars carefully designed to look like NYPD cars, to enforce "fundamentals of the Sharia."
THE BATTLE OVER THE CURE FOR CORONAVIRUS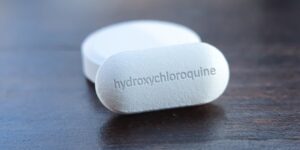 "Doctors group asks court to order release of 'Trump drug'"
The battle continues to get out into the open the cure for coronavirus. This evil medical system is still suppressing the cure! The question is why? This is a corrupt medical system that will let sick people die for what: profits?
"The Association of American Physicians & Surgeons is asking a court to order the federal government to release its stockpile of hydroxychloroquine for the treatment of COVID-19.
The case challenges the Department of Health and Human Services' withholding of millions of doses of hydroxychloroquine that were donated to HHS and the Food and Drug Administration.
"Why does the government continue to withhold more than 60 million doses of HCQ from the public?" asked Jane Orient, M.D., the executive director of AAPS. "This potentially life-saving medication is wasting away in government warehouses while Americans are dying from COVID-19."
HARD LEFT INSANITY TO DESTROY NY STATE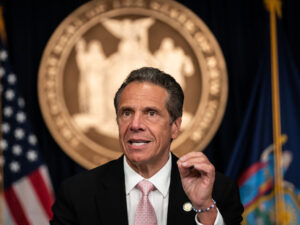 "Gov. Andrew Cuomo: Police May Stop Cars with Out-of-State Plates to Enforce Quarantine" The death rate for the coronavirus continues to drop dramatically to the point it is like a mild flu. People are testing positive but few are sick. The virus can kill the elderly and younger people with serious health issues.This is a ploy by a corrupt Dem governor geared towards the election for mail in ballots, and I guess destroying the NY economy, so the people will hate Trump?
One other thing is the fact he murdered 1000s of elderly continues in the news, and he is lying about what he did. It looks like the massive murders are now pinned on him with pressure coming from the feds. This is great news and maybe the pressure is breaking him resulting in the crazy actions he is now taking! The bottom line is he needs jail time for murdering the elderly. The sooner the better.
"Gov. Andrew Cuomo (D) warned Wednesday that some out-of-state travelers to New York might be pulled over by police if they have license plates from states with high levels of the coronavirus.
Cuomo said that in addition to law enforcement, he would expect individuals such as hotel clerks and businesses in New York to question travelers from select states.

"You're stopped by a police officer who says, 'You're driving a car from Florida. Weren't you supposed to be on quarantine for 14 days?'" he said, citing an example.

Travelers from Alabama, Arkansas, Arizona, Florida, North Carolina, South Carolina, Washington, Utah, and Texas would be ordered to put themselves into mandatory quarantine for 14 days, Cuomo announced on Wednesday, in a decision also reached by the Democrat governors of New Jersey and Connecticut.

Cuomo said that the quarantine order would go into effect on Wednesday evening."
DEMS HATE AMERICA
I've said for a long time that the Hard Left reprobate mind hates America because of its founding, and they want to eradicate it along with America as we know it. These also means getting rid of us because they hate real Christianity.
"Over the weekend, as you likely know, officials in New York announced that they are tearing down a bronze statue of Teddy Roosevelt. That statue has stood on Central Park for 80 years. Antifa demanded its removal, so Mayor Bill de Blasio complied, and he is taking it down.
Few people ever could have imagined that Teddy Roosevelt would be canceled. Roosevelt was the most popular president in American history. He was also a war hero, a historian, a naturalist, a rancher, a chief of police, an author, conservationist, as well as a father of six."
NFL SURRENDERS TO TERRORISTS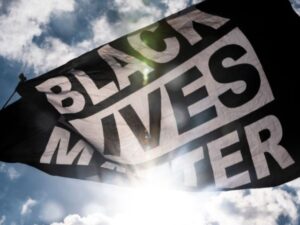 "49ers Fly Black Lives Matter Flag over Stadium"
I really do hope the NFLs support for BLM will kill it. BLM is the wrong cause to support. It is an openly Communist organization which HATES the American Christian culture. They are literally our enemy while the NFL is in rushing to support this group. I really do hope this is the end of the NFL.
"The San Francisco 49ers are doing all they can to embrace the Black Lives Matter movement and elevate its status to new heights.
Specifically, on Monday, they elevated the Black Lives Matter flag to the top of Levi's Stadium right next to the California and American flags. The 49ers have been among the most politically outspoken of NFL teams. CEO Jed York was one of the first owners to make a public statement in the aftermath of the killing of George Floyd."
MORE HARD LEFT HOAXES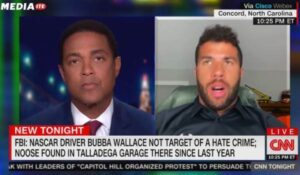 "Soooo Funny! Hoaxer Bubba Wallace LASHES OUT After He Claimed a Door Rope was a Noose and FBI Busted His A$$ (VIDEO)"
I instinctively knew this from the beginning. This is just another of the race hucksters hoaxes. If they race baiters have to manufacture these hoaxes, then it is a sign there are no real real events like they are making up!
""The FBI learned that garage 4, where the noose was found, was assigned to Bubba Wallace last week. The investigation also revealed evidence, including authentic video confirmed by NASCAR, that the noose found in garage number 4 was in that garage as early as October 2019," the FBI said in a statement.
In other words, the garage door pull rope wasn't imagined as a noose until a racist narrative needed to be pushed out to the public."
UPDATE: VOLCANOES AND EARTHQUAKES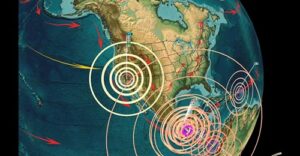 Major Seismic Unrest spreading — California just struck by near M6.0 (M5.8) swarm"
This is update by Dutchsinse.
"A noteworthy shift is taking place across the Pacific over this week, and it doesn't appear to be over quite yet. Following yesterdays M7.4 earthquake in Mexico, which itself followed a M7.4 in New Zealand … now the next warned area (California) has been hit with a M5.8 and noteworthy earthquake swarm."
If you like our ministry, please consider making a donation to keep us going. May the Holy God of Israel bless you!
Revelation 22:20 He which testifieth these things saith, Surely I come quickly. Amen. Even so, come, Lord Jesus.