After 600 Deaths in 6 Democrat Cities in 6 Weeks
Verse of the Day
Isaiah 1:7 Your country is desolate, your cities are burned with fire: your land, strangers devour it in your presence, and it is desolate, as overthrown by strangers.
Commentary
The demon-dems want the chaos because they are in the process of collapsing the cities and trying to bring down America. They want to rioting in the cities, so they can blame it on Trump. The want a race war. What they will do is offer the solution which is to bring the cities under Antifa, BLM and Sharia law. This is right in our face. It looks like they are trying and stop the November election and attack Trump as a dictator.
This is now all-out war because the demon-dems are in danger of losing and many of them are going to jail for ever crime you can think of including child molesting led by the Clintons.
Daniel 7:14 And there was given him dominion, and glory, and a kingdom, that all people, nations, and languages, should serve him: his dominion is an everlasting dominion, which shall not pass away, and his kingdom that which shall not be destroyed.
THE FRUIT OF THE REPROBATE MIND!
"Six Democrat-led cities accounted for 600 deaths over a 6 week period. Unfortunately there were more deaths this week and BLM doesn't care.
After explaining that the coronavirus and the economy were not the most pressing issues in the US today, Kevin McCullough at Townhall reported this morning in an op-ed:

The single most important issue, affecting some of the largest swaths of populations in America, is the scandal the media ignores even as it explodes in our faces. In only six weeks, city after city operated by entrenched Democrats have seen a massive expansion in lawlessness, violence, and murder. Stunningly, many news outlets seem gobsmacked and mystified at how or why such an explosion of lawlessness has occurred."
COMMUNIST/TERRORIST ATTACK IN PORTLAND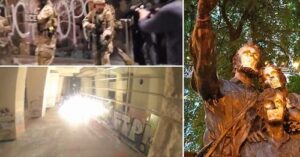 "Hundreds of Portland protesters break in to federal courthouse and set it alight using fireworks as cops declare a riot for the second time in 72 hours and retreat into their precinct."
What is going to take to declare insurrection in Portland and destroy these groups? Right now this seems like a "game."
What is interesting is the terrorist are attacking the federal court which has been full of Hard Left liberal judges trying to stop President Trump's agenda! These courts are partly responsible for creating these Communist monsters!
"A graffiti-covered federal courthouse in Portland was briefly set on fire Thursday night after a firework was thrown through a glass door broken by protesters

A group from the demonstration had broken into the Justice Center earlier

Cops declared a riot for the second time in three days after protesters refused to clear the area and threw rocks, bottles and fireworks at officers

An open pocket knife was thrown at one officer as smoke and pepper balls were used to disperse the crowd cops described as 'hostile and violent'

Attempts were made to set two separate statues on fire across the city and a third fire was set in the street

Several arrests were made but police could not confirm a number

Local black leaders have voiced concerns about the Black Lives Matter movement being co-opted by 'young white children' who are creating 'chaos'

A riot was also declared Tuesday as protesters gathered outside Portland Police Union headquarters"
THE SPECIAL SIN ON STEROIDS!!!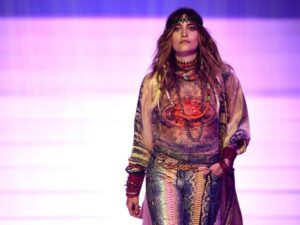 "280,000 Sign Petition Slamming Movie Starring Michael Jackson's Daughter Portraying Jesus as a 'Lesbian Woman'"
This is the "fruit" of a reprobate mind.
"Hundreds of thousands of people have signed a petition to demand the blocking of the upcoming film Habit in which Paris Jackson reportedly plays the role of a "lesbian Jesus."
The petition on Change.org calls on Warner Bros and other distributors to reject this "blasphemous Hollywood film" that sees Jackson play the role of Jesus alongside model and actress Bella Thorne, who plays a woman with a Jesus fetish pretending to be a nun in order to hide from the criminal drug world.
It also claims Jesus is depicted as a "lesbian woman," although this has yet to be confirmed by producers."
DISNEY AND THE SPECIAL SIN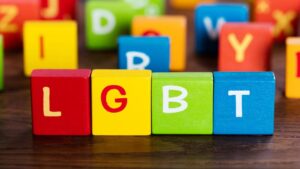 "Disney, Nickelodeon Promote LGBTQ Agenda to Kids, Airing 'Pride' Ads for the First Time"
It would be wonderful if the Lord brought Disney to its knees through bankruptcy and it disappeared. Right know it is a cancer tumor on the nation corrupting the youth.
"June was LGBTQ Pride Month and for the first time, the Disney Channel and Nickelodeon aired ads supporting the LGBTQ agenda to their audience of children.
During June, the Disney Channel itself aired a "pride" ad featuring Raven-Symone who is lesbian. Raven-Symone never says the word "gay," in the ad, focusing instead on coming "together with all walks of life."
"We're in a new age where it's not just black and white anymore," Simone says in the ad. "We have purple, red, and the entire rainbow. Everybody wants to be treated with respect and it's beautiful. I love being able to come together with all walks of life – all ages, all colors, and celebrating the unity of being our authentic selves. Pride to me is strength. Pride is selfless. Pride is friends, family. Pride is you."
AMERICA'S SPECIAL SIN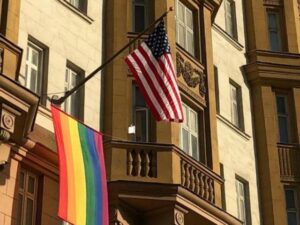 "Vladimir Putin Mocks Rainbow Pride Flag Flying over U.S. Embassy"
I feel humiliated with the special sin flag flying from the US Embassy! Notice how in love the Hard Left is with the special sin.
"Russian President Vladimir Putin has mocked the decision by U.S. officials to fly a rainbow pride flag over the embassy in Moscow, saying it "tells you something about the people who work there."
During a televised video conference on Friday, Putin was told that the American embassy had hung a rainbow flag on its facade for the first time to celebrate Pride Month in June.

"Who works in this building?" Putin asked the speaker, Sen. Alexei Pushkov, who responded, "Americans.""Let them celebrate. It tells you a certain something about the people who work there," Putin added with a smile.
That same day, Putin signed amendments to the Russian Constitution backed by a national vote that includes a clause defining marriage as the union of a man and a woman."
BOSTON'S SPECIAL SIN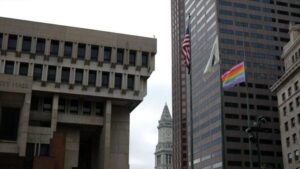 "City of Boston, Which Rejected Group's Request to Fly Christian Flag, Holds Homosexual Pride Flag Raising"
They really love the special sin in Boston. Notice how as Christianity dies the special sin fills the void. This city is just begging for God's righteous judgment.
Proverbs 16:18

Pride goeth before destruction, and an haughty spirit before a fall.
"The City of Boston held a virtual flag-raising ceremony on June 5 to commence the 50th annual Boston Pride Week, celebrating the sins of homosexuality and bisexuality. Boston remains embroiled in a federal lawsuit after it denied a private group's request to fly the Christian flag over City Hall during their temporary event recognizing Constitution Day.
"In Boston, we're very proud of how far we've come," Mayor Ben Walsh said during the recorded event, which was posted to the Boston Pride YouTube page with the hashtag #wickedproud. "We're proud of the trailblazers and activists who've changed the world, and we're proud that many of them call our city

home."
HARD LEFT ALWAYS DESTROYS WHAT IT CONTROLS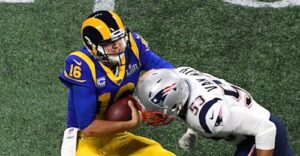 "The end of college and professional sports"
American sports has become an idol, and it sure looks the Lord is destroying this idol. Actually, the Hard Left mind is destroying the idol. Sin always destroys.
"American professional and major college sports is a creation of the 20th century. It is dying in the 21st century. Greed by players and owners; the public's elevation of the uniquely athletic to a status reserved for royalty in previous generations; owners' belief that public money and tolerance is endless; players' belief they can impose their morality on fans and make demands on them based on their super-status as athletes – all are leading to the steady erosion of spectator sports in American life.
Greed is the main driving factor that had sports on life support, but the latest injections of social justice has given what should prove to be the final push into irrelevancy."
DESTRUCTION OF PRO FOOTBALL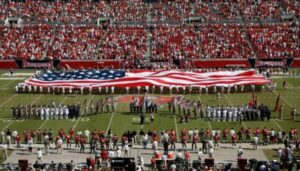 "NFL will Play Black National Anthem Before Each Week 1 Game This Fall — Will Honor Victims of Police Brutality with Helmet Decals"
I don't think the NFL cares if they lose their fans. They are now Hard Left ideologues and football is not a sport/business to them, but a way to promote their agenda. Pro football is now a real enemy of the American people that is promoting the BLM Communist agenda. I really do hope that it crashes into bankruptcy!
"How many Americans knew there were TWO national anthems — one for black Americans and one for everyone else?Well this fall the NFL will play the black national anthem before every week 1 game. So will this be a bridge too far for their fans?"
NO MORE NIKE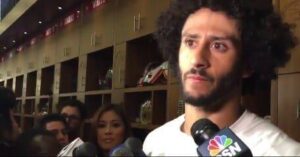 "Nike Spokesman Colin Kaepernick's Independence Day Message: "We Reject Your Celebration of White Supremacy" (Video)"
The problem is the nation a civil war to end slavery and then had to fight the demon-dems for 100 years until black people had all their civil rights. The fight was against the demon-dems who did everything to violate the rights of the black people.
"On the Fourth of July in 2019, millionaire African-American Nike brand ambassador and former NFL quarterback Colin Kaepernick posted a pre-Civil War quote by Frederick Douglass, accompanied by a graphic video, that attacks the United States as the worst nation in the history of the world.
The one-minute long video contains images of slavery, the KKK, lynchings and police abuse of African-Americans with a voice-over reading from Douglass' 1852 speech on slavery and the Fourth of July."
If you like our ministry, please consider making a donation to keep us going. May the Holy God of Israel bless you!
Revelation 22:20 He which testifieth these things saith, Surely I come quickly. Amen. Even so, come, Lord Jesus.