April 19: Temple Of Baal In New York Is Going Up On Significant Day
                 Verse of the Day
Revelation 9:20 And the rest of the men which were not killed by these plagues yet repented not of the works of their hands, that they should not worship devils, and idols of gold, and silver, and brass, and stone, and of wood: which neither can see, nor hear, nor walk:
Commentary
This is mind bending that these temples of Baal are being built in NYC and London and the starting date is April 19. The reason this is so signficant is that it is a pagan ritual day. Someone behind the scenes knows exactly what they are doing. We are seeing the rise of paganism before our eyes. I believe the end-time religion is going to be the rebirth of classic paganism, including man-worship which will be the antichrist.
This is all happening so fast, it seems that all areas of prophecy are now on the fast track and set to converge in the very near future.
May the Holy God of Israel bless and protect you.
Hebrews 11:9,10 By faith he sojourned in the land of promise, as in a strange country, dwelling in tabernacles with Isaac and Jacob, the heirs with him of the same promise: For he looked for a city which hath foundations, whose builder and maker is God.
Paganism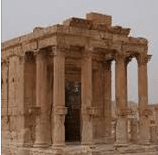 April 19: Temple Of Baal In New York Is Going Up On Significant Day 04/03/16  This is a follow-up article on the Temple of Baal being erected in NYC and London. It is being erected on April 19, which an occultist sacrifice day!
"April 19th is the first day of a 13 day period of time known as "the Blood Sacrifice to the Beast" that culminates on the high occult holy day of Beltane on May 1st. In some parts of the world, Beltane is much better known as "May Day", and it has been described as the "Illuminatis second most sacred holiday". As you will see below, we have indeed witnessed a disturbing series of "blood sacrifices" during the second half of April in recent years, and many people wonder if there is a connection.
April 19th is also known as the Feast of Moloch. If you are not familiar with "Moloch" or "Molech", it is an ancient Canaanite god that is repeatedly denounced in the Old Testament. Child sacrifice was a key feature of the worship of Moloch, and a giant statue of this pagan deity is set up at the Bohemian Grove in northern California every year.
Is it just a coincidence that reproductions of the arch that stood in front of the Temple of Baal in Palmyra, Syria are going up in New York and London on the precise day when the Feast of Moloch is celebrated and when the Blood Sacrifice to the Beast begins? The organization in charge of this "cultural project" is the Institute for Digital Archaeology."
Hard Left – Reprobate Mind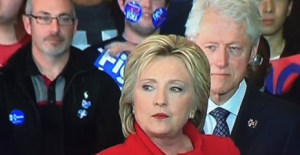 HILLARY CLINTON: TERRORISTS HAVE RIGHTS, UNBORN CHILDREN DON'T 04/04/16  What a great concept this is. Muslims terrorists have rights, while babies in the womb have zero, and thus they can be slaughtered by the tens of millions! This is the reprobate in full action.
This mind really does operate under a delusion, but they act on it and have killed 60 million babies in the womb! These are extremely dangerous people, and to babies in the womb, they are just like ISIS. I think that the Lord will judge them as he will ISIS.

It would be accurate to call abortionists "womb terrorists".
Proverbs 6:16-19  These six things doth the LORD hate: yea, seven are an abomination unto him: A proud look, a lying tongue, and hands that shed innocent blood, An heart that deviseth wicked imaginations, feet that be swift in running to mischief, A false witness that speaketh lies, and he that soweth discord among brethren.
"Democrats believe that Islamic terrorists captured on the battlefield have constitutional rights. Unborn children don't. Hillary Clinton wants to close Gitmo and keep abortion mills running 24/7. Because unborn children have no constitutional rights."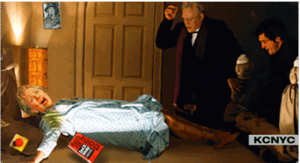 Hillary Clinton: 'The Unborn Person Doesn't Have Constitutional Rights' 04/03/16  Clinton just laid out how the Hard Left works. They stripped the unborn of their Constitutional Rights and then "legally" murdered 60 million babies! In their evil, perverted minds it is all legal!
They heartlessly slaughtered them without mercy because the babies had no rights. This is what they are working on for us. Step by step they want to strip us of our rights, just like they did to the defenseless babies. Once they have done this, then like the Nazis, they are free to destroy us.

If you think the worst with these people, then you hit the bulls-eye with them. They are evil to the core because they hate God and everything and everyone who stand for Him.

God has turned the vast majority of them over to a reprobate mind for judgment.
Numbers 35:33  So ye shall not pollute the land wherein ye are: for blood it defileth the land: and the land cannot be cleansed of the blood that is shed therein, but by the blood of him that shed it.
"TODD: When or if does an unborn child have constitutional rights?
CLINTON: Well, under our laws currently, that is not something that exists. The unborn person doesn't have constitutional rights. Now, that doesn't mean that we don't do everything we possibly can in the vast majority of instances to, you know, help a mother who is carrying a child and wants to make sure that child will be healthy, to have appropriate medical support. It doesn't mean that, you know, don't do everything possible to try to fulfill your obligations. But it does not include sacrificing the woman's right to make decisions. And I think that's an important distinction that under Roe v. Wade we've had refined under our Constitution."
Hard Left – America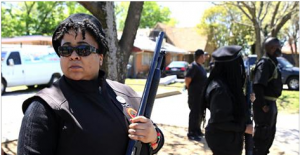 Armed clash over black mosque triggers anger in South Dallas 04/03/16  Once again, we see the merging of a Hard Left group with the Muslims. This time it is the Black Panthers, moving to protect a mosque from armed protesters who were mostly white.
It is really easy to see how this could erupt into a vicious race war. There is an event coming that could ignite an actual race war in America. The Hard Left seems to want it and is trying to provoke it.

Americans are heavily armed, and the death and destruction from a civil war like this could be beyond anything we can imagine.
"Racial tensions in South Dallas almost exploded at an anti-mosque protest Saturday afternoon before quickly dissolving when the protesters retreated.
A few hundred South Dallas residents, mostly black, flooded Martin Luther King Jr. Boulevard to oppose a planned demonstration by a mostly white group that routinely protests outside mosques.
Both sides were armed.
Dallas police stood guard on a funeral home's roof as black counterprotesters swarmed the parking lot of Eva's House of Bar-B-Q, vowing to defend their streets and chanting "black power."
"This is what they fear — the black man," said activist Olinka Green. "This is what America fears."
Islam – Jihad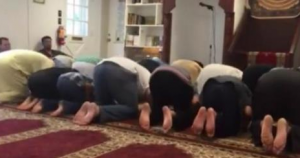 2,000 'ticking time bombs' in U.S. – and counting 04/03/16  This is a very good article about the growing menace of Islam in the West and in America.
I look at the mosques as the recruiting centers for the jihadists, and the Muslims as the soldiers. The Muslims are preparing for war all over the world, while the blinded masses in the West can't see it.
Terrible bloodshed is coming to every nation where the Muslims are found, although, in the end, Islam is going to die a violent, bloody death.
I sense this coming very fast as ISIS and others like them are now bringing the fight to the decadent West.

The West does not want the God of Israel and His word, so they now are getting allah and the Koran. The Muslims are about to turn the West into hell.
Psalm 9:17  The wicked shall be turned into hell, and all the nations that forget God.
"In Germany, following a wave of Islamic immigration, one political party is considering a call for shutting down all of the country's mosques in a desperate bid to prevent terrorist attacks, rape sprees and other acts of violence and Muslim domination.
In the U.S., President Obama marked the new year by visiting a mosque and has invested a great deal of effort to downplay the connection between Islam and terrorism, while leading Republican presidential candidate Donald Trump has proposed temporarily halting all Muslim immigration.
A growing chorus of U.S. politicians, pundits and scholars are calling for closer monitoring of U.S. mosques, the number of which has grown exponentially since the Sept. 11, 2001, terrorist attacks that killed nearly 3,000 people on U.S. soil.
Experts on Islamic terrorism are calling the estimated 2,500 to 3,100 mosques in America "ticking time bombs."
Every state now has at least one. California and New York lead the way, each with more than 500 mosques, followed by Texas with just over 300.
As the number of mosques increase, so do acts of Islamic terror in the U.S.
FBI Director James Comey told Congress recently that his agency is stretched to the limit trying to keep up with nearly 1,000 active ISIS investigations in all 50 states, and that does not include probes tied to al-Qaida, al-Shabab or other Islamic groups."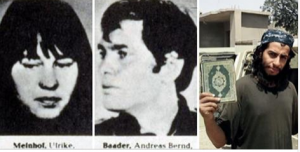 ISIS in Europe: How Deep is the "Gray Zone"? 04/04/16  This is a great article showing the depth of support for ISIS and an Islamic caliphate among European Muslims. It is deep and getting stronger with each terrorist event!
I would imagine that it is the same in America. Vast sections of Islam are at war with the West and the West denies this! What more can be said about the deep delusion that the Hard Left lives in!
This is what happens to the nations that reject the Lord. They get delusions and Islam to live with.
"According to a ComRes report commissioned by the BBC, 27% of British Muslims have sympathy for the terrorists who attacked the Charlie Hebdo office in Paris (12 killed). An ICM poll, released by Newsweek, revealed that 16% of French Muslims support ISIS. The number rises to 27% percent for those aged 18-24. In dozens of French schools, the "minute of silence" to commemorate the murdered Charlie Hebdo's journalists was interrupted by Muslim pupils who protested it.
How deep is ISIS's popularity in Belgium? Very deep. The most accurate study is a report from Voices From the Blogs, which highlights the high degree of pro-ISIS sympathy in Belgium. The report monitored and analyzed more than two million Arabic messages around the world via Twitter, Facebook and blogs regarding ISIS's actions in the Middle East.
The most enthusiastic comments about ISIS come from Qatar at 47%; then Pakistan, at 35%; third overall is Belgium, where 31% of tweets in Arabic on the Islamic State are positive — more than Libya (24%), Oman (25%), Jordan (19%), Saudi Arabia (20%) and Iraq (20%). This shocking data exposes the success of the network and its easy pro-ISIS recruitment in Belgium.
In other European countries, after Belgium, Britain is at 24%, Spain 21%, France 20%.
In the UK, one in five Muslims have sympathy for the Caliphate. Today more British Muslims join ISIS than the British army.
In the Netherlands, a survey conducted by Motivaction shows that the 80% of Dutch Turks see "nothing wrong" in ISIS.
Among young European Muslims, support for suicide bombings range from 22% in Germany to 29% in Spain, 35% in Britain and 42% in France, according to a Pew poll."
"On Saturday hundreds of Turkish Nationalists in Germany rallied in Duisburg against the Kurdish Worker's Party (PKK) and for Turkish national sovereignty and security. They were seen using the "Grey Wolves" Salute, the Turkish equivalent of a National Socialist Salute commonly used as what is classified as a "neo-fascist" or "ulltra-nationalist" organization.
Their intention is creating a "Pan-Turkish empire", unifying all members of the Turkish people under one banner and purging all enemy forces.
Their enemies include Kurds, Jews, Zionists, Christians, Armenians, Greeks, Homosexuals, Persians, Liberals and Communists, who are, ideally, to be eradicated."
Amos 8:11  Behold, the days come, saith the Lord God, that I will send a famine in the land, not a famine of bread, nor a thirst for water, but of hearing the words of the Lord: