Army makes history by putting Muslim in charge of 14,000 US soldiers' spiritual needs
Verse of the Day
 John 18:37 Pilate therefore said unto him, Art thou a king then? Jesus answered, Thou sayest that I am a king. To this end was I born, and for this cause came I into the world, that I should bear witness unto the truth. Every one that is of the truth heareth my voice.

Commentary
The President must get generals in place who will not allow this. The ones who did this are holdovers from Obama. Islam is spiritual death, and it is direct hate speech against Christians. How can he "minister" to Christians when Islam attacks Christianity! The following is just one Sura from the Koran that attacks Christianity:
Sura 4.171 O followers of the Book! do not exceed the limits in your religion, and do not speak (lies) against Allah, but (speak) the truth; the Messiah, Isa son of Marium is only an apostle of Allah and His Word which He communicated to Marium and a spirit from Him; believe therefore in Allah and His apostles, and say not, Three. Desist, it is better for you; Allah is only one God; far be It from His glory that He should have a son, whatever is in the heavens and whatever is in the earth is His, and Allah is sufficient for a Protector.
May the Holy God of Israel bless and protect you.
John 17:17 Sanctify them through thy truth: thy word is truth.
Hard Left/ Islam
Army makes history by putting Muslim in charge of 14,000 US soldiers' spiritual needs 02/28/17
"In January, Lt. Col. Khallid Shabazz received the call every Army chaplain dreams of, the call that validates years of intense study and hard work toward keeping the U.S. military in good spiritual health.
He was offered the job of chaplain for an entire division, an honor for anyone in his field but a milestone in his case. After a ceremony this summer, Shabazz will become the first Muslim division-level chaplain in the history of the U.S. military – a Muslim spiritual leader for more than 14,000 mostly Christian soldiers.
Shabazz, who's dedicated his life to working across religious lines, found it hard to keep calm as he received the news at his desk on Joint Base Lewis-McChord near Tacoma, Washington.
"I'm on the phone saying, 'Thank you, I appreciate it. I'll serve honorably,' and then I hang up the phone and I'm jumping all around like a little kid," Shabazz, 48, recalled in interviews in February. "I was running around the office saying, al hamdulillah, al hamdulillah, praise be to God!"
Islam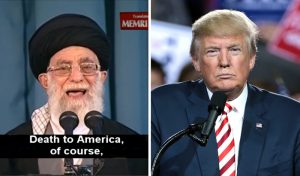 Extremist Muslims' One-Way Street 02/25/17  The Muslims play the Left in the West like a fiddle. It is pitiful to see how easy it is to manipulate the West. It is almost like the Left wants to be abused by the Muslims.
It will be very interesting to see what President Trump's extreme vetting is. If he holds the Muslims to accepting Jews and Israel, along with denying Sharia law, not many will get into America. We need vetting like this.
Psalm 58:3  The wicked are estranged from the womb: they go astray as soon as they be born, speaking lies.

"Extremist Muslims' understanding of freedom is a one-way street: Freedoms, such as religious rights, are "good" and must be defended if they are intended for Muslims — often where Muslims are in minority. But they can simply be ignored if they are intended for non-Muslims — often in lands where Muslims make up the majority.
Many Muslim countries, apparently, already have travel bans against other Muslims, in addition to banning Israelis.
Look at Saudi Arabia. Deportation and a lifetime ban is the minimum penalty for non-Muslims trying to enter the holy cities of Mecca and Medina.
Given the state of non-Muslim religious and human rights, and the sheer lack of religious pluralism in most Muslim countries, why do Muslim nations suddenly become human rights champions in the face of a ban on travel to the U.S.?
Meanwhile, Muslims will keep on loving the "infidels" who support Muslim rights in non-Muslim lands, while keeping up intimidation of the same "infidels" in their own lands."
Hard Left/ Islam/ American Politics
Sean Hannity Debate On Extreme Vetting 02/27/17  I enjoyed watching this with all of the expected denials and lies by the Muslims and those who support Islam. The information below is about how Islam allows Muslims to lie in advancing Islam. You can't believe what anyone who is a Muslims tells you. Lying to the infidel is part of Islam.
"…the Quran was spotlighted saying it's OK to lie to 'infidels' and to kill those that are their enemy – the 'People of the Book' (Christians and Jews). This was particularly significant as liberal-leaning publications and mainstream media tend to shy away from anything that puts Islam in a poor light."
"Westerners will never completely wrap their minds around a religion that so readily embraces death much more than it loves the gift of life. Another major difference is the ethics of lying – something clearly condoned in Islam. In Christianity, #9 of the Ten Commandments is unambiguous about not lying. Islam has no such compunctions and permits at least six different types of lies.

1. Taqiyya: deceit for the purpose of spreading Islam.
2. Kitman: deceit by omission – telling someone a partial truth or a gross distortion of it.
3. Tawriya: deceit by ambiguity – a doctrine that allows lying in virtually all circumstances – including to fellow Muslims and by swearing to Allah – provided the liar is creative enough to articulate his deceit in a way that is true to him.
4. Taysir: deceit through facilitation, not having to observe all the tenets of Sharia.
5. Darura: deceit through necessity, allowing to engage in something Haram or forbidden. Darura says that if you are forced to do something un-Islamic, you will not be called to account for your actions in this world or in the hereafter.
6. Muruna: temporary suspension of Sharia in order that Muslim immigrants appear moderate.

Few Westerners know that the Sunni Muslim Brotherhood revived the doctrine of muruna, which literally means "stealth" or "flexibility." It is far worse than taqiyya, since it sanctions all prohibitions that block Muslim interests, even blasphemous ones. It allows Muslims to sow division and confusion in the Western world and was designed to catapult and advance Sharia by using Western means. Muruna allows Muslims to break their own codes to avoid detection like shave off their beards, wear western clothing, or even drink alcohol to blend in.
One other type of muruna allows what amounts to legalized prostitution. "A Sunni Muslim male may enter into a contract with a woman … for sexual gratification without the financial obligation necessary to maintain a wife. As a consequence, the sin of adultery never takes place because the sex contract is an official marriage license."
Islam/ Christianity
Franklin Graham Issues Urgent Call to Prayer After Radical Islamic Threat 02/28/17  This is not new to Egypt. The Muslims have been killing Christians going very far back. ISIS may intensify the murdering, but Coptics have been subject to Muslim terror, even without ISIS.
In my ministry Abba Father's International Fellowship, the Muslims are attacking our pastors in Uganda, Kenya and Pakistan. Islam is an extremely violent religion and we can't let the Hard Left lie and promote Islam in America. We must stand against it at all costs or America will end up just like Europe.
Revelation 16:6  For they have shed the blood of saints and prophets, and thou hast given them blood to drink; for they are worthy.

"Evangelist Franklin Graham issued an urgent call to prayer for our brothers and sisters in Egypt.
Coptic Christians, one of the oldest branches of Christianity, are under attack. The Islamic State issued a video warning recently threatening to wipe them out completely.
"Christians are being killed for their faith around the world. Here's what's happening in Egypt," Graham begins his call to prayer.
"The Islamic State stormed into the home of a plumber and shot him to death in front of his wife and children on Thursday. A few days ago, a teacher was shot to death by masked gunmen. One man was beheaded and another set on fire. All in the name of Islam. In a video earlier this week, the Islamic State vowed to step up attacks against the Coptic Christian minority, describing them as infidels. Hundreds have fled their homes for safety. One Coptic resident said, 'I'm not going to wait for death.' ISIS wants to exterminate them—wipe them out—because they bear the name of Christ," Graham continued."
As the EU Has Done to Israel
Jews Under Assault in Europe 02/25/17  In Europe, it is now just like 1938 with the Nazis. The Jews must leave or at least begin making plans to leave Europe. With all of the Muslims pouring into Europe, plus the homegrown Jew-haters, there is no hope for the Jews in Europe.
God has turned Europe over to judgment. Europe is not like America where we have a Christian base that could cry out to the Lord. The Lord has not turned us completely over to judgment, but Europe is under his wrath, and the millions of Muslims pouring into Europe is proof of his severe judgment.
The Europeans seem to have an inability to learn from history. Just 80 years ago, it was the Nazis, while now it is the Muslims! If history is a warning, the Europeans vicious hatred of the Jews is a prelude to WW3, just as it was for both WW1 and WW2.
Proverbs 28:5 Evil men understand not judgment: but they that seek the LORD understand all things.

"A German court actually ruled that firebombing a place where Jews worship is somehow different from attacking Jews.
Why was the Israeli embassy not attacked, rather than a synagogue whose worshippers were presumably not Israeli? Presumably the worshippers were German. What happened in the German court was pure Nazi-think and the most undisguised antisemitism: that Jews are supposedly not Germans.
Meanwhile, another German Court again rejected an action against your friendly neighborhood "sharia police."
In Germany, it seems, firebombing synagogues is merely "anti-Israeli" even if there are no Israelis there, and "police" who use Islamic sharia law — without legal authority and within a system of law that persecutes women, Christians, Jews and others — are acceptable and legal.
The anti-Semitism facing Jews at UK universities led the Baroness Deech to declare British University campuses "no-go zones" for Jews.
Simply defining and identifying anti-Semitism is only the start. It is also necessary to start tackling the anti-Semitic attitudes of Islamic communities across Europe and the attitudes of immigrants coming to our nations. What needs to be made clear is that you are welcome here."
Hard Left/ One-World Paganism
Protesters Freak Out, Yell "Lucifer!" After GOP Town Hall Opens With A Prayer 02/25/17  Make sure that you listen to the short video of the prayer. It is complete chaos until the end when you can hear the prayer ending in the "name of Jesus." The demons can't take it and the people go wild! It is like a spontaneous uproar. Truly we are not warring against flesh and blood.
The spirit of antichirst was dealt a severe setback and hell is howling right now.
Ephesians 6:11-12 Put on the whole armour of God, that ye may be able to stand against the wiles of the devil. (12) For we wrestle not against flesh and blood, but against principalities, against powers, against the rulers of the darkness of this world, against spiritual wickedness in high places.

"Liberal protesters became enraged when a Louisiana town hall with Republican Sen. Bill Cassidy opened with a prayer earlier this week, screaming at the chaplain as he tried to lead the crowd in prayer.
The protesters, who were there with a local chapter of anti-Trump group Indivisible, can be heard groaning and shouting as the chaplain says, "In God we trust." One man can be heard saying, "Pray on your own time!" Others shouted incredulously, "Prayer? Prayer?"
Video of the event, first reported by The Washington Free Beacon, reveals one woman shouting the name "Lucifer" while the chaplain invokes God's name. Other, non-protesting attendees can be heard trying to shush the protesters.
Protesters can be heard shouting about "separation of church and state" throughout the prayer. They became especially furious when the chaplain closed the prayer "in Jesus's name."
Homosexuality
Yes, Childhood Sexual Abuse Often Does Contribute to Homosexuality 02/27/17  We need to guard our children and grandchildren as never before. As the homosexual agenda becomes more mainstream, the reprobates are trying to legitimatize pedophilia.
In my ministry of praying for the brokenhearted, I've prayed for huge numbers who were sexually assaulted when young, with great results. So many were healed by the Lord and set free. If you need prayer, please email me at: [email protected] and put brokenhearted in the subject line.
Luke 4:18 The Spirit of the Lord is upon me, because he hath anointed me to preach the gospel to the poor; he hath sent me to heal the brokenhearted, to preach deliverance to the captives, and recovering of sight to the blind, to set at liberty them that are bruised,

"Similarly, the renowned gay activist Larry Kramer opined, "In those cases where children do have sex with their homosexual elders … I submit that often, very often, the child desires the activity, and perhaps even solicits it, either because of a natural curiosity … or because he or she is homosexual and innately knows it. … And unlike girls or women forced into rape or traumatized, most gay men have warm memories of their earliest and early sexual encounters; when we share these stories with each other, they are invariably positive ones."
That's why "man-boy love" has been celebrated in homosexual culture through the centuries, that's why there's a page listing "Historical pederastic couples" on a gay Wikipedia site, and that's why George Takei could speak glowingly of his first sexual encounter at the age of 13 (with a 19-year-old male camp counselor), at a time when he admits he didn't know he was gay.
In this light, the outrageous statement by philosopher Michael Foucalt, arguing for lowering the age of consent, doesn't sound as outrageous: "It is quite difficult to lay down barriers [particularly since] it could be that the child, with his own sexuality, may have desired the adult."
Ah yes, it was the child asking for it again. This too is sickening beyond words."
ProLife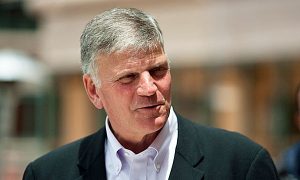 Graham: Planned Parenthood fundraiser akin to funding 'Nazi death camp' 02/27/17  In the article, you will see that the Bush family is tied with PP. They are part of the political establishment and I am so glad that they are out of power. I think the highest of Franklin Graham because he is bold and stands for the truth.
"Franklin Graham, the president and CEO of the humanitarian aid mission, Samaritan's Purse, and one of the world's best-known Christian leaders, slammed an upcoming Planned Parenthood fundraiser that's going to be keynoted by former president George W. Bush's daughter, Barbara, as akin to raising money for the Nazis during World War Two.
In a Facebook post, Graham wrote: "Planned Parenthood is the #1 abortion provider in the United States. Raising funds for this organization is like raising money to fund a Nazi death camp—like Auschwitz, except for innocent babies in their mother's wombs! Reports say they perform over 300,000 abortions per year. And this is the organization whose employees were caught on video trying to sell baby body parts over wine. Disgusting."
His words were posted above a link to a story that highlighted how Bush's daughter Barbara is set to deliver a speech at the Planned Parenthood fundraiser – and not just any speech, but the keynote address.
Barbara Pierce Bush is the co-founder and CEO of Global Health Corps, an organization that has in the past given high marks to Planned Parenthood. And while traveling to Fort Worth this week, Bush will stop in for Planned Parenthood's annual fundraising lunch and deliver the main speech of the day."
Miscellaneous/ American Politics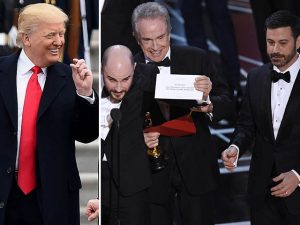 President Trump: Oscars 'Were Focused so Hard on Politics' They Could Not Get the Basics of the Ceremony Right 02/27/17
Proverbs 26:2 As the bird by wandering, as the swallow by flying, so the curse causeless shall not come.
What came to mind was that at Friday midnight, the wicked organized to curse President Trump, and anyone who supported him. This means us!
Hollywood is full of every sin you can think of including satan worship and promoting both the occult and new age.  It is really ironic that Sunday the Oscars were in complete chaos!
The curses directed towards the President ranged from death to confusion in order to stop his agenda. Well, it looks like the confusion they tried to place against the President came right back upon them! I didn't watch the show but it was full a chaos, so the curse came over Hollywood!
Just a thought…
2 Corinthians 6:14  Be ye not unequally yoked together with unbelievers: for what fellowship hath righteousness with unrighteousness? and what communion hath light with darkness?