As America Has Done to Israel – Hurricane Matthew
 

Obadiah 1:15
For the day of the LORD is near upon all the heathen: as thou hast done (to Israel), it shall be done unto thee: thy reward shall return upon thine own head.
 Commentary
Hurricane Matthew is going to rack the East Coast of the United States from southern Florida, to Georgia and South Carolina. It then is anticipated to head out to sea and circle back to hit Florida a second time! This will be an extremely rare event. What also is rare is Georgia taking a hit. Since 1850, only 20 hurricanes have hit Georgia, while the last Category 3 was in 1898.
This hurricane could do catastrophic damage to hundreds of miles of coast line. The eye is believed to be following the coastline for hundreds of miles as a Category 4 then dropping to Category 2.  Major cities like Jacksonville and Charleston are in the path of the coming eye!
Israel just announced that it is building more homes in the settlements. This generated furor and condemnation from Obama and Kerry. They are attacking Israel for building homes on God's covenant land, which is against the clear teaching in the Bible. The Jews are back home and this is their land with Jerusalem as their capital. Once again a catastrophic disaster is hitting America at the exact time the US government is attacking Israel for building on its own land.
Genesis 17:7-8 And I will establish my covenant between me and thee and thy seed after thee in their generations for an everlasting covenant, to be a God unto thee, and to thy seed after thee. And I will give unto thee, and to thy seed after thee, the land wherein thou art a stranger, all the land of Canaan, for an everlasting possession; and I will be their God.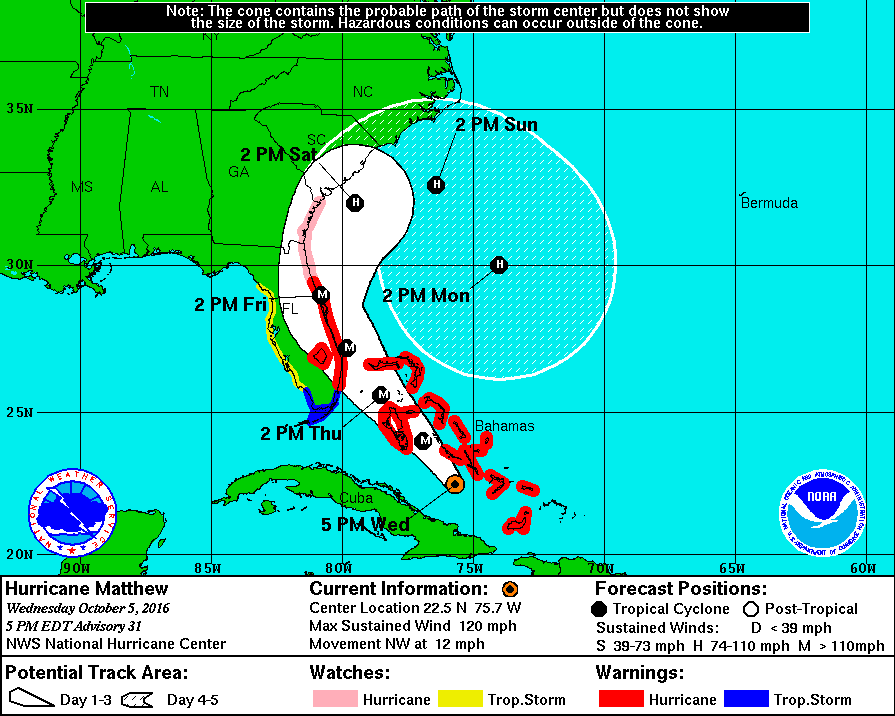 "Florida Governor Rick Scott is urging all residents to prepare for the worst ahead of a possible Hurricane Matthew hit. "It's never too early to evacuate," he said during a press conference Wednesday afternoon. The governor along with officials throughout parts of Florida are monitoring whether the hurricane will make a direct hit on the state.

"It [Hurricane Matthew] is expected to strengthen as it approaches Florida. There are some forecasts that put a direct hit on Florida," said Scott.  He said the number one priority is protecting lives amid a possible impact. "If Matthew directly impacts Florida, there will be massive destruction that we haven't seen in years. This is a deadly storm approaching our state," said Scott."
"White House spokesman Josh Earnest said every U.S. administration since 1967 has opposed Israeli settlement activity in the occupied territories, and the Obama administration has publicly restated that view because of the concern that settlement activity in the West Bank and East Jerusalem undermines the goal of a two-state solution.

"The actions of the Israeli government in announcing this settlement undermine the pursuit of peace," White House spokesman Josh Earnest said. He added that the U.S. had also received public assurances from the Israeli government that contradicted the settlement announcement."
"Hurricane Matthew will close in on the southeastern United States coast through the end of the week, threatening areas with flooding, power outages and damaging winds.

"While the strength of Matthew will fluctuate as it approaches the U.S. coast late this week, it will remain a powerful and dangerous hurricane with threats from storm surge flooding and high winds," according to AccuWeather Hurricane Expert Dan Kottlowski."

"We strongly condemn the Israeli government's recent decision to advance a plan that would create a significant new settlement deep in the West Bank.

Proceeding with this new settlement, which could include up to 300 units, would further damage the prospects for a two state solution. The retroactive authorization of nearby illegal outposts, or redrawing of local settlement boundaries, does not change the fact that this approval contradicts previous public statements by the Government of Israel that it had no intention of creating new settlements. And this settlement's location deep in the West Bank, far closer to Jordan than Israel, would link a string of outposts that effectively divide the West Bank and make the possibility of a viable Palestinian state more remote.

It is deeply troubling, in the wake of Israel and the U.S. concluding an unprecedented agreement on military assistance designed to further strengthen Israel's security, that Israel would take a decision so contrary to its long term security interest in a peaceful resolution of its conflict with the Palestinians. Furthermore, it is disheartening that while Israel and the world mourned the passing of President Shimon Peres, and leaders from the U.S. and other nations prepared to honor one of the great champions of peace, plans were advanced that would seriously undermine the prospects for the two state solution that he so passionately supported.

Israelis must ultimately decide between expanding settlements and preserving the possibility of a peaceful two state solution. Since the recent Quartet report called on both sides to take affirmative steps to reverse current trends and advance the two state solution on the ground, we have unfortunately seen just the opposite. Proceeding with this new settlement is another step towards cementing a one-state reality of perpetual occupation that is fundamentally inconsistent with Israel's future as a Jewish and democratic state. Such moves will only draw condemnation from the international community, distance Israel from many of its partners, and further call into question Israel's commitment to achieving a negotiated peace."

Ezekiel 36:8 But ye, O mountains of Israel, ye shall shoot forth your branches, and yield your fruit to my people of Israel; for they are at hand to come. (9-11) For, behold, I am for you, and I will turn unto you, and ye shall be tilled and sown: And I will multiply men upon you, all the house of Israel, even all of it: and the cities shall be inhabited, and the wastes shall be builded: And I will multiply upon you man and beast; and they shall increase and bring fruit: and I will settle you after your old estates, and will do better unto you than at your beginnings: and ye shall know that I am the LORD. (12) Yea, I will cause men to walk upon you, even my people Israel; and they shall possess thee, and thou shalt be their inheritance, and thou shalt no more henceforth bereave them of men.