BILL CLINTON GOT MILLIONS FROM SHARIA EDUCATION NETWORK
 Verse of the Day
 Proverbs 29:12 If a ruler hearken to lies, all his servants are wicked.

Commentary
It seems that all the federal government promotes, listens to, believes and defends are lies; therefore, wicked people are drawn into the government. The honest people are blocked because those in power want liars like themselves, so evil permeates everywhere. This is why we have a wicked government on all levels.
This is why Khizr Khan was used by Hillary Clinton during the Democratic National Convention. She is a pathological liar something everyone can see. Khan is a Sharia law-promoting Sunni Muslim who lied as he attacked Donald Trump. A righteous person would have nothing to do with Khan, but because both are evil, Hillary and he were comfortable with each other! What an example of Proverbs 29:12 in action, as a "lying prince" used a "wicked servant!"
We await the Second Coming of Jesus Christ when the corrupt governments of this world will be crushed and destroyed. He will establish his kingdom which will be just and righteous on all levels.
May the Holy God of Israel bless and protect you.
Isaiah 9:6-7 For unto us a child is born, unto us a son is given: and the government shall be upon his shoulder: and his name shall be called Wonderful, Counsellor, The mighty God, The everlasting Father, The Prince of Peace. Of the increase of his government and peace there shall be no end, upon the throne of David, and upon his kingdom, to order it, and to establish it with judgment and with justice from henceforth even for ever. The zeal of the LORD of hosts will perform this.
Hard Left/ Islam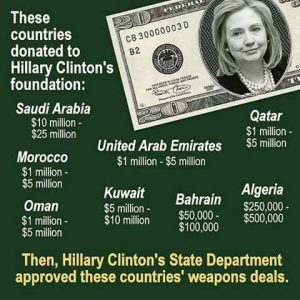 BILL CLINTON GOT MILLIONS FROM SHARIA EDUCATION NETWORK 08/04/16  Now you know why the politicians love Islam and help promote Sharia law. They have been bribed! It is appears that Washington is now just a criminal enterprise that has sold out the country. When we as a nation turned from God, these criminals filled the void, and God departed from the nation.
"Former President Bill Clinton collected $5.6 million in fees from GEMS Education, a Dubai-based company that teaches Sharia Law through its network of more than 100 schools in the Middle East, Asia and Africa, according to a Daily Caller News Foundation investigation.
The company's finances strictly adhere to "Sharia Finance," which includes giving "zakat," a religious tax of which one-eighth of the proceeds is dedicated to funding Islamic jihad.
The company also contributed millions of dollars to the Clinton Foundation.
The former president served as honorary chairman for GEMS Education from 2011 to 2014, according to federal tax returns he filed with his wife, 2016 Democratic presidential nominee Hillary Clinton."
Hard Left/ ProLife
Illinois Gov. Signs Bill Forcing Christian Doctors and Pregnancy Centers to Promote Abortion 08/04/16  The abortion agenda is moving forward, just like the homosexual one. Once again, we see how utterly powerless the Church is. The vast amount of pastors and Christians don't seem to care, but God does!
Payday is coming to America for killing all of these babies in the womb.
Psalm 127:3-4  Lo, children are an heritage of the LORD: and the fruit of the womb is his reward. As arrows are in the hand of a mighty man; so are children of the youth.

"Rauner, a Republican, held veto power over the legislation—which Democrats pushed through on a strictly partly line vote and put on his desk May 31—but he went against the grain of his own party in approving the legislation.
"We are extremely disappointed in Gov. Rauner for siding with pro-abortion Democrats by signing SB 1564 and expanding abortions in Illinois," Emily Zender, executive director of Illinois Right to Life said in a press release. "This radical bill is a direct assault on the consciences of medical professionals and the missions of community supported pregnancy help centers.
"Science tells us that abortion ends the life of a preborn child, and for Illinoisans to be forced to participate in any way in abortion is a tremendous injustice."
Islam/ Christianity
New Boko Haram Leader Instructs Followers to Focus on Killing Christians 08/15/16  The killing and violence against Christians is really rising throughout Muslim nations. This has been the history of Islam since its birth with Muhammad.
The Hard Left will continue to look that other way and justify Islam no matter what they do to Christians. This is because at the root, Islam and the Hard Left are the same.
Galatians 5:19-21  Now the works of the flesh are manifest, which are these; Adultery, fornication, uncleanness, lasciviousness, Idolatry, witchcraft, hatred, variance, emulations, wrath, strife, seditions, heresies, Envyings, murders, drunkenness, revellings, and such like: of the which I tell you before, as I have also told you in time past, that they which do such things shall not inherit the kingdom of God.

"The Nigerian terrorist group Boko Haram reportedly has a new leader who has said the group's main objective is to target Christians.
RelevantMagazine.com reports that Abu Musab al-Barnawi is the new leader of the ISIS-linked terrorist group. This information was obtained from the ISIS newspaper al-Nabaa.
Boko Haram is responsible for killing thousands of people in Nigeria, including both Muslims and Christians, and has contributed to the national crisis the country is facing.
The terrorist group now says it will specifically target Christians and will fight the "Christianization of society."
The group says it plans on "booby-trapping and blowing up every church that we are able to reach, and killing all of those [Christians] who we find from the citizens of the cross."
Hard Left/ Christian Apostasy
Israel says Gaza World Vision director diverted millions to Hamas's military wing 08/05/16  World Vision had to know about this. There are so many of these types of groups that side with the terrorists against Israel. There is no doubt that the funds were used for terrorism, including building the tunnels into Israel.
I hope this puts and end to World Vision.
"The Gaza head of the U.S.-based humanitarian aid organization World Vision funneled as much as $7 million a year over the past 10 years to Hamas's terror activities, Israel's domestic security agency said Thursday.
The Shin Bet said the aid group's Gaza director, Mohammed el-Halabi, is an active figure in Hamas's military wing. He was indicted by Israeli authorities Thursday, accused of diverting some 60 percent of World Vision's annual budget for Gaza to Hamas, the militant Palestinian group that rules the coastal enclave. He was charged with transferring money and working with a terror group.
Hamas is viewed as a terrorist organization by Israel, the United States and the European Union. Israel has fought three wars with Hamas since 2009."
Earthquakes/ Volcanoes
Major Volcanoes Along the Ring of Fire Are Going Off Like Firecrackers 08/05/16   This is an update on all of the volcanoes throughout the ring of fire. Volcanic activity is increasing along with earthquakes.
"So far this week, we have seen the most dangerous volcano in Mexico erupt, and three major volcanoes in Indonesia all erupted within the space of just 72 hours. Mexico and Indonesia are both considered to be part of "the Ring of Fire," and all along the perimeter of the Pacific Ocean volcanoes are starting to go off like firecrackers right now. According to Volcano Discovery, 25 volcanoes in areas that are considered to be within the Ring of Fire have erupted recently.
Our planet appears to have entered a time of increased seismic activity, and those the follow my work regularly know that this is a theme that I revisit repeatedly. Sadly, most Americans are not paying too much attention to this increase in seismic activity, but the truth is that it has very serious implications for the west coast of the United States."
Powerful earthquake hits near Tambora Volcano, Indonesia – Sign of another imminent super eruption? 08/05/16  This is a terrific article about the greatest volcanic eruption in recorded history. I believe that as we get closer to the coming of the Lord Jesus, one or more of these megaquakes might erupt.
"And a powerful earthquake – 5.8 in magnitude – hit within miles of the volcanic peak on July 31, 2016. Is another mega-eruption imminent?
The 1815 eruption at Indonesia's Tambora was a blast that altered global climate for years afterwards and has been fingered as the trigger of revolutions and migrations. Over 70,000 people perished directly from the event and hundreds of thousands more may have died due to disease and famine that could be linked to the effect Tambora had around the world.
No eruption in any of our lifetimes have come close to the size and impact of Tambora and once volcanic eruptions get this big, it can sometimes be difficult to really grasp just how large of a geologic cataclysm it was."
Hard Left/ Israel
Expert: Abolish mixed-gender combat units in the IDF 08/04/16  It appears that the Hard Left madness also has taken root in Israel. I had no idea that the IDF had gone so far in placing females in combat roles. When war comes, these women are going to weaken the military and be in grave danger if they can't keep up with the men. They become the spoils of war if they are captured, especially when fighting Muslims.
I think the Leftists in the military are in for a shock when the next war breaks out. Israel is going to learn a difficult and painful lesson.
"Reserve General Raz Sagi, head of the Forum for a Strong IDF (FSIDF), who has devoted several years of his life to researching the effects of integrating women into combat roles, claims in an interview with Arutz Sheva that the rise in the number of draftees into mixed units should "make us lose sleep."
"When Caracal was formed in 2001 it was a small battalion of 300 combat soldiers, most of whom were women, and the chance that someone would get hurt was small. Today, however, when the army is taking entire already established infantry units and turning them into mixed ones it's disturbing.
The Combat Readiness Department claims that they've now lowered the physical strength and fitness requirements four times in order to enable women to be accepted, and this disturbs me. Because, obviously, if the standards are lowered so that someone will be accepted, this means that the actual operational fitness and capability of the unit goes down," Sagi explained.
According to General Sagi, the great like of equality in the IDF is exposed by this lowering of standards. "What equality is there in the IDF if the female combat soldiers in the mixed units run less, carry less weight, and participate less in long marches."
Israel/ The Coming Middle East War
Israel's new F-35 'Adir' takes to the skies 08/04/16  Israel will need this weapon when the final war with Islam starts.
"On its maiden flight at US manufacturer Lockheed-Martin, Israel's first F-35 Lightning II "Adir" (Hebrew for "Great One") passed all tests, and is due to be delivered in December.
A lighter version of the F-22, the F-35 Lightning II Adir has top-of-the-line stealth technology, highly sensitive sensors of every kind, and fuel-optimizing computer systems to keep it in the air.
Israel was the first country to buy the fighter jet under the US's Foreign Military Sales process. A Letter of Agreement was signed in October 2010."
God's Final Judgment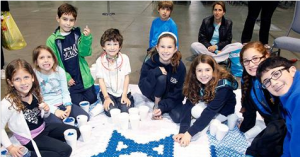 Demographics And Demise: The Future Of Nations  Because many nations are aborting and not having children, they are dying with no hope of recovery.
God's word says that children are a blessing, but the nations kill them by the millions. This results in a curse and judgment from the Lord, and these nations die a slow but sure demographic death. Europe and Japan are good examples of this death.
"A stunning contradiction to everything happening in Europe is found in Israel and demonstrates the power of demographics to change the political reality on the ground, dramatically, in a short period of time. For years the argument of the left has been that if Israel doesn't change its ways it would be 'bred out' of its land as Arab and Palestinian fertility rates were much higher than the Jewish population.
Over the past two decades that has changed dramatically and the Jewish fertility rate is now 3.11 children. Palestinian fertility rates have fallen to 3.7 in the West Bank from 5.6 in 1997, and to 4.5 from 6.9 children in the Gaza Strip, according to the Palestinian statistics bureau.
It is estimated that in the next 5-10 years it could be even, thus eliminating what has been called Israel's demographic time bomb and, in the process, one of the arguments for giving the Palestinians their own state.
"There will be no demographic time bomb," according to Israel's defense minister Avigdor Lieberman. "Birthrates in the Arab and Jewish sectors will continue converging, while we also hope that a considerable part of Jews from Western Europe, and also from North America, will come here." Jewish immigration last year, from countries such as France and Ukraine, was at the highest level since 2003.
Israel's baby boom represents a puzzling exception to the world's demographic trends. Usually, as countries become wealthier and as women become more integrated into the workforce, fertility rates plummet."

Judges 2:18-19  And when the Lord raised them up judges, then the Lord was with the judge, and delivered them out of the hand of their enemies all the days of the judge: for it repented the Lord because of their groanings by reason of them that oppressed them and vexed them. And it came to pass, when the judge was dead, that they returned, and corrupted themselves more than their fathers, in following other gods to serve them, and to bow down unto them; they ceased not from their own doings, nor from their stubborn way.