Car plows into crowd at the 'battle of Charlottesville'
Verse of the Day
Luke 21:9  But when ye shall hear of wars and commotions (civil unrest), be not terrified: for these things must first come to pass; but the end is not by and by.

Commentary
This could be the start of the second America civil war. In this conflict, there is NO side to support. We have the Confederate and Nazi flag people against the Hard Left Communists/anarchists etc! It is like the Nazis fighting the Communists, or Hitler vs Stalin. This is very dangerous because this could widen and suck in the nation as people take sides.
Remember, the Hard Left hates us and will try and link us to the Confederate flag, which merely is an historical artifact, and then they will demonize us for supporting history and conservative values. The next step is violence.We have this internal violence erupting at the same time as an external threat from North Korea is appearing.
May the Holy God of Israel bless and protect you.
Revelation 19:9 And he saith unto me, Write, Blessed are they which are called unto the marriage supper of the Lamb. And he saith unto me, These are the true sayings of God.
Anarchy – Civil War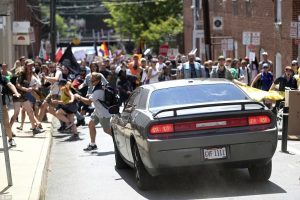 Car plows into crowd at the 'battle of Charlottesville' 08/12/17
From the article: "A car has plowed into protesters as violence continues to erupt at a rally where thousands of white nationalists were expected to gather for an alt-right event in Charlottesville, Virginia, on Saturday.
A counter protester had allegedly thrown a rock at the car, causing the driver to swivel around and ram into people on the sidewalk, before driving away. Local police reported there were multiple injures and three vehicles were involved in the crash.
People are heard screaming and crying in the aftermath of the smash, as blood was splattered on a car's windshield and victims were desperately calling out for medical help.
In addition to the several people hurt in the accident, at least eight people were being treated already for their injures during other destructive clashes between white nationalists and counter-protesters at Emancipation Park before the controversial Unite the Right rally.
First Lady Melania Trump admonished the day's outcome, tweeting: 'Our country encourages freedom of speech, but let's communicate w/o hate in our hearts. No good comes from violence.'
President Trump later chimed in and added: 'We ALL must be united & condemn all that hate stands for. There is no place for this kind of violence in America. Lets come together as one!'
Hundreds were seen stomping through the city, wearing militia uniforms, waving flags and chanting 'Blood and Soil' as they made their way towards the event on Saturday morning.
Counter-protesters flocked to the march in retaliation against the white nationalists, neo-Confederates and alt-right activists, screaming: 'We're here, we're gay, we fight the KKK!'"
Hard Left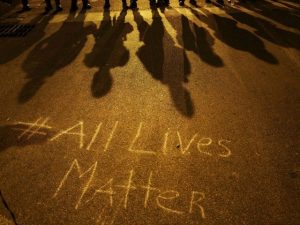 Stanford University Introduces Course on 'Abolishing Whiteness' 08/12/17  This is all part of the Hard Left insanity, trying to destroy the Western culture, and they connect "whiteness" with Christianity, which they hate. I really do believe that the Hard Left wants a race war in America. They are demonizing white males as the cause of all the trouble, not only in America, but throughout the world. This only can go so far until they start acting on it, and then violence will erupt.
I sense the confrontation between white males and the Hard Left is very close. They are bringing the fight to us, and events in America could get very ugly, very fast. In the following verse, "commotions" means civil wars. As we grow closer to the second coming of Jesus Christ, there will be more and more civil unrest. It is very easy to see this happening to America.
"Stanford University will introduce a course this fall which will task students with considering "abolishing whiteness" and the ultimate goal of understanding "what is the future of whiteness," according to the institution's course catalog.
The course, which is entitled "White Identity Politics," will be taught by instructor John Patrick Moran, and analyze the "future of whiteness." For the uninitiated, the concept of "whiteness" refers to the social aspect of race. According to the University of Calgary, "whiteness" is a socially and politically constructed learned behavior built upon the systematic privileges afforded to whites in Western society.
The Stanford course looks to abolish this social concept of "whiteness" through an analysis of what the course description alleges is "the rise of white identity politics in the United States" as a result of the 2016 Presidential election. Stanford Professor Tomás Jiménez explained that "whiteness" refers to "the set of behaviors and outlooks associated with the racial category, white."
Anti-Trump Fanatic Executes GOP Committeeman with Two Bullets to the Head — While His Wife Was Watching 08/12/17  There is virtually no media coverage of this! There is a murdering spirit now in the Hard Left, and it is coming to the surface!
"A West Goshen, Pennsylvania man shot his GOP neighbor twice in the head and killed him late Monday night. Clayton Carter, an unhinged anti-Trump fanatic, shot his neighbor twice in the head on his neighbor's property.
Clayton Carter has anti-Trump signs sprinkled on his lawn. He has a history of arguments with his neighbors.
The victim G. Brooks Jennings was murdered while his wife watched Clayton stand over her husband and shoot him in the head."
Hard Left/ North Korea
Michael Malice: All War Scenarios With North Korea "Hellish" (Video) 08/11/17  This is a great video about the Hard Left and their love of tyrants, plus what is going on with North Korea. The really good information, which starts at about 2 minutes into the video.
"America fought totalitarianism for decades in the guise of Nazi Germany and the Soviet Union. Now, the communistic factions within our own country seem to be advocating for the very ideology that enslaves North Korea and once again threatens nuclear conflict."
Pedophilia
Every Parent's Worst Nightmare: How a Church-Going Child Was Groomed Into a Prostitute 08/11/17  This story has a really good ending. How many monsters are there that abuse children? Does every town have monsters like this? These are hardened sinners, and it is stunning to think that they "function" within our society. If children don't have a strong family with a strong protective father, they are subject to this living hell.
Matthew 18:6  But whoso shall offend one of these little ones which believe in me, it were better for him that a millstone were hanged about his neck, and that he were drowned in the depth of the sea.

"When Darlene unexpectedly became pregnant, the mobster was enraged. "He told me if I didn't have an abortion he would kill me. One of his flunkies was my former pimp who had beaten me up and raped me so I didn't doubt it." He forced Darlene to make the appointment for an abortion in his presence.
As the pressure mounted, Darlene remembered the faith of her childhood, which had been dormant for so many years. "God, if you're real, I need you to help me!" she cried out when she was alone. "I don't know what to do."
That night something unusual happened. She had a vivid, Technicolor dream about the abortion process from the vantage point of the womb.
Jolted by her God-inspired dream, Darlene called a social worker she met when she first lived on the streets. She reached Marilyn Birnie, founder of Friends of the Unborn, who told her she would provide a place of refuge for Darlene—a home for unwed mothers.
Darlene spontaneously devised a plan to flee—using the pretext of a faked abortion. "I pretended to go and have an abortion and after the procedure I pretended to be in pain. I went to the bathroom a lot and cried a lot. I was terrified he would find out, so I was shaking. He believed me and let me go."
She credits Marilyn Birnie with saving her life. "She didn't just save my life, she saved my children's lives and who knows how many generations."
Miscellaneous
Tim Tebow Hugs an Autistic Fan, Then Smashes a Three-Run Homer 08/12/17  Make sure that you watch the video because it is very touching.
Science: Image of the Beast 
Gene Editing Spurs Hope for Transplanting Pig Organs Into Humans 08/11/17  While this seem to be a medical breakthrough, CRISPR technology is being used to change the DNA of all species and it is dangerous, changing what God has created. For more on CRISPR technology, see our blog posts at: Image of the Beast

"In a striking advance that helps open the door to organ transplants from animals, researchers have created gene-edited piglets cleansed of viruses that might cause disease in humans…
Dr. George Church, a geneticist at Harvard who led the experiments, said the first pig-to-human transplants could occur within two years.
The new research combines two great achievements in recent years — gene editing and cloning — and is unfolding quickly. But the work is novel and its course unpredictable, Dr. Klassen noted…
Major religious groups have already weighed in, generally concluding that pig organs are acceptable for lifesaving transplants, noted Dr. Jay Fishman, co-director of the transplant program at Massachusetts General Hospital. Pig heart valves already are routinely transplanted into patients…
Scientists began pursuing the idea of pig organs for transplant in the 1990s. But in 1998, Dr. Fishman and his colleagues discovered that hidden in pig DNA were genes for viruses that resembled those causing leukemia in monkeys.
When researchers grew pig cells next to human embryonic kidney cells in the laboratory, these viruses — known as retroviruses — spread to the human cells. Once infected, the human cells were able to infect other human cells.
Fears that pig organs would infect humans with bizarre retroviruses brought the research to a halt. But it was never clear how great this threat really was, and as years have gone by, many experts, including Dr. Fishman, have become less concerned…
In any event, said Dr. A. Joseph Tector, pig retroviruses are very sensitive to the drugs used to treat H.I.V…
Researchers soon discovered that pig organs are covered with carbohydrate molecules that mark the organs for immediate destruction by human antibodies…"

Science: 666 Surveillance System

'Mark of the beast?' Microchipping employees raises apocalyptic questions 08/12/17The 666 System is coming very fast and can't be stopped. The chips are now voluntary and shortly will be mandatory.

"The apocalyptic "mark of the beast" prophecy in the Bible makes some wary of a Wisconsin company's recent decision to embed microchips into the hands of willing employees.
The end times account in the New Testament's Book of Revelation warns believers about being marked on the right hand and the forehead by the Antichrist.
But inserting rice-sized microchips under the skin of Three Square Market employees does not fulfill the prophecy, said Chris Vlachos, a New Testament professor at Wheaton College in Chicago.
"I think that this is more of a fulfillment of end times novels and movies than the Book of Revelation itself," Vlachos said."

Earthquakes and Volcanoes

Earthquake hits Mono Lake Supervolcano in California as expected 08/12/17This is from Dutchsinse. He has been reporting that there is tremendous buildup off pressure in the Northwest along the Cascasdia Subduction Zone. He also is warning of earthquakes in the Midwest.

Jeremiah 22:3  Thus saith the Lord; Execute ye judgment and righteousness, and deliver the spoiled out of the hand of the oppressor: and do no wrong, do no violence to the stranger, the fatherless, nor the widow, neither shed innocent blood in this place.