Congress baseball gunman was a Trump-hating Bernie supporter: Hero cops kill white Illinois man, 66, who opened fire on Republican lawmakers with an assault rifle
                    Verse of the Day
 Hosea 4:1-3  Hear the word of the LORD, ye children of Israel: for the LORD hath a controversy with the inhabitants of the land, because there is no truth, nor mercy, nor knowledge of God in the land. (2) By swearing, and lying, and killing, and stealing, and committing adultery, they break out, and blood toucheth blood. (3) Therefore shall the land mourn, and every one that dwelleth therein shall languish, with the beasts of the field, and with the fowls of heaven; yea, the fishes of the sea also shall be taken away.
Commentary
I have called my Federal Representatives several times and warned them that the Hard Left rhetoric is leading towards violence and civil war.
Today, it is just like 1860 when the Democrats started the Civil War and tried to destroy America. The issue was slavery. Now 160 years later, the Democrats once again are leading the nation into a civil war. This assassination and wounding of 5 people, including a Congressman, could be the initial shots of the second civil war.
After the Civil War the nation could come back together because we were unified under God. This time there is no unity, and I can see this degenerating into a horrific bloodbath, not being fought by armies but mostly by armed civilians. What I warned about is now here. You must implore the Lord if there is to be any hope.
May the Holy God of Israel bless and protect you.
2 Corinthians 3:17 Now the Lord is that Spirit: and where the Spirit of the Lord is, there is liberty.
Hard Left/Anarchy – Civil War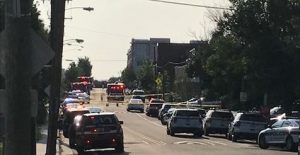 Lawmaker Steve Scalise injured in GOP baseball shooting; suspect James T. Hodgkinson dies after shootout 06/14/17
"A gunman unleashed a barrage of gunfire Wednesday at a park in Alexandria, Va., as Republican members of Congress held a morning baseball practice, wounding five people, including House Majority Whip Steve Scalise (La.).
President Trump said the suspected gunman — identified by multiple law enforcement officials as James T. Hodgkinson III, 66, from Illinois — was killed in a shootout with police, two of whom were wounded in the gun battle.
The wounded also include a congressional aide and a lobbyist.
As people offered prayers for the victims, a profile began to emerge of Hodgkinson, a onetime home inspector. A Facebook page belonging to a person with the same name includes pictures of Democratic presidential candidate Bernie Sanders and rhetoric against President Trump including a post that reads: "Trump is a Traitor. Trump Has Destroyed Our Democracy. It's Time to Destroy Trump & Co."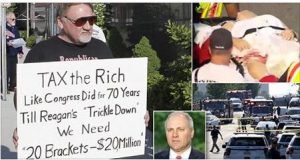 Congress baseball gunman was a Trump-hating Bernie supporter: Hero cops kill white Illinois man, 66, who opened fire on Republican lawmakers with an assault rifle, leaving five injured 06/14/17  The shooter is dead, and he was a big Bernie Sanders supporter. It looks like he believed all of Sanders' rhetoric and acted on it. How many more are just like him and ready to act because of the lies put out by the Democrats? This is very good article.
"James T. Hodgkinson from Belleville, Illinois, died in hospital after being shot at the baseball field by Capitol Police
The 66-year-old was a staunch Democrat who threatened to 'destroy Trump & Co' on social media before Wednesday's shooting but was not on the secret service's radar
Hodgkingson campaigned for Bernie Sanders to win the Democratic nomination in 2016 and regularly ranted against the president
He opened fire on a group of GOP figures at Eugene Simpson Stadium Park in Alexandria, Virginia, at 7am
House Majority Whip Steve Scalise, congressional staffer Zachary Barth, lobbyist Matt Mika and two Capitol Police were shot
The police officers were injured as they returned fire with their pistols while the congressmen and their aides dove for cover
They were practicing ahead of an annual charity baseball game which is due to take place on Thursday."

Genesis 6:11  The earth also was corrupt before God, and the earth was filled with violence.