Criminologist Blames The Bible And Rush Limbaugh For This Growing Problem: 'Fundamentalist' Christianity is to blame for crime in America – because the Bible teaches violence and vengeance
         Verse of the Day
1John 3:13 Marvel not, my brethren, if the world hate you.
Commentary
There is a very important article I posted regarding an attack on the Bible and those who believe it. Please make sure that you read it, as the media is promoting itinternationally.
I posted many articles about the coming of World War 3. It seems that all major nations are preparing for war. This includes the Middle East, Europe and Asia. There is ALWAYS  a lead in to a war, and right now God is telegraphing what is coming. To those with spiritual eyes, we can see that this is heading towards the fulfillment of end time prophecy and the Second Coming of Jesus Christ with His bride.
Stay close to the Lord as the war is going to turn the world upside down; however, also it is going to be a marvelous time to witness for God. Stay in prayer and never lose focus on the coming the Groom for His bride,
May the Holy God of Israel bless and protect you.
1John 3:1 Behold, what manner of love the Father hath bestowed upon us, that we should be called the sons of God: therefore the world knoweth us not, because it knew him not. (2) Beloved, now are we the sons of God, and it doth not yet appear what we shall be: but we know that, when he shall appear, we shall be like him; for we shall see him as he is.
Hard Left
Criminologist Blames The Bible And Rush Limbaugh For This Growing Problem: 'Fundamentalist' Christianity is to blame for crime in America – because the Bible teaches violence and vengeance  I'm posting this because you might think she is just a kook, but this is the thinking of the Hard Left mind. Many of them will act on this thinking to marginalize and try to demonize us. These are dangerous people who defend the Koran at ALL cost and yet demonize us at every turn. They are really one at their roots with Islam and all that hate the true and living God.
Their hatred toward us will get worse and worse, as their hatred toward God is growing by the day. Remember, always remember, that the Hard Left reprobates hate us as much as the Nazis did the Jews. The reprobates will act on this hatred, if they get the power, just like the Nazis did. Please, do not take this lightly because these people are serious.
"Criminology professor uses new book to claim evangelicals are fueling crime and violence in the US Christian Right think America is 'modern day Sodom and Gomorrah' and prefer vengeance to forgiveness, claims Elicka Peterson Sparks

Singles out Rush Limbaugh for wielding disproportionate influence in American public life

Claims typical Christian fundamentalist uses religion to feel self-righteous and employs double standards in their thinking and judgment"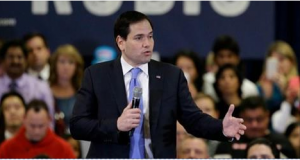 Marco Rubio: It Is 'Wrong' And 'Immoral' To Ban Muslim-Americans From Gun Ranges  At this point, I have little to say about the campaign. What I want to show you is how skewed Washington is about Islam, and how they always run to defend it.
With this article, I want you to see that the Muslim who is involved is a member of CAIR, which has been designated as a terrorist organization by Arab nations!!! Yes, terrorist, and yet Rubio runs to defend this Muslim. The organization also was listed as a conspirator in a huge federal case about laundering money to terrorist groups! The big question is, what a CAIR member doing in the US army? The gun shop had every right to block this Muslim from buying guns and shooting at the range.
"The story you just told me is wrong. It's immoral. We should not be doing that to people," Rubio said. "The bottom line is there are millions of patriotic Muslim Americans."
A lawsuit against the gun range was filed by 29-year-old Raja'ee Fatihah, a board member of the Oklahoma chapter of the Muslim Council on American-Islamic Relations. The gun range owner argues that Fatihah was denied service because he was "belligerent" and that the "Muslim free" signage in his business was protected by free speech.
Rubio told the audience that patriotic Muslims had died defending the country in the Armed forces, separating them from the dangerous radical Islamists that were threatening America."
'Lawless and godless': Bestselling author exposes left's 'madness'  This is a truly great article showing what happened to Americans since the nation rejected God and began promoting the Hard Left reprobate agenda. He is wrong to blame the reprobates, as the true "villain" is the pitiful weak church and preachers in the pulpits. The reprobates are just filling the void left by God's Spirit as He departs from the nation. The real answer is the Church on its knees, crying out to the Lord for an outpouring of the Holy Spirit.
Acts 2:16-21 But this is that which was spoken by the prophet Joel; And it shall come to pass in the last days, saith God, I will pour out of my Spirit upon all flesh: and your sons and your daughters shall prophesy, and your young men shall see visions, and your old men shall dream dreams: And on my servants and on my handmaidens I will pour out in those days of my Spirit; and they shall prophesy: And I will shew wonders in heaven above, and signs in the earth beneath; blood, and fire, and vapour of smoke: The sun shall be turned into darkness, and the moon into blood, before that great and notable day of the Lord come: And it shall come to pass, that whosoever shall call on the name of the Lord shall be saved.
I pray online every Tuesday and Thursday for an outpouring of the Holy Spirit. Why not join us?
"The stats he cites are stunning: More than 130 million Americans dependent on mind-altering substances just to get through life, 1 in 4 middle-aged women taking antidepressants, 1 in ten girls engaged in "cutting," and 110 million Americans with sexually transmitted diseases.

"If you look at all the numbers, you say, 'My God, it looks like all the grownups are addicted,'" Kupelian said during a live, in-studio interview this week on theDove TV. "They have so much conflict and pain that they are trying to deaden that pain any way they know."

So what's at the core of Americans' skyrocketing personal disintegration – including the widely reported upsurge in white middle class suicide and heroin and opioid addiction? Kupelian, the bestselling author of several influential books including the recently released blockbuster, "The Snapping of the American Mind: Healing a Nation Broken by a Lawless Government and Godless Culture," blames the political and cultural left.

He summed up his thesis to host Perry Atkinson this way:

"You cannot teach, as the left does, the next generation that there is no God, that there are no values, there's no right or wrong, that you can have sex with anything that moves, there's no morality, that America is a horrible country, and on and on – you can't do that to people without incurring these consequences," he said.
Accordinge American Foundation for Suicide Prevention, roughly 42,000 Americans die by suicide each year.

That makes the annual suicide rate nearly 13 per 100,000 individuals. The AFSP also estimates that for every successful suicide, there are 25 suicide attempts."
The Road to World War 3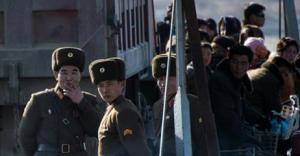 North Korea Threatens 'U.S. Mainland' in Response to Largest-Ever Joint Drill on Border  NK has used rhetoric like this before, but this time they just fired off a nuke and launched an ICBM. If they can fit a nuke on top of an ICBM and launch it against the US, I am 100 percent positive that NK will do it. There is no doubt in my mind. Keep in mind that the NK is a surrogate of China. It is possible that as the time for war arrives China will use NK nuclear weapons against the US.

"Our primary target is the Chongwadae [the residence and office of South Korea's president], the centre for hatching plots for confrontation with the fellow countrymen in the north, and reactionary ruling machines," the statement read. "The U.S. imperialist aggressor forces' bases for invading the DPRK in the Asia-Pacific region and the U.S. mainland are its second striking target," it adds.

"The U.S. is fated to be punished and perish in the flames due to the DPRK's deadly strikes," the statement concludes.

The North Korean government has been threatening to "destroy" the United States with greater frequency this year, following the claim in mid-January that the North Korean military had detonated a hydrogen bomb (most experts believe this to be a lie, and the weapon in question to have been a much weaker hybrid atomic weapon than a hydrogen bomb). After the announcement of that detonation, KCNA published a report claiming that North Korea's nuclear scientists were eager to "wipe out the entire United States with H-bombs," celebrating the bomb test as a victory against "imperialism."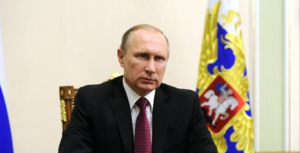 PUTIN AMASSES TROOPS NEAR TURKISH BORDER: PUTIN'S NEWEST SATELLITE STATE  Putin continues building for and now it positing his army on Turkey's north east border with Russia. He is pouring his army into Armenia which actually borders on Russia. A war between Turkey and Russia is rapidly building
"We ignore this threat at our peril. And in international diplomacy, geography is everything. Armenia borders three critical U.S. allies: Georgia, Azerbaijan and Turkey. Russian forces currently occupy Georgian territory. Azerbaijan steadfastly resists intimidation from Moscow and is the linchpin in our efforts to wean Europe from dependence on Russian energy supplies.

Make no mistake: The Russian military presence in Armenia represents a dagger pointed at the heart of NATO as the Armenia-Russian alliance strengthens. But while Moscow is rattling its sabers, Washington remains silent.

Last August, The Moscow Times reported that President Putin told Turkey's Ambassador to Moscow to "tell your dictator President he can go to hell along with his ISIS terrorists and I shall make Syria to nothing but a 'Big Stalingrad.'" Histrionics aside, the intent is clear. Russia views Turkey as a hostile state and it will not back down.

The picture that has emerged is unsettling: Armenia is enabling a bad actor, while Russia is using it to threaten our vital interests. America's leaders must negotiate from a position of strength. Instead, we are acquiescing to Putin's naked show of force. The history of the 20th century shows us that this will not end well."
EU's Mogherini: War between Russia and Turkey could be on the horizon  
"EU foreign policy chief Federica Mogherini on Tuesday warned against the risk of "hot war" between Russia and Turkey in the Middle East.

"We are always referring to Syria as a proxy war among regional actors. This risks to become something bigger than this. I'm not thinking of a cold war. No, we risk a hot war among different actors than the one we always think of. Not necessarily Russia and the United States, but Russia and Turkey, could be. And, as Europeans, we have a clear interest in trying to contain and scale down the tensions," Mogherini said during a debate at the European Parliament's Foreign Affairs Committee.

"Mogherini's comments came despite the United States and Russia announcing plans for a cessation of hostilities in Syria, excluding Islamic State and Nusra Front militants, that would take effect starting on Saturday."
World War 3 Could Very Easily Turn Into The Very First Nuclear War In The Middle East  The question is does Saudi Arabia have nuclear weapons. There are unconfirmed reports and possible disinformation which claims that they do. If they do have nuclear weapons, it takes the situation in Syria to a new level of danger. I believe that the Saudis would use these weapons to stop Iran. Russia is in Syria and what happens if nuclear weapons are used?
"Saudi Arabia already has nukes, Iran probably does, and the Russians are one of the two great nuclear powers on the entire planet. So if Saudi Arabia, Turkey and their Sunni allies do decide to conduct a full-blown ground invasion of Syria, could someone ultimately decide to use nuclear weapons when their backs get pushed up against a wall?

As you read this article, there are thousands of military vehicles and hundreds of thousands of troops massed along the southern border of Turkey and the northern border of Saudi Arabia. If the command is given and those forces start streaming toward Damascus, it is inevitable that the Syrians, the Iranians, Hezbollah and the Russians would fight back. It would literally be the start of World War 3, and the Saudis and the Turks are trying very hard to convince the United States to be involved.

But the truth is that we don't want any part of this conflict, because it could very easily become the very first nuclear war in the history of the Middle East.

Perhaps you didn't know that the Saudis already have nukes. Of course the official position is that they don't, but it is a fact that they were the ones that funded the development of Pakistan's nuclear program. It is an open secret that the Saudis have the bomb, but nobody is really supposed to talk about it."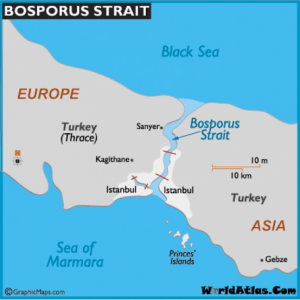 URGENT: Turkey to CLOSE THE BOSPORUS STRAIT to all Russian Military Vessels!  If Turkey closes the Bosporus Strait this will start WW3 as Russia will attack Turkey. What a mess this is and how fast it is coming. If you read the article you will see that it is speculation.

"Turkey intends to CLOSE the Bosporus Strait to Russian Naval Vessels, sealing them in (or out) of the Black Sea, claiming Russia is aiding "Kurd Terrorists" in Syria.

"Russia strengthens and supports PYD organization of Syria, (Kurds) which Ankara considers to be terrorists, and also responsible for the recent car Bombing in the Turkish Captial which left 28 dead.

According to the pro-government Turkish daily "Sabah" Turkey complained that Russia, with its warships passing through the Straits toward the eastern Mediterranean, are carrying weapons and ammunition to supply the Kurds for "terrorist operations."

For this reason, Turkey says, it has the right to close the strait to the Russian Fleet.

In the past, Russia has publicly and specifically stated "Closing the Turkey Strait would automatically mean war."
Some are speculating that Turkish President Erdogan is simply bluffing, but others think he should be committed into a "madhouse" because his actions will destroy Turkey."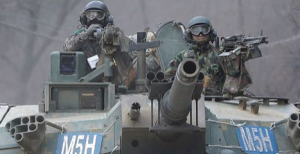 Largest ever US-South Korea military drill planned as a 'warning to Pyongyang'  More tension for a spot that could trigger a huge war. What will Kim Jong-un do in response? I believe that China will use NK as a surrogate for war against the United States.
"The joint US-South Korean exercises scheduled for March will be largest military drills ever staged on the Korean Peninsula and are both a warning to Pyongyang and an effort to reassure the jittery public in the South.

The parallel Key Resolve and Foal Eagle exercises are scheduled to commence on March 7, with the field-training exercises that make up Foal Eagle lasting until April 30. The drills will involve 15,000 US troops, twice the number of previous years, and will serve to demonstrate Washington's firepower.

The US will deploy a combat aviation brigade to South Korea for the duration of the manoeuvres, as well as a mobile US Marine brigade, an aircraft carrier and its attendant fleet, a nuclear-powered submarine and aeriel tankers to refuel fighter aircraft."
 As America Has Done to Israel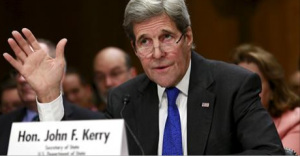 After terror attack, Kerry blames 'settlement construction  This is from the same man who made the "deal" with Iran! I just can't wait until he is voted out of office. He was a traitor to the US in Vietnam and still is a traitor at heart.
"Just hours after a terror attack in Gush Etzion which left 30-year-old air force reserve captain Eliyav Gelman dead, US Secretary of State John Kerry responded by condemning Israeli housing projects in Judea and Samaria.

While speaking to a congressional subcommittee hearing on the State Department's budget request, Kerry answered questions about Wednesday's attack and the ongoing terror wave inside Israel.

"I don't think that the situation is helped by additional settlement construction and building," he remarked.

"I think that I know we need to see measures taken on both sides to indicate a readiness and willingness to try to proceed forward and reduce the violence," Kerry added."
Should Israel join forces with Saudi Arabia's Arab coalition  If you know the history of the Middle East, this is an amazing article! Israel is thinking of joining a Sunni coalition against Iran! Israel's main enemy right now is Iran as the same with the Sunni, so it possible that both might join forces in this battle.
"Speaking to Arutz Sheva from the Knesset, Kara said facing down Iran and its ever-expanding army of terrorist proxies requires Israel to cooperate with those among its neighbors who feel equally threatened. Strategic alliances, he emphasized repeatedly, are the essence of Middle Eastern realpolitik.

Whoever views Iran as their enemy "is a friend of ours," said Kara. "They don't need to be Jewish," he added, pointing towards the Saudi-led Sunni Arab coalition as an important potentially ally with whom he is currently pushing the Israeli government to engage with.

Kara also stressed that Iran's ambitions stretch far beyond the Middle East. "Iran is not dangerous just for this region" but for the entire world, he stated, noting the Islamic Republics support of global terrorism and its openly-stated goal of establishing an international Shia Islamic Empire.
"They will continue to Europe," he warned of the Iranian regime. "They think that the solution for the world is Islamization."
As Venezuela Has Done to Israel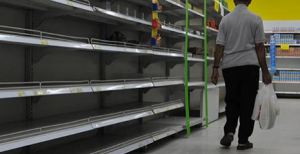 Widespread starvation, food scarcity in Venezuela, inevitable result of socialist economic policies which end in price controls, scarcity and mass famine  Venezuela and Brazil are the two leading South American countries that come against Israel and promoted the dividing of the land. Look at the state of both of them but especially Venezuela as the people are heading in starvation and a total economic collapse!
"Self-avowed socialist, Sen. Bernie Sanders, who is beginning to close in on Hillary Clinton for the Democratic Party's presidential nomination, no doubt has the country's best interests at heart, but we simply wish he was more educated on the effects of socialist policies on vitally important issues like commerce and the laws of economics.

Why? Because if he becomes president, and his socialist economic policies get adopted, the country just might starve to death.

No, really, that's not hyperbole. Because socialism is starving people around the world, and nowhere is that more obvious and pronounced than in Venezuela, the oil-rich South American nation that is now suffering a double whammy: socialism and falling oil prices.

But rather than changing policy, Venezuelan President Nicolas Maduro is trying to change fate. In recent days he ordered gasoline prices raised for the first time in 20 years, and has devalued the nation's currency in an attempt to raise revenue."
Radical Canadian Imam: 'Rome Will Be Conquered  This is not radical Islam as this is REAL Islam.
When will people in West lean what real Islam is! The goal Islam through the ages was to conquer Rome, as they believed it was the center of idolatry. This belief of Islam is once again coming to the surface for all to see.
It is so shocking to me that the Pope was to get in bed with Islam and yet real Islam states it wants Rome.
"A radical Canadian imam called for Muslims to "look forward" as "Rome will be conquered," in a Friday sermon posted on the Internet on Feb. 16 and translated by the Middle East Monitoring Research Institute (MEMRI).
"The prophecies of the Prophet Muhammad came true. But some prophecies have not come true yet. Look forward to it, because the Prophet Muhammad said that Rome would be conquered! It will be conquered," preached Imam Shaban Sherif Mady.

Mady, based in Edmonton, also spoke of restoring the "rightly-guided" Islamic Caliphate.
His reference to conquering Rome mirrors a similar call by Islamic State leader Abu Bakr al-Baghdadi.
"This is my advice to you. If you hold to it you will conquer Rome and own the world, if Allah wills," Baghdadi preached in an attempt to garner more recruits to ISIS."
Financial Armageddon
Governments of the World are Coming for Your Cash  The banks and governments are serious about controlling ALL finances. These negative rates are going to radically change the use of cash as the means of banking.  Many weak and smaller banks are going to disappear in what is coming. No one is this stupid, as this is the planned destruction of the system. It is here now and coming fast.
"Large denomination physical cash is going to be outlawed if central bankers have their way. The push toward a fully digitized monetary system─where every transaction will be recorded, scrutinized, controlled, and taxed─is being sold to the public as some miracle elixir to cure the world of criminal behavior.

It can be argued that up until a few years ago there were still ways to exist off the grid and operate outside the monetary system, but the implementation of negative interest rates has now virtually assured that cash, as we know it, is on its last leg.

You can have cash or you can have negative interest rates, but you can't have both. If negative interest rates are further reduced, what could be described as slow motion bank runs will likely ensue. The common man, seeing his hard earned savings robbed with each declining monthly bank statement, will finally awaken from complacency and begin actively withdrawing their money in physical form, thereby endangering the very foundation of fractional reserve finance.

Banks can't exist without deposits. Keeping money in a mattress is preferable to being financially bled to death with negative rates. Central bankers are well aware of this and are already prepositioning policies and taking steps to prevent the coming exodus. Outlawing large denominational physical cash and large cash transactions will be used to financially imprison the public while the negative interest rates simultaneously pick their pocket."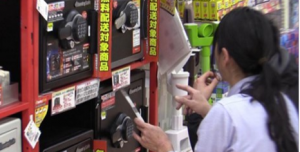 Safes Sell Out In Japan, 1,000 Franc Note Demand Soars As NIRP Triggers Cash Hoarding  As the interest rates go negative, people are taking their money out of the banks and hiding it in safes! So what is happening is the equity in the banks diminish and the bank weakens, what this will do is crush the smaller and weaker banks and concentrate power into the hands of few bankers: thus it is much easier to control the people.
"Negative rates may not have found their way to bank deposits in most locales (yet), but that doesn't mean the public isn't starting to see the writing on the wall.

At first, NIRP was an anomaly. An obscure policy tool that most analysts and market watchers assumed would be implemented on a temporary basis in a kind of "let's see if this is even possible" experiment with an idea that, from a common sense perspective, makes no sense.

But then a funny thing happened. Central banks from Denmark to Sweden to Switzerland went negative and stayed there. They even doubled down, taking rates even more negative and before you knew it, the public started to catch on.

When NIRP failed to resuscitate global growth and trade, the cash ban calls began. The thinking is simple (if crazy): if you do away with physical banknotes, the effective lower bound is thereby eliminated. You can make rates as negative as you like because the public has no recourse as people aren't able to push back by eschewing their bank accounts the mattress.

If that seems far-fetched, consider that the ECB is seriously considering pulling the €500 euro note and the calls are growing louder for the Fed to drop the $100 bill. Of course officials are pitching the big bill bans as an attempt to fight crime – because only a criminal would pay with a $100.

But the underlying push is for a cashless society wherein monetary authorities can effectively force citizens to spend and thereby boost the economy by simply making interest rates deeply negative.

Now that the cash ban calls have gotten sufficiently loud to be heard by the generally clueless masses and now that the likes of Jose Canseco are shouting about negative rates, savers are beginning to pull their money out of the banks.

"Look no further than Japan's hardware stores for a worrying new sign that consumers are hoarding cash–the opposite of what the Bank of Japan had hoped when it recently introduced negative interest rates," WSJ wrote this morning. "Signs are emerging of higher demand for safes—a place where the interest rate on cash is always zero, no matter what the central bank does."
1Thess 5:23 And the very God of peace sanctify you wholly; and I pray God your whole spirit and soul and body be preserved blameless unto the coming of our Lord Jesus Christ.