DNC head laments 'the pulpit,' religious messages that sour voters on Democrats
Verse of the Day
Matthew 16:18 And I say also unto thee, That thou art Peter, and upon this rock I will build my church; and the gates of hell shall not prevail against it.
Commentary
The Dems can't penetrate real Christians because we know what is energizing them: hell! They have figured out what is the source of their major obstacle in America which is the true believers in the Lord and his word. The next step is how to break us.
Remember, these are ruthless people, and we are in a fight to the finish with them. They are taking the fight to us. This is not mere politics but spiritual warfare.

Looking for the Blessed Hope:
Jude 1:14 And Enoch also, the seventh from Adam, prophesied of these, saying, Behold, the Lord cometh with ten thousands of his saints,
Hard Left vs Real Church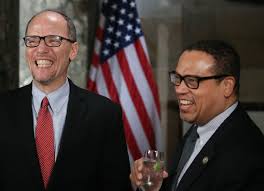 "DNC head laments 'the pulpit,' religious messages that sour voters on Democrats"
"Democratic National Committee Chairman Tom Perez told a room of progressives this week that political momentum is undermined by religious leaders standing at "the pulpit" on Sunday.

Attendees at Wednesday's Demand Justice's "The Court In Crisis: What's Next For Progressives After Kavanaugh" Summit were told by Mr. Perez that they need to address the "pulpit" problem to better "penetrate" the American electorate.

"We need to build a bigger orchestra," Mr. Perez said. "They've had a big orchestra for some time and they've got the megaphones to amplify it, whether it's Sinclair at a local level or Fox at a national level. I've learned this from the outreach we've done at the DNC.

'Why aren't we penetrating?' I ask And I had someone in Northwestern Wisconsin tell me, 'you know what, for most of the people I know, their principal sources of information are Fox News, their NRA newsletter, and the pulpit on Sunday.'"
Iran vs the God of Israel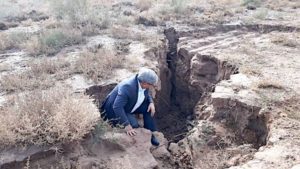 "Swallowed up: Iran facing divine retribution?" This is a very interesting article showing the destruction of Iran. Huge sections of this nation's land is sinking and cracking so it is no longer useful!
Remember, Iran now is Israel's number one enemy and the nation is being systematically being destroyed!
"Iran's capital of Tehran, a city of 13 million people, is sinking – fast. That's the assessment of geo-scientists Mahdi Motagh and Mahmud Haghshenas Haghighi of the German Research Centre in Potsdam who used satellite data images to monitor subsidence across the region between 20013 and 1017 that show the land sinking radically due to depletion of groundwater aquifers, shows a recent report in Nature.com.

But, given the radical Shiite regime's regular threats against Israel, some rabbis see the possibility of divine retribution – reminding them of the biblical challenge to Moses in Numbers 16 by Korah, who was swallowed up by the earth along with his followers.

The collapse is spreading now to encompass the city's airport by up to 10 inches a year. But an impending catastrophe is much more widespread across the entire western Tehran Plain including the urban area, satellite cities and the southwest Varamin Plain, an agricultural area that supports it."
Israel vs Hezbollah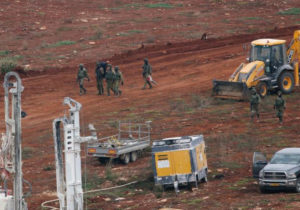 "Israel fired warning shots across its northern border" The article is an update on what is happening with Hezbollah and the tunnels.
"The IDF fired warning shots across its tense Lebanese border to halt an attempted infiltration as it continued to publish information on a third Hezbollah attack tunnel.

"As part of that Hezbollah is building terror tunnels under Israel's territory. We've known that for several years, and a few days ago we tore the mask off, uncovered the first stone, and we're going to uncover the rest, and basically deprive Iran of this weapon of aggression," Netanyahu said.

After the IDF published information on a third tunnel, the location of which has not yet been made known, Netanyahu lauded their work on Saturday night.

"The IDF and the security establishment are continuing to operate in the north with great success. They are systematically and decisively eliminating Hezbollah's tunnels weapon." Netanyahu said."
Trump vs Islam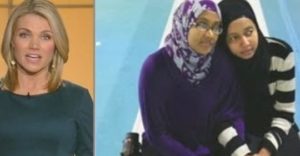 "Trump nominates Anti-Sharia ex-TV host Nauert as next UN ambassador – Muslims are outraged and cry "Islamophobia" If the Muslims are against her, then she is a good choice for the UN!
"President Donald Trump has selected former Fox News talent, and current State Department spokeswoman, Heather Nauert to replace Nikki Haley as Ambassador to the United Nations.
Muslims Oppose The Nomination Over "Islamophobia Concern"

The largest Muslim civil rights and advocacy organization, called on the Trump administration to withdraw its nomination of Heather Nauert for the position of U.N. ambassador, saying she is "Islamophobic.".
In 2013, she criticized special swim classes for a group of Somali-Muslim girls, describing the classes as the "minority becoming the majority at one community pool. Sharia law is now changing everything."
Without Prayer it Can't be Held Back Much Longer!
Isaiah 9:6 For unto us a child is born, unto us a son is given: and the government shall be upon his shoulder: and his name shall be called Wonderful, Counsellor, The mighty God, The everlasting Father, The Prince of Peace.
Isaiah 9:7 Of the increase of his government and peace there shall be no end, upon the throne of David, and upon his kingdom, to order it, and to establish it with judgment and with justice from henceforth even for ever. The zeal of the LORD of hosts will perform this.
Abba Father's International Fellowship: Report 8 Souls Saved

We received this email and picture from Pastor N this week after having received the Prophecy Packet.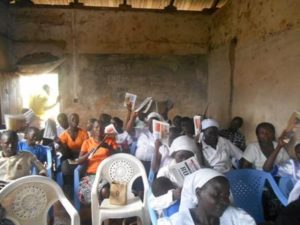 Dear Pastor Dave & Chaplain John,
Mighty greetings to you in Jesus Mighty name.  We are doing good in   the Lord and we thank God for giving us the opportunity to serve
him.We appreciate your prayers and we pray that the Lord will always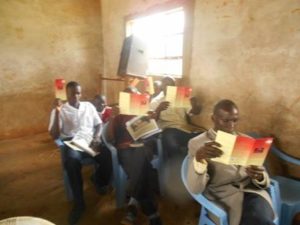 give you the strength to move on and on. We traveled to Jua kali last  weekend . We were invited by Pastor Norah reach and    share
the word of God. We were with him in Kisii when i was invited  with Pastor Okobo's. He heard me when i was preaching and teaching the word of God about the end time  and was touched which inspired him to invite me to his church to preach the same word of God and also to distribute  the newsletters, when he invited me on Saturday , the holy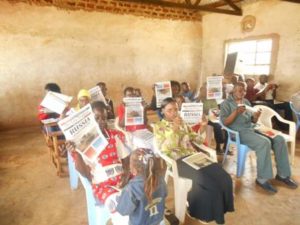 spirit led me to speak that Jesus came to heal the broken hearts.
We read the book of Luke 4:18. I decided to give the newsletters so that people can follow how i am teaching. Many people were touched with the teachings that God gave Pst. John McTernan.
People were really blessed, we had some young using drugs and they decided to give    their lives to Jesus. they were around 8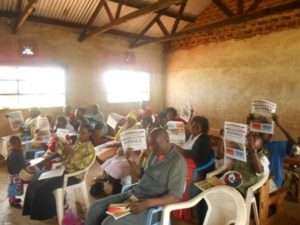 people really appreciated and were very happy for them.
The newsletters have been very When i    had departed from the place, one woman gave me a call and she said that she was really blessed with that message. These newsletters has been helpful in terms of
spiritual growth. Christians are very much lightened and many are giving their lives to Christ after reading this newsletters, many don't want to be left out in the journey to heaven in this last days. Keep up the good work of the Lord and the Lord will truly continue blessing you in Jesus Mighty name. I distributed the newsletters though they remained in excess for people were not many. I decided to carry the rest. I have receive a call from my best friend Pastor
who is serving in Likuyani Life line church. They want me to go there minister and distribute newsletters on Saturday this week 
God bless you for  keeping in touch and for your networking  and for your support. May
our Heavenly father bless you so much and expand your territories.
Extend my greetings to your    entire team. I love the work you are
doing.
Your brother because of Jesus Christ, Pastor. N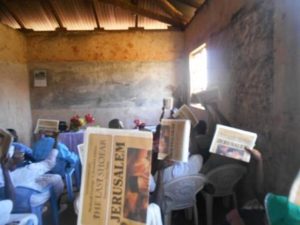 Revelation 22:20 He which testifieth these things saith, Surely I come quickly. Amen. Even so, come, Lord Jesus.
If you like our ministry, please consider making a donation to keep us going. May the Holy God of Israel bless you!