Facebook Takes Down Christian Group's Page, Calls Abortion Opposition "Hateful and Threatening
Verse of the Day
John 15:18 If the world hate you, ye know that it hated me before it hated you.
Commentary
You can see how totalitarianism these people are. As I often have said, they loathe us, for we are lined up with God and righteousness: therefore, we are their enemies. They feel compelled to silence us. Right now we have protection because of President Trump and there is a little life left in the courts, but not much. There is very little stopping the Hard Left from moving to crush us in every way. We do have the Lord, and if we cry out to him there is hope to the end. The big issue is, If we cry out to him.
May the Holy God of Israel bless and protect you.
1 John 3:13 Marvel not, my brethren, if the world hate you.
America's Delusion/ ProLife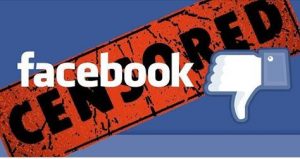 Facebook Takes Down Christian Group's Page, Calls Abortion Opposition "Hateful and Threatening 01/12/18
Proverbs 29:10  The bloodthirsty hate the upright: but the just seek his soul.

"Facebook is facing more censorship and bias allegations from a Christian group that opposes abortion.
The West Virginia-based ministry Warriors for Christ repeatedly has had its Facebook pages removed by the social media giant, according to the Christian Post. Its main page, which has more than 225,000 followers, was removed again last week, allegedly for "hateful, threatening or obscene" content.
Ministry leader Pastor Rich Penkoski told the Post that they missed out on vital opportunities to help people as a result.
"When Facebook pulled our page [for the first time], we were actually counseling with a young woman who was suicidal," Penkoski said.
The biggest issue seems to be the ministry's stance on homosexuality, Penkoski said. However, they also stand strong for unborn babies' rights and sexual purity, he said.
"We talk about abortion. We talk about adultery. We talk about fornication. Nobody ever talks about that stuff," he said."
Apostate Christianity/ Homosexuality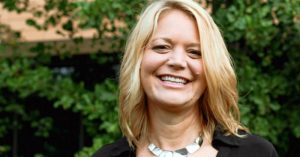 Evangelical Chaplain's Suspension Intensifies Denomination's Gay Marriage Debate 01/12/18  It seems that all of the denominations have apostates in their ranks. God is trying the hearts to reveal who is genuine and who is an apostate. One cutting edge issue is homosexuality. This issue is being used by the Lord to see who is a real believer and who is a "tare among the wheat"! Right now there are lots of tares who a manifesting themselves.
1 John 2:19  They went out from us, but they were not of us; for if they had been of us, they would no doubt have continued with us: but they went out, that they might be made manifest that they were not all of us.

"The suspension of a popular evangelical university chaplain has highlighted tensions over same-sex marriage in a growing Protestant denomination that forbids it but also takes pride in its willingness to allow congregants to hold opinions contrary to church doctrine.
The Rev. Judy Peterson, ordained in the Evangelical Covenant Church and pastor at its flagship North Park University in Chicago, presided at the wedding of two men in April. That act resulted in her suspension and then a petition drive calling on ECC leaders to place a moratorium on their guidelines forbidding clergy to officiate at same-sex weddings. The petition had more than 4,270 signatures as of Thursday (Jan. 11)."
Christianity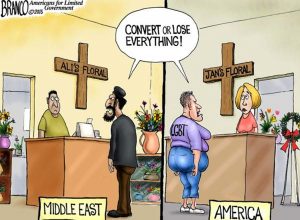 Why Professing Christ Is Becoming a 'Hate Crime' in the West 01/12/18  This is a fantastic article which I highly recommend that you read. After reading this article, you will clearly understand why the Hard Left has such a love affair with Islam.
Zechariah 14:9  And the LORD shall be king over all the earth: in that day shall there be one LORD, and his name one.

"The answer is evident in the words of an ancient strategy: "The enemy of my enemy is my friend." The Western elements that are forever protecting and empowering Islam, and which operate under various names—"Liberals," "Leftists," "Marxists," "Progressives," "Social Justice Warriors," etc.—ultimately care little about Islam; rather, Islam is for them a tool to combat their real and much closer enemy: Christianity, and the mores and civilization borne of it and culminating in the West.
This is evident everywhere and in a myriad of forms. Most recently, the British government "refused to say whether telling people about the Christian faith could be a hate crime." Lord Pearson of Rannoch, a UKIP peer, asked the House of Lords if they would "confirm unequivocally that a Christian who says that Jesus is the only son of the one true God cannot be arrested for hate crime or any other offence, however much it may offend a Muslim or anyone of any other religion?" Government spokesperson Baroness Vere of Norbiton responded by equivocating, saying that the legal definition of "hate crime" has been the same for the past 10 years.
But as Pearson explained in a later interview, the current definition of "hate crime" is subjective and revolves around whether the "victim" feels offended—thus leaving the door wide open to charging those who proclaim Christ and the Trinity of committing a hate crime, especially vis-à-vis Muslims, who adamantly object to the claim, as Pearson himself acknowledged: "Certainly the stricter Muslims do feel offended by Christianity and our belief in Jesus being the only Son of the one true God."
Hard Left/ American Politics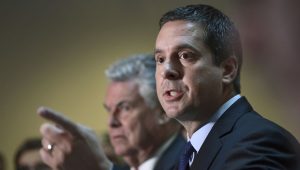 Devin Nunes accuses FBI, DOJ of demonstrating 'abuse' of government surveillance programs01/12/18  Wow, the rope is now around the neck of the FBI and the Department of Justice. It seems every day it is getting tighter and tighter. Very soon, the rope is going to "hang" many of these totally corrupt FBI agents along with the attorneys.
I think we will be shocked at the depth of the corruption of the politicians who are connected to this crime cartel. This is the season for God's judgment, so there is going to be a lot of wailing and gnashing of teeth as they face justice and the "Big House"!
Nahum 1:3 The LORD is slow to anger, and great in power, and will not at all acquit the wicked: the LORD hath his way in the whirlwind and in the storm, and the clouds are the dust of his feet.

"House Intelligence Committee chairman Devin Nunes, R-Calif., told fellow Republicans he has witnessed evidence demonstrating a clear "abuse" of government surveillance programs by FBI and Justice Department officials, according to a new report.
Nunes' comments were made as he was attempting to garner votes for a bill to reauthorize the Foreign Intelligence Surveillance Act. Section 702 permits the intelligence community to oversee foreign communications, but does not authorize the government to oversee Americans. The bill was passed by the House on Thursday.
Ahead of the vote, Nunes said he has not seen evidence to suggest Section 702 was abused to look at foreigners, but that other sections of the law had been misused by the government to oversee Americans."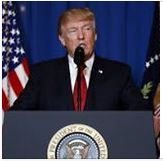 Trump: FBI agent Peter Strzok committed 'treason' with anti-Trump texts to girlfriend 01/13/18  The more I think about treason being committed by this FBI agent the more I think the President is correct. The FBI attempted to use the legal force to remove the President from office. If the information holds true, this FBI agent and many others are in big trouble.
Proverbs 24:21  My son, fear thou the LORD and the king: and meddle not with them that are given to change:

"President Trump said in an interview Thursday that an FBI agent in the special counsel's Russia probe committed "treason" by texting his lover an anti-Trump message, and he called for Republican investigators in Congress to conclude their probes swiftly.
Mr. Trump told the Wall Street Journal that Peter Strzok, an FBI agent who was a top investigator on the special counsel Robert Mueller's team investigating whether Russia colluded with the Trump campaign to influence the 2016 presidential election, committed treason with his text suggesting an "insurance policy" against a Trump victory.
"A man is tweeting to his lover that if [Democrat Hillary Clinton ] loses, we'll essentially do the insurance policy. We'll go to phase two and we'll get this guy out of office," said Mr. Trump. "This is the FBI we're talking about—that is treason. That is a treasonous act. What he tweeted to his lover is a treasonous act."
American Politics/ New World Order – World Government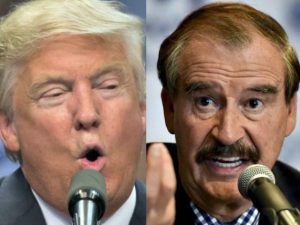 Former Mexican President Chides Trump on Immigration: 'With What Authority Do You Proclaim Who's Welcome in America?' 01/13/18  You can see the insanity of these New World Order devotees. Fox doesn't believe the US government has the right to control who comes into America! He sounds just like the Democratic Party with Schumer and Pelosi!
They are seething with anger that Trump is putting America first and protecting the American people! Imagine President Trump telling Mexico it has no right to control its borders!
"Former Mexican President Vicente Fox tweeted on Thursday about President Donald Trump's alleged remarks aimed at Haiti and Africa as they relate to immigration, calling Trump's mouth "the foulest shithole" and challenging his authority to oversee U.S. policy and laws about who is allowed to live in the United States."
Jerusalem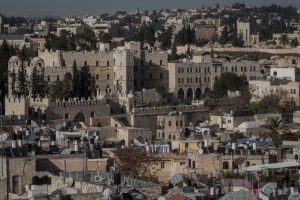 Prophecy is Being Fulfilled': Ancient Biblical Jerusalem Was Hidden for 2,000 Years Until Archeologist's Incredible Find01/12/18  This is a very good article and video that brings you up to date with archeology about Jerusalem.
Ezekiel 5:5  Thus saith the Lord GOD; This is Jerusalem: I have set it in the midst of the nations and countries that are round about her.

"For eons, people assumed that ancient biblical Jerusalem was part of the Old City, an area inside modern-day Jerusalem — but a British archeologist shattered that definitive claim 150 years ago when he made a discovery that had reportedly been hidden for nearly 2,000 years.
Anarina Heymann, outreach coordinator for the City of David, told CBN News about how archeologist Charles Warren "rediscovered the ancient biblical Jerusalem" and how that finding has transformed the understanding of the city that King David designated as his capital 3,000 years ago.
Heymann explained that the archeological findings at the site have helped "bring the Bible to life" and how she believes, in turn, prophecy is being fulfilled. In the end, she said the excavations as well as the Bible's contents are coming together to give a full picture of Jerusalem's past."
Hard Left/ California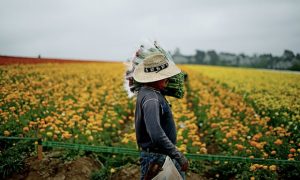 California in revolt: how the progressive state plans to foil the Trump agenda 01/12/18  California is in deep rebellion against America. Already this state in many ways has seceded from the Union. This state is under the total control of the Hard Left, which means it is doomed to destruction. Whatever the Hard Left touches it destroys.
The reprobate mind will turn this state into a third-world nation, which it is already in the process of doing. What will happen is that the state will break up into a small percentage of rich and the vast majority poor. It will look just like Mexico with the rich in perpetual control with no hope for the poor.
Psalm 9:17  The wicked shall be turned into hell, and all the nations that forget God.

"California prides itself on being first with progressive laws on climate change, labor rights and marijuana. In 2018, the Golden State's "firsts" are defensive – bold proposals and legal maneuvers to protect citizens from Donald Trump.
State leaders have pushed legislation and lawsuits to circumvent and undo Trump's agenda on immigration, the environment, internet freedom and other liberal causes. One of the most consequential victories came Tuesday when a judge in San Francisco blocked the Trump administration's plan to end a program that allows 800,000 undocumented people to study and work in the US.
At the same time, activists have also launched grassroots campaigns to shield residents from the White House's attacks – and to pressure local Democrats to do more to mobilize the largest state against the president."
Hard Left/ History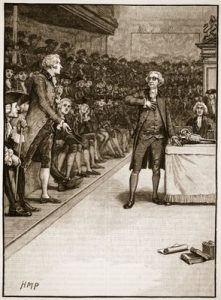 The French Revolution and its attack against Christianity 01/12/18  Though the years, I have mentioned many times how the Hard Left in America had the same spirit as the French Revolution. This is a very good article, which in a thumbnail sketch, gives you a good overview of the revolution and how the driving force was hatred of God! Within the heart of the Hard Left is the spirit of the French revolution and the tremendous violence that was unleashed on France, and then on Europe.
Isaiah 59:7  Their feet run to evil, and they make haste to shed innocent blood: their thoughts are thoughts of iniquity; wasting and destruction are in their paths. (8) The way of peace they know not; and there is no judgment in their goings: they have made them crooked paths: whosoever goeth therein shall not know peace.

"In 1789, the French Revolution started with the vaunted motto of "Liberty, Equality and Fraternity."
Robespierre led the "Committee of Public Safety" — France's Department of Homeland Security.
He gave a Speech to the National Convention, February 5, 1794, titled "Terror Justified": "Lead the people by means of reason and … by terror … Terror is nothing else than swift, severe, indomitable justice; it flows, then, from virtue."
During the French Revolution: – churches were closed or used for "immoral … lurid … licentious … scandalous … depravities." The Cathedral of Our Lady of Strasbourg was made into a Temple of Reason; – crosses were forbidden; – religious monuments were destroyed; – graves were ransacked and desecrated, including those of Good King Henry IV, and Ste. Genevieve, who had called Paris to pray to avert an attack of Attila the Hun in 451AD; – public and private worship and religious education were outlawed;
The French Revolution instituted an intentional campaign to de-christianize French society, replacing it with a civic religion of state worship."
Science: 666 Surveillance System/ Mad Scientists
Japanese Scientists Reveal Mind-Reading AI Technology 01/13/18  The ability for scientists to get deep into the mind is progressing the point they can read pictures in your mind. Nothing in the mind will be hidden from these scientists. It is on top of us right now. Wow, everything is coming together so fast!
"Science fiction is becoming a reality as Japanese scientists reach new heights in Artificial Intelligence, announcing a program capable of "mind reading" through recreated images one pixel at a time.
The program, developed by a team of experts from the University of Kyoto, is based on a neural network system, decoding brain activity and reproducing images presented to test subjects.
Photos of stained glass windows, owls, aircrafts and red post boxes were presented to three volunteers. FMRI scans were then used to measure the information, analyzing electrical activity as well as the variants of blood flow to the brain.
The results varied according to its volunteers, researchers said, but the majority showed an astounding level of accuracy recreating the objects as well as others imagined by test subjects such as bowling balls, leopards, goldfish and swans."

Ephesians 1:3  Blessed be the God and Father of our Lord Jesus Christ, who hath blessed us with all spiritual blessings in heavenly places in Christ: