FBI launches new Clinton Crime Cartel investigation
Verse of the Day
Numbers 32:23  But if ye will not do so, behold, ye have sinned against the LORD: and be sure your sin will find you out.
Commentary
This is more wonderful news about this crime cartel. So many angles are now opening to get at the Clinton Crime Cartel! It is like the "windows of heaven" are opening. The big problem is can we trust the FBI? The agency is still peppered with agents like Comey and McCabe, so there is a problem of getting a legitimate investigation.
With how corrupt the Clintons are, there should be no problem with bagging them for the big house! The real damaging charge is RICO which stands for "Racketeer Influenced and Corrupt Organization". If convicted, the penalty is 20 years and the seizing of assets connected with the enterprise! If the Clintons were involved in racketeering, they should pay the penalty which would put them away for a long time and seize their wealth.
American Politics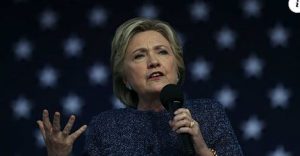 FBI launches new Clinton Foundation investigation 01/05/18 (Video)
"The Justice Department has launched a new inquiry into whether the Clinton Foundation engaged in any pay-to-play politics or other illegal activities while Hillary Clinton served as Secretary of State, law enforcement officials and a witness tells The Hill.
FBI agents from Little Rock, Ark., where the Foundation was started, have taken the lead in the investigation and have interviewed at least one witness in the last month, and law enforcement officials said additional activities are expected in coming weeks.
The officials, who spoke only on condition of anonymity, said the probe is examining whether the Clintons promised or performed any policy favors in return for largesse to their charitable efforts or whether donors made commitments of donations in hopes of securing government outcomes.
The probe may also examine whether any tax-exempt assets were converted for personal or political use and whether the Foundation complied with applicable tax laws, the officials said."
Reps. Meadows, Jordan: It's Time for a New Attorney General 01/04/18  I recommend Rudy Giuliani for Attorney General. He cleaned up the mob in NYC, so give him a chance at the DC swamp! All we need is a real AG and this cartel will come completely apart. Most of the evidence is in public. We have seen it.
"Among other things, they complain about the FBI refusing to answer critical questions that Congress repeatedly has asked regarding the Trump-Russia investigation; and they also condemn the many apparent FBI leaks to reporters, most recently the New York Times.
Their conclusion:
Attorney General Jeff Sessions has recused himself from the Russia investigation, but it would appear he has no control at all of the premier law enforcement agency in the world. It is time for Sessions to start managing in a spirit of transparency to bring all of this improper behavior to light and stop further violations. If Sessions can't address this issue immediately, then we have one final question needing an answer: When is it time for a new attorney general?"
DOJ deal gives Nunes access to 'all' documents, witnesses sought in Russia probe, letter says 01/05/18  This is wonderful and just what we have been waiting for. This could be just what is needed to pull down the Clinton Crime Cartel. Look at the pressure it took to get these documents. I can feel that the tide has turned from being against Trump, so that now it is against the criminal cartel. There are a lot of people in Deep State who are going to have trouble trying to sleep! I think that once this cartel is cracked open, it will collapse very fast because they will try and cut the best deals. They are all going to face serious time in jail!
Isaiah 9:7  Of the increase of his government and peace there shall be no end, upon the throne of David, and upon his kingdom, to order it, and to establish it with judgment and with justice from henceforth even for ever. The zeal of the LORD of hosts will perform this.

"House investigators will get access this week to "all remaining investigative documents" – in unredacted form – that they had sought as part of their Russia inquiry, under a deal between Deputy Attorney General Rod Rosenstein and House Intelligence Committee Chairman Devin Nunes, R-Calif., according to a letter obtained by Fox News.
The letter, from Nunes to Rosenstein, summarizes an "agreement" reached on a phone call Wednesday evening and also says key FBI and Justice Department witnesses in the probe will be provided for interviews later this month.
"It is my hope that this agreement will provide the Committee with all outstanding documents and witnesses necessary to complete its investigations," Nunes wrote."
Hard Left/ Islam
U.S. woman stabbed 14 times by Somali explodes police narrative 01/04/18  What is happening in America is that the real hardcore liberal areas are starting to look exactly like Europe when dealing with the Muslims. These liberals are very weak minded and have no power to stand against the Muslims. They are so weak that it seems the Muslims have mind control over the liberals.
What is going on with Minnesota? There is this incident with the Muslims, and Muslim Congressmen Ellison just joined BLM! The people of Minnesota had better rise up or their state is going to be just like Sweden or Germany!
Isaiah 1:4  Ah sinful nation, a people laden with iniquity, a seed of evildoers, children that are corrupters: they have forsaken the LORD, they have provoked the Holy One of Israel unto anger, they are gone away backward.

"None of this sloppy police activity surprises former FBI counter-terrorism specialist John Guandolo. He says the sheriff of Hennepin County is manipulated by Muslim activist groups such as the Council on American-Islamic Relations and the local Somali imams.
"Minneapolis police and the sheriff's office there are so in bed with the jihadis they don't know which way is up," Guandolo told WND.
That's an accusation some might find alarming and even too sensational to believe. Yet, the best evidence may be the words coming directly from the mouth of Hennepin County Sheriff Rich Stanek three years ago at the White House Summit on Countering Violent Extremism, comments that were captured on video by C-SPAN.
Stanek told the White House Summit in February 2015 that he basically gets all his information about what's going on in Minneapolis's Somali neighborhoods from a local Somali imam he affectionately referred to as "Imam Roble."
Hard Left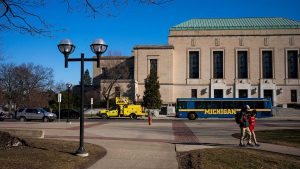 University Of Michigan Addresses 'How To Deal With Being White' 01/05/18  There is now a tsunami pf propaganda against white people. The object is to make us feel guilt and thus we can be manipulated and neutered. This will allow the Hard Left then to do whatever it wants to do.
If this trend continues, we will need to confront it at every level. Remember, this mentality is the most destructive force on earth. It is even worse than Islam as it has a bottom, but the reprobate mind just continues to destroy.
1 Thessalonians 5:23  And the very God of peace sanctify you wholly; and I pray God your whole spirit and soul and body be preserved blameless unto the coming of our Lord Jesus Christ.

"White guilt has made its way to the University of Michigan, a beacon of progressive nonsense. The university, according to The College Fix, held a two-day professional development conference centered around "whiteness" — which, as we all know, is very "problematic" these days.
At the conference, which was held December 4-5, white employees were trained on how to "deal with their 'whiteness' so they could become better equipped to fight for social justice causes," organizers told the Fix.
Those riddled with the inherent sin of whiteness were taught how to "recognize the difficulties they face when talking about social justice issues related to their White identity, explore this discomfort, and devise ways to work through it," reads the university's site.
By "unpacking Whiteness," white folks will learn how to help others at the university with issues "related to identity and social justice," adds the site."
Yale Psychiatrist is 25th Amendment Tool against President Trump 01/05/18  What is happening is behind the scenes, but the Hard Left is trying to put together a case that President Trump is mentally unfit to be President and should be removed by using the 25th Amendment. They are going to use the Hard Left, Babylonian, voodoo psychiatrists to certify that he is mentally unfit and should be removed from office.
25th Amendment in part: "Whenever the Vice President and a majority of either the principal officers of the executive departments or of such other body as Congress may by law provide, transmit to the President pro tempore of the Senate and the Speaker of the House of Representatives their written declaration that the President is unable to discharge the powers and duties of his office, the Vice President shall immediately assume the powers and duties of the office as Acting President."
"Yale Psychologist: Enter one Dr. Bandy X. Lee, a psychiatrist from Yale University who is in the process of promoting her new book, The Dangerous Case of Donald Trump. Co-authored with 26 other specialists, the book apparently details the near certainty of war and loss of democracy due to Donald Trump's "pathological narcissism and sociopathy."
Dr. Lee has visited with lawmakers from the House and Senate and generously diagnosed the president's mental state without actually even speaking to him. How fortunate. She delivered an address that was apparently well-received and has been booked to speak further to more authority figures.
The American Psychiatric Association (APA) actually bans psychiatrists from making a diagnosis without a direct examination. Not only is this rule in place because the APA believes without a face to face examination, all information is worthless, but they also see it as highly unethical.
Recent rule changes have come about that say members may speak about socio-political topics in general, but not about individuals. The "Goldwater Rule" was originally aimed at stopping psychiatrists giving an "official diagnosis" without an examination."
Christian Apostasy
Megachurch Pastor Says White Christians Must Recognize 'Privilege,' Share Burdens Believers of Color Face 01/04/18  There is something radically wrong with this pastor and those whose who believe like him. It is as if they have absorbed the thinking of left and are trying to put Christian words around it. I have a really bad feeling once they use the words "white privilege." These are charged words which pits white people against blacks. I think they are doing this on purpose to stir up racial division in America, and this pastor is part of it whether he knows it or not.
"Megachurch pastor J.D. Greear of the Summit Church in Raleigh-Durham, North Carolina, said that white Christians must offer to share the burden that believers of color face in society, in order to progress toward racial reconciliation.
"We think we've earned our burden-free life, and we're reluctant to step into any situation that puts weight back on our shoulders. But that's not what people who have experienced the power of the gospel should look like," he said.
The obstacle in front of "many white Christians" is intertia, he noted."

Days of Noah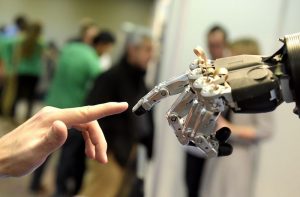 Maybe Sex Robots Will Make Men, Not Women, Obsolete 01/05/18  What has become very clear is that satan, through man's reprobate mind, is trying to destroy creation as found in Genesis. The reprobate mind wants to destroy marriage between a man and woman: it wants to destroy the genders that God created: it wants to kill babies in the womb and now the union between a man and a woman!
The reprobate mind is using technology for a direct assault on God creating man after his own image and likeness. The Lord only will allow this to go so far before he intercedes and destroys the entire system. This will happen at the second coming of Jesus Christ!
Genesis 1:27-28  So God created man in his own image, in the image of God created he him; male and female created he them. And God blessed them, and God said unto them, Be fruitful, and multiply,

"Advances in robotics and artificial intelligence have raised a dystopian concern for women: What if female robots become so realistic — and so adept at sex — that they render men incapable of engaging in real human relationships?
Actually, I think it's the men who should be worried. It's entirely possible that robots can outperform them.
Perhaps it's time for a Big Think. Are women not as capable as men of crude objectification? There's room here for everyone's impure thoughts and desires. Robots don't discriminate, and they can probably give good massages.
Don't get me wrong, I have a good husband. I doubt I would trade in. But if I had a daughter, I might consider giving her a robot as a college graduation present. Preferably one who can do the dishes and guard the door."
Science: 666 Surveillance System/ Mind Control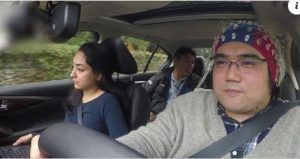 Nissan unveils technology that can interpret signals from drivers' brains 01/05/18  I've said for many years that part of the 666 System is going to be mind control. This is part of it because AI is going to be able to read the mind and know what we are going to do before we do it. Everyone who falls under the 666 system will be locked in through the mind with no way out! As with all technology, it is coming together very fast.
Revelation 14:9-11  …If any man worship the beast and his image, and receive his mark in his forehead, or in his hand, The same shall drink of the wine of the wrath of God, which is poured out without mixture into the cup of his indignation; and he shall be tormented with fire and brimstone in the presence of the holy angels, and in the presence of the Lamb: And the smoke of their torment ascendeth up for ever and ever: and they have no rest day nor night, who worship the beast and his image, and whosoever receiveth the mark of his name.

"Nissan claims to have developed a car that can read its driver's mind.
Software adapted from the medical profession is translating a driver's thoughts into action to improve vehicle responsiveness. The technology will be unveiled at the Consumer Electronics Show in Las Vegas next week.
The software monitors brain wave activity to anticipate intended movement, be that turning the steering wheel or hitting the brakes. Nissan says the system can react between 0.2-0.5 second faster than the driver without being considered intrusive."
Earthquakes
West Coast Bay Area M4.4 Earthquake — Pacific seismic unrest spreading 01/05/18  This is an update by Dutchsinse and it is loaded with great information. He stated the earthquake pressure is building along the entire West Coast and it is building towards a large quake! He is almost ALWAYS right on when he warns!
Titus 3:8  This is a faithful saying, and these things I will that thou affirm constantly, that they which have believed in God might be careful to maintain good works. These things are good and profitable unto men.