Franklin Graham: Media Didn't Understand 'God-Factor' in Election Outcome
                 Verse of the Day
 Ezekiel 33:7 So thou, O son of man, I have set thee a watchman unto the house of Israel; therefore thou shalt hear the word at my mouth, and warn them from me.
Commentary
I've posted a lot of articles about Franklin Graham. He is a true and bold witness for the Lord. He stood in the gap for America when few did. He went to all of state capitals and prayed for the nation. We have a debt of gratitude to him. He is a faithful servant of the Lord, in direct contrast to so many hirelings in the pulpits.
May the Holy God of Israel bless and protect you.
Ezekiel 33:11 Say unto them, As I live, saith the Lord GOD, I have no pleasure in the death of the wicked; but that the wicked turn from his way and live: turn ye, turn ye from your evil ways; for why will ye die, O house of Israel?
American Politics/ Christianity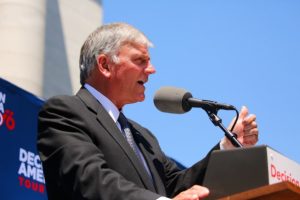 Franklin Graham: Media Didn't Understand 'God-Factor' in Election Outcome 11/11/16
Ezekiel 33:7 So thou, O son of man, I have set thee a watchman unto the house of Israel; therefore thou shalt hear the word at my mouth, and warn them from me.

"Evangelist Franklin Graham is saying this week that as pundits and election analysts attempt to figure out how they made such inaccurate predictions, they failed to understand the hand of God at work.
Writing on Facebook Thursday, the president of Samaritan's Purse and the Billy Graham Evangelistic Association, asked: "Did God show up? In watching the news after the election, the secular media keep asking 'How did this happen?' 'What went wrong?' 'How did we miss this?'
"Some are in shock. Political pundits are stunned. Many thought the Trump/Pence ticket didn't have a chance. None of them understand the God-factor."
"Hundreds of thousands of Christians from across the United States have been praying. This year they came out to every state capitol to pray for this election and for the future of America. Prayer groups were started. Families prayed. Churches prayed. Then Christians went to the polls, and God showed up."
Trump and Pence Express Gratitude for Prayer 11/11/16   I really do hope that he came to the Lord as his Savior and can lead the nation with the power of God in his life.
Proverbs 14:34 Righteousness exalteth a nation: but sin is a reproach to any people.

"Wouldn't it be wonderful if we could live to see Jesus' prayer in John 17 answered in our day through yielded lives? I believe the stage is set for the next Great Awakening, and we are blessed to have this opportunity to be a part of it.
Since I first met Mr. Trump in the spring, I have been amazed at his kindness and openness to hear my heart. When victory was obvious, I called Mr. Trump to congratulate him. In the next few moments he thanked me profusely and expressed gratitude for the prayers of all the leaders and told me he was amazed at the response he was hearing from evangelicals who came out to support him. Then he said, "Gov. Pence is here. He wants to talk to you to thank you. I'm so grateful prayers are being answered."
American Politics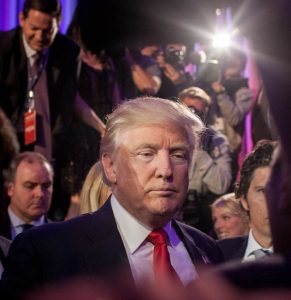 Here Is What Donald Trump Wants To Do In His First 100 Days 11/11/16  This is a very good article that lays out Trump's agenda. I was surprised with all of the issues that he covered. If he accomplishes only half, it will be a great blessing to the nation.
"At the end of October, Donald Trump spoke in Gettysburg, Pa., and released a plan for his first 100 days in office.
The plan (below) outlines three main areas of focus: cleaning up Washington, including by imposing term limits on Congress; protecting American workers; and restoring rule of law. He also laid out his plan for working with Congress to introduce 10 pieces of legislation that would repeal Obamacare, fund the construction of a wall at the Southern border (with a provision that Mexico would reimburse the U.S.), encourage infrastructure investment, rebuild military bases, promote school choice and more."
Leaked Documents Reveal Expansive Soros Funding to Manipulate Federal Elections 11/10/16  There is no end to how corrupt this man is. Time and time again, his name comes up in corruption or promoting sin. I hope the Lord brings him down and stops this evil man.
"Leaked funding documents reveal an effort by George Soros and his foundations to manipulate election laws and process rules ahead of the federal election far more expansively than has been previously reported.
The billionaire and convicted felon moved hundreds of millions of dollars into often-secret efforts to change election laws, fuel litigation to attack election integrity measures, push public narratives about voter fraud, and to integrate the political ground game of the left with efforts to scare racial minority groups about voting rights threats.
These Soros-funded efforts moved through dozens of 501(c)(3) and (c)(4) charities and involved the active compliance with civil rights groups, government officials, and purportedly non-partisan groups like the League of Women Voters.
The leaked documents also reveal deliberate and successful efforts to manipulate media coverage of election issues in mainstream media outlets like the The New York Times."
Hard Left
Calls for Donald Trump's Assassination Erupt on Social Media 11/11/16  Deep in the heart of the Hard Left is a murdering spirit. You can see it in the way they support and promote killing babies in the womb! Their hearts are so darkened that I believe them when they talk about murdering someone. These are very violent and dangerous people.
"Liberals, socialists, progressives, statists and globalists have had a hard time dealing with the realization that on Jan. 20, 2017, Donald Trump will be sworn in as the 45th president of the United States.
But among the protests, walkouts and verbal tirades has been something much more dangerous. According to a report by The Daily Caller, social media is beginning to see a surge in calls for Trump to be assassinated.
David Hookstead's report states: Twitter is exploding with people calling for president-elect Donald Trump to be assassinated.
The Republican real-estate billionaire beat Hillary Clinton handily to become the next president of the United States, but that hasn't stopped lots of people calling for somebody to murder him."
Hard Left/ Pro-Life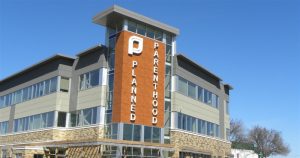 Planned Parenthood Worried in Wake of Clinton Defeat 11/11/16   What a wonderful day it will be when Planned Parenthood is defunded and many of their centers have to close down. I have waited a long time for this day.
Psalm 94:16 Who will rise up for me against the evildoers? or who will stand up for me against the workers of iniquity?

"In the wake of Trump's unprecedented victory in the presidential election, Planned Parenthood sent an email to its supporters, urging them to continue their support.
According to LifeNews.com, Planned Parenthood president Cecile Richards voiced her deep disappointment and frustration that Donald Trump was elected, but then called on supporters not to be discouraged and to continue in their support.
"Let's get all these words out of the way: Devastated. Angry. Heartbroken. Outraged. Shocked. Sad. Disgusted. Ashamed. Discouraged. Exhausted. Shattered," her email began.
"And now four more words — the most important ones: These. Doors. Stay. Open."
Israel
In Israel, pro-settlement advocates and rivals of two-state solution are emboldened by Trump victory 11/10/16  I hope that Trump follows through with his promise to Israel. He immediately needs to move the US embassy to Jerusalem. This will show Israel and the world that he is serious about his promises.
"Israelis who support settlement expansion in the West Bank hailed Donald Trump's election victory, calling it a milestone that offers Israel's right-wing government a chance to permanently block a two-state solution with the Palestinians.
"The victory of Trump is a huge opportunity for Israel to immediately announce that it renounces the idea of establishing Palestine in the heart of the country,'' said Israeli Education Minister Naftali Bennett, the leader of the pro-settler Jewish Home party. "The era of the Palestinian state is over.''
Over the last eight years, the Obama administration has repeatedly criticized Israeli decisions to build housing in areas claimed by the Palestinians as part of a future state, often in blunt language that has stoked tension between the allies. During his first term, President Obama and then-Secretary of State Hillary Clinton even prodded Prime Minister Benjamin Netanyahu into agreeing to a 10-month moratorium on settlement construction starts in the West Bank as an gesture to jump-start peace negotiations."
Israel/ New World Order – World Government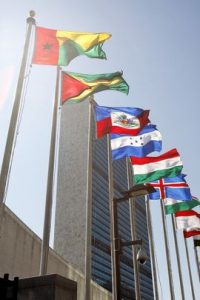 UN Members Pass Nine Measures Targeting Israel – Including One Accusing Israel of 'Repressive Measures' Against Syrians 11/10/16
Zechariah 14:1-2  Behold, the day of the LORD cometh, and thy spoil shall be divided in the midst of thee. (2) For I will gather all nations against Jerusalem to battle…
The UN never gives up attacking on Israel. One day, all of the nations are going to gather in an attempt to destroy Israel. This will trigger the Second Coming of Jesus Christ. How far off can this be?
"While Americans were voting in an election watched around the world Tuesday, at the U.N. in New York it was business as usual, as a key General Assembly body passed nine draft resolutions condemning Israel.
In most of those votes at the General Assembly's fourth committee, the United States and Canada joined Israel and a small handful of others in rejecting the resolutions. The lopsided vote counts were 86-7, 158-6, 159-1, 156-6, 156-6, 155-6, 156-6, 151-7 and 153-1."
History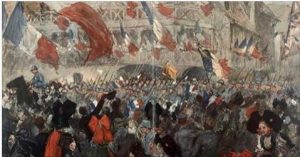 The 11th hour on the 11th day of the 11th month 11/11/16  WW1 was called the Great War. It is really forgotten today. It ended 98 years ago Friday. Because the war was so horrific, it was called the "War to end all wars." Only the Second Coming of Jesus Christ will end war.
This article is loaded with information about WW1, and I recommend it, if you have little knowledge of this war.
Isaiah 2:4 And he shall judge among the nations, and shall rebuke many people: and they shall beat their swords into plowshares, and their spears into pruninghooks: nation shall not lift up sword against nation, neither shall they learn war any more.

"At the 11th hour on the 11th day of the 11th month of 1918, the Great War ends. At 5 a.m. that morning, Germany, bereft of manpower and supplies and faced with imminent invasion, signed an armistice agreement with the Allies in a railroad car outside Compiégne, France.
The First World War left nine million soldiers dead and 21 million wounded, with Germany, Russia, Austria-Hungary, France, and Great Britain each losing nearly a million or more lives. In addition, at least five million civilians died from disease, starvation, or exposure."
Earthquakes and Volcanoes
Japan Coast of Honshu struck by M6.2 earthquake — Forecast area hit 11/11/16 
Dutch Sinse does it again and calls the 6.1 quake which just hit Japan! He also called all the quakes which just hit Italy! I watch him closely and when he warns for huge quakes hitting the USA, I will warn you. God is so good to provide us of a warning system for the coming of mega quakes!
(The sound starts at the 50 second mark.)
Luke 18:27  But he said, The things which are impossible with men are possible with God.