Georgia: Members of heavily armed black militia shout "Alhamdulillah
Verse of the Day
1 John 1:5 This then is the message which we have heard of him, and declare unto you, that God is light, and in him is no darkness at all.
Commentary
The war is taking shape as armed black Muslims marched and are calling for a shooting war. They have merged with the Hard Left in America to destroy America and turn it into a Marxist/Islamic totalitarian state.
The only good news is if they win, they'll kill each other off like what happened during the French Revolution. The Marxist and Jihadists can't be reconciled in the long run.
May the Holy God of Israel bless and protect you.
1 Peter 2:9 But ye are a chosen generation, a royal priesthood, an holy nation, a peculiar people; that ye should shew forth the praises of him who hath called you out of darkness into his marvellous light:
HARD LEFT CAUSED CIVIL WAR MANIFESTING VERY CLEARLY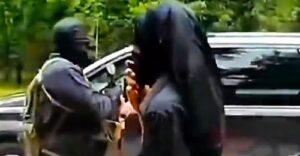 "Georgia: Members of heavily armed black militia shout "Alhamdulillah"
"Another manifestation of the Leftist-Islamic alliance. "Alhamdulillah" means "Thanks be to Allah" and is not usually said except by observant Muslims. Here again we see that radical Leftists have the same goal jihadis do: not just the removal of statues of Confederates, but much more.
The targeting of Confederate statues is part of a larger effort to make Americans ashamed of our history as a whole, as the targeting of statues of Abraham Lincoln, Ulysses S. Grant, and Frederick Douglass shows. The ultimate goal is the destruction of the U.S. as a free republic, and the replacement of that republic with an authoritarian state. The nature of that authoritarian state, however, will be determined by the group that comes out on top after they turn on each other."
AMERICA AND CIVIL WAR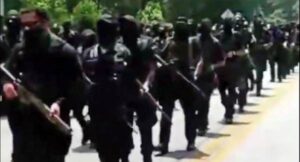 "Armed Black NFAC Protesters March at Stone Mountain in Georgia on 4th of July — Bait White Militias for Armed Conflict"
This armed group of blacks apparently want a race war. They want war with white people. The language is real war and the name of the Lord is used.
"Hundreds of black armed NFAC protesters marched on Stone Mountain Georgia on the 4th of July. The Stone Mountain memorial opened on the 4th of July weekend following the COVID-19 pandemic.
The protesters reportedly challenged white militia members. The black protesters baited white militias and "scared-ass rednecks" for armed conflict."
CORONAVIRUS FRAUD ON NATION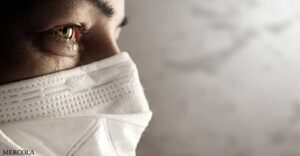 "Nurse on the Frontlines of COVID-19 Shares Her Experience"
This is a must watch showing the total disregard for the elderly.They are just killing the elderly and making lots of money along the way.This is most watch video which shows how dangerous the medical profession now is to the American people. This is a real eyeopener. It can bring tears to your eyes.
"Erin Olszewski, a nurse turned undercover reporter and whistleblower, reveals the horrific maltreatment of COVID-19 patients at Elmhurst Hospital Center, the public hospital in Queens, New York, that is "the epicenter of the epicenter" of the COVID-19 pandemic in the U.S.

Olszewski addresses a number of problems at Elmhurst, including the disproportionate mortality rate among people of color and the controversial rule surrounding Do Not Resuscitate (DNR) orders

Elmhurst does not segregate COVID-positive and COVID-negative patients, thereby ensuring maximum spread of the disease among noninfected patients coming in with other health problems.

Patients who repeatedly tested negative for COVID-19 were still listed as confirmed positive and placed on mechanical ventilation, thus artificially inflating the case numbers while condemning the patient to death from lung injury.

Many of the doctors treating these patients are not trained in critical care. One of the "doctors" on the COVID floor is a dentist, and inexperienced medical students are relied upon"
DR. FAUCI'S LIES FINALLY EXPOSED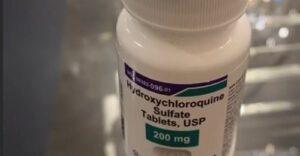 "New Hydroxychloroquine Study Vindicates President Trump and Should End Dr. Fauci's Career at NIAID and in Medicine (VIDEO)"
This is wonderful news and should help stem the lies about the coronavirus! These medical institutions are built one lie after another. Everyone was able to see the lies! It appears that no one in positions of authority can tell the truth.
"A new Hydroxychloroquine study conducted by Henry Ford Health System revealed hydroxychloroquine successfully lowered the death rate among hospitalized COVID-19 patients by a significant margin.
According to Just The News the use of hydroxychloroquine cut the mortality rate of coronavirus victims in half. The study examined 2,541 patients who had been hospitalized in six hospitals between March 10 and May 2, 2020.More than twenty-six percent (26.4%) of patients who did not receive hydroxychloroquine died. But among those who received hydroxychloroquine, fewer than half that number — 13% — died."
MIDDLE EAST WAR: ISRAEL VS IRAN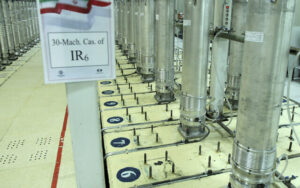 "Report: Israeli cyberattack caused Iran nuclear site fire, F35s hit missile base"
If Israel did attack these sites, then the F35s are really vrey special. They can't be detected and are able to penetrate deep into Iran without refueling, wow! What a warning this is to Iran about Israel's ability to destroy Iran in war!
"Israel was responsible for two blasts at Iranian facilities — one related to uranium enrichment, the other for missile production — over the past week, a Kuwaiti newspaper reported Friday.
The Al-Jareeda daily cited an unnamed senior source as saying that an Israeli cyberattack caused a fire and explosion at the largely underground Natanz nuclear enrichment facility in the predawn hours of Thursday morning.
The newspaper also reported that last Friday Israeli F-35 stealth fighter jets bombed a site located in the area of Parchin, which is believed to house a missile production complex — an area of particular concern for the Jewish state, in light of the large number and increasing sophistication of missiles and rockets in the arsenals of Iranian proxies, notably Lebanon's Hezbollah."
DEMS DESTROYING THE SUBURBS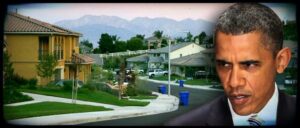 "MUST READ: Joe Biden to Ramp Up Barack Obama's Plan to Abolish and Transform America's Suburbs"
The demon-dems have destroyed many of America's great cities. Just think of NYC, Chicago, Minneapolis, Seattle, SF, LA, Detroit and many others. Now, they want to apply these destructive tactics to the suburbs!
Remember, the demon-dem, Hard Left reprobate mind is the most destructive force on earth. These reprobates now have their sights o suburban America.
"Obama passed regulations in 2013 to force suburban neighborhoods with no record of housing discrimination to build more public housing targeted to ethnic and racial minorities.
According to Kurtz, the underlying thrust of the rule change was to force racial and ethnic diversity on the suburbs:The new HUD rule is really about changing the way Americans live. It is part of a broader suite of initiatives designed to block suburban development, press Americans into hyper-dense cities, and force us out of our cars. Government-mandated ethnic and racial diversification plays a role in this scheme, yet the broader goal is forced "economic integration."
FINALLY, GOP TELLING TRUTH ABOUT DEM PARTY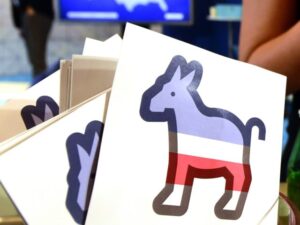 "Connecticut GOP Calls on 'Democratic Party' to Change Name: 'Years of Racial Oppression'"
This is wonderful news. Finally, the GOP has the courage to stand and tell the truth about the horrors of the demon-dem party and out the onus on them for the evil they did to the black people! If the GOP does this, the truth will stun the nation. Finally, some courage in politics.
"The Connecticut GOP called upon the "Democratic Party" to change its name Monday, issuing a resolution that asserts Democrats must address "the hundreds of years of racial oppression, violence, and multiple violations of human rights" associated with their party.
"We believe it is vital that every citizen know the truth about the so-called party of inclusion and acceptance," said the state GOP Chairman J.R. Romano in a press release. He continued: If we are to hold Christopher Columbus accountable over 500 years after the fact, it is our duty and moral obligation to hold the Democratic Party accountable.
As recently as 1977, Joe Biden sought the support of segregationists. Biden has publicly stated that 'you ain't black' unless you support the Democratic Nominee. Statements like this bring back the ugly imaginary of political cartoons like 'Of Course He wants to vote Democrat Ticket.'"
If you like our ministry, please consider making a donation to keep us going. May the Holy God of Israel bless you!
Revelation 22:20 He which testifieth these things saith, Surely I come quickly. Amen. Even so, come, Lord Jesus.