God's Final Judgment on America (abortion)
                                    

Isaiah 1:9
Except the LORD of hosts had left unto us a very small remnant, we should have been as Sodom, and we should have been like unto Gomorrah.
Commentary
This was a huge month for sin in America. Sin has continued to consume the nation as the vast majority of Church sleeps. It was capped off on Friday by declaring a homosexual bar a national monument. and then today with a Supreme Court decision for more unfettered "rights" to kill babies. On both days, the stock market suffered huge losses.
Americans have "legally" killed over 60 million babies since the Court's decision in 1973. How much longer is the Lord going to allow this? A remnant of the Church stood up for the babies, which was wonderful. But the vast majority slept through the killing of all these babies. It is like the Germans sleeping through Holocaust!
I believe that when God when God's final judgment falls on America for killing its children, millions of people could die because our land is polluted with the babies' blood.
Numbers 35:33 So ye shall not pollute the land wherein ye are: for blood it defileth the land: and the land cannot be cleansed of the blood that is shed therein, but by the blood of him that shed it.
I believe that the Lord made sure we could not defend our borders, so the illegal aliens could pour into the nation as judgment. Even Obama bringing in all of the Muslims is part of this judgment. We don't want our children and kill them, so the borders are wide open in judgment. It is almost as if one illegal comes in for every dead baby.
God's judgments are raining all around us, if we only have spiritual eyes to see it.
Isaiah 1:4-7 Ah sinful nation, a people laden with iniquity, a seed of evildoers, children that are corrupters: they have forsaken the LORD, they have provoked the Holy One of Israel unto anger, they are gone away backward. Why should ye be stricken any more? ye will revolt more and more: the whole head is sick, and the whole heart faint. From the sole of the foot even unto the head there is no soundness in it; but wounds, and bruises, and putrifying sores: they have not been closed, neither bound up, neither mollified with ointment. Your country is desolate, your cities are burned with fire: your land, strangers devour it in your presence, and it is desolate, as overthrown by strangers.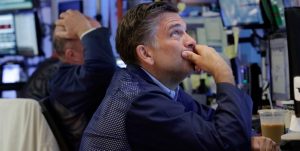 Spooked by Brexit, Financials See Biggest Two-Day Slide in Five Years 06/27/16 The market fell another 260 points today.
"A weekend to digest the implications over last Thursday's decision by the United Kingdom to end its more than 40-year membership in the European Union didn't do much to quell worries on Wall Street on Monday. Selling pressure accelerated through the trading session, weighing most on cyclical sectors as investors sought the safety of defensive names including utilities, telecom, health care and consumer staples. The moves helped send stocks like American Water Works (AWK), Consolidated Edison (ED) and Edison International (EIX) to fresh lifetime highs. 

Gold prices ended up just slightly on the session, though the precious metal saw its biggest two-day percentage gain since 2011, rising to $1,322 a troy ounce. Traders also continued to snap up government debt, traditionally seen as a safe-haven in times of uncertainty and heightened volatility. The yield on the 10-year U.S. Treasury bond, which moves inversely to its price, fell 0.124 percentage point to 1.455%. In currencies, the Japanese Yen, seen as a safety play, rose 0.31% against the U.S. dollar, while traders continued to ditch positions in the British pound, which suffered losses of more than 10% following Thursday's vote. On Monday, the currency shed 3.68% against the greenback."
Supreme Court Strikes Down Strict Texas Abortion Law 06/27/16 It is the Supreme Court of sin and is responsible for the legal killing of 60 million babies. There is no heart in these "justices" as they are heartless to allow all these babies to be slaughtered.

Psalm 94:20 Shall the throne of iniquity have fellowship with thee, which frameth mischief by a law?

"The U.S. Supreme Court on Monday struck down one of the nation's toughest restrictions on abortion, a Texas law that women's groups said would have forced more than three-quarters of the state's clinics to shut down. The decision was 5-3.

Passed in 2013, the law said clinics providing abortion services must meet the same building standards as ambulatory surgical centers. And it required doctors performing abortions to have admitting privileges at nearby hospitals. Since the law was passed, the number of clinics providing abortion services in Texas dropped to 19 from 42. Opponents said that number would fall to ten if the Supreme Court upheld the law.

Justice Stephen G. Breyer in writing the majority opinion said "neither of these provisions offers medical benefits sufficient to justify the burdens upon access that each imposes. Each places a substantial obstacle in the path of women seeking a pre-viability abortion, each constitutes an undue burden on abortion access, and each violates the Federal Constitution."

 Breyer was joined in the majority by Justices Ruth Bader Ginsburg, Elena Kagan and Anthony M. Kennedy and Sonia Sotomayor. Chief Justice John G. Roberts Jr., Samuel A. Alito Jr. and Clarence Thomas dissented."
Psalm 127:3 Lo, children are an heritage of the LORD: and the fruit of the womb is his reward.