GOP hammers 'mob' message for midterms, as Dems howl over label
Verse of the Day
Luke 11:13 If ye then, being evil, know how to give good gifts unto your children: how much more shall your heavenly Father give the Holy Spirit to them that ask him?
Commentary
This is a great article along with the short video. The Dems are turning into a anarchist mob. With their virulent hatred for God and all that is righteous, this mob could become like the rioters during the French Revolution! This mob, including Antifa, might be the Democrat Party's modern version of the Ku Klux Klan!
They are dangerous and we need revival for survival.
May the Holy God of Israel bless and protect you.
Proverbs 1:23 Turn you at my reproof: behold, I will pour out my spirit unto you, I will make known my words unto you.
Attempted Mob Rule
"Limbaugh Issues Dire Warning, Says Hillary Admitted The One Thing He's Talked About For Years"
"Conservative radio host Rush Limbaugh issued a dire warning on Wednesday, saying Hillary Clinton just admitted the one thing about Democrats that he has been talking about for years.
During his radio show, Limbaugh said Clinton admitted that Democrats want chaos and incivility, arguing that their plan was on full display during the confirmation hearing for newly confirmed Supreme Court Justice Brett Kavanaugh.

Limbaugh noted that Clinton sat down for an interview on Tuesday with CNN's Christiane Amanpour, where the former secretary of state argued that Democrats should no longer engage in any peaceful or civil dialogue with Republicans.

"You cannot be civil with a political party that wants to destroy what you stand for, what you care about," Clinton declared, arguing that Democrats can go back to being civil if they win the House of Representatives in November's midterms."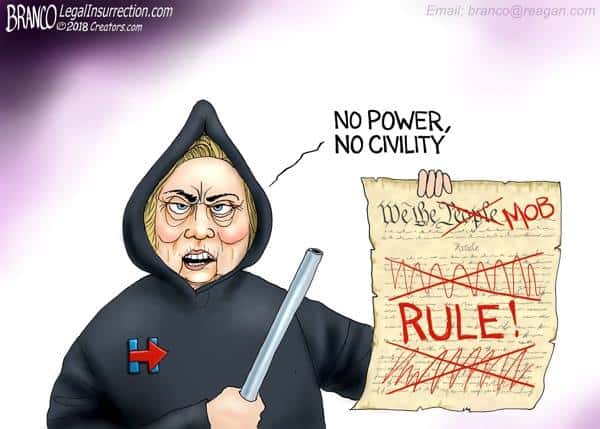 Dem's Mob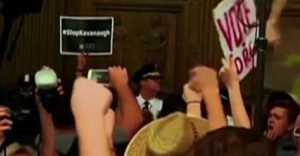 "GOP hammers 'mob' message for midterms, as Dems howl over label"
"Liberal protesters – egged on by Democratic politicians – are openly embracing a more confrontational and aggressive approach, banging on the doors of the Supreme Court, confronting lawmakers outside their offices and chasing GOP officials out of restaurants.

And Republicans are quickly seizing on that spectacle to hammer a new midterm message, decrying the "mob" behavior and warning that Democrats would bring that mentality into the majority should they prevail in November's election.

"The radical Democrats have turned into an angry mob," President Trump said at one of many recent campaign-style rallies, a message he's repeated over and over.

The Republican National Committee released a video Thursday calling the left "an unhinged mob," showing recent comments from Democrats encouraging protests."
Hard Left Increasing Violence
"Another Abortion Activist Assaults a Pro-Life Woman, Hitting Her With a Metal Clamp" The truth about babies in the womb drives many pro abortion supporters to anger. Right now, this anger is turning into violence.
There is a murdering spirit in their hearts which drives them to violence.
"In the latest reported case, pro-lifers with Toronto Against Abortion said they were doing an outreach Oct. 1 when abortion activists with the Ryerson Reproductive Justice Collective began a counter protest.

Blaise Alleyne, one of the pro-life team members, said they were engaged in civil discussion with several of the counter-protesters when one of them, allegedly Gabby Skwarko, became hostile.

The video shows Skwarko knocking over one of their signs, pushing Somers repeatedly, grabbing something out of her backpack and then throwing the item.

"She chased after me, grabbed my full, stainless steel water bottle and smashed it on the ground, then grabbed my backpack, yanking me back and forth," Somers said, recounting the attack. "I yelled, 'Get away from me!' And she came after me and shoved me. She then moved on to Blaise, bumping him in the chest with hers and saying, 'Let's go, are you filming me? Let's do this!'"
Hard Left Attempting to Destroy Christianity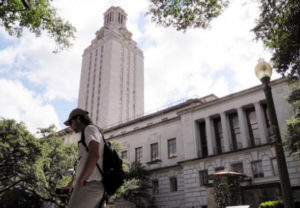 LGBT Law Regulating Church Hiring Decisions 'Reflects Our Values and Culture,' Austin City Council Says" The reprobates are using the law with the homosexual agenda to destroy the church. Years back when they Hard Left with promoting the homosexual agenda, they gave exemptions to the church, but now they have power, the Hard Left is using the law to break the church.The goal is to destroy every Christian institution through the law promoting the homosexual agenda.
They loath us like the Nazis did the Jews and are preparing for the time they can act on this hatred like the Nazis did!
This is real serious, and we need revival for survival right now!
Psalm 94:20 Shall the throne of iniquity have fellowship with thee, which frameth mischief by a law?

"The city of Austin, Texas defended the lack of a religious exemption for churches in its new LGBT anti-discrimination law in response to a lawsuit, arguing that the law "reflects our values and culture."

The U.S. Pastor Council, which has over 1,000 member churches across the nation, has filed a lawsuit on behalf of 25 member churches who say that a city law prohibiting employment discrimination on the basis of sexual orientation or gender identity restricts their "freedom to hire."

"Any law that purports to regulate church hiring decisions inflicts injury in fact by restricting the church's autonomy," the lawsuit filed in U.S. District Court on Saturday by attorney Jonathan Mitchell argues. "[A]n injunction that blocks the enforcement of the city's anti-discrimination laws will redress the injury caused by the city's failure to exempt churches from its anti-discrimination edicts."

According to the lawsuit, the churches believe that the "Bible is the Word of God" and they "rely on the Bible rather than modern-day cultural fads for religious and moral guidance." As such, the churches will not hire "practicing homosexuals or transgendered people as clergy."

Additionally, the member churches require that employees live "according to the Bible's teachings on matters of sexuality and gender." Because of this, the lawsuit states, these churches will "not consider practicing homosexuals or transgendered people for any type of church employment."
Canadian Church Meltdown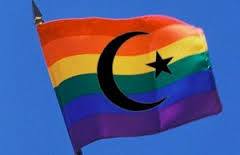 "Church Sues Christian Company For Not Broadcasting Pro LGBT Message" Whatever is evil and against the Lord, these "churches" flock to. These are the churches which will be part of the "whore of Babylon" found in Revelation 17.
Revelation 17:5 And upon her forehead was a name written, MYSTERY, BABYLON THE GREAT, THE MOTHER OF HARLOTS AND ABOMINATIONS OF THE EARTH.

"Windermere United Church of Toronto, Canada is suing Stephen Thompson's company Archer Mobile Signs under Canada's human rights law, and a second church, St. Paul's United Church, will likely soon join the lawsuit.

Thompson's crime was refusing to place Arabic messages supporting Islam and endorsements of LGBT pride on the sign he rents to the church. In no small example of irony, it is a church that is suing a private company for not embracing and broadcasting un-Biblical LGBT messages.

Windermere United Church has been a client of Archer Mobile Signs since 2012, with Thompson's sign company contractually updating the rented signs once a week during that time. Reverend Alexa Gilmour is known for her liberal stance on social issues and the church has had a history of supporting both interfaith outreach and LGBT rights."
Hard Left Merged with Satan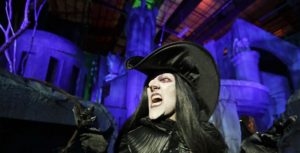 "Brooklyn Witches Host 'Ritual to Hex Brett Kavanaugh'" They did the same thing against President Trump, but it failed miserably. We need prayer as they try and do the same against Justice Kavanaugh.
They really are in league with satan who is the god of this world.
Revelation 11:15 And the seventh angel sounded; and there were great voices in heaven, saying, The kingdoms of this world are become the kingdoms of our Lord, and of his Christ; and he shall reign for ever and ever.

"Antifa, the far-left, and their radical feminist counterparts are all pretty spooky. Now, those who oppose Supreme Court Justice Brett Kavanaugh have actual witches and warlocks joining their ranks in a last-ditch effort to oppose the newest member of the Supreme Court. Members of New York City's occult are organizing a massive rally on October 20th to "hex" Kavanaugh.

According to a Facebook page hosted by Catland, a Big Apple bookstore that specializes in "practical spiritual tools, magical texts, local art & publications, and high-quality talismanic texts," members of the public are welcome to attend a "hex on Brett Kavanaugh, upon all rapists and the patriarchy at large which emboldens, rewards and protects them." According to the event planners, those present will be "embracing witchcraft's true roots as the magik of the poor, the downtrodden and disenfranchised and it's history as often the only weapon, the only means of exacting justice available to those of us who have been wronged by men just like him."
Dying Apostate Christianity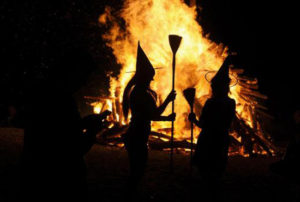 "Witches Outnumber Presbyterians in the US; Wicca, Paganism Growing 'Astronomically'" As Christianity dies in America, all uncleanness is filling the void from paganism, Wicca, new age, Communism to Islam.
We need revival for survival.
"The population of self-identified witches has risen dramatically in the United States in recent decades, as interest in astrology and witchcraft practices have become increasingly mainstreamed.

While data is sparse, Quartz noted, the practice of witchcraft has grown significantly in recent decades; those who identify as witches has risen concurrently with the rise of the "witch aesthetic."

Pew Research Center studied the issue in 2014, discovering that 0.4 percent of Americans, approximately 1 to 1.5 million people, identify as Wicca or Pagan, meaning their communities continue to experience significant growth.

The rapid rise is not a surprise to some given philosophical and spiritual trends in culture.

"It makes sense that witchcraft and the occult would rise as society becomes increasingly postmodern. The rejection of Christianity has left a void that people, as inherently spiritual beings, will seek to fill," said author Julie Roys, formerly of Moody Radio, in comments emailed to The Christian Post Tuesday."
Revelation 22:20 He which testifieth these things saith, Surely I come quickly. Amen. Even so, come, Lord Jesus.