HELL HOUSE: Dancing With the Devil In Oakland
Verse of the Day
 Psalm 106:18  And a fire was kindled in their company; the flame burned up the wicked.

Commentary
This terrible fire in Oakland has claimed 36 lives and the pictures are something to see – the place was an outpost of evil. There are 9 large photos of the various things inside and out before it burned down, and a link to their site is also available on the page if you care to look at it.
This is somewhat reminiscent of the Paris disaster in November 2015, when the Muslim terrorist killed all the people while they where singing and praising satan.
Paganism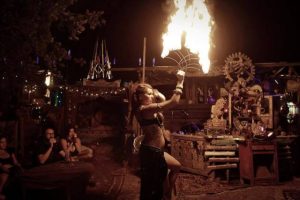 HELL HOUSE: Dancing With the Devil In Oakland 12/04/16  Written by: Geri Ungurean The massive fire in Oakland burnt down a satanic devil worshiping center! You must see the pictures of what this place is, because every satanic item you could imagine was found in it.
Isaiah 2:20 In that day a man shall cast his idols of silver, and his idols of gold, which they made each one for himself to worship, to the moles and to the bats;
"They say that a picture is worth a thousand words. What I will show you about the "Warehouse" in Oakland will express more than I could ever write.
As you will see, Shiva – the god of destruction in Hinduism, was greatly revered by the lost souls who gathered and even lived at the warehouse.
One of the pictures of the "Oakland Ghost Ship" as it was called, clearly shows a woman in a ritualistic dance, with fire above her. There were no smoke alarms nor was there a sprinkler system in place at this satanic gathering house. One could speculate that the inferno began during one of these dances."
Psalm 11:6  Upon the wicked he shall rain snares, fire and brimstone, and an horrible tempest: this shall be the portion of their cup.