Hundreds NYPD cops turn backs on mayor in protest as he speaks at funeral for slain Officer
                           Verse of the Day
Matthew 24:10 And then shall many be offended, and shall betray one another, and shall hate one another.
Commentary
The mayor of New York City is a Communist who hates America. How could he be elected? He was protesting at the G-20 meeting instead of being with the family of the officer who was assassinated. He is a real traitor to America.
May the Holy God of Israel bless and protect you.
Hebrews 3:12 Take heed, brethren, lest there be in any of you an evil heart of unbelief, in departing from the living God. But exhort one another daily, while it is called To day; lest any of you be hardened through the deceitfulness of sin.
Hard Left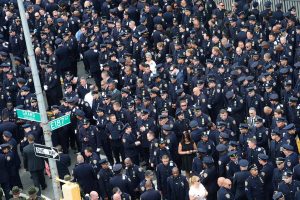 Hundreds of NYPD cops turn backs to de Blasio in protest as he speaks at funeral for slain Officer Miosotis Familia 07/11/17
"The police union's feud with City Hall is back. Shortly after Patrolmen's Benevolent Association head Patrick Lynch blasted Mayor de Blasio, several hundred cops turned away in protest when Hizzoner spoke at the funeral of slain Officer Miosotis Familia.
The anger resurfaced during Tuesday's service, spurred by the mayor's excursion to Germany one day after last Wednesday's execution of 12-year NYPD vet Familia.
Photos showed scores of police officers standing on the Grand Concourse with their backs to the World Changers Church in the Bronx as the mayor's speech was played via a public address system."
Hard Left/ Homosexuality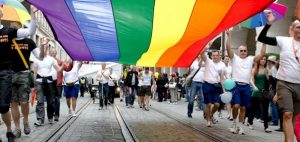 Court asked to leave LGBT T-shirt decision alone 07/13/17  Everything is a battle now when it comes to making a stand for the Lord. It is shocking when righteousness wins in the courts!
Isaiah 5:20  Woe unto them that call evil good, and good evil; that put darkness for light, and light for darkness; that put bitter for sweet, and sweet for bitter!

"The Kentucky Supreme Court is being asked not to mess with a lower court's ruling that a T-shirt printer cannot be forced to make shirts carrying messages that violate his religious faith, because the decision was based on "settled legal principle."
Blaine Adamson and his Hands On Originals shop were targeted by the Lexington-Fayette Urban County Human Rights Commission because he declined to promote a "gay" festival.
The commission demanded the courts order him to produce any message customers might request, even if it violates his Christian faith.
Lower courts ruled that while Adamson was required to serve any customer, he was not required to promote any message.
The case is among only a few ever to differentiate between discrimination regarding the status of the customer, which is protected, and the message demanded, which is not."
Hard Left/ Islam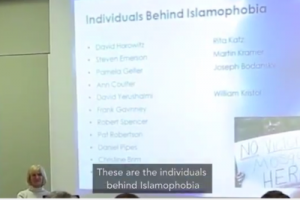 Hatem Bazian: The Most Dangerous Professor in America 07/13/17  The Hard Left universities are now a haven for Muslim hatred of the West and Israel. The Left and the Muslims are now in a full-blown mind meld. They both hate Christianity and Israel, so they are a perfect match. These universities are a breeding ground for terrorism against both America and the Jews. Their hatred of Israel has already spilled over to the Jews. I believe they are very close to physically attacking the Jews.
Proverbs18:21  Death and life are in the power of the tongue: and they that love it shall eat the fruit thereof.

"Calling for an American "Intifada" At an April 2004 rally held in San Francisco in support of the Iraqi insurgency, Bazian called for an "intifada" [violent uprising] in the United States.
Bazian asked the crowd: "Are you angry? Are you angry? Are you angry? Well, we've been watching intifada in Palestine, we've been watching an uprising in Iraq, and the question is that what are we doing? How come we don't have an intifada in this country?… and it's about time that we have an intifada in this country that change[s] fundamentally the political dynamics in here. And we know…they're gonna say it's some Palestinian being too radical, well you haven't seen radicalism yet!"
Spreading Hatred of Jews at SFSU As a graduate student at San Francisco State University (SFSU) in the 1980's, Bazian fomented an anti-Semitic environment that persists at SFSU until today.
Bazian served as president of SFSU Associated Students, the Student Union Governing Board and GUPS. As president, Bazian waged a "campaign" against Hillel and blocked the appointment of a Jewish student to SFSU's Student Judicial Council "on grounds that the individual supported the state of Israel and was therefore, by definition, a racist."
In 1994, Bazian organized a press conference to support an anti-Semitic mural that depicted Malcolm X's face surrounded by dollar signs, stars of David, skulls and crossbones and the words "African blood." Jewish students were forcibly excluded from the event.
Bazian also reportedly assaulted the offices of SFSU's student newspaper for being a "haven for Jewish spies." Under Bazian's leadership, GUPS rejected an invitation from SFSU's Jewish Student Action Committee to forge a "peace treaty" during the first intifada.
After graduating from SFSU, Bazian continued his studies at UC Berkeley, where headed the campus MSA and founded SJP in 2001. At a July 2014 anti-Israel rally, surrounded by current GUPS SFSU members, Bazian accused Israel of committing "genocide"
Islam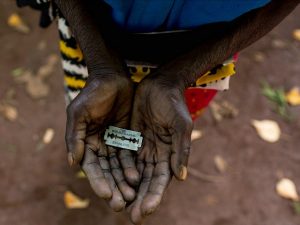 Michigan Gov. Rick Snyder Signs Law Making Female Genital Mutilation a Felony 07/13/17  The savagery of Islam is on full display with mutilating little girls. Only would Islam be barbaric enough to do such a thing!
Watch as the Democrats try and block laws against female genital mutilation in other states. It is practices like this whicht show just how evil the Democratic Party is. This goes along with abortion, homosexuality and promoting Islam.
Jeremiah 17:9  The heart is deceitful above all things, and desperately wicked: who can know it?

"Michigan Gov. Rick Snyder signed several bills into law Tuesday, increasing the penalties for female genital mutilation.
Of the 13 bills he signed into law, one of the bills he signed would classify female genital mutilation (FGM) in Michigan as a felony that carries a penalty of up to 15 years behind bars, the Detroit Free Press reported.
"Those who commit these horrendous crimes should be held accountable for their actions, and these bills stiffen the penalties for offenders while providing additional support to victims," Snyder said. "This legislation is an important step toward eliminating this despicable practice in Michigan while empowering victims to find healing and justice."
Linda Sarsour's Jihad against America 07/13/17  This is an excellent article filled with great information about what is going on with the Muslims in America. It shows the Muslim propaganda to disarm anyone who comes against them. I think that the Muslims are going to be used by the Hard Left to lead the attack and try to bring down America. The Hard Left hates America and the Muslims are so prone to violence that it is a natural fit for them to work together.
Revelation 22:20  He which testifieth these things saith, Surely I come quickly. Amen. Even so, come, Lord Jesus.

"Pro-terror inciter and vicious Jew-hater Linda Sarsour went before a Muslim Brotherhood-linked confab last weekend and called for a jihad against President Trump. Understandably, this caused blowback across the country — its intended purpose. The call to jihad and the ensuing controversy was by design. First, as a call to action and violence to the ummah, and secondly, to smear, defame and libel anyone opposed to this holy war as "fascists and white supremacists and Islamophobes." And that is exactly what she did.
The subsequent dissembling (and she was invited to do it in the pages of the Washington Post, no less) — is that she didn't mean this jihad but that jihad (inner struggle) — a popular Islamic deception. Sarsour knows exactly what jihad means, and so do the terrorists she supports.
Most disturbing about this recent defamation campaign is how it is focused on demonizing the legitimate yet widely misunderstood Islamic term I used, "jihad," which to majority of Muslims and according to religious scholars means "struggle" or "to strive for." This term has been hijacked by Muslim extremists and right-wing extremists alike, leaving ordinary Muslims to defend our faith and in some cases silenced.
Sarsour spreads the taqiyya on thick. She asserts that the term jihad "has been hijacked by Muslim extremists and right-wing extremists alike." So the victims of jihad terror have hijacked the term jihad. While jihadis are blowing up our children, airports, buildings, airplanes, concerts, malls, marches, markets, etc., screaming "Allahu akbar!'," we, the victims, have the audacity to call the thing by its rightful name. Jihad.
This would be funny if it weren't so monstrously serious. "To the majority of Muslims and according to religious scholars," jihad means holy war. Hundreds of millions of "ordinary Muslims" are waging holy war in the cause of Islam, and the world is roiling in its chaotic wake."
Islam/ ProLife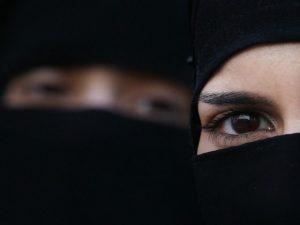 French Archbishop on 'the Great Replacement': 'Muslims Calmly Tell You France Will Be Theirs One Day' 07/11/17  The Muslims are correct. France is going to fall to Islam, and there is no way to stop it short of a bloody civil war. Notice how abortion plays a part in this since the French are not having children while the Muslims are having many!
Romans 6:23  For the wages of sin is death; but the gift of God is eternal life through Jesus Christ our Lord.

"The Roman Catholic Archbishop of Strasbourg Luc Ravel has called attention to the demographic shift in France saying Muslims are having far more children than native French and slammed the widespread "promotion" of abortion.
The Archbishop of Strasbourg went against the grain of Church leaders in France who have largely remained politically correct on the issue of demographic changes occurring in the country. He said the rising birth rate
of Muslims in France was leading to what prolific French writer Renaud Camus has termed "the Great Replacement", French conservative magazine Valeurs Actuelles reports.
"Muslim believers know very well that their birthrate is such that today, they call it … the Great Replacement, they tell you in a very calm, very positive way that, 'one day all this, it will be ours'," he said.
The concept of the Great Replacement was coined in 2010 in a speech given by Camus and then later in his 2011 political book, The Great Replacement. Camus defined the Great Replacement as the transition of a society, often through mass migration, in a few generations in which the names of places remain the same but the people and their values totally change.
Transgendered
A 21-Year-Old Man Has a Baby, and Doctors Say 'Womb Transplants for Men' Will Soon Be Possible 07/11/17  Satan is really working through these people to destroy the fact that God created mankind male and female. This is altering reality and now making man a creature out from under the control of God. This will progress until the Second Coming of Jesus Christ, when this entire corrupt system is destroyed.
Genesis 1:27  So God created man in his own image, in the image of God created he him; male and female created he them.

"Do you think men should be having babies? Years ago, I remember being told that someday we would see these sorts of headlines, but such a thing seemed so impossible to me at the time.
Well, now it is actually happening.
Over in the U.K., a 21-year-old British man named Hayden Cross has just given birth to a baby girl. But of course, Hayden was not actually born a man. Hayden used to be known as "Paige Cross" but eventually made a decision to embrace a transgender lifestyle. However, Hayden put his transition on hold in order to become pregnant and give birth.
Now that the birthing experience is over, Hayden plans to "complete his gender realignment as soon as possible."
Christian Apostasy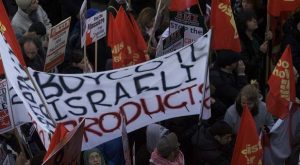 Mennonite Church USA Votes to Boycott Israel 07/13/17  There are lots of Mennonites where I live in Pennsylvania, and I have interacted with them. The ones I spoke with have no interest whatsoever in Israel. They are really dead to prophecy and have no interest it. This divestment from Israel is fruit of their dead doctrine. I expect what they just did to wreck their wealth and drive people away as the Holy Spirit flees from them.
Obadiah 1:15  For the day of the LORD is near upon all the heathen: as thou hast done (to Israel), it shall be done unto thee: thy reward shall return upon thine own head.

"The Mennonite Church USA voted Thursday to divest itself from any financial holdings with companies profiting from Israel's "occupation."
A divestment resolution, which received 98 percent support among the 550 delegates at the church's national convention in Orlando, Florida, says the Protestant sect "opposes the Israeli military occupation while taking a stand against anti-Semitism and affirming the need to build stronger relationships with Jewish communities."
The resolution asks the church's $3 billion financial agency, Everence, to "review investment practices for the purpose of withdrawing investments from companies that are profiting from the occupation." It also calls on individual adherents of the Mennonite denomination to review their investments."
Message' Bible Creator Eugene Peterson Changes Mind on Homosexuality; Would Perform a Same-Sex Marriage if Asked 07/13/17  God is manifesting the hearts of people, and one of the big issues he uses is homosexuality. Look at how the big names are falling. What this shows is that he does not fear God, and his final authority is not the Bible but societal norms. He is way down the road to apostasy. Because he is on this road, he will turn further from the truth.
Ephesians 5:11-13  And have no fellowship with the unfruitful works of darkness, but rather reprove them. "12) For it is a shame even to speak of those things which are done of them in secret.
(13) But all things that are reproved are made manifest by the light: for whatsoever doth make manifest is light.

"I wouldn't have said this 20 years ago, but now I know a lot of people who are gay and lesbian, and they seem to have as good a spiritual life as I do. I think that kind of debate about lesbians and gays might be over. People who disapprove of it, they'll probably just go to another church. So we're in a transition, and I think it's a transition for the best, for the good. I don't think it's something that you can parade, but it's not a right or wrong thing as far as I'm concerned," Peterson says.
"I haven't had a lot of experience with it," Peterson says of LGBT members in his church. "But I have been in churches when I was an associate pastor where there were several women who were lesbians. They didn't make a big deal about it. I'd go and visit them, and it never came up for them. They just assumed that they were as Christian as everybody else in the church."
World War 3
US successfully tests THAAD missile system amid North Korean tensions 07/11/17  The US is fine-tuning its defenses, getting ready for war with NK.
"The U.S. on Tuesday test-fired its THAAD anti-ballistic missile system from Alaska that successfully intercepted a target missile launched from an Air Force Cargo plane north of Hawaii.
The drill was previously scheduled in June and comes a week after North Korea successfully test-launched an intermediate-range ballistic missile capable of hitting Alaska.
A THAAD interceptor is launched from the Pacific Spaceport Complex in Kodiak, Alaska, on July 11, 2017. (Leah Garton, Missile Defense Agency )
THAAD is used to intercept short- and intermediate-range ballistic missiles. It does not target intercontinental ballistic missiles. The U.S. has a perfect record on launches, hitting 14 out of 14 targets."

Isaiah 9:6  For unto us a child is born, unto us a son is given: and the government shall be upon his shoulder: and his name shall be called Wonderful, Counsellor, The mighty God, The everlasting Father, The Prince of Peace.