IDF readies for heavier Gaza conflict as massive missile barrage persists
Verse of the Day
Zechariah 12:9 And it shall come to pass in that day, that I will seek to destroy all the nations that come against Jerusalem.
Commentary
As the Hamas missiles get more powerful and accurate, Israel is going to have no choice but eliminate Hamas. Will this start the all-out war in with Israel that the prophets wrote about.
May the Holy God of Israel bless and protect you.
Obadiah 1:18 And the house of Jacob shall be a fire, and the house of Joseph a flame, and the house of Esau for stubble, and they shall kindle in them, and devour them; and there shall not be any remaining of the house of Esau; for the LORD hath spoken it.
Hamas vs Israel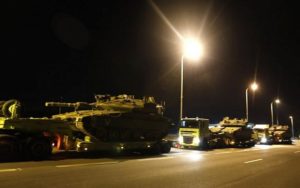 "IDF readies for heavier Gaza conflict as massive missile barrage persists"
"The Israeli military deployed additional troops and tanks to the Gaza Strip border on Monday following the largest barrage of rockets and mortar shells fired at Israel from the coastal enclave in a single day.
The army was reportedly given a green light from policymakers to pummel terror groups in the Strip if they continued with the barrages, as the terror organizations in the Strip vowed to do.

"The resistance factions' joint command center is holding a serious conversation about expanding its range of fire. Ashkelon is just the beginning. Approximately one million Zionists will be within the range of our missiles if the Zionist enemy's decision is to continue its aggression," said Abu Obeida, a spokesperson for Hamas's military wing."
Hamas vs Israel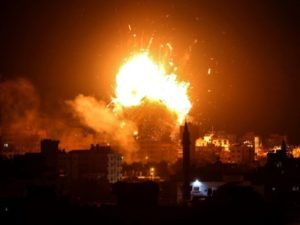 "World View: Eight People Killed in Botched Israeli Military Operation in Gaza"Once again tensions are very high along Israel's border with Gaza. Hamas has fired over 400 missiles into Israel and the last two days.
"An Israeli army officer and seven Palestinians were killed in a gunfight that followed a botched Israeli army military undercover operation in Gaza on Sunday evening.
Israeli special forces members wore women's clothing to avoid detection and crossed the border into Gaza. This follows another "cloak and dagger" operation on Thursday when a car crossed into Gaza carrying three suitcases in the back seat stuffed with $15 million in cash from Qatar.
When the car was two miles into Gaza, near Khan Younis, fighters of the Izzedine Al-Qassam Brigades, the military wing of Hamas, stopped the car and asked to see ID cards. A gunfight ensued, killing one Israeli military officer, who has not been identified, and seven Palestinians. One of the Palestinians was an Al-Qassam Brigades senior command, Noureddin Mohammad Salama Baraka, 37."
Hard Left Full Blown Reprobate Minds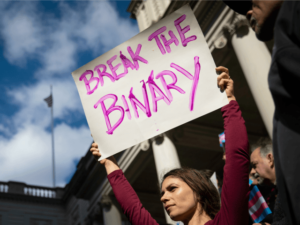 "Fordham University Political Science Department Mandates Use of Students' 'Preferred Pronouns'" This now heading to all-out war against God's word and anyone who believers his word. The hatred and rebellion is accelerating to the point there is coming bloodshed. We are soon going to have to protect ourselves and churches.
In their minds they are in totally war against God.
Romans 8:7 Because the carnal mind is enmity against God: for it is not subject to the law of God, neither indeed can be.

"The decision was announced just two weeks after Fordham undergraduate and law school activist groups demanded that the university publicly "resist transphobic rhetoric."

Students were inspired to make these demands after reading an article by the New York Times, which reported that the Trump administration had been considering defining sex as "male or female based on immutable biological traits identifiable by or before birth."

"The sex listed on a person's birth certificate, as originally issued, shall constitute definitive proof of a person's sex unless rebutted by reliable genetic evidence," suggested the Department of Health and Human Services in a memo, according to the New York Times.

"I know the politicians attacking our civil liberties never wanted liberation for trans and queer people, or for immigrants, the working class, people of color or women," said student Eliza Putnam, "While we fight against the worst impacts of the onslaught of policies from our federal government, we must always tune into our own communities, and see how we can provide sanctuary there."
Protecting Christians From Muslims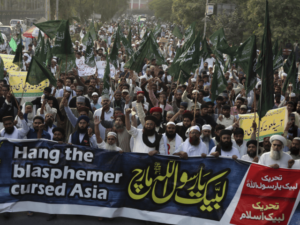 "Trump Should Offer Asylum to Asia Bibi"I hope the President hears about her plight and brings her to America.
Proverbs 20:28 Mercy and truth preserve the king: and his throne is upholden by mercy.
"But if anyone deserved rescuing by the benign and civilized West from a foreign hellhole it's Asia Bibi – the woman who has been held in solitary confinement in a Pakistani prison for nine years under sentence of death on trumped up blasphemy charges.

Her crime? Being a Christian in a country swarming with Islamists. If she stays she faces almost certain death. Two of the politicians who bravely defended her – Salman Taseer and Shahbaz Bhatti – have already been assassinated, while her lawyer Saif Mulook has fled to the Netherlands.

But where can she go?"
Hard Left Jew Hating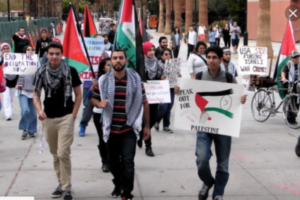 "MORE JEW-HATRED at UC Berkeley: Terror-Tied SJP to Host Vigil Equating Pittsburgh Shooting to Israel's Actions in Gaza" The Hard Left clearly merging with the Muslims. It won't be long until Israeli hatred is a part of the Dem party.
""When people criticize Zionists they mean Jews, you are talking anti-Semitism," Reverend Martin Luther King.

Muslim students and leftists using murdered Jews to incite to more Jewish genocide.

The vicious rise in antisemitism is a direct result of the leftist/Islamic war on the Jewish state. Make no mistake, the norming of hatred of the Jewish state and the demand that we "respect" Islam despite many of its abhorrent bigoted tenets made Pittsburgh an inevitability.

As for Israel's "actions in Gaza"……. Israel unilaterally withdrew from Gaza despite the ongoing jihad against the Jews by the Muslims in that region and their refusal of peace efforts. Israel withdrew nonetheless. Instead of using this gift to build a state, the Philistines used it as a launching pad for terror, a terror statelet and literally destroyed all of the factories, greenhouses and industry left behind, an act of goodness, for a fresh start."
The Arrogant French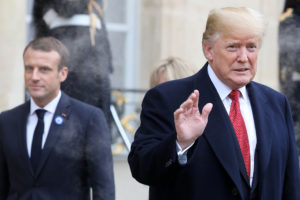 "Trump goes on the attack against Macron" There is something about French that revolts me. They have an arrogant attitude against America more than any other European nation.
What we should do is bring dead soldiers from WW1 and WW2 back home and leave the French to the Muslims and Russians. Make the French pay double for defending them.
Macron is a one-worlder and hates Trump for being America first.
"President Donald Trump, fresh off a tense visit to Paris, on Tuesday fired off a string of tweets attacking French President Emmanuel Macron for floating the idea of a self-reliant European military and the country's wine tariffs, while accusing Macron of swiping at Trump's nationalism to distract from his own shortcomings.

"Emmanuel Macron suggests building its own army to protect Europe against the U.S., China and Russia," Trump began in his first tweet. "But it was Germany in World Wars One & Two – How did that work out for France? They were starting to learn German in Paris before the U.S. came along. Pay for NATO or not!"

"MAKE FRANCE GREAT AGAIN!" the U.S. president wrote in a follow-up post to Twitter later Tuesday morning."
Abba Father's International Fellowship- East Africa
These are older pictures sent in by Pastor Z preaching in East Africa.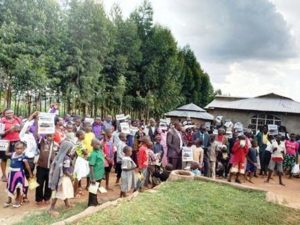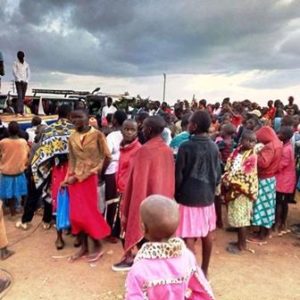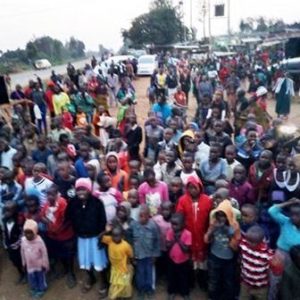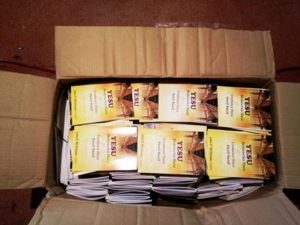 Revelation 22:20 He which testifieth these things saith, Surely I come quickly. Amen. Even so, come, Lord Jesus.
If you like our ministry, please consider making a donation to keep us going. May the Holy God of Israel bless you!