Islamic Jihad leader expects war with Israel to break out next summer
Verse of the Day
Jeremiah 51:20,21 Thou art my battle axe and weapons of war: for with thee will I break in pieces the nations, and with thee will I destroy kingdoms; And with thee will I break in pieces the horse and his rider; and with thee will I break in pieces the chariot and his rider;
Commentary
Islamic Jihad, Hezbollah and Hamas if they start the war this simmer then they don't have long to live. Israel has warned the coming war will be the last because nothing can stop Israel from finishing off these terrorist groups.
We will just have to wait to see what happens.
May the Holy God of Israel bless and protect you.
Zechariah 12:6 In that day will I make the governors of Judah like an hearth of fire among the wood, and like a torch of fire in a sheaf; and they shall devour all the people round about, on the right hand and on the left: and Jerusalem shall be inhabited again in her own place, even in Jerusalem.
War in the Middle East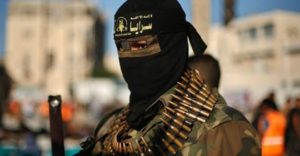 Islamic Jihad leader expects war with Israel to break out next summer"
"A leader of the Islamic Jihad said in a televised interview that he expects war with Israel to break out by next summer.

Speaking to Al Mayadeen, a Lebanese news channel, on Tuesday night, Islamic Jihad Secretary-General Ziad al-Nahala described the most recent escalation against Israel as "just preparation for the greater battle."

"The resistance in Gaza is fully prepared for any war," Nahala said, adding that when the ceasefire was reached, they were about to shoot rockets at Tel Aviv.

The Islamic Jihad leader further said that the weekly protests at the border with Israel will continue. He explained that a first test for the ceasefire will take place next Friday, which marks the commemoration of "Nakba Day," the Day of the Catastrophe, as Palestinians refer to the foundation of the State of Israel. He vowed that if the demonstrators are hurt, there will be retaliation."
Israel Blessing President Trump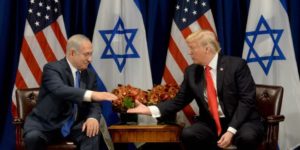 "Town Square in Suburb of Tel Aviv to be Named After Trump"What a nice gesture on the part of the Israeli government to President Trump! What a contrast he is to Obama and Kerry who tried to hurt Israel every way they could! God is not yet finished with these two.
Genesis 12:3 And I will bless them that bless thee, and curse him that curseth thee: and in thee shall all families of the earth be blessed.

"A town square in the Tel Aviv suburb of Petach Tikvah will be named for U.S. President Donald Trump, announced Mayor Rami Greenberg on Monday.

The move comes "in gratitude to and appreciation to the president for his unwavering support of Israel," said Greenberg in a statement.

"We are making history here in the center of Petach Tikvah. We will celebrate this important event on American Independence Day. This is a great honor for Petach Tikvah," said Greenberg, who mentioned that Israeli Prime Minister Benjamin Netanyahu, other government officials and U.S. Ambassador to Israel David Friedman would be invited to the naming.

This isn't the only area in Israel named after the U.S. president. Last month, Netanyahu said he will ask his government to vote on a measure to name a new neighborhood in the Golan after Trump, who in March recognized Israeli sovereignty over the area.

Plans are also expected to be announced this week for a train stop in Jerusalem to be named after Trump, who officially recognized Jerusalem as the capital of the Jewish state in December 2017 and relocated the U.S. embassy from Tel Aviv there five months later."
Middle East War Over Israel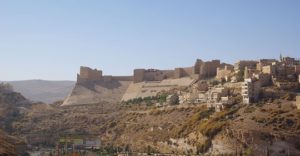 "The Middle East Anti-Peace Movement" This is a very good article showing the real attitude of the Muslims against Israel. They will never settle for an agreement with Israel because they want it destroyed. They want Jerusalem and this city is going to be their doom just as it is laid out in the Bible. Jordan is going to be a major player against Israel.
I write about this in my book "As America Has Done to Israel" and the companion DVD. You can get these at my book store:
Zechariah 12:3 And in that day will I make Jerusalem a burdensome stone for all people: all that burden themselves with it shall be cut in pieces, though all the people of the earth be gathered together against it.

"The campaign against the Jordanian mayor is the direct result of anti-Israel incitement in Jordan and most of the Arab and Islamic states. While some of the leaders of these countries may appear to be relatively moderate in their views towards Israel, their people continue to reject any form of normalization with the "Zionist enemy."

For decades, Arab and Muslim leaders have been radicalizing their people on a daily basis against Israel. They have delegitimized Israel in the eyes of their people to a point where they can no longer be seen talking to or making peace with Israelis.

One is left wondering how any Arab leader would accept any peace plan with Israel when a mayor is being widely condemned and shamed for being caught on camera in the company of Israelis.

In order to achieve peace with Israel, Arab and Muslim leaders need to start preparing their people for peace, and not inciting them against Israel."
USA vs Iran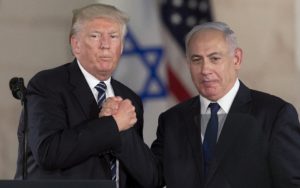 "Trump: We support Israel 100%" It is the President's blessing and protecting Israel which the Lord honored and kept America intact.
"US President Donald Trump on Sunday blasted Hamas and the Islamic Jihad over their continued rocket attacks on southern Israel.

"Once again, Israel faces a barrage of deadly rocket attacks by terrorist groups Hamas and Islamic Jihad. We support Israel 100% in its defense of its citizens," Trump tweeted.

He also directly turned to the people of Gaza in a second tweet and urged them to work towards peace. "To the Gazan people — these terrorist acts against Israel will bring you nothing but more misery. END the violence and work towards peace – it can happen!" he wrote."
In Your Face Jew an Christian Hating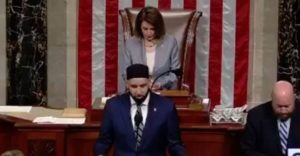 "Outrageous! Pelosi Gives Congressional Opening Prayer Duties to Anti-Semitic Imam who Compared Jews to Nazis" Pelosi is leading the dems into a black hole of destruction as they are now heading to be 100 percent against the Jews and Israel. The curse of God is hovering over them, and I can see President Trump and the American Patriots as judgment against them.
This is our nation and we don't want and Jew/Israeli hating Imam to have anything to do with America.
Psalm 33:12 Blessed is the nation whose God is the LORD; and the people whom he hath chosen for his own inheritance.

"On Thursday Democrat Speaker Nancy Pelosi gave opening prayer duties to Imam Omar Suleiman. Outrageous! Pelosi Gives Congressional Opening Prayer Duties to Anti-Semitic Imam who Compared Jews to Nazis.

Imam Omar Suleiman is an anti-Semite who compared Israel to Nazis and refers to Israelis as terrorists. Suleiman also supports the Muslim Brotherhood terror group and called for the Palestinian antifada or attacks on Jews."
Political Lowlife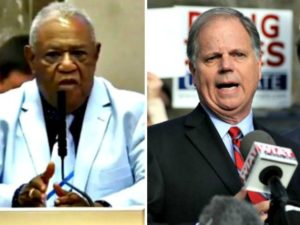 "Alabama Democrat John Rogers: Sen. Doug Jones Told Me I Was 'Right' on Abortion" It seems the entire Dem Party is now given over to abortion and beyond. It is one big reprobate mind now given over to infanticide. I don't think that one dem stood up and rebuked those who promoted infanticide.
"In an interview on Talk 99.5's Matt & Aunie Show Monday morning, Alabama State Rep. John Rogers (D) claimed Sen. Doug Jones (D-AL) agreed with his remarks last week on abortion but was furious because it caused stress to his re-election campaign.

During the interview, Rogers described a phone call between himself and Sen. Jones after he made the remarks on abortion.

"Everybody who knows me knows I'm combative," Rogers stated. "And I told Doug that if you want to come out against me, I'm coming out here against you."
Draining the Deep State Swamp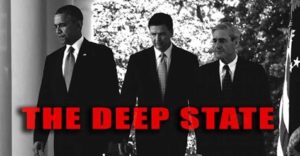 "New Evidence Shows WITH CERTAINTY the FBI Lied to Court to Obtain FISA Warrant to Spy on Trump" Hillary is easy to indict because we watched her crimes on the news, but the big one is B. Hussein and many others around him. This is what I'm waiting for.
I think the slow manifesting of all this evidence is real good because without a doubt we know they are guilty. Also, some of this seeps into the public and it prepares them for what is coming!
Romans 12:19 Dearly beloved, avenge not yourselves, but rather give place unto wrath: for it is written, Vengeance is mine; I will repay, saith the Lord.

"Newly unearthed memos show a high-ranking government official who met with Steele in October 2016 determined some of the Donald Trump dirt that Steele was simultaneously digging up for the FBI and for Hillary Clinton's campaign was inaccurate, and likely leaked to the media.

The concerns were flagged in a typed memo and in handwritten notes taken by Deputy Assistant Secretary of State Kathleen Kavalec on Oct. 11, 2016.

Her observations were recorded exactly 10 days before the FBI used Steele and his infamous dossier to justify securing a Foreign Intelligence Surveillance Act (FISA) warrant to spy on Trump campaign adviser Carter Page and the campaign's contacts with Russia in search of a now debunked collusion theory."
Abba Father's International Fellowship
(We provided a laptop that 100 pastors will be able to access as they gather to pray with us at the one church that is teaching these pastors)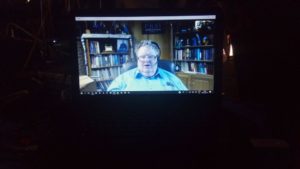 Shalom pastor John mc Ternan and brother Greg
We had wonderful time in the lord as we provide more than 100 pastors with laptop and two speakers .this will help them  join us in prayer time .
Abba Father is very very big in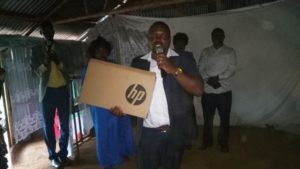 East Africa. God is doing great work. it is not easy more than one hundred pastors join our ministry at once. as pastor John was preaching many Muslims came to the lord many people were healed even small children were heal .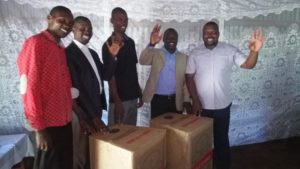 Keep praying for the outpouring of the holy spirit. I will send more photo I am still with the pastors until I help them how to join radio show then travel back to send receipt of funds you had send .
Revelation 22:20 He which testifieth these things saith, Surely I come quickly. Amen. Even so, come, Lord Jesus.
If you like our ministry, please consider making a donation to keep us going. May the Holy God of Israel bless you!