Japan Vows To Take Action After North Korea's Missile Test
                      Verse of the Day
Matthew 24:6,7 And ye shall hear of wars and rumours of wars: see that ye be not troubled: for all these things must come to pass, but the end is not yet. For nation shall rise against nation, and kingdom against kingdom… 

Commentary
Japan is ready for war with North Korea. It seems that King Jong Un is baiting the nations into a war with NK.
May the Holy God of Israel bless and protect you.
Hebrew 9:28 So Christ was once offered to bear the sins of many; and unto them that look for him shall he appear the second time without sin unto salvation.
World War 3/ North Korea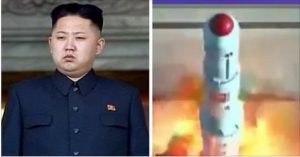 Japan Vows To Take Action After North Korea's Missile Test 06/01/17
Revelation 22:20  He which testifieth these things saith, Surely I come quickly. Amen. Even so, come, Lord Jesus.

"A day after a North Korean missile test landed in an area where Japanese fishing and cargo ships are active, Japanese Prime Minister Shinzo Abe vowed the island nation would take action.
"As we agreed at the recent G7, the issue of North Korea is a top priority for the international community," he said Monday in a televised speech. "Working with the United States, we will take specific action to deter North Korea," Abe said. He did not specify what kind of action Japan intended to take.
"We absolutely cannot accept North Korea's repeated provocations despite repeated warnings by the international community," Abe said.
On Sunday, North Korea tested a short-range Scud ballistic missile. The missile flew for six minutes until it landed in the Sea of Japan. North Korea has several Scud-type missiles in its arsenal, leading analysts to wonder what was new about this missile."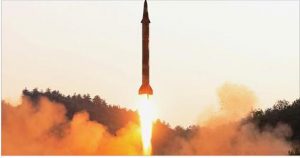 North Korea wants to rain missiles on the US — China does, too. Let's wake up 05/31/17  I have said for a long time that China is not our friend and has a lot to gain from war between NK and the USA. It is even possible that NK and China could unite against us. China wants to dominate Asia and wants the US out of Asia.
"North Korea's latest missile launch, while certainly not the most sophisticated of its recent firings, sends an ominous message: Pyongyang will not be denied the ability to hit any target it desires, including U.S. bases and eventually the homeland. But is Kim Jong Un simply copying the well-worn playbook of its ally, the People's Republic of China (PRC)?
The evidence is quite telling. While North Korea's missile arsenal — now at over 1,000 short, medium and long-range weapons — is creating nothing short of a slow-moving Cuban Missile Crisis in Northeast Asia, China has also been working to perfect its own missile technology on a much more massive scale, and per some experts, represents the gravest threat to the U.S. military today.
Indeed, since the days of the early Cold War, Beijing has been developing missile platforms to deter the West. China's efforts picked up rapid speed after the thawing of relations with the United States in the 1970s, allowing for the acquisition of dual-use technologies to aid their efforts. Beijing developed short, medium, and long-range missiles, pairing them with miniaturized nuclear warheads to deter Moscow, at the time its most dangerous adversary."
Jerusalem
Trump signs waiver, won't move US embassy to Jerusalem 06/01/17  The President made a huge mistake. Any peace deal with the PLO is DOA. They don't want peace, but they do want Jerusalem. Israel is not going to divide Jerusalem, so the peace deal is DOA.
I hope the President learns this very quickly and then immediately transfers the embassy to Jerusalem. He is about to find out just how difficult Jerusalem is and nothing short of war can solve the problem of Jerusalem!
Zechariah 12:2  Behold, I will make Jerusalem a cup of trembling unto all the people round about, when they shall be in the siege both against Judah and against Jerusalem. (3) And in that day will I make Jerusalem a burdensome stone for all people: all that burden themselves with it shall be cut in pieces, though all the people of the earth be gathered together against it.

"President Donald Trump on Thursday signed a waiver that delays for six months any plan to relocate the US embassy from Tel Aviv to Jerusalem, disappointing the Israeli government and backtracking on a key promise he made on the campaign trail throughout 2016.
Announcing the move, the White House insisted it did not represent a weakening of his support for Israel. "While President Donald J. Trump signed the waiver under the Jerusalem Embassy Act and delayed moving the US Embassy in Israel from Tel Aviv to Jerusalem, no one should consider this step to be in any way a retreat from the President's strong support for Israel and for the United States-Israel alliance," the White House statement said.
The White House said the president still stood by his promise to move the embassy. "President Trump made this decision to maximize the chances of successfully negotiating a deal between Israel and the Palestinians, fulfilling his solemn obligation to defend America's national security interests. But, as he has repeatedly stated his intention to move the embassy, the question is not if that move happens, but only when."
Hard Left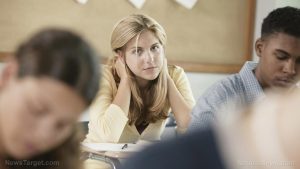 Not even kidding: College will require "Abolition of Whiteness" course for political science majors 06/01/17  Once again, we are looking at the destructive minds of the reprobates. Instead of uniting the races, the Hard Left is driving wedges and blaming all of the trouble in America on white people. If you disagree with these totalitarians, they call you a racist and attack you.
They literally are trying to create a climate for racial hostility and are picking up where Hussein Obama left off. With the dangerous reprobate mind, the Hard Left is now trying to destroy the racial harmony of America. This mind must destroy, because it is in rebellion against God.
Ephesians 4:18  Having the understanding darkened, being alienated from the life of God through the ignorance that is in them, because of the blindness of their heart:

"Many once-fine institutions for higher learning in America are slowly but very steadily being transformed from educational facilities to cultural revolution centers aimed at destroying traditional American principles, values and mores.
How else can you possibly explain this outrage: Requiring political science majors to take and pass a course called "Abolition of Whiteness" that is little more than mandatory shaming of anyone born Caucasian.
As reported by Campus Reform, Hunter College in New York City, beginning in the Fall 2017 semester, will require the course, which is to be taught by "Women and Gender Studies" Prof. Jennifer Gaboury. The course is cross-listed for her department and the Political Science Department, and will fulfill one of four classes in the "4 subfields of political science" under the overarching "POLSC 204: Contemporary Issues in Political Theory."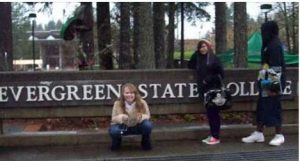 Profane Black College Students Protest on 'No White People Day' 06/01/17 (Beware lots of vulgar language)  As you read this article and watch the video, what you are looking are Hard Left "Frankensteins" created by the reprobate professors. These students are their "children." Their children are just taking what they were taught about hate to a higher level against the universities and professors.
I think that God's judgment is hovering over these ungodly schools which mock God and his word. They suppressed anyone who spoke the truth, and they promote abortion and homosexuality. Now they are bringing in all the Muslims they can, not caring if they are terrorists. It appears that the Lord just might use this new breed of Hard Left students to destroy these universities. How fitting this would be that their own offspring destroyed these putrid centers of sin and rebellion!
Isaiah 3:5  And the people shall be oppressed, every one by another, and every one by his neighbour: the child shall behave himself proudly against the ancient, and the base against the honourable.

Matthew 12:34  O generation of vipers, how can ye, being evil, speak good things? for out of the abundance of the heart the mouth speaketh.

"New video from Evergreen State College shows students demanding to be excused from their homework assignments so they could continue to protest.
As Campus Reform initially reported, hundreds of students marched through campus Thursday demanding the resignation of Professor Bret Weinstein, who had questioned the school's decision to ask white people to leave campus for a day of diversity programming in an all-staff email.
"No, fuck you, George. We don't want to hear a Goddamn thing you have to say."
As a result, student protesters confronted Weinstein on campus in a video that has since made national headlines, shouting "fuck you, you piece of shit" and asking him to apologize for his email.
Videos from Evergreen have since continued to leak, painting a chaotic portrait of campus in which protesters try to bully administrators into kowtowing to their demands, and in one case even tell the school's president, George Bridges, to "shut the fuck up."
Hard Left/ ProLife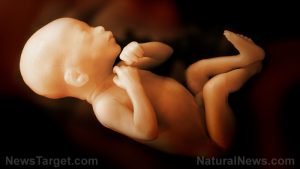 Liberal judges are desperately trying to BLOCK undercover Planned Parenthood abortion videos 06/01/17  Those in the legal profession, and especially the judges that promote and support abortion, are heartless. Their hearts are dead and hard as granite. They are like spiritual zombies.
They seem to love the killing of babies and will do everything they can to protect Planned Parenthood, which kills 330,000 babies a year!
Their hands and soaked with the blood of these babies. They are a curse on America. In their darkened hearts they are real killers, like a predator that kills for the joy of it. I guess this predator would be the weasel. We have lots of weasel judges in America.
Proverbs 8:36  But he that sinneth against me wrongeth his own soul: all they that hate me love death.
Psalm 94:16  Who will rise up for me against the evildoers? or who will stand up for me against the workers of iniquity?
"For those who are unaware, David Daleiden is a well-known anti-abortion activist and founder of the Center for Medical Progress, an organization that has been working to advance pro-life principles since 2013. Recently, Daleiden and the Center for Medical Progress has come under fire for publishing videos on his website that show abortion executives discussing the sale of aborted baby parts, despite the fact that a judge had ordered a gag order on the recordings. Daleiden may now be held in contempt of court.
The footage that was posted on the Center for Medical Progress website was from the National Abortion Federation (NAF) conference. It showed abortion executives making horrifying comments about their personal experiences while performing abortions, and even joking about the procedure. At the beginning of the video, one Planned Parenthood medical director is seen speaking about "heads that get stuck" and the "hemorrhages that we manage."
But as the video goes on, the comments only get worse. That same Planned Parenthood medical director later admits that the act of abortion is, in fact, murder. "Given that we might actually both agree that there's violence in here, ask me why I come to work every day," she is seen telling a panel. "Let's just give them all the violence, it's a person, it's killing, let's just give them all that."
Hard Left/ Christianity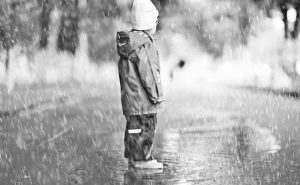 Ontario passes 'totalitarian' bill allowing gov't to take kids from Christian homes 06/02/17  Whatever the Hard Left is doing in Canada, they also want to do in the US. The reprobate mind is the same no matter what country you are in. They are ruthless and would get great pleasure in taking children away from a Christian family. In the reprobate world, the greatest right is sodomy and they promote whatever destroys mankind being created by God male and female.
2 Timothy 3:1 This know also, that in the last days perilous times shall come. For men shall be lovers of their own selves, covetous, boasters, proud, blasphemers, disobedient to parents, unthankful, unholy, Without natural affection, trucebreakers, false accusers, incontinent, fierce, despisers of those that are good, Traitors, heady, highminded, lovers of pleasures more than lovers of God;

"Pro-family advocates warn Bill 89 gives the state more power to seize children from families that oppose the LGBTQI and gender ideology agenda, and allows government agencies to effectively ban couples who disagree with that agenda from fostering or adopting children.
Bill 89, or the Supporting Children, Youth and Families Act, 2017, repeals and replaces the former Child and Family Services Act that governs child protection services, and adoption and foster care services. It adds "gender identity" and "gender expression" as factors to be considered "in the best interests of the child."
At the same time, it deletes the religious faith in which the parents are raising the child as a factor to be considered, and mandates child protection services consider only the child's own "creed" or "religion" when assessing the best interests of the child.
"With the passage of Bill 89, we've entered an era of totalitarian power by the state, such as never witnessed before in Canada's history," says Jack Fonseca, senior political strategist for Campaign Life Coalition.
"Make no mistake, Bill 89 is a grave threat to Christians and all people of faith who have children, or who hope to grow their family through adoption."
Economic Armageddon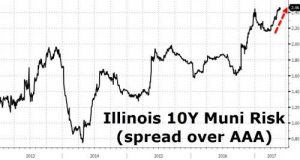 "Now The Pain Begins": S&P, Moodys Cut Illinois To Near Junk, Lowest Ever Rating For A U.S. State 06/01/17  This downgrade was a long time coming. Illinois can't pay $14 billion in debt. What this does is make the borrowing of money much more costly and raises the interest on bonds, all of which adds to the debt. It really does appear the economic delusion of this state was just smashed. I'm sure that Chicago is a drag on the entire state. I wonder how many more states are just like Illinois?
"The monetary problems plaguing the state of Illinois (not to mention its public pensions) have been widely documented here over the past few years, and today the rating agencies finally noticed, when in the span of a few hours, first S&P, then Moody's downgraded Illinois to BB+/Baa3, respectively, both just one notch above junk, the lowest rating ever given to a U.S. state, as both agencies cited a long-running political stalemate over a budget shows no signs of ending.
In the first downgrade, S&P warned that Illinois is at risk of soon losing its investment-grade status, an unprecedented step for a state that would only deeper the government's strain. Bypassing its traditional 90-day review, S&P said Illinois will likely be downgraded around July 1, when the new fiscal year begins, if leaders haven't agreed on a budget that starts addressing the state's chronic deficits.
In a statement, S&P analyst Gabriel Petek said that "The unrelenting political brinkmanship now poses a threat to the timely payment of the state's core priority payments."
Petek's ire was prompted by Illinois' inability to pass a budget for the past two years amid a clash between the Democrat-run legislature and Republican Governor Bruce Rauner. The ongoing confrontation has left the fifth most-populous US state with a record $14.5 billion of unpaid bills, ravaged entities like universities and social service providers that rely on state aid and undermined Illinois's standing in the bond market, where investors have demanded higher premiums for the risk of owning its debt, Bloomberg reported."
Science: 666 Surveillance System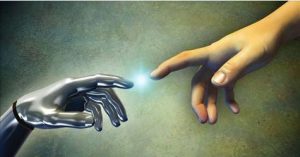 AI will be able to beat us at everything by 2060, say experts 06/01/17  I believe that science will be used to fulfill end time Bible prophecy. One area where will occur will be to create a cyborg which will be the image of the beast found in Revelation 13. This is where all the AI and robots are heading, and it is accelerating at an incredible speed. From watching science, we can see how close the end is, and it is very close. At the Second Coming of Jesus Christ, he will put an end to all of this rebellion against him.
Revelation 13:14  And deceiveth them that dwell on the earth by the means of those miracles which he had power to do in the sight of the beast; saying to them that dwell on the earth, that they should make an image to the beast, which had the wound by a sword, and did live. (15) And he had power to give life unto the image of the beast, that the image of the beast should both speak, and cause that as many as would not worship the image of the beast should be killed.

"Enjoy beating robots while you still can. There is a 50 per cent chance that machines will outperform humans in all tasks within 45 years, according to a survey of more than 350 artificial intelligence researchers.
AI will master many activities a lot sooner, though. Machines are predicted to be better than us at translating languages by 2024, writing high-school essays by 2026, driving a truck by 2027, working in retail by 2031, writing a bestselling book by 2049 and surgery by 2053. In fact, all human jobs will be automated within the next 120 years, say respondents.
The survey, by the University of Oxford and Yale University, was sent to AI researchers who published in 2015 at one of two big conferences in the field – the Conference on Neural Information Processing Systems and the International Conference on Machine Learning. In total, 352 people responded.
The results have "far-reaching social consequences," says Katja Grace at the Machine Intelligence Research Institute in Berkeley, California. How will teachers deal with computer-generated essays that are indistinguishable from the real thing, for example?
But at least we will still be around to deal with these issues. Despite media hype about the dangers of AI, the researchers put only a 5 per cent chance on computers bringing about outcomes near the level of human extinction."

 John 4:34-35  Jesus saith unto them, My meat is to do the will of him that sent me, and to finish his work. Say not ye, There are yet four months, and then cometh harvest? behold, I say unto you, Lift up your eyes, and look on the fields; for they are white already to harvest.