John McTernans Insights Blog Post: May 19, 2021
Verse of the Day


Hebrews 5:14 But strong meat belongeth to them that are of full age, even those who by reason of use have their senses exercised to discern both good and evil.
Note: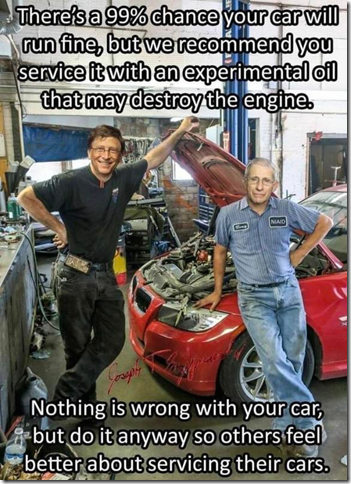 The truth is very clear that the American people are under a biological warfare attack from a totally malevolent medical institutions who lie, block and tried to intimidate anyone that promoted the cure for Covid-19, while at the same time promoting a dangerous genetic experiment as a vaccine! This action fits a Nazi war crime.
There is something diabolical about their fanatic zeal to get masses of people vaccinated and ignoring the cure! The death rate is very low for Covid-19, yet they use political pressure to force vaccinations on the people. Already severe side affects are manifesting, yet the Babylonians are actually trying to suppress this. What is going to happen one year from now to people who were vaccinated? The American people just can't believe the medical institutions, politicians and media could be so evil, but they are.
I want to make sure everyone watches this video about what the government did to hide research about the cure for cancer. Please watch this documentary: you will never be the same after viewing it; but everyone needs to know this information: Episode 1  "The Sordid History of the Cancer Cartel: A Century of Suppression & Censorship"
Communist Joe was sworn in as the fraudulent president, and he is moving as fast as possible to destroy the nation. I will continue to post key articles along with information you need to know, especially articles about the Communists and Deep State making threats and moving against us. I may post articles through the day as I find them, so check a few times. The articles which I can't post on FaceBook are here: cutting edge information you need to know.
Above all, no matter what happens keep focused on the Blessed Hope, and this can get you through all trouble.
Hebrews 9:28 So Christ was once offered to bear the sins of many; and unto them that look for him shall he appear the second time without sin unto salvation.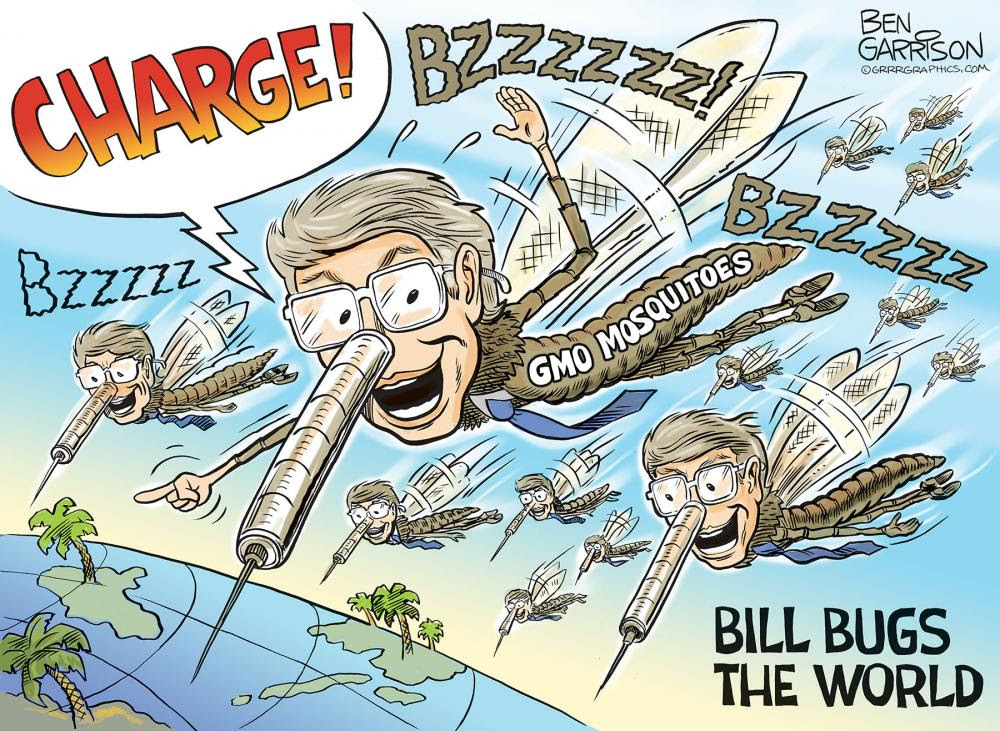 "The mega billionaire Bill Gates continues to play God. The company he funded plans to release around 20 million genetically modified mosquitoes in the Florida Keys this year
Fooling around with Mother Nature is a bad idea—even when trying to rid humanity of pests such as mosquitoes. Gates pays scientists to come up with flying vaccines and that's what they will produce. All other considerations and morality will be tossed aside.
Mosquitoes play a vital part in the food chain. They're food for birds and fish, for example. Yes, I hate mosquitoes as much as anyone else, but Bill Gates is genocidal maniac bent on depopulating the world. I hate him more." By Ben Garrison

Medical fascism spreads in Canada where doctors who oppose masks and lockdowns are being targeted This is a world wide collusion to create medical control with the politicians over us. Look what they are doing over masks, when the evidence is the masks don't protect anyone from the virus! They are ruthless and will destroy anyone who gets in their way.
European database shows 405,250+ covid vaccine injuries, 10,570+ deaths (so far) The "vaccine" is killing more than Covid-19. What will the death toll be a year from now? It looks like the bio weapon has already started. The evil monsters will suppress the fullness of deaths as long as they can.
FARMAGEDDON: Microchip supply line collapse hits TRACTORS and farm equipment God is showing us what is coming, so seek the Lord and don't be caught depending on this corrupt system to come to your aid.
Tens of thousands of lives could have been saved if research on COVID treatments hadn't been suppressed, doctors and economists say This alone tells us how evil the medical system is, and why we should reject the "vaccine" or the genetic medical experiment! There is no credibility in the medical institutions; they are corrupt and dangerous for the American people.
FT. CAMPBELL'S COMMANDER FORCING SOLDIERS TO TAKE EXPERIMENTAL MRNA OR BE CONFINED TO BASE, HAS "JIM CROW" WATER FOUNTAINS! Remember, this "vaccine" is a genetic medical experiment and no one can be forced to it unless they are aware it is an experiment and the dangers!
THEY KNEW The Catastrophic Outcomes Of Their Technology, Denied Therapeutics And Rolled Out Their 'Vaccines' Anyway This doctor gives proof the scientists knew the dangers of the "vaccine" BEFORE it was rolled out to the public. The medical profession is now extremely dangerous to the public. There is no excuse for what they did.
Science Journals Support Claim that Pfizer Covid Vaccine May Cause Deadly Neurodegenerative Disease It really does appear from many sources that the NWO wants to reduce the population through the medical institutions with the next step horrific wars just as the stated would happen. These people are Hitler on steroids.
What Bloomberg Has Done Is in the Service of the Mortal Enemy of the United States
From article:"Michael Bloomberg's relationship with the Chinese Communist Party (CCP) — including "cooperation in the field of media" according the official Chinese government documents — amounts to a subversion of America's national interest for the benefit of its primary geopolitical adversary.
Racist Chicago Mayor Says She Will Start Holding Interviews – But Only With Black or Brown Journalists A Hard Left racist state is good in the eyes of the Communists. Events are now happening in the realm of the twilight zone.
Revelation 22:20 He which testifieth these things saith, Surely I come quickly. Amen. Even so, come, Lord Jesus.