Kerry: 'Israel Can Either Be Jewish or Democratic — It Cannot Be Both'
Verse of the Day
Isaiah 34:8  For it is the day of the LORD'S vengeance, and the year of recompences for the controversy of Zion.
Commentary
Wow, Kerry takes his war against Israel out into the open. Who is he to dictate what type of nation Israel is to be? Is there any problem with Saudi Arabia being a Muslim state: NO. But, the Kerry/Obama cartel is offended by Israel!
The curse of God now rests upon Obama/Kerry and whomever else orchestrated this attack on God's prophetic plan for Israel. The way is now clear for President Trump to stand with Israel and have Israel's back! Wow, wow, wow. The Hard Left just declared war on Israel!
May the Holy God of Israel bless and protect you.
Psalm 122:6  Pray for the peace of Jerusalem: they shall prosper that love thee.
American Politics/ Israel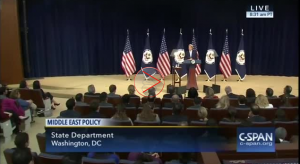 Kerry: 'Israel Can Either Be Jewish or Democratic — It Cannot Be Both' 12/28/16
"A defiant Secretary of State John Kerry on Wednesday defended the U.S. decision allowing the United Nations to condemn Israeli settlements last week, saying the administration did so in the interest of preserving a "just and lasting peace" which he claimed is now threatened – even as Israeli officials describe the move as a betrayal.
During a farewell speech at the State Department, Kerry explained the decision in his most extensive terms yet. He said the U.S. could not "in good conscience" stand in the way of a resolution he said makes clear "both sides must act now to preserve the possibility of peace."
"We did not take this decision lightly," Kerry said.
The U.S. abstention on the U.N. Security Council resolution calling Israeli settlements in the West Bank and east Jerusalem a violation of international law allowed the measure to pass – and sent the already-turbulent relationship between the Obama and Netanyahu governments into its rockiest stretch yet."
Report: Kerry and Erekat orchestrated UN anti-settlement resolution 12/28/16  The report from Egypt is that on December 12, Kerry met with the PLO to arrange the UN attack against Israel. I have no reason to doubt this.
God is going to work good from this and bring a closer relationship between America and Israel. What a blessing to have Israel's back in a time like this. It is exciting to know that God still has a plan to use the USA in his end time dealings with Israel and the nations.
"Egyptian news website Al-Youm al-Saba'a, which is considered to be Egyptian President Abdel Fattah al-Sisi's mouth piece, published a supposed protocol on Tuesday of a meeting that was held in Washington on December 12 between US Secretary of State John Kerry and US National Security Advisor Susan Rice and a Palestinian delegation headed by senior Palestinian Liberation Organization (PLO) member Saeb Erekat.
The protocol states that Kerry and Rice told the Palestinian delegation that the current US administration under President Barack Obama would be willing to cooperate with them in the UN Security Council given that the resolution would be a balanced one. The added that they have instructed US Ambassador to the UN Samantha Power to be in contact with Permanent Observer of Palestine to the United Nations Riyad Mansour.
During the meeting, Kerry and Rice were reportedly both severely critical of Prime Minister Benjamin Netanyahu, accusing him of wanting to destroy the possibility of a two-state solution. They also praised Erekat for predicting Netanyahu's policy trajectoy four years ago—namely, one of maintaining the status quo while making minor adjustments."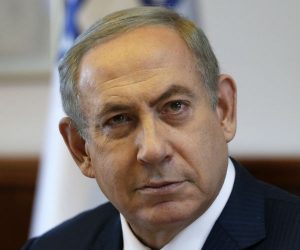 Netanyahu Reportedly Reaching Out to Trump to Block More Anti-Israel Moves 12/25/16  Wow, is Obama planning more damage to Israel at the UN before he leaves? He can't leave fast enough. He belongs in Europe or with his Muslim buddies which all hate Israel and want to destroy it.
It looks like the Lord is sending Trump to watch Israel's back. There is NO doubt that 2017 is going to be incredible year.
"Israeli Prime Minister Benjamin Netanyahu is reportedly reaching out to President-elect Donald Trump and the U.S. Congress in order to prevent the Obama administration from what the Israeli government fears is an American attempt to have the U.N. Security Council pass more resolutions against Israel by approving principles for a Palestinian state, The Times of Israel reports.
Netanyahu fears that Secretary of State John Kerry will set out parameters for a Palestinian state in a speech on the Middle East that he says he will deliver in the next few days and then have a resolution enshrining those principles adopted by the Security Council in the time Obama has left in office.
At Sunday's weekly Cabinet meeting, Netanyahu publicly blamed Obama for the resolution's passing, saying, "We have no doubt the Obama administration initiated [the resolution], stood behind it, coordinated the wording and demanded it be passed."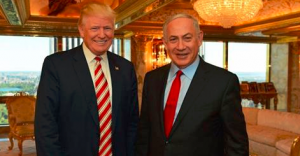 Israel's Netanyahu lashes out at Obama over UN vote 12/25/16  God's timing is perfect. Just as Obama is betraying Israel, Donald Trump is coming to the rescue! It is like when God removed Roosevelt so Truman could become president!
Trump is God's man to have Israel's back for the wars and trouble that is coming. God is about to drive the nations insane over Jerusalem!
Zechariah 12:4  In that day, saith the LORD, I will smite every horse with astonishment, and his rider with madness: and I will open mine eyes upon the house of Judah, and will smite every horse of the people with blindness.

"Netanyahu called the decision "distorted" but said Israel will overcome it.
He said he had spoken with U.S leaders, both Democrats and Republicans, who vowed to fight the move, including he said, from Israel's "friend" in the incoming administration, the president-elect.
"The decision taken at the U.N. yesterday was part of the swan song of the old world biased against Israel," Netanyahu said. "We are entering a new era and as the President-elect Trump said yesterday, this is going to happen much quicker than people think. In this new era there is a high price for those trying to harm Israel," he said."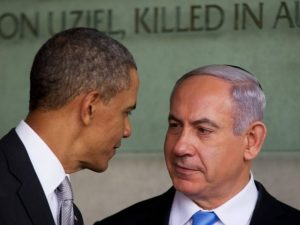 Netanyahu: Obama May Have More Anti-Israel 'Surprises' Up His Sleeve 12/25/16  I want to keep you on the cutting edge of what is going on between Israel and Obama/UN. This huge and it appears that 2017 is going to be a very prophetic year!
Zechariah 12:6  In that day will I make the governors of Judah like an hearth of fire among the wood, and like a torch of fire in a sheaf; and they shall devour all the people round about, on the right hand and on the left: and Jerusalem shall be inhabited again in her own place, even in Jerusalem.

"However, Netanyahu said he was "encouraged" by statements of support from both Democrat and Republican allies in the U.S.
"They understand how reckless and destructive this UN resolution was; they understand that the Western Wall isn't occupied territory. I look forward to working with those friends and with the new administration when it takes office next month," he said at the weekly cabinet meeting.
Netanyahu also repeated his promise to cut funding to UN agencies that were "hostile" to Israel.
The prime minister on Saturday canceled an official visit to Israel by Ukrainian Prime Minister Volodymyr Groysman in protest of Ukraine's vote in favor of the resolution.
The premier also canceled an upcoming visit to Israel from Senegal's foreign minister."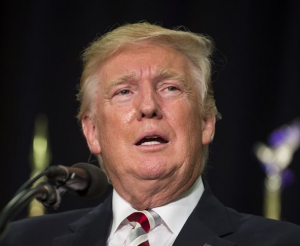 Trump: 'Stay Strong Israel,' I'll Be in Office Soon" 12/28/16  President Trump replacing Obama gives new meaning to this Bible verse:
Proverbs 29:2  When the righteous are in authority, the people rejoice: but when the wicked beareth rule, the people mourn.

"President-elect Donald Trump decried current U.S. relations with Israel, urging the country to "stay strong" until he is inaugurated.
Trump has been a vocal critic of the recent United Nations vote to condemn Israeli settlements in disputed territories, which the U.S. did not vote for or veto.
Israeli Prime Minister Benjamin Netanyahu accused President Barack Obama of covertly orchestrating the vote, and stated that Israel "looks forward to working with President-elect Trump."
"The Obama administration not only failed to protect Israel against this gang-up at the UN, it colluded with it behind the scenes," the Prime Minister's office said in a statement reported by The Hill. "Israel looks forward to working with President-elect Trump and with all our friends in Congress, Republicans and Democrats alike, to negate the harmful effects of this absurd resolution."
A senior Israeli official told CNN Wednesday that Israel will provide Trump with evidence that the U.S. worked in secret to help the settlement vote."
Jerusalem
Thousands of homes to be built in Jerusalem despite UN vote 12/26/16  Israel is not backing down and is going ahead with plans to build more homes in East Jerusalem. Notice how Jerusalem is becoming the focus of world attention! Wow, 2017 is going to be an incredible year of God's judgments on the nations over Jerusalem and Israel.
Isaiah 34:8  For it is the day of the LORD'S vengeance, and the year of recompences for the controversy of Zion.

"The Jerusalem District Zoning Committee is scheduled to approve the construction of 5,600 housing units in Gilo, Ramat Shlomo, and Givat Hamatos neighborhoods beyond the Green Line • "We remain unfazed by the U.N. vote," city official says.
Deputy Jerusalem Mayor Meir Turgeman, who heads the zoning committee, told Israel Hayom the U.N. should not be allowed to dictate Israel's moves in Jerusalem.
"We remain unfazed by the U.N. vote, or by any other entity that tries to dictate what we do in Jerusalem. I hope the Israeli government and the new U.S. administration will support us, so we can make up for the lack [of construction] during the eight years of the Obama administration," he said."
As America Has Done to Israel/ Earthquakes
Over two dozen earthquakes hit near Lake Tahoe within four hours and are felt in San Francisco and Las Vegas – adding to the nearly 700 tremors felt within California area in last week 12/28/16 After looking at this headline, I could see a connection to what Obama and Kerry did to Israel last Friday and today. The West Coast had 700 earthquake and today there where 3 on the mid-to-high 5.0 range. Today, Kerry was blasting Israel with his speech.

I do feel that what Obama/Kerry did to Israel is personal with the Lord and not with the US people behind it. I expect a really powerful judgment to fall on them and not on America. These earthquakes are like a gentle reminder not to touch Israel.
"Over two dozen earthquakes have been reported to hit the California-Nevada frontier early Wednesday morning, with tremors being felt as far north as Sacramento as well as San Francisco and Las Vegas.
The earthquakes struck near Lake Tahoe, and their rumblings were felt across areas of both states, KTVN reported.
There were no immediate reports of problems.
The US Geological Surveys says two magnitude 5.7 temblors were both centered in a remote area of Nevada near the California line, about 70 miles southeast of Lake Tahoe.
At least seven quakes with magnitudes between 3 and 5.6 were reported shortly afterward, according to The Los Angeles Times."
Health and Nutrition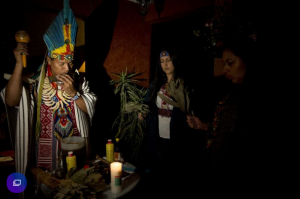 Hallucinogenic plant ayahuasca gains foothold in US 12/26/16  Notice how this drug is coming out of Hollywood and Silicon Valley! As Americans turn away from God, drugs are flooding into the nation to fill the void. We need a deep and powerful outpouring of the Holy Spirit to heal the nation.
"Dominique was hooked on cocaine and smoked two packs of cigarettes a day until she stumbled onto ayahuasca, a hallucinogenic concoction that she says has changed her life.
The French-American woman, who lives in Los Angeles and did not want her real name used, is among thousands of people across the United States who are increasingly turning to the powerful psychedelic brew from the Amazon to overcome addiction, depression or psychological trauma.
The potion, prepared and consumed as part of a shamanic ritual, is especially gaining a following in Hollywood and Silicon Valley.
Thousands are flocking to sample the elixir and swear by its therapeutic properties, despite warnings from scientists and users that ayahuasca can be dangerous and even prove fatal, especially when mixed with other drugs.
Ayahuasca's proponents, who include celebrities such as Sting, Paul Simon, Tori Amos and Lindsey Lohan, say the plant offers a spiritual experience like no other. Many also say it has allowed them to overcome traumas that no other conventional therapy can tackle."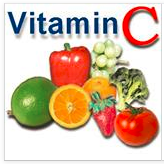 Vitamins A and C help erase cell memory 12/24/16  I post health-related information that is practical and which you can apply to your life.
"Vitamins A and C aren't just good for your health, they affect your DNA too. Researchers have discovered how vitamins A and C act to modify the epigenetic 'memory' held by cells; insight which is significant for regenerative medicine and our ability to reprogram cells from one identity to another."

Genesis 35:11  And God said unto him, I am God Almighty: be fruitful and multiply; a nation and a company of nations shall be of thee, and kings shall come out of thy loins;