LGBT Crowd Eyes Preschool Children
Verse of the Day
 Luke 17:2 It were better for him that a millstone were hanged about his neck, and he cast into the sea, than that he should offend one of these little ones.

Commentary
I have said this for a long time, and there still is no doubt in my mind that one of the main objectives of the reprobate mind is pedophilia. The homosexuals are trying to target the preschool children. If we let them do this, the next step with be pedophilia. There is no doubt about this.
It is easy to see the Muslims and Hard Left uniting on this issue because Mohammad "married" Aisha when she was nine, and pedophilia is accepted throughout Islam.
May the Holy God of Israel bless and protect you.
1 Thessalonians 1:9-10 For they themselves shew of us what manner of entering in we had unto you, and how ye turned to God from idols to serve the living and true God; And to wait for his Son from heaven, whom he raised from the dead, even Jesus, which delivered us from the wrath to come.
Hard Left/ Homosexuality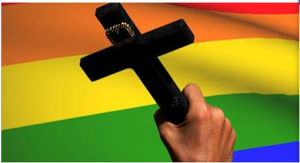 LGBT Crowd Eyes Preschool Children 07/01/16  In 1963, we allowed prayer and Bible reading to be removed from the schools. It took just one generation, but look what is now coming to the schools and even to the preschools!
Last year the Supreme Court of Sin legalized homosexual "marriage" without any meaningful fight from the Church. We have turned the nation over to satan, and he now has a legal right to advance his agenda to turn the nation into Sodom. He has the law on his side because the Church let him have it. The reprobates are energized now, and they think that nothing can stop them.
Right now satan is after your children and grandchildren, and he has a legal right because the Church did not stand for the Lord with prayer, intercession and action. It only is going to get worse because the reprobates will not stop until the Lord stops them in judgment like he did in Sodom.
On their agenda is legalizing pedophilia. This is a burning lust with them. Where are the American men in all of this? They are AWOL, as the children are directly on the reprobates radar screen.
Hosea 4:6  My people are destroyed for lack of knowledge: because thou hast rejected knowledge, I will also reject thee, that thou shalt be no priest to me: seeing thou hast forgotten the law of thy God, I will also forget thy children.

"When enrolling your children in preschool, a curriculum check will now be mandatory.
"There was once a time when it was unthinkable to even mention the topic of homosexuality in a school setting," said one pro-family activist.
A new web series called "Queer Kids Stuff" aimed at preschoolers (yes, you read that right) is now attempting to teach those barely out of diapers what the phrases "gay," "bisexual," and "transgender" mean.
In the opening minutes of the first show, the host tells a teddy bear, as well as innocent viewers, that "gay means love."
Although no U.S. preschool programs have indicated yet that they will embrace the series, it may only be a matter of time.
"It is easily conceivable that videos such as these will be sanctioned eventually by local school boards and implemented in preschool and prekindergarten classes," said Sean Ryan, communications director of the pro-family organization Mass Resistance, based in Waltham, Massachusetts.
"Activists are trying to force these topics on younger and younger children because that is the only way their movement wins," he said."
Hard Left in the Military/ Transgendered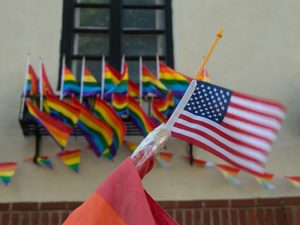 Pentagon Chief Announces Transgender People Can Openly Serve in Military 06/30/16  What real men will want to enter the military? As the military and the nation slides deeper into sin, how will the Hard Left allow the real gospel to be preached?
There is no doubt that the military is on the way to becoming a rabble that can be manipulated easily by Obama or someone like him. It is difficult to watch the military dying like this.
"President Barack Obama's Secretary of Defense Ash Carter officially announced that transgender individuals can now openly sere in the U.S. military.
"This is the right thing to do for our people and for the force," declared Carter. "We're talking about talented Americans who are serving with distinction or who want the opportunity to serve. We can't allow barriers unrelated to a person's qualifications prevent us from recruiting and retaining those who can best accomplish the mission."
"The DoD policy announced today also establishes a construct by which service members may transition gender while serving, sets standards for medical care and outlines responsibilities for military services and commanders to develop and implement guidance, training and specific policies in the near and long-term," notes the Pentagon in statement announcing the change."
Hard Left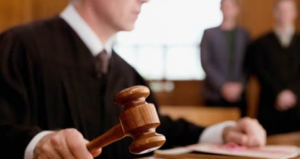 Obama judge blocks Mississippi religious freedom law 07/01/16  There is no Constitutional right to homosexual marriage, but there is a Constitutional right to freedom of religion. Freedom of religion does not mean just in a church, but to practice it in your life.
The Hard Left will destroy the Constitution to promote sin. This is not the America of even 10 years ago. No one is safe today since our culture is collapsing all around us.
The First Amendment:
The United States Constitution prohibits the making of any law respecting an establishment of religion, impeding the free exercise of religion, abridging the freedom of speech, infringing on the freedom of the press, interfering with the right to peaceably assemble, or prohibiting …
"U.S. District Judge Carlton Reeves wrote that the title, text and history of the law show it is "the state's attempt to put LGBT citizens back in their place" in response to last summer's Supreme Court ruling that legalized gay marriage nationwide."In physics, every action has its equal and opposite reaction," Reeves wrote. "In politics, every action has its predictable overreaction."
State attorneys are expected to appeal his ruling, which came overnight in response to two lawsuits filed weeks ago by gay and straight plaintiffs.
The law sought to protect three beliefs: That marriage is only between a man and a woman; that sex should only take place in such a marriage; and that a person's gender is determined at birth and cannot be altered.
It would allow clerks to cite religious objections to recuse themselves from issuing marriage licenses to same-sex couples, and would protect merchants who refuse services to lesbian, gay, bisexual or transgender people. It could affect adoptions and foster care, business practices and school bathroom policies."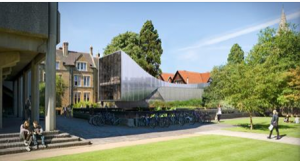 Western Universities: The Best Indoctrination Money Can Buy 07/01/16  This article is about Great Britain, but it fits with America. The Hard Left wants to destroy Western Culture, but what are they going to replace it with? How about when the culture is completely destroyed and anarchy takes over, a Hitler, Stalin, Mao or Napoleon to fill the vacuum?
All the reprobate mind can do is to destroy and never build, unless you want to call the Soviet Union or the original Communist Chinese society the workers' paradise. Their minds will not allow them to build but only to destroy.
Romans 1:28-31 And even as they did not like to retain God in their knowledge, God gave them over to a reprobate mind, to do those things which are not convenient; Being filled with all unrighteousness, fornication, wickedness, covetousness, maliciousness; full of envy, murder, debate, deceit, malignity; whisperers, Backbiters, haters of God, despiteful, proud, boasters, inventors of evil things, disobedient to parents, Without understanding, covenantbreakers, without natural affection, implacable, unmerciful:
(This mindset is ripe for Lenin, Stalin or Hitler.)
"The tendency of modern liberals to wring apologies out of governments for the actions of their ancestors, from the slave trade to Orientalist depictions of the peoples of Islam, is a pointless attempt to re-write history. There are, of course, no calls for Muslim governments to apologize for anything from their slave trade to the early Arab conquests.
"The ethics of establishing a campus in an authoritarian country are murky, especially when it inhibits free expression." — Professor Stephen F. Eisenman, Northwestern University (which has a branch in Qatar)
Oxford and Cambridge, have accepted more than 233.5 million pounds sterling from Saudi and Muslim sources since 1995 — the largest source of external funding to UK universities.
"Several agreements made between the MEC [Oxford's Middle East Centre] and donors appear to indicate that funders have sought to influence the centre's output and activities." — Robin Simcox, A Degree of Influence, 2009, p.35
One of those "dilemmas" is the influence by teachers across the United States on impressionable students who organize Israel Apartheid Weeks. They join with assorted anti-Semitic demonstrators, condemn Israel for every sin under the sun, and use intimidation against Jewish and Zionist colleagues, but are never told any historical, legal, or political facts by their equally biased faculties.
Fundamentalist Islam, backed by vast monetary power, is corrupting our dearest Enlightenment values."
Islam – Jihad
Sharia Law & Civilization Jihad 07/01/16  This is short but it shows the "peaceful" ways that Islam can take over a nation. This is far advanced in Europe but catching up in America.
Christian Apostasy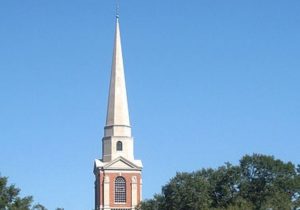 The Presbyterian leadership also called on its faithful to "prayerfully study the call from Palestinian civil society for boycott, divestment and sanctions (BDS) against the State of Israel 07/01/16  I just posted a few days ago about this "church" opening its national session with a prayer to allah – yes allah.
Because they deny the authority of the Bible and come against Israel, God has turned them over to Islam, which is evidenced by them praying in the name of allah. You can see the judgment with your own eyes. They come against Israel, and then God turns them over to allah to be judged. They are getting their reward.
Obadiah 1:15  For the day of the LORD is near upon all the heathen: as thou hast done (to Israel), it shall be done unto thee: thy reward shall return upon thine own head.

"At its biennial General Assembly in Portland, Oregon, last week, the Presbyterian Church of the US blamed "Israel's policy trajectory of continued settlements and brutal occupation" for the stalemate in peace talks with the Palestinians, and called for pursuing alternatives to the two-state solution.
The Presbyterian leadership also called on its faithful to "prayerfully study the call from Palestinian civil society for boycott, divestment and sanctions (BDS) against the State of Israel."
Though Presbyterians have been the most aggressively anti-Israel among liberal Protestant denominations, all five of the mainline churches in the US – Methodist, Presbyterian, Episcopalian, Evangelical Lutheran and United Church of Christ –have debated, and in some cases adopted, policies that reflect a simplistic and slanted perspective on the Israeli-Palestinian conflict that sees Israel as the perpetual aggressor and the Palestinians as the helpless victim."
Christianity
Franklin Graham Draws Thousands to Washington Prayer Rally 07/01/16  He is one of the few bright lights in left in America.
"Evangelist Franklin Graham drew a huge crowd in Olympia, Washington as part of his 50-state Decision America tour. The Olympian reports at least 5,000 people attended the hour long rally Wed. (June 29) that included prayers for the United States and its leadership.
According to the Decision American tour website, "Franklin Graham is traveling to all 50 states in 2016 to hold prayer rallies, to preach the Gospel, and to challenge believers to take a stand and take action. He'll be urging Christians to vote, to live out their faith in every part of their lives, and to pray for our nation just as Nehemiah cried out to God to rebuild the walls of Jerusalem and restore hope to His people."Graham told rally attendees that his faith is not in either the Democratic or Republican party and he would not tell them who to vote for. However, he urged."
Israel and the Middle East War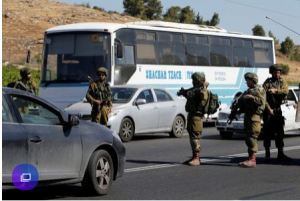 Israeli teenager stabbed in West Bank a U.S. citizen 07/01/16  I was surprised to find this out.
"A 13-year-old Israeli girl fatally stabbed in her bedroom in the occupied West Bank on Thursday was a U.S. citizen, the State Department said.
The girl, Hallel Yaffa Ariel, was attacked after an assailant climbed a security fence and entered a home in the settlement of Kiryat Arba.
"We have now confirmed that she is a U.S. citizen," State Department spokesman John Kirby said at a news briefing."

1Thes 5:23 And the very God of peace sanctify you wholly; and I pray God your whole spirit and soul and body be preserved blameless unto the coming of our Lord Jesus Christ.