Mental Health Problems Rising Among College Students
                         Verse of the Day
Philippians 4:6 Be careful (anxious) for nothing; but in every thing by prayer and supplication with thanksgiving let your requests be made known unto God. 
Commentary
As America turns from the Lord, these are the problems that arise. America is suffering from the break-up of the family, which breaks the heart of the children. It sets them up later in life for mental problems.
In college kids are fed the Hard Left agenda which is depressing by itself and adds to their problems. The colleges kill patriotism, the family unit and even a person's gender, so what remains? They then go to the Babylonian psychiatrists, which is like throwing gasoline on a fire. The Babylonians usually put them on mind altering drugs that could permanently damage their minds. As a nation, we are now breeding despair and depression because we don't want the Lord and his blessings. The only hope as a nation is spiritual revival. The hope for the individual is for Jesus Christ to heal the broken hearts of our youth. No Babylonian can do this because the Lord is the only cure.
May the Holy God of Israel bless and protect you
Philippians 4:7 And the peace of God, which passeth all understanding, shall keep your hearts and minds through Christ Jesus.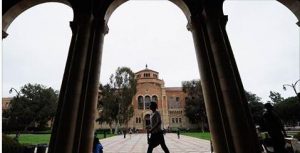 Mental Health Problems Rising Among College Students 06/28/17  See our post: "Escape from Antidepressants"
Isaiah 26:3  Thou wilt keep him in perfect peace, whose mind is stayed on thee: because he trusteth in thee.

"College counselors are seeing a record number of students like Ebeling, who are dealing with a variety of mental health problems, from depression and anxiety, to more serious psychiatric disorders.
"What has increased over the past five years is threat-to-self characteristics, including serious suicidal thoughts and self-injurious behaviors," said Ashley Stauffer, project manager for the Center for Collegiate Mental Health at Penn State University.
According to its data, collected from 139 institutions, 26 percent of students who sought help said they had intentionally hurt themselves; 33.2 percent had considered suicide, numbers higher than the previous year.
And according to the 2016 UCLA Higher Education Research Institute survey of freshmen, nearly 12 percent say they are "frequently" depressed."
History/ Islam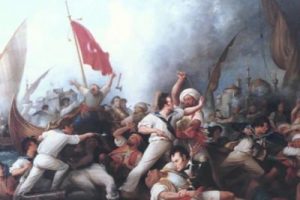 Note to Washington Post: Thomas Jefferson Declared WAR on Muslim States, He Didn't Cook Iftar Dinners For Them  This is a great article that shows early American history involving the Muslims, and it was not good. We created our navy to fight the Muslims terrorists in the Mediterranean Sea! We fought two Muslim wars with these terrorists because they were attacking our shipping! The Marine Hymn was in part about these wars with the Muslims.
The idea that President Jefferson or any of our founding fathers were sympathetic with Islam is pure bunk. This is Hard Left revisionist history to make it look like Americans always were warm and respectful to Islam and Muslims, when, in fact, we were at war with them!
"The Washington Post isn't just twisting history, they are turning inside out, and completely inverting reality. The idea that President Thomas Jefferson held an Iftar dinner is so absurd, so insane, it could only be advanced by dissemblers secure in the knowledge that their readers know nothing of American history. Thomas Jefferson conducted the first of two foreign wars with the Muslim countries in North Africa. He was hardly cooking Iftar dinners.
Muslim countries known as the Barbary States were a collection of North African states, many of which practiced state-supported piracy in order to exact the jizya from Atlantic powers. Morocco was an independent kingdom, Algiers, Tunis, and Tripoli owed a loose allegiance to the Ottoman Empire. The United States fought two separate wars with Tripoli (1801–1805) and Algiers (1815–1816), although at other times it paid the jizya to obtain the release of captives held in the Barbary States."
American Politics
FBI agent indicted for alleged false statements 06/28/17  This is a stunning indictment! I really never thought it would happen. The FBI and the Oregon State police murdered a man out in the open. This was a political issue about the use of government land by ranchers.
I followed this very closely after the video was released of the shooting. The MSM tried to make this an issue involving white racists, which it was not. It was about ranchers and government land.
The man, LaVoy Finicum was stopped by the police. He said he would only surrender to the Sheriff, so he was on the way to the Sheriff's Office. A road block was setup to stop him. This video shows what happened: BREAKING: Video from INSIDE Lavoy Finicum's Truck Clearly Shows What Happened in Oregon

The police said he was reaching for a gun, but it turns out he was shot and reaching to area he was shot. They shot him with his hands up.
"An FBI agent has been indicted on federal accusations that he lied about firing at Robert "LaVoy" Finicum last year as police arrested the leaders of the Malheur National Wildlife Refuge occupation.
The agent will face allegations of making a false statement with intent to obstruct justice, according to sources familiar with the case.
The indictment stems from a more than yearlong investigation by the inspector general of the U.S. Department of Justice. The agent will be identified when he's summoned to appear in U.S. District Court in Portland at 1:30 p.m. Wednesday.
Investigators said a member of the FBI's elite Hostage Rescue Team fired at Finicum as his 2015 Dodge pickup truck crashed into a snow bank at a roadblock on U.S. 395. Finicum had just sped away from a surprise traffic stop on the rural highway as the occupation leaders traveled off the refuge to a community meeting Jan. 26, 2016."
Hard Left/ Islam
MUST WATCH Debate: Geert Wilders KO's Dutch Prime Minister Rutte about Islam 06/29/17  This is a great video showing how the European governments are being warned about Islam. This reminds me of Winston Churchill warning the Europeans about Hitler, but they refused to listen!
Ezekiel 33:1  Again the word of the LORD came unto me, saying, Son of man, speak to the children of thy people, and say unto them, When I bring the sword upon a land, if the people of the land take a man of their coasts, and set him for their watchman: If when he seeth the sword come upon the land, he blow the trumpet, and warn the people; Then whosoever heareth the sound of the trumpet, and taketh not warning; if the sword come, and take him away, his blood shall be upon his own head.

"Yesterday, the Dutch Parliament debated the recent wave of Islamic terror attacks in Europe. I would love to see debate on the floor of the Senate or the House. Dutch Prime Minister Mark Rutte claimed that the biggest victims of Islamic terrorists are Europe's Muslims. They are "victims twice," he said. Firstly, because they risk losing their lives in terror attacks, but secondly also because non-Muslims blame their religion for the violence. Geert Wilders criticized Rutte for his statement, pointing out that Islam is to blame for the terrorism and that the terrorists are not abusing Islam, but following its commands."
Hard Left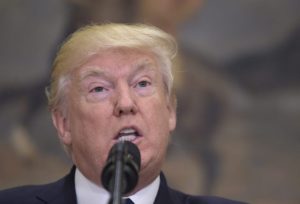 EXCLUSIVE — Psychiatrists Pushing to Repeal Remote Diagnosis Prohibition for Trump Gave to Dems 06/28/17  The Hard Left just might start a new attack against the President. They will try and say he is not mentally fit for office.
I've reported on this, but this attack is getting traction in the "fake news." I think the fake news is so badly battered that no one will pay attention to any more of their lies. They can't tell the truth, but just make up one lie after another. They are following their spiritual father.
John 8:44  Ye are of your father the devil, and the lusts of your father ye will do. He was a murderer from the beginning, and abode not in the truth, because there is no truth in him. When he speaketh a lie, he speaketh of his own: for he is a liar, and the father of it.

"The two most vocal psychiatrists leading a Donald Trump-inspired charge to change a 44-year-old rule barring those in their profession from diagnosing public figures from afar donate heavily to Democratic Party causes.
Lance Dodes and John Zinner told the Los Angeles Times last week that the special circumstances of the Donald Trump presidency demand a revocation of the American Psychiatric Association's Goldwater Rule, established as a result of psychiatrists using their professional credentials to attack the credibility of the 1964 Republican Party presidential nominee, that currently prohibits such medical evaluations by remote. The Times identified the pair just as psychiatrists without noting their public record of donating to such groups as MoveOn.org and ActBlue, as well as a who's-who of the Democratic Party.
A Breitbart News search of various political transparency websites shows a lengthy history of gifts large and small by Dodes and Zinner exclusively to liberal candidates and causes."
Hard Left/ Christianity/ Islam
 America arrested entering Canada for speaking against Islam 06/25/17 He was scheduled to speak about Sharia law and how it affects women and children. He was arrested at the airport for having hate speech against Muslims on his IPAD.
This is the Canadian government being used by the Muslims as agents of Sharia law. Under Sharia law a person is not allowed to speak against it, Islam, the Koran or Muhammad. The Canadian government is now Sharia-compliant; the Muslims had to do nothing!

Between the homosexual agenda and Sharia law, a great darkness is now falling over Canada. I hope the Christians in Canada are not caught like the Jews in Germany under the Nazis.  We need to watch Canada very closely to see if there is hateful rhetoric agaisnt the Christians because this is the sign that force is on the way. The Hard Left reprobates are very dangerous people, and when they have a chance, they will act on their hatred for God.
Proverbs 8:36  But he that sinneth against me wrongeth his own soul: all they that hate me love death.
Teaching Biblical Truth to Your Children Could Get Them Taken Away 06/28/17  I am very serious about what I am going to say. The time is fast approaching that real Christians in Canada will face serious persecution and they might have to flee to America. Canada is falling really fast. The Hard Left seem to be in total control with no way for the Canadians to stop their agenda. I hope that I'm wrong, but Canada right now fits well with the European nations and not America.
What we see going on in Germany, France and Great Britain is what Canadians face. It might be difficult for Canadians to believe this, but as an outsider the fall of Canada is so obvious. Trudeau to Canada is like Obama was to America. But, we had a way to come out of the Hard Left stranglehold of America. I don't see this for Canadians.
Remember Canadians, the Hard Left is a vicious ideology that hates God, and therefore hates anyone who stands for the Lord. Under the right circumstances, they will come after you the way the Nazis went after the Jews. If you roll over and play dead and compromise your faith, they may leave you alone, however, if you stand up to them and their lies, they will move to destroy you. They are putting the laws in place to use against you. There is no doubt that more laws are on the way.
I am very serious about America under President Trump being a place of safety from the Hard Left and Muslims that are now in control of Canada.
Ephesians 6:11-13  Put on the whole armour of God, that ye may be able to stand against the wiles of the devil. For we wrestle not against flesh and blood, but against principalities, against powers, against the rulers of the darkness of this world, against spiritual wickedness in high places. Wherefore take unto you the whole armour of God, that ye may be able to withstand in the evil day, and having done all, to stand.

"Canada's most populous province, Ontario, just passed a law that could allow the government to remove kids from their home if their parents oppose the new transgender ideology. Could there be anything more terrifying for parents than that? It's not hard to see why the passage of Bill 89 captured the attention of so many across the globe.
Ontario has passed five gender laws in the past five years, few of which received much media attention or even opposition in the legislature. Bill 89 is the latest in this litany of bad legislation.
It was back in 2012 that "gender identity and gender expression" were added to Ontario's Human Rights Code, making Ontario the first jurisdiction in North America to pass such a law.
Facilitated by a majority government and a lame duck opposition, the following bills sailed through to provincial law in Ontario:
Bill 13, also in 2012, compelled public schools to have gay-straight alliances and demanded schools combat "homophobia" and "transphobia."
Bill 77 in 2015 prohibited particular forms of therapy for minors who struggle with gender dysphoria or other aspects of their sexuality, against the advice of numerous psychiatrists and counselors.
Bill 28, which passed into law in December 2016, removed the terms "mother" and "father" from Ontario law, and permits "pre-conception agreements" allowing four unrelated and unmarried people to become parents."
Islam
Female Genital Mutilation: American Muslim Physician Says Stop Defending the Abuse of Girls and Women 06/28/17  We are soon going to see where America will stand with this barbaric practice by Muslims. This goes along with female honor killings and beating wives.
This act is part of the total control of women under Islam. Let's see how the Hard Left feminists reach to this. So far they are silent. It is so ironic that the Hard Left homosexuals and feminists protect Islam when the Muslims would destroy these two groups, if they ever came to power!
Romans 1:28  And even as they did not like to retain God in their knowledge, God gave them over to a reprobate mind, to do those things which are not convenient;

"Any cutting or prick upon a female's genitalia that is not actually, absolutely medically necessary, but rather demanded by twisted interpretation of religion and misogynistic manifestations of culture, is abuse.
Even if, one were to submit that the medical part of the procedure could possibly be done with no physical trauma (and that is a big fictitious 'if'), the whole intent of the procedure is ceremonially to desexualize women and place their bodies under patriarchal control. No physician or modern culture that respects the equality of men and women should agree to participate in a procedure based in hate or supremacy. There is no compromise for the free world with the misogyny, abuse, and torture of the familial, community and individual oppressive forces involved in the draconian Islamist behaviors around FGM. It was a false compromise and a false moral equivalency with male circumcision.
The AMA Board of Trustees six months later returned an opinion in our favor in June 2017, which basically stood by existing AMA policy that any and all forms of FGM including nicking were prohibited by the AMA and thus deemed to be entirely inappropriate and unethical. Some courtroom reports in the government's case against Dr. Nagarwala in Detroit are that in fact some of the 7–year-old girls suffered significant physical harm and scarring despite the defendant's claim of only a pin-prick."
Christianity
Christian Man Decimates Ten Commandments Statue Less Than 24 Hours After Installation 06/29/17  This is really sad, but shows the confusion that reigns in America.
Psalm 144:15  Happy is that people, that is in such a case: yea, happy is that people, whose God is the LORD.

"A Christian man decimated the Ten Commandments monument in Arkansas less than 24 hours after its installation at the state capitol. Police arrested Michael Tate Reed for smashing his car into the monument early Wednesday morning.
"Oh my goodness," Reed says in a video posted to Facebook as he smashed into the statue. "Freedom!" Reed professes to be a Christian on his social media profile.
"I'm a firm believer that part of salvation is that we not only have faith in Jesus Christ, but we obey the commands of God and that we confess Jesus as Lord," he says in a video posted to Facebook the same day as the incident.
"But one thing I do not support is the violation of our Constitutional right to have the freedom that's guaranteed to us, that guarantees the separation of church and state, 'cause no one religion should the government represent."
Health and Nutrition
The serious danger of over vaccinating your pets 06/28/17  If you have pets this is a MUST watch!!!
I was riveted and sat in amazement as I watched this video. It is about the great danger of over-vaccinating pets, especially for rabbis.  The College of Veterinarians is just like the one for humans! They are corrupt and money rules, not health. This is why I refer to them as the Babylonians because they love money and not the truth for healing.
Many of the veterinarians know the danger, but are forced to go along with the system or lose their license! The veterinarians have a very high suicide rate and maybe this is part of it. Pets are dying from these shots and that weighs on the vets!